In a remarkable year for Formula 1, are we really going to see Michael Schumacher, a seven-time champion, driving car number seven, win race number seven and become the seventh winner of 2012 at a venue he has won seven times before?
That was one of the big questions being asked in the paddock as the sun set over the former Olympic rowing basin on Thursday night ahead of the Canadian Grand Prix.
As his Mercedes boss Norbert Haug has frequently reiterated - making predictions does not make you any faster - but observing Schumacher up close as he spoke on Thursday at the Circuit Gilles Villeneuve you could not help but feel that something was in the wind.
There have been times during his comeback when Schumacher has appeared ultra-defensive and uneasy when results have not been going his way. But he was definitely not in that mood on Thursday.
Instead, here was a man who looked assured, comfortable, confident, happy and optimistic - with a healthy tan to boot. In fact, it was the kind of Schumacher not seen since that press conference in Melbourne 2010 - when Mercedes headed out to the opening race thinking it could have a Red Bull beater in its hands, only to find itself falling short.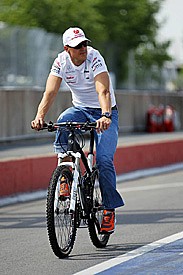 Schumacher was positive on Thursday © XPB
Schumacher joked that the feeling from his 'Popometer' was that beneath him he has a car that can finally deliver the win that's eluded him since he decided to come out of retirement.
Few of the team's rivals doubt Mercedes has the potential to be fighting right at the front - especially on a low/medium speed corner circuit with long straights that should be ideal for the W03. And that says much about how F1 has moved on from any talk of it being the lottery some fans have suggested.
It was interesting to find that throughout Thursday in the paddock, there was very little talk about results being random at all. Finally there is a growing feeling that teams understand the factors so important to winning in 2012; and it is not simply a case of lucking in to having the right set-up for the right tyres at the right time.
Schumacher's situation was not just dominating the on-track talk though, for off-track it is appearing that he could be the decisive man in the 2013 driver market.
The compact nature of the Montreal garages and paddock set-up makes it a good hotbed for gossip and the silly season rumour mill (remember Lewis Hamilton's 'secret' chat with Christian Horner 12 months ago that did not remain so secret), and this year the whispers continued to bounce around.
Hamilton has been the focus of driver market speculation in the early stages of this campaign, but he made it clear on Thursday that nothing was going to happen for a while. According to him, the complications of the close-fought 2012 season meant making a decision as important as his next contract was not going to be the work of a moment.
But while Hamilton's reluctance to dive in and get things sorted may appear to signal that the driver market is stalled, the one factor that could trigger a catalogue of moves is Schumacher's own intentions.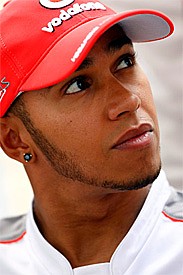 Hamilton is coy about his future © LAT
The seven-time champion and his Mercedes team need to sit down at some point and decide if it is right they continue for another season - and from the outside it does not appear such a straightforward decision.
On paper, Schumacher's mere two points this season point towards huge disappointment - yet the speed of the veteran, allied to an incredible run of bad luck, means the championship table does not reflect the true story behind his campaign so far.
Should a victory come this weekend, or indeed in the next few races, then that would almost guarantee Schumacher sticks around. But should he or the team call time on his career, then it could blow open the 2013 driver market completely - for suddenly there is a very competitive race seat available for someone.
Would Hamilton then feel that Mercedes' growing momentum offers him a clean slate to move on from any frustrations he has had at McLaren? Would McLaren be forced to swoop for someone like Mark Webber, Nico Hulkenberg or Paul di Resta (if Mercedes or Ferrari don't get there first) to partner Jenson Button? Where would that leave Red Bull Racing? Or would Webber elect instead to take a chance with Ferrari - with continued talk that current team-mate Sebastian Vettel has some form of option with Maranello for the future?
Schumacher's F1 comeback may have yet to deliver the highs that both he and Mercedes had hoped for - but the next few days could well make those disappointments just distant memories.
When asked to rate his chances of becoming the seventh winner this weekend, Schumacher smiled: "Put it this way, I like number seven..."
That is as good as a 'Yes, I can do it,' as you would ever get.