What must Fernando Alonso have been thinking as he walked out of the Sepang paddock last Sunday night?
In public he was saying all the right things - that the Malaysian GP victory changes nothing, and that Ferrari remains behind the opposition with plenty of work to do before it can consider itself back in the title hunt.
But privately there may be some very different thoughts. 'If I can lead the world championship in the car I've got now,' he could be muttering to himself, 'then imagine what I can do when we finally make it decent.'
Of course, Alonso's victory in Malaysia was neither the dawn of a dramatic turnaround for Ferrari, nor was it a pure one-off in the same vein as Olivier Panis's wet-weather win at Monaco in 1996.
Instead, it was proof that, just a few days after Alonso spun his F2012 into the gravel trap in Melbourne during qualifying, the Maranello outfit is far from down and out. In fact, it's not hard to imagine that this team may even be in the driving seat for the title chase by the time the European season begins in Spain in May.
It has been a pretty tumultuous few weeks for Ferrari. All its pre-season bravado and optimism that a technical reshuffle would herald a return to its glory days came crashing down at the first test - with the F2012 proving to be a bit of a troublesome beast.
After a difficult pre-season, Alonso ended qualifying in Australia in the gravel... © XPB
Alonso and Felipe Massa found it hard to find a consistent balance, while the team found itself chasing its tail. Get the car's balance sorted for corner entry and it was a nightmare for the rest of the turn; get it perfect for the exit and it would be a disaster under braking and entry.
Problems were exacerbated by the fact that the car kept finding itself in and out of a performance window with the tyres. On some runs, the long-run pace was not too bad and the drivers found speed and consistency. When they tried to repeat those runs in slightly different weather, the car just wasn't there.
And as well as trying to work out exactly what was going wrong, there were further complications caused by the effort every team has had to make over the winter with exhaust layout. The concept that Ferrari tried from the first test didn't really work, so it lost further ground reverting to a new design.
Merge all those dramas together - plus the fact that the competition appeared to have closed up dramatically - and there was little doubt that Ferrari headed to the first race of the campaign bracing itself for the worst.
Deep down there was hope that perhaps the winter had delivered completely the wrong picture - and that it could be in that chasing pack behind Red Bull and McLaren. But there was also that looming fear the new F2012 was a total dog.
And when neither Massa nor Alonso made it into Q3 at Albert Park, and faced the prospect of a points-free Sunday afternoon, it all looked pretty bleak for Maranello.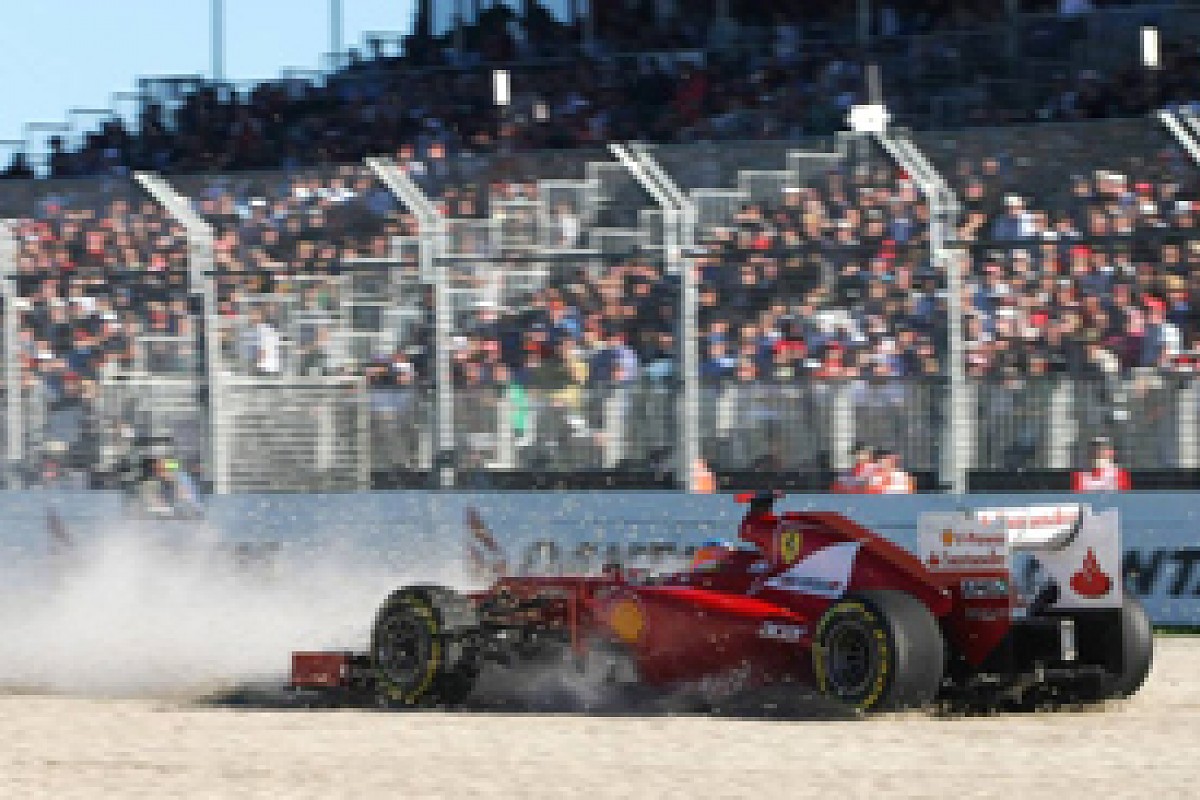 ...but was inch perfect on his way to fifth in the race © LAT
Yet, Alonso's stirring drive in Melbourne - during which he was inch perfect throughout to deliver a good haul of points - was the first inkling that perhaps all was not as bad as it seemed. Particularly as it took place at a track that demands good traction - something the F2012 does not yet possess.
The true acid test for Ferrari would come in Malaysia, though - for the track's high aerodynamic demands (another area in which the car's weak right now) and warmer temperatures would show up further deficiencies.
Qualifying delivered a pretty encouraging picture of its situation - and suggested matters are not as bad as they could have been. In Q2, Alonso was six tenths off Kimi Raikkonen's best effort, while in final qualifying a KERS problem meant we weren't able to see exactly how close to the rest of the pack he might have got.
Even so, it seems a few tenths of a second improvement from the revisions planned by Ferrari may be enough to lift the team right back in the game.
Yet so much of F1 is about seizing the opportunities that come your way, and circumstances certainly favoured Alonso. Pre-race favourite Lewis Hamilton's hopes evaporated after Ferrari's early decision to do a double-shuffle in the pits with Alonso and Massa meant the McLaren had to be held longer than necessary after a tyre change.
Then, later on, with Sergio Perez hounding the lead Ferrari, two moments proved key: Sauber opting to pit its driver a lap later than Alonso on to the quicker slick tyres, plus the Mexican's time-sapping excursion across the run-off area. Together, those probably cost Perez 10 seconds - almost certainly the difference between victory and second.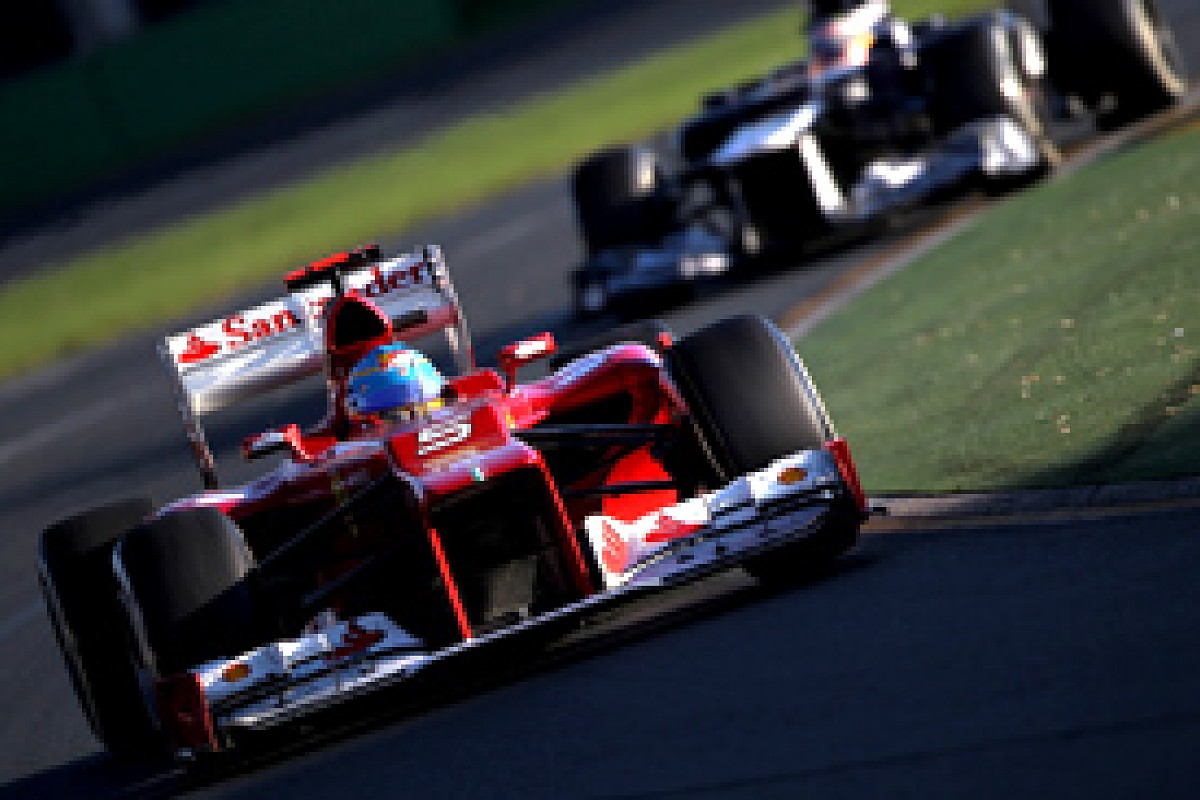 Alonso's victory was met with wild celebrations, but Ferrari is not ignoring the reality of its situation © LAT
Despite Alonso's win, and the situation in the championship, Ferrari is not ignoring the reality of its situation: that the major update package coming for Spain for the F2012 - with revised sidepods, radiators and rear bodywork - will be key to whether it can build on a better-than-expected start to 2012.
Its potential to improve upon the poor baseline will be a boost to its confidence - for it should be able to eke out more lap-time improvement from its car than, say, McLaren, which appears to have delivered a fairly impressive car from the off.
There is another factor that looks like it's working in Ferrari's favour: the unique characteristics of this year's tyres. The high degradation we have seen so far is making life tough for teams: and there is a huge swing between cars that are good on Saturdays and not on Sundays (Mercedes) and those that are the opposite of that (Sauber).
It also appears that if you don't get in clear air to run the race at your own pace, the tyres can't hack it. You end up running below your optimum speed, with tyre temperatures falling out of the ideal window. And so the degradation goes up.
Learning to deal with that factor is vital - but it means that even teams with better performing cars are stymied by tyre behaviour when it comes to what they can do in the race.
If there's one factor that Ferrari needs not worry about, it's the man in the cockpit. Alonso has been sensational in these two races - when you compare his performance to the mistakes and frustrations we've seen from Jenson Button, Lewis Hamilton, and Sebastian Vettel.
Where this all leads to will only become clear when Alonso switches off the engine at the end of the Spanish GP. If he does that down in parc ferme on his way to the podium, having not lost too much ground over the next two races (a wet Chinese GP could well prove a blessing), and the grid is still working out how best to deal with the tyres, then it's well and truly game on.
Mind you, in Alonso's head, it probably already is.