I've got to admit - of all the ponderables you inevitably have at this time of year, the one that interests me most is what Jenson Button will serve up for McLaren in 2012.
While discussing Button, team chief Martin Whitmarsh spoke about his own thought processes when Jenson hung on to win his world title for Brawn, and McLaren subsequently signed him.
"For a whole range of circumstances he had a flying start in 2009, but Brazil [where Button clinched the championship] was a turning point in my mind," says Whitmarsh.

"I've been fortunate enough to be around a number of drivers trying to win their first world championship. The pressure on them is immense. It's theirs for the taking but you also know it's theirs to throw away.

"Under those circumstances Jenson drove the 2009 Brazilian GP with some really assertive overtaking and huge self-confidence, and won his title.
"He's always been a super-smooth driver. I didn't know him at all really, but by observation you wondered whether he had the hunger and passion because he's such a laid-back, nice character."
"I thought probably we can't get him, but nothing ventured, nothing gained - let's give it our best shot."
A lot of savvy, experienced people, Jackie Stewart among them, thought that Button was making a mistake going into what was perceived as Lewis Hamilton's team.
"People were telling him and his family they were nuts," Whitmarsh recalls, "but he's smart and brave. He knew exactly what he was doing. He knew he was putting himself up against a fearsome competitor."
Despite Button being, in Whitmarsh's words, "a super-nice guy comfortable in his own skin", the determination he has shown in some races over these past two years has made many of those who underestimated Jenson think again. But there are still some who don't get him.
Only last year, I was commissioned to write a piece contrasting the flamboyant, aggressive, overtaking superstar Hamilton with his team-mate, who is not as spectacular and apparently cannot overtake.
"No," I said, "I'm not going to do that, because it ain't so." Button, I told him, was one of the best overtakers on the grid.
It set me wondering why, perhaps, people don't see it.
The point about Button is, how many times do you see him make a daft error or take someone off the road?
Could he have pulled the move that Hamilton did to pass Kimi Raikkonen at Monza in 2007? The one where Lewis, with a window of opportunity on new option rubber, slung it down the inside of Kimi into the first chicane at improbable speed, which he proceeded to scrub off by flicking the car sideways?
Jenson Button and Martin Whitmarsh © XPB
Maybe not. But Jenson's overtaking is always clinical, and how many other drivers could have driven his Canadian GP last year, or made stick such a great pass on Fernando Alonso at Silverstone? That was not a guy without passion for a race or a fight.
F1-veteran-turned-TV-commentary ace Martin Brundle thinks that Button's stock is higher now than when he won the world title, and Red Bull Racing boss Christian Horner was not slow to pay tribute to Button's efforts on the way to the runner-up slot in last year's championship.
"After Sebastian Vettel he was the next best," Horner states. "He drove some superb races, and I think the regulations and tyres played to the intelligent driver. It must be the hardest thing in the world to give away performance at the beginning of a stint in order to get it back, requiring enormous self-discipline. He seemed to manage that extremely well on many occasions."
Good things have happened for Button in Melbourne, scene of this weekend's Australian Grand Prix. His F1 debut with Williams was at the track in 2000, he took pole for Honda in '06, won that momentous first race for Brawn in '09, and in '10, going early to slick tyres, got his McLaren career off to a dream start.
"It was completely unexpected but a really significant result for me personally," Button admits.

You get the feeling that there will be an even greater desire to get the year off to a strong start this time around, to strike the early blow. A double DRS zone should make Melbourne even better, given that the startline straight did not provide for much in the way of overtaking last time.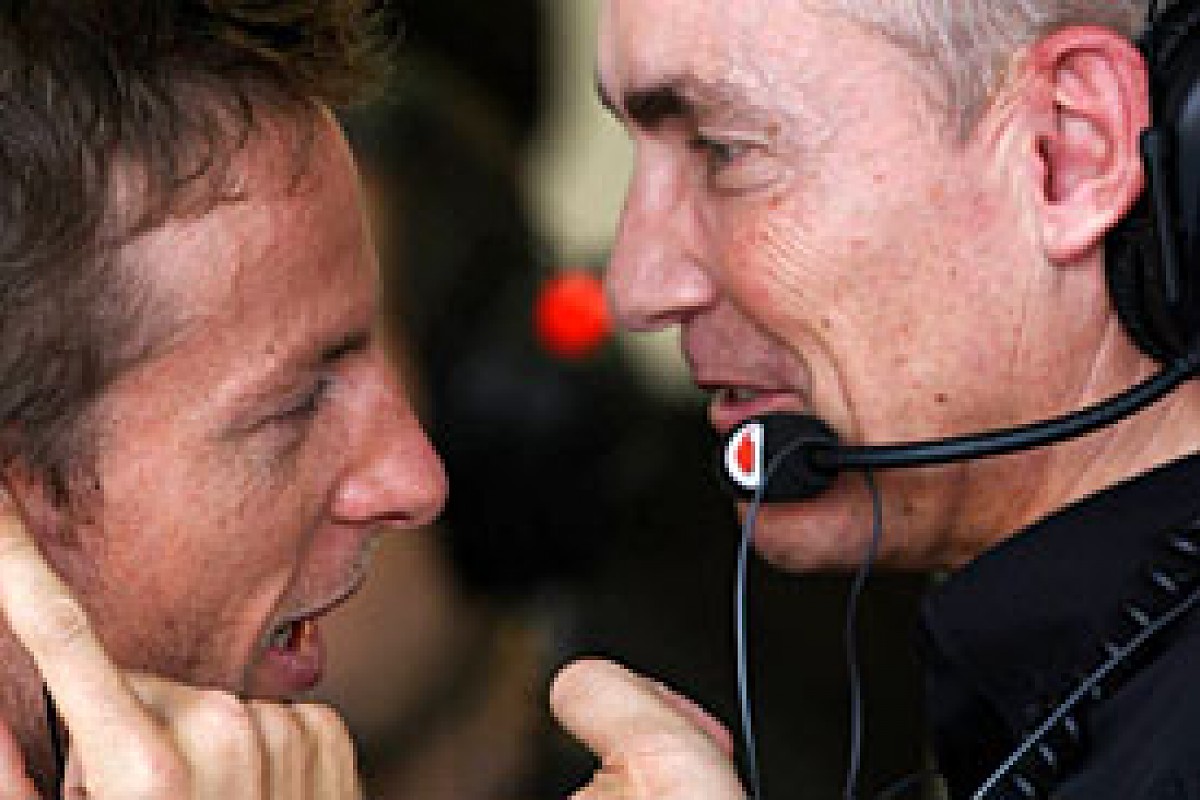 Can Button add a second championship to the one he secured in 2009? © XPB
"I can't remember a race in Melbourne that wasn't eventful or surprising in some way," Jenson says, "so it's the perfect place to kick off the season.

"I'm happy with our preparations. Unlike last year, we've had a very solid start to our pre-season. It's been very difficult to read pace over the winter because a lot of teams have been playing their cards close to their chests.
"I think it's going to be extremely close, and I can't wait to find out where we sit in the pecking order."
He will be interested too in the internal pecking order. It will take on even greater significance if - and it's a big if - McLaren has managed to wipe out Red Bull's superiority. We'll know soon enough - the waiting is almost over.