This week sees the start of principal photography on Rush, the much anticipated film that will recreate the battle for the 1976 World Championship between Niki Lauda and James Hunt.
It comes hot on the heels of the astounding success of Senna, regarded by many as one of the best documentaries ever made on any subject. Senna has helped to make motor racing sexy in Hollywood terms, and there's now a veritable stampede of directors and writers attempting to make dramatic movies.
Senna writer and producer Manish Pandey is himself close to getting his Mike Hawthorn/Peter Collins drama off the grid, while other projects that have been floating around in recent years concern the likes of Wolfgang von Trips, Jackie Stewart, Gilles Villeneuve and Bruce McLaren, although the last named appears to have fizzled out.
The interesting thing is that like Rush they are all based on true stories, and that's been a rarity over the years. While Junior Johnson, Dale Earnhardt and Enzo Ferrari have all been subject matter, most high profile racing movies have been totally fictional.
It's perhaps a compliment to our sport that filmmakers have realised that it has produced real characters that are worthy of their attention.
The other interesting thing is that there is no way that they will all be made, as those who pay the bills know that the market will become saturated - which is why there's a race on to follow Rush into production.

Racing movies are almost as old as cinema itself. Incredibly, even Charlie Chaplin's tramp made his first ever screen appearance in one - Kid Auto Races in Venice, filmed at a real 'Pushmobile' event called the Junior Vanderbilt Cup in January 1914.
Later that same year, Chaplin used the legendary Ascot Speedway in no fewer than three films he produced, namely Mabel at the Wheel, Mabel's Busy Day, and Gentleman of Nerve.
In other words, the racing movie genre was up and running at pretty much the same time as the western, the gangster movie and the horror flick.
The one that really inspired everything that followed was arguably 1932's The Crowd Roars, in which James Cagney played an Indianapolis ace in a feud with his brother. Many more would follow, and pretty much every movie star of note has taken his turn as a racing driver, including Clark Gable, Kirk Douglas, Tony Curtis, Burt Reynolds, Jeff Bridges, Mickey Rooney (twice) and Elvis Presley (three times). Even Fred Astaire (at 59!) and Dudley Moore have had a go...
Despite this prodigious output over the past century, the three films that set the standard by which any others are judged all emerged in the small window of 1966-'70. Grand Prix, Winning and Le Mans may have their faults, but all are fondly remembered for perfectly capturing a flavour of the era in F1, IndyCar and sportscar racing respectively.
Grand Prix had a false start as a vehicle for Steve McQueen, originally under the title of The Cruel Sport. The project then split into two camps, and the star started on his own version, Day of the Champion. For a while there was the bizarre prospect of two F1 movies being made during the 1966 season, and the two camps fought to sign up top drivers and tracks.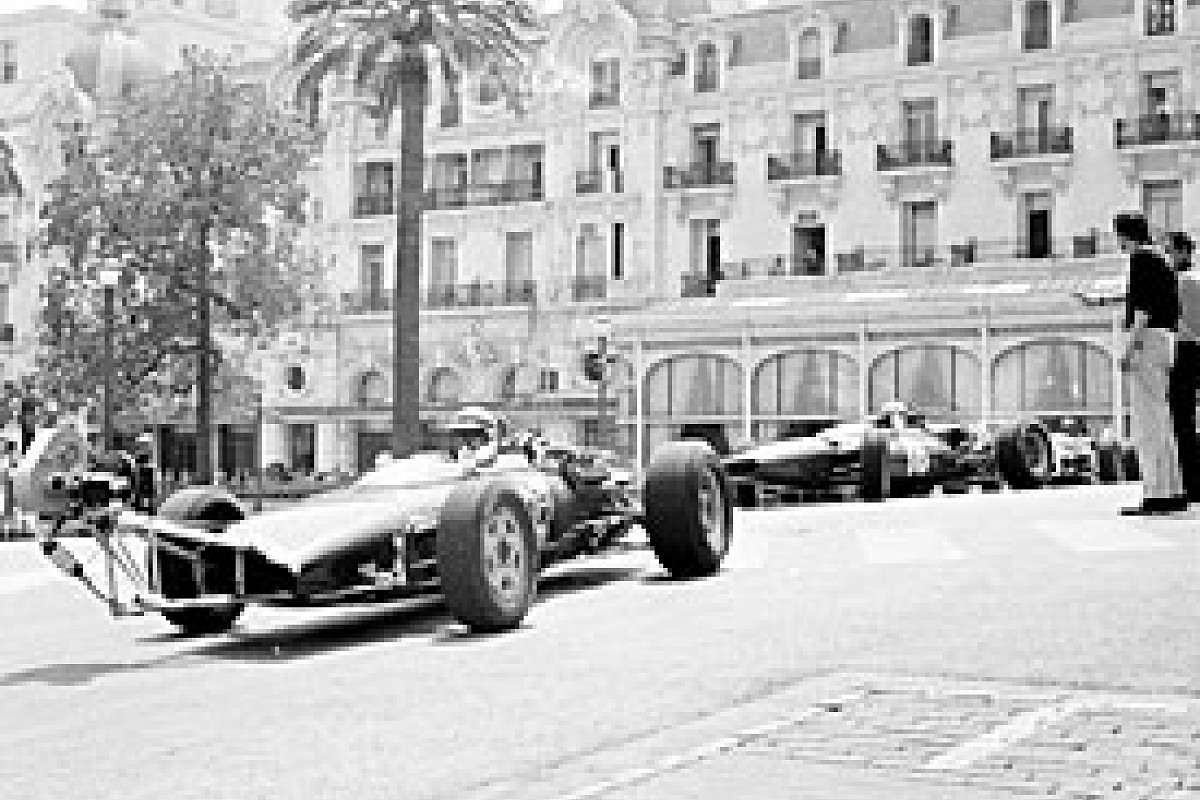 Grand Prix was filmed at various locations through 1966, including Monaco © LAT
McQueen and director John Sturges hired Stirling Moss, Jackie Stewart and John Surtees as advisors, and even began preliminary filming. But the star was still committed to another over-running project in far-off Taiwan - WW2 movie The Sand Pebbles - and by the time he was available, Grand Prix was already well under way.
Warner Brothers didn't want to be beaten to the screen by rivals MGM, and Day of the Champion was cancelled, literally at the last minute.
Grand Prix itself was the result of director John Frankenheimer's singular drive and vision. At the time he was one of the hottest young guns in Hollywood, his acclaimed and sometimes controversial films including Birdman of Alcatraz and The Manchurian Candidate.
A sometime racer himself, Frankenheimer first came up with the idea of a racing film in 1964. At the time he was in France, working with Burt Lancaster on The Train. An F1 movie could only be made by doing a tour of the European circuits, and with The Train, Frankenheimer had demonstrated to MGM that he could make a big budget action film while on location many thousands of miles from Hollywood.
Filming took place at the Monaco, Belgian, British and Italian GPs, with the production unit ducking and diving and doing what they could amid the normal hustle and bustle of a race weekend. Later additional sequences were filmed at each venue, while a completely staged race weekend was recreated at Clermont-Ferrand.
Grand Prix was a technical tour de force - the remote control cameras used on the cars at Monza were impressive for the time. It won Oscars for sound, sound effects and editing, and the innovative split-screen sequences were particularly well-received. The score - provided by Maurice Jarre of Lawrence of Arabia and Dr Zhivago fame - worked very well.
The film remains a unique time capsule. Phil and Graham Hill play Tim Randolph and Bob Turner respectively, while seen or heard as themselves are Juan Manuel Fangio, Paul Frere, Jo Bonnier, Richie Ginther, Jochen Rindt, Jo Schlesser, Bruce McLaren, Mike Spence, Bob Bondurant, Chris Amon and many more. Jim Clark - signed by McQueen and not officially involved in the project - is captured on the grid at Brands Hatch.
But as with so many other films of its type, regular movie goers were unimpressed by the plot, and race fans rushed to point out the factual anomalies and examples of artistic licence. Some 46 years later, the debate continues in the Nostalgia Forum of this very website...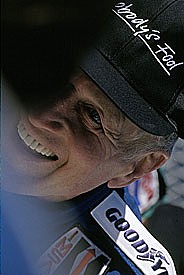 Paul Newman's love of motorsport spanned decades and spawned perhaps the greatest Indy film - Winning © LAT
Made just two years later, Winning was a less ambitious project than Grand Prix. The story focussed on the professional and personal rivalry between Frank Capua (Paul Newman) and team mate Lou Erding (Robert Wagner), which was exacerbated when Erding had a fling with Mrs Capua - played by Newman's real wife, Joanne Woodward.
Director James Goldstone was just 36, but like Frankenheimer he was a TV veteran. Indeed his resume now reads like an inventory of cult shows, as it included Star Trek, The Fugitive, The Outer Limits, Rawhide and The Man from Uncle!
Goldstone arguably had the best team of actors of any of the three movies (Wagner was highly regarded at the time), and that was emphasised by a period of serious rehearsal in New York before filming got underway.
Winning also had a strong storyline, with the main characters engaged in a romantic drama that could have played out alongside any profession. For once the credits didn't roll after the podium ceremony at the end of the big race - it took another 15 minutes before the relationships were resolved.
That's not to say that the racing sequences were neglected. The action started at a CanAm event at Elkhart Lake, and moved through stock car races at Riverside and Indianapolis Raceway Park, and finally to the Indy 500 itself. Goldstone filmed the real 1968 race - seen on the grid are the likes of AJ Foyt, Mario Andretti, Denny Hulme and Dan Gurney - and then recreated Bobby Unser's victorious works Eagle as Newman's mount for the staged sequences.
Stock footage from the previous two years, including the 1966 start line crash, was also incorporated. While its poor quality makes the real stuff glaringly obvious, the scenes filmed in and around the Speedway were pretty authentic.
Even the appearance of Winning did not dampen McQueen's resolve to make a racing movie, and by 1969 he had turned his attention to Le Mans. He attended that year's race on a scouting mission, and the memorable last hour battle between Jacky Ickx and Hans Herrmann convinced him that the race would make a great basis for a movie.
He returned in 1970 with a full crew from his own company, Solar Productions. His plan was to film the real race, see what happened, and then take over the track for a few months in order to create the additional sequences required to make a story out of it. A huge amount of money was spent on acquiring suitable cars and the drivers to handle them.
McQueen's first problem was that the actual 1970 race failed to live up to the previous year's classic. The attrition rate was high, and bad weather meant that much of the footage was useless, unless the recreated sequences could also include rain.
His second problem was the lack of any coherent storyline. It wasn't a question of the script being made up as the filming progressed; various versions existed, but they were either ignored or abandoned as McQueen immersed himself in capturing the action. He revelled in spending time with the real drivers he'd hired, and refused to properly delegate. He insisted that the race was the story, and didn't mind that that it took over half an hour before the first proper line was spoken.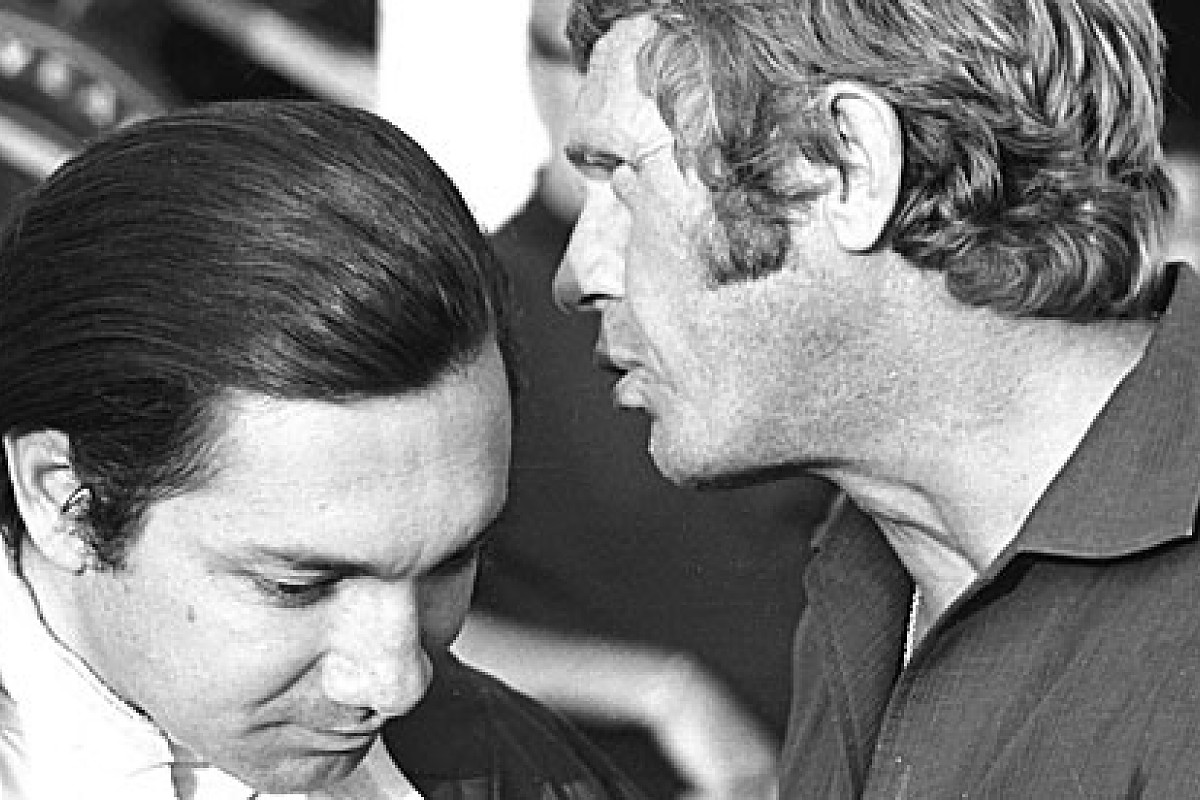 The off-track story, such as it was, focussed on Michael Delaney's attempts to make peace with the widow of a driver killed the previous year, and to a lesser extent on his rivalry with another driver. But none of that really went anywhere. What puts Le Mans apart from the usual racing film is that for once the hero does not win the big race.
The film that eventually emerged was (and indeed remains) a hit with racing fans, because most of the on-track stuff was supremely authentic, and McQueen was of course an electric presence on screen. It says a lot that a set of Gulf overalls he wore in the movie was recently sold for US$984,000...
However, to the world at large, Le Mans was a flop, its documentary feel failing to interest those without a passion for the sport.
Little of interest emerged during the next decade, apart from Bobby Deerfield. Starring Al Pacino, it included scenes filmed early in the 1976 F1 season at Kyalami, Jarama and Zolder, exactly a decade after Grand Prix.
Bernie Ecclestone concluded a deal with director Sydney Pollack to ensure that his Martini Brabham team was the centre of the action - Carlos Pace doubled for Pacino in the racing sequences - but the film is also notable for glimpses in the pitlane of the likes of Tom Pryce. In the end the racing sequences compromised but a small part of the movie, and the staged crash sequences - done ironically at Le Mans - were pretty poor.
The next major Hollywood look at racing was 1990's Days of Thunder. On paper it looked great - it reunited the Top Gun team of Tom Cruise, director Tony Scott and producers Don Simpson and Jerry Bruckheimer - but somehow it just didn't work out.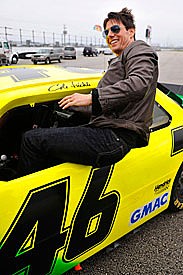 Tom Cruise is reunited with the 'City' Chevrolet Lumina he starred with in Days of Thunder © LAT
NASCAR gave the project its full support and allowed Scott and his crew to do just about anything they wanted, but when the sanctioning body viewed the end results it was more than a little disappointed. The public also failed to take to the film, and in retrospect its main claim to fame was that it introduced Cruise to Nicole Kidman. And even that didn't last...
And then there was the risible Driven. Sylvester Stallone knew a little bit about sports movies, for in 1976 he had shot to stardom in Rocky, a project he conceived and fought to bring to life, and which earned the best picture Oscar.
A few years later he appeared in Escape to Victory, a war movie set around a soccer match between Allied POWs and the Germans. Despite the presence of some retired legends in cameo roles, including the great Pele, the film was a disaster. Alas, so was Driven...
In earlier incarnations the film's working title was Into Thin Air, and later Champs. Stallone did a deal with Bernie Ecclestone to film over grand prix weekends and he made a few appearances at tracks. But at some point he fell out with Bernie, and he switched his attention to Champ Car.
He was of course welcomed with open arms and given full rein to do pretty much whatever he wanted. When the film emerged in 2001, with the then 54-year-old Stallone playing a racing ace, it was regarded as a total joke. Ecclestone - who had hated the script - was well aware that F1 had enjoyed a lucky escape. About the only thing that had any basis in reality was that there was a team owner (Burt Reynolds again) who wore a wig...
Arguably the best (and certainly most successful) racing movie of the last few years was a cartoon - Cars featured the voices of Richard Petty, Darrell Waltrip and Michael Schumacher, and was quite simply an entertaining story that young and old could enjoy, and one made with real passion.
In recent years there have been some silly NASCAR comedies in Talladega Nights and Herbie Fully Loaded, and a return to Le Mans racing with Michel Vaillant - a French production which at times makes Driven look like Citizen Kane. But until Senna it had been a while since anything came along that would stir real racing fans to visit the local multiplex.
Rush should change all that. It's directed by Oscar winner Ron Howard, who made Apollo 13, A Beautiful Mind, and The Da Vinci Code, and written by Peter Morgan, the man behind The Queen, Damned United, Last King of Scotland and Frost/Nixon - the latter, like Rush, directed by Howard.
Also part of a largely British creative team are ace digital cinematographer Anthony Dod Mantle, who won an Oscar for shooting Slumdog Millionaire, and the many times nominated composer Hans Zimmer.
On top of the usual challenges associated with a racing movie, Rush has to recreate real people - the good news is that Niki and James are played by two hot young stars in Daniel Bruhl and Chris Hemsworth, who have both the talent and the looks to carry it off.
A huge effort is going into capturing the spirit of the seventies era and doing justice to a story that, at the time, many of us regarded as being straight out of the movies. Believe me, it will be worth waiting for...