Whenever Formula 1 teams get back together again after the winter break, it always takes a bit of time for the regulars to familiarise themselves with fresh faces in new teams.
Yet rather than it being Kimi Raikkonen in his Lotus overalls, or Bruno Senna in his Williams gear, it was an old friendly face from the past who was causing a few double takes in the Jerez paddock this week as he walked around in his new Ferrari uniform. Hirohide Hamashima, who since 1997 had been head of Bridgestone's motorsport tyre development in F1, last month embarked on a fresh chapter in his career - and one that could prove instrumental in helping Ferrari rediscover its title-winning form.
As part of the Maranello-team's winter post-mortem on what went wrong last year, the outfit knew that it had missed something in extracting the most it could from its tyres.
Its struggles on the harder compound rubber in 2011 are well chronicled, but its issues went beyond that. For years it has struggled to unlock a happy medium between getting its tyres turned on enough in qualifying and looking after them in the races.
The solution? Hiring Hamashima to head up its tyre department in a bid to ensure that car development was perfectly in tandem with the trends of modern F1 rubber.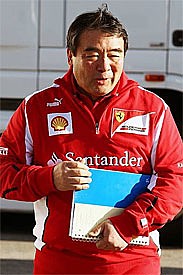 Hirohide Hamashima © sutton-images.com
"I am being given a role, an interface, to connect the team to a tyre supplier," Hamashima told AUTOSPORT before he left for Jerez.
"I am going to be the link between Ferrari and Pirelli. The Pirelli guys design the tyres and supply them to Ferrari, so I will be seeing things from the Ferrari point of view.
"It is a different role from a person who makes the tyres. Now, I have to see it from the point of view of a guy who makes cars, and can contribute to the development of cars. It is a new challenge."
When Ferrari announced the appointment of Hamashima as its head of tyre development during its Wrooom media event last month, it was widely viewed as a bit of a coup for the Maranello outfit.
Yet although the signing was a bit of a no-brainer from Ferrari's perspective, Hamashima admits that it was not such an easy decision for him to turn his back on the lifetime career he had enjoyed with Bridgestone and join an F1 team.
"It would be a lie if I said there had been no conflict or torment, as I could have stayed with Bridgestone until I retired - so I had another six years merrily working in Japan," he says.
"But I am grateful for the opportunity Ferrari has given me and the challenge I have now.
"I think I have been loyal to Bridgestone, and I really believed I would finish my career with them. So it is true there was a fight between my head and my heart."
In fact, the chance of linking up with Ferrari was not something totally new for Hamashima, because the Maranello outfit had been on the phone before.
"The original offer was made in 2010, but because Bridgestone was going through a period of restructuring I could not leave Japan," he recalls. "At that time, I did have to turn down the offer from [Ferrari team manager] Stefano [Domenicali].
"At that point you would think, that was it, right? Everyone would forget about it and move on. I thought the same, but then Stefano called me again in 2011, much to my surprise. I thought about it for many months and my mind was made up by the summer - although the real final decision was taken after the Japanese Grand Prix."
In fact, Hamashima reveals that the biggest factor that convinced him to take up the Ferrari offer was that he was encouraged to do so by his mother.
"I had spent many years dreaming to come to F1 and then participating in F1," he said. "And my mother's words did make a difference.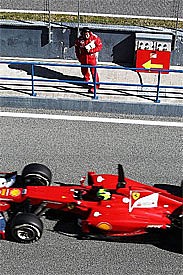 Hamashima watches Felipe Massa during testing at Jerez © sutton-images.com
"She told me that I should do something I had always wanted to do, with so little time left on my life meter! Her words liberated me to come to Italy really, and I am much indebted to her."
While excited about the opportunity of working for a team for the first time in his career, especially one like Ferrari, Hamashima knows he needs to approach his new challenge with a different way of thinking to how he operated in F1 before.
"I am going to have to have a mindset of a racing car manufacturer, and in a way Ferrari would be quite happy should I come across something they have never thought of because of my years as a tyre manufacturer.
"When we were in competition, whether it was against Goodyear or Michelin, our objective was to produce tyres that were better than the opponent. That is what we poured our energy into.
"It was about how quickly and how effectively we could bring tyres to the teams. That was important.
"Then we were alone in F1, when we became the single supplier. We brought the tyres to the racetracks and it was up to each team to make the best use of those tyres. We left them to adapt their cars to what we had, so in a way I had this experience of adapting cars to the given tyres.
"But there was one big difference. When I was with Bridgestone I was the one who was making tyres, so I had all the data on how those tyres were produced. This time I have no back-up data, and I don't know the philosophy of Pirelli, so that is something I will have to learn. It is going to be a fun process, but I don't think it is going to be easy."
Hamashima's background with Bridgestone has inevitably prompted questions about whether or not Pirelli will be so willing to be as open and honest with him as they are with other engineers who have had no affiliation with a tyre manufacturer.
However, Hamashima sees the opposite happening. He reckons that he will actually be able to get closer to Pirelli, because he will be coming at them from the common language of a deep understanding of tyres.
"When Pascal Vasselon went to Toyota, although he had come from a competitor [Michelin], I had no problems sharing information," he says. "There was no sense of unease at all.
"In fact, it was very good to have someone who does understand the tyres from a chassis side, and I think it did help us.
"F1 was never a tyre formula. It is the chassis that is most important, then comes the engine, and then maybe the tyres. It is a different thinking to the racing in Japan, which is predominantly a tyre formula really. So it is harder in F1 to make the race teams listen to what a tyre manufacturer is saying. Hopefully my experience with tyres will be able to help the suspension design, the set-up and things like that."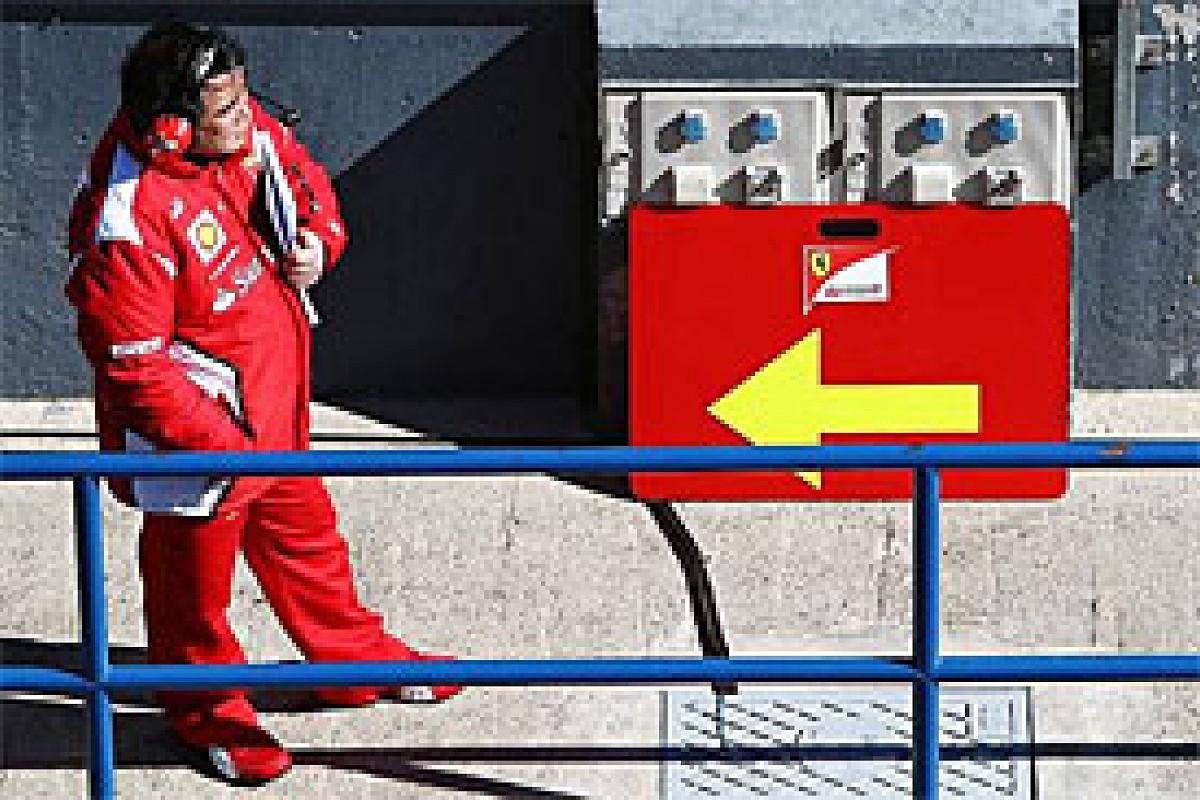 Hamashima's job is help Ferrari solve its tyre problems © sutton-images.com
Now though, the journey is just beginning - and this week in Jerez is the chance for Hamashima to do what he likes best: getting up close with the tyres.
"This will be the first time I have seen, felt and touched the tyres. There isn't enough information yet to judge anything, and until I start working with them hands on, it is very difficult to say.
"When there is only one manufacturer of tyres, we simply have to learn to adapt the race cars to those given. So I need to really learn about the car, so that we can get the best out of the tyres.
"When I was with Bridgestone, I was 'protected' by the company. I was there because of Bridgestone, but this time I am here with 100 per cent responsibility.
"Whatever I see or when I give comments, it will directly affect the results of Ferrari - so that is a big responsibility. Do not get me wrong, I am willing to take on such responsibility - but it is a big task.
"Saying that, I cannot wait to get my hands dirty."