An interesting development in Formula 1 is the news that Ferrari has hired Hirohide Hamashima as its director of tyre development.
'Hammy' has been a familiar face in racing paddocks around the world for more than a quarter of a century, exclusively with Bridgestone.
Hamashima, 60 this year, is a graduate of Tokyo's University of Agriculture and Technology, where he studied macromolecules. Put simply, if you want to know how a racing tyre will react with a track surface, he's your man.
Over time, intriguing concepts such as ground-effect aerodynamics and active ride have provided a quantum leap in racecar performance. But generally, along with the universal aerodynamic development that is intrinsic to today's F1, the biggest performance gains come through understanding and optimising tyres.
While it would be unfair to dilute Jackie Stewart's achievement in winning the 1968 German Grand Prix by over four minutes on a fog-shrouded Nurburgring Nordschleife, I'm sure even JYS would concede that his Dunlop rain tyres served him well.

Switching to Michelins transformed Ferrari's fortunes in 1978 © LAT
Then, by the end of 1977, when some were predicting the end of the competitive road for Ferrari's 312T2, a switch to Michelin allowed Carlos Reutemann to turn up with it at Rio Jacarepagua the following season and win by three quarters of a minute.
More recently, while Lewis Hamilton's 2007 rookie season with McLaren was superb - Lewis coming within an ace of winning the title against reigning double world champion team-mate Fernando Alonso - there are others who look at it from the opposite direction.
They point out that, with the hindsight of being able to appreciate Hamilton's ability, it was a fine achievement by Alonso to equal the points tally of a driver who had carried out nearly 5000 miles of testing on the Bridgestone tyres, the Spaniard having raced exclusively on Michelin's square-shouldered rubber throughout his F1 career to that point (though he too, of course, had some mileage on Bridgestones prior to the start of 2007).

Rubber performance is more significant amid a tyre war, sure, when bespoke tyres are designed to suit individual chassis, but is still very relevant in an era of control tyres. You just have to come at it from a different direction: changing chassis set-up rather than the tyre itself.
Then there's Red Bull Racing chief Christian Horner's explanation of just how much work Sebastian Vettel put into understanding the 2011 Pirellis, and RBR design boss Adrian Newey's observation that the Italian tyres are intolerant of high amounts of slip - something Mark Webber found more of a struggle than Vettel.
Ferrari technical director Pat Fry, discussing the team's trials and tribulations last year, gives some interesting insight into the reasons for Hamashima's recruitment.
Alonso led on soft tyres in Spain, but would plunge down the order on harder rubber later © LAT
Like everyone else, Ferrari embarked on its 2011 design without tyre data. When the team saw data, it led to the rear-suspension-geometry change that came in for Silverstone, where Alonso won. It gave Ferrari more camber range, but that couldn't be applied at tracks such as Spa and Monza, where there were inner-shoulder temperature concerns.
Ferrari's temperature-generating issues, nowhere better illustrated than Barcelona - where Alonso led the race on the soft-compound tyre and ended up being lapped when the hard compound was bolted on - were, Fry says, a fundamental of how you set the car up.
An ex-McLaren man, he explains: "McLaren used to be classically how we are, and it took all of the 2007-08 winter to get to a point of running the way they do now. Whether it was worth it then I don't know, but now that has paid off."
Fry thinks that some of Ferrari's tools need improvement, but that progress is being made. "We've got a better understanding now and we're trying to apply it to next year's car," he said at the end of last season. Undoubtedly, Hamashima will be key to short-cutting the understanding process when it comes to set-up and tyre optimisation.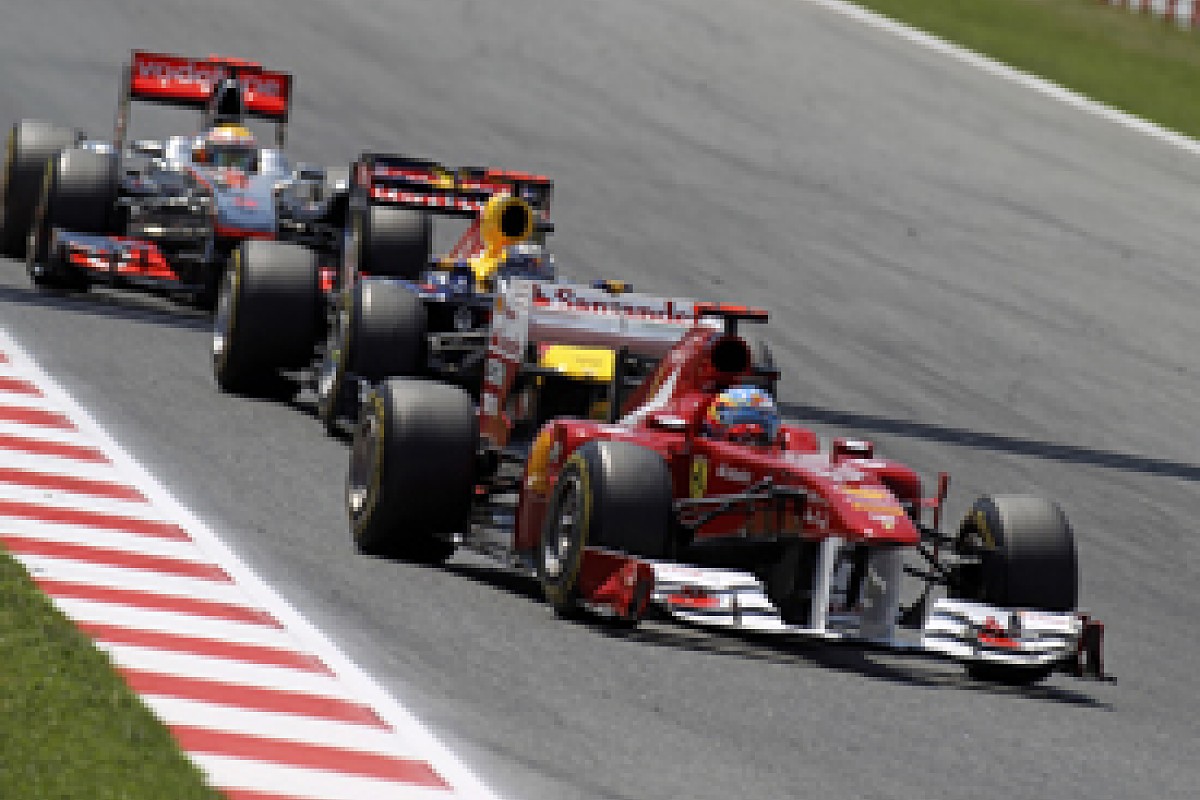 Hirohide Hamashima's tyre knowledge will be an enormous asset to Ferrari © sutton-images.com
Hamashima is, of course, no stranger to Ferrari. He worked closely with Ross Brawn throughout the Schumacher/Ferrari dominance of the early noughties. It was he who was tasked with coming up with bespoke Bridgestones that would suit Schumacher's preference for a grippy, pointy front end during the tyre war with Michelin. And a fine job he made of delivering.
There was, however, the odd communication problem, about which Brawn enlightened the media at a hilarious Bridgestone evening in the paddock some years ago.
Japanese companies have always sought to get the most out of their F1 involvement and, frequently, would send new engineers over to Ferrari to learn from working on the F1 programme.
On one such occasion, Brawn took a phone call from a serious-sounding Hamashima, who explained that a new, young engineer was about to be sent to Europe.
"He is very good and keen," said 'Hammy', "but when he arrives, be sure to masturbate him. He will respond well."
A lengthy silence - and here you have to try to conjure in your mind Brawn's best wise-old-owl countenance.
"Er, that's not quite how we work at Maranello, Hammy..."
More silence.
"Ohhhhhh. Ahhh. No! No! Sorry! Sorry! Motivate!! That's it, motivate! You must make sure you motivate him!"
"OK Hammy, I think we can manage that."