February: Lewis Hamilton, who can't wait to put 2011 behind him, flies to Barcelona two days early for the first test. Trouble is, it's at Jerez.

"Shockin'!" Bernie Ecclestone says, "I blame his management. When he fell out with his pa I told him we'd look after him, but he got the wrong company."
What do you mean?
"Nineteen Entertainment. CVC owns Nine Entertainment. Silly boy..."
March: Pre-Melbourne, the FOTA teams meet to discuss a generous new 2013 Concorde proposal from Bernie and CVC. In future, the teams will have 65 per cent of the sports' revenues instead of the current 50 per cent. They are just about to sign when someone reads the small print. Of the 65 per cent, 40 per cent has to go to Ferrari and Red Bull.
Back at Woking, Ron Dennis spontaneously combusts. At the meeting, Martin Whitmarsh suffers a bout of uncontrollable tremors. Nobody signs. Under 'Any Other Business' there's a request from Ferrari and Red Bull for late driver changes. Felipe Massa is to be replaced by Judas Iscariot and Mark Webber by Marcus Brutus.
They all agree to block the changes apart, strangely, from Whitmarsh, who thinks there's probably a better chance of Hamilton avoiding Iscariot. Webber keeps his seat but at Ferrari, Massa is 'ill' and they put in Iscariot, claiming force majeure.
April: The civil strife in Bahrain appears to have abated but there's trouble in the paddock and the race is under threat. The FOTA teams accuse Red Bull and Ferrari of doing their own deals with Bernie before January 1, in breach of the existing Concorde Agreement and boycott the race. Mr E tries to put everyone straight.
"I didn't offer them a better deal," he says.
So why did they leave FOTA?
"I dunno. You'll have to ask them. Maybe they just thought I might. That's probably it. A bit like that funny business I had with that German banker..."
The grid forms with just the Red Bulls, Ferraris, Saubers and Toro Rossos. But it's okay, the cars still outnumber the spectators. After the lights change, the HRTs pull out of the pits, tool around at the back and pick up three points to put them in the championship top 10.
"Sneaky little Spanish gets!" storms Marussia's Graeme Lowdon in broadest Geordie accent. "You can see why FOTA doesn't work..."
More controversy when a pre-arranged plan to put on a good show is taken advantage of by Jean-Eric Vergne, who nips past Sebastian Vettel on the last lap to win.
"Who d'you think you are, Didier Pironi?" snaps the world champion, displaying rare knowledge of motorsport history.
May: A Monaco technical directors' meeting to discuss 2013 exhaust exits is cancelled when the teams realise they don't have any TDs - they all work for Mercedes. The proposal from Stuttgart is that the tailpipes must exit from the top of Adrian Newey's head in the hope that he will finally fry his brain.
Michael Schumacher leads from lights-to-flag until Mark Webber barges down the inside at Rascasse and puts the Mercedes into the tyres on the last lap.
"He's shown an affinity for those before so I thought he'd like that..." smiles the Aussie, who is left un-penalised by race stewards, once again including Damon Hill.
July: On Thursday at Silverstone Bernie Ecclestone suddenly declares that admission to the British Grand Prix is free and all those fans who have bought tickets will be refunded. A million people turn up. Jenson Button and Lewis Hamilton narrowly survive the autograph stampede. In the paddock, there's widespread concern that Bernie, 82 this year, has lost the plot.
"I didn't get where I am today without being generous," says Mr E. "I was just worried that it was going to rain and the spectators might not come. I'm not saying they definitely wouldn't, just that I couldn't afford to take the risk. I didn't want those nice stall-holders missing out." Silverstone is fined £15m for inadequate security measures.
September: After Vettel, Vergne and Webber are the only drivers to win races as far as Silverstone, Ferrari suddenly finds pace and Alonso arrives at Monza with back-to-back wins at Hockenheim, Hungaroring and Spa. In the paddock, on the way to the FIA mobile test lab, Charlie Whiting drops the test tube containing Ferrari's fuel sample. In the race, Alonso is cruising to four in a row, when Iscariot unexpectedly defies team orders on the last lap to win in front of the tifosi.
"I'm sorry, but it's what I do..." says Judas. Alonso finds incriminating emails between Iscariot and Christian Horner on Judas's Blackberry, and sends it to Jean Todt. What he fails to realise is that in the deal to terminate Massa, Nicolas Todt is on 20 per cent of Iscariot. No further action ensues.
November: Formula 1 arrives at Austin to find they have been true to their word and there are lots of elevation changes. "I feel a bit pissed actually," says Jenson Button, who has got down to five stone so that McLaren can sew on a couple of extra 37g sponsor badges. Kimi Raikkonen wins by a minute.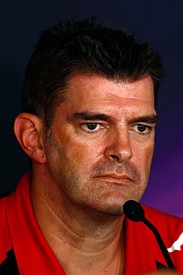 "What did you think of it, Kimi!?" gushes a local reporter.
"I drove okay, the car was okay, the circuit was shit and the spectators were fat," replies the Kimster.
In the paddock there's more posturing over the 2013 Concorde. The 26th draft still has four-car teams, unlimited testing and the 65 per cent revenue, with 40 per cent still going to Ferrari and Red Bull. The FOTA teams won't sign.
"Okay," says Mr E. "I'll try and 'elp you. But honestly, where else you gonna race, Wimbledon dog track? Here's the deal: you lot sign by the end of the week and I reckon I can get rid of four cars and testing.
"I'm a generous man. And I might manage to persuade them to take 35 per cent, but the red lot'll probably want to write the rules in exchange for that. They did before. Unless one of you can manage to push Adrian down a flight of stairs and give 'em half a chance, that is? Anyway, think it over. And Happy Christmas!"