PRACTICE
Practice one
Themes that stood for the entirety of free practice for the Abu Dhabi Grand Prix: Lewis Hamilton seemed focused and fast; McLaren was quick; Red Bull was unflustered; Mark Webber was closer to Sebastian Vettel than of late; Pirelli's tyres offered plenty of grip; Rubens Barrichello had technical issues.
Not the way Barrichello wanted to start his weekend © sutton-images.com
In the first 90 minutes it would be Jenson Button who set the target time, but for much of the session it was his McLaren team-mate Hamilton who looked sharp, determined and fast. In the end Button and Webber both beat his time, as several drivers experimented with Pirelli's development soft option tyre - available only on Friday.
Ferrari's drivers had all sorts of fun zipping off the track here and there and no doubt were deeply grateful for the distinct lap of grass or off-track obstacles. These problems reached a zenith when Felipe Massa spun significantly at Turn 1 - bigger names would make bigger splashes there later in the day.
Barrichello's Williams suffered a catastrophic failure after three laps - which meant he would spend much of the morning in his garage, and Vitaly Petrov's Renault made a smokey exit at the end of the session too.
Practice two
McLaren moved truly to the fore in FP2 with Hamilton's 1m39.586s lap shading that of Button's 1m39.785s. But though the Woking squad showed encouraging one-lap pace, the Red Bulls - as they so often have this year - looked strongest on the long runs both on option and prime rubber.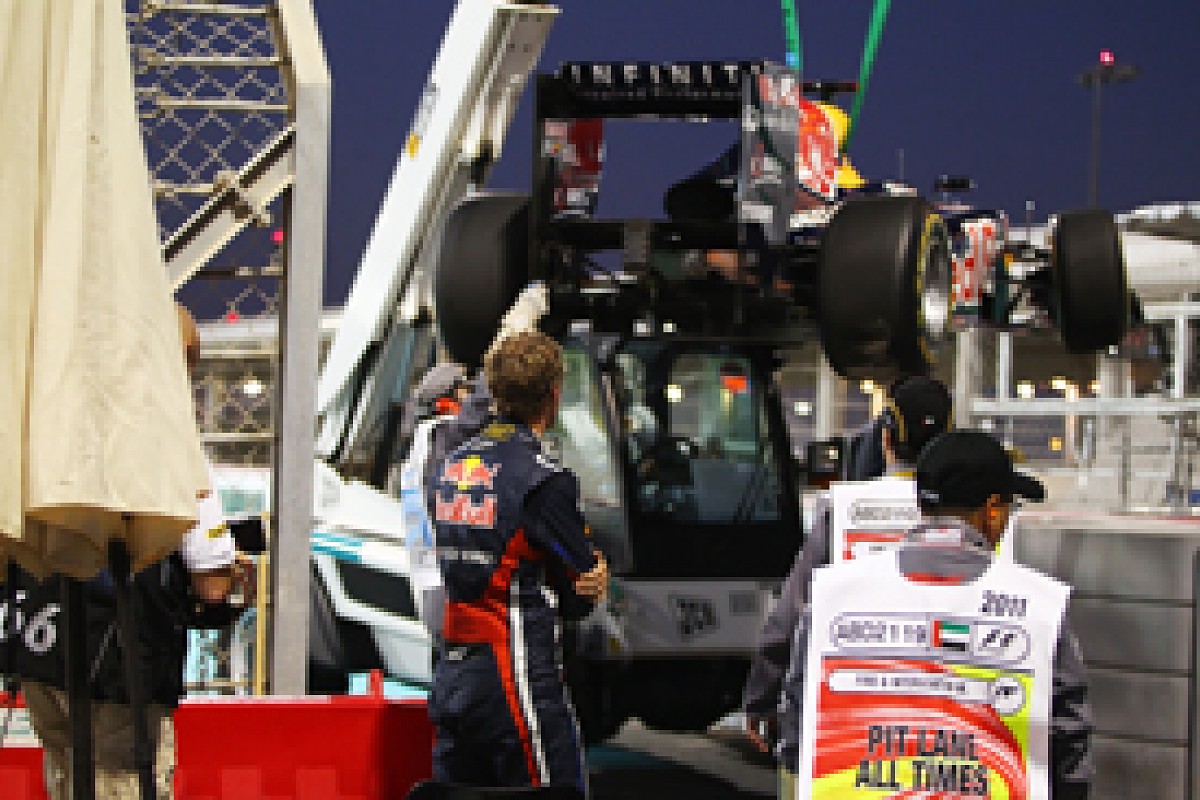 Vettel crashed at the same turn as Alonso © sutton-images.com
Far more interesting to the headline merchants were the two crashes endured by double world champions Vettel and Fernando Alonso down at Turn 1. There was no damage to either driver in the incidents that occurred within 15 minutes of one another. But while Vettel's recovered car returned to the track later on, Alonso was out for the duration. The TecPro barriers were well, and successfully, tested.
Behind the top six which ran down unusually, McLaren, McLaren, Ferrari (Alonso), Ferrari (Massa), Red Bull (Webber), Red Bull (Vettel), were the two Force Indias of Adrian Sutil and Paul di Resta - in eighth and ninth behind Michael Schumacher's Mercedes. This was good news for the Silverstone-based squad as it prepared to engage in a serious fight with Sauber for sixth in the constructors' championship.
Practice three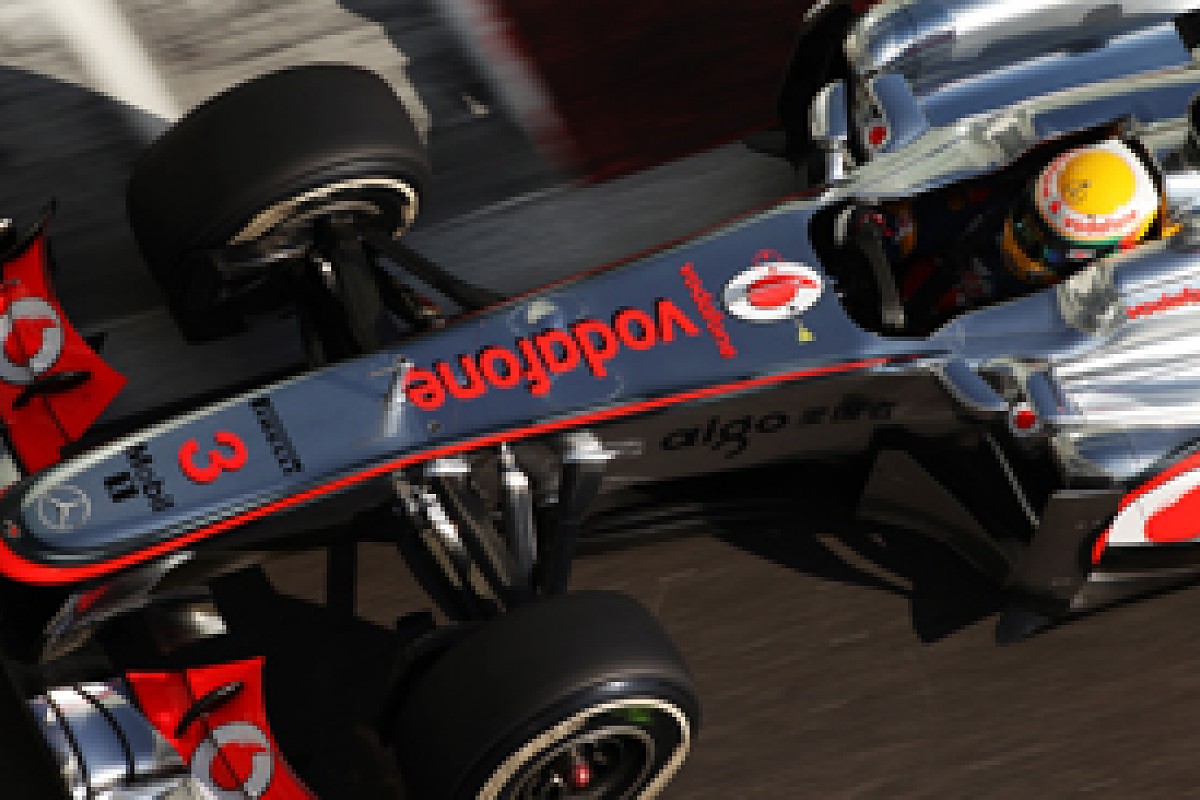 Hamilton set the best lap ever recorded at Yas Marina © sutton-images.com
Hamilton continued to move towards his 'happy bubble' on Saturday morning by setting the fastest time ever recorded around the Yas Marina circuit - 1m38.976s. That time ended up being more than 0.4s faster than Vettel, whose team-mate Webber was third.
The Australian might have been closer to Hamilton, but he was unintentionally baulked by Vettel as the frontrunners embarked on their final qualifying simulation runs.
The fact that by the end of them, the top four were all covered by less than 0.5s suggested that qualifying might actually be exciting.
Qualifying
1st SEBASTIAN VETTEL
"I was not so happy with my first run in Q3, but on the second run I was much happier - especially with the first two sectors. I bought myself a bit of a cushion for the last sector, which was a little bit trickier towards the end of the evening. It was just enough to jump ahead of Lewis."
2nd LEWIS HAMILTON
"It wasn't a particularly spectacular lap, neither of them in Q3 were. In the first two qualifying sessions the car was looking really good. Then the car was understeering a little and that was the limitation. I just wasn't able to improve on my last lap."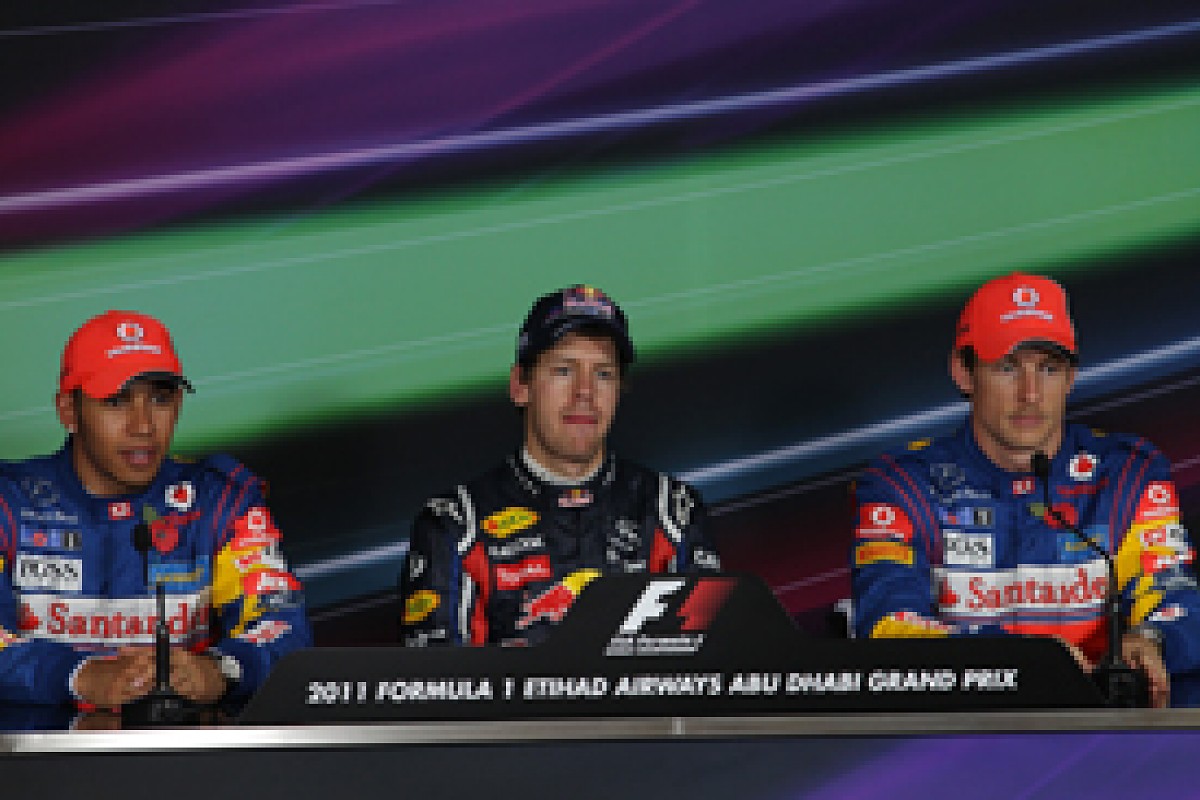 Button was beaten to pole by Vettel and Hamilton © sutton-images.com
3rd JENSON BUTTON
"I tried a few things before qualifying and at the start of qualifying, which felt a bit better, but during qualifying I suddenly found myself with massive amounts of understeer, a completely different car balance than I felt all weekend. But I'm quite happy with the lap and the improvements we made."
4th MARK WEBBER
"It was a very tight session. I was happy up until the last lap when we made a mistake in terms of preparation and then I was a little bit close to Adrian Sutil starting the lap. I would have liked to have got amongst the front row battle. A 1m38.8s [lap] was not the maximum for me.
5th FERNANDO ALONSO
"In Q3, I thought of doing one run, but then the first one was not perfect and we preferred to try right to the end. Maybe the best time could have come on the second or third flying lap, but going down that route would have compromised our strategy."
6th FELIPE MASSA
"I hoped for more from this qualifying. I struggled more than expected to get the best out of the tyres on the first flying lap; maybe it would have been worth trying a longer run with two attempts. As expected, today McLaren and Red Bull showed they have the edge over us."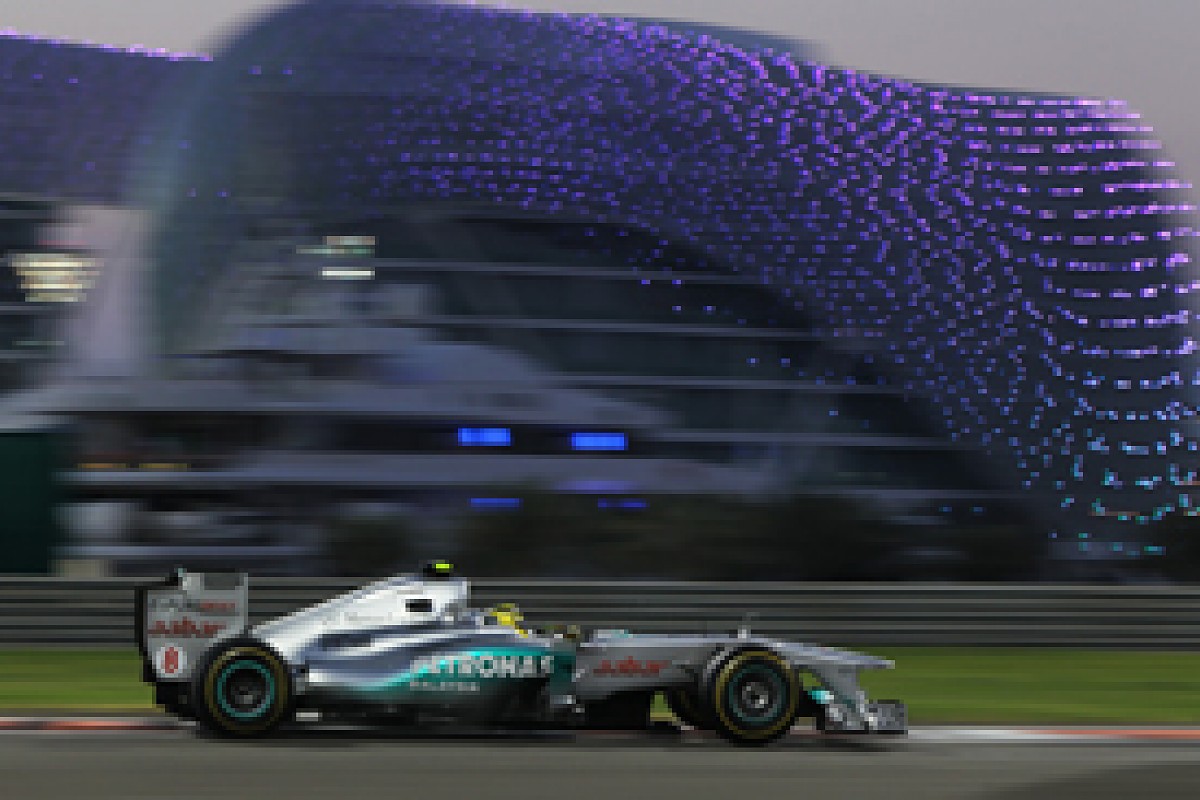 As usual, Rosberg qualified seventh © sutton-images.com
7th NICO ROSBERG
"I'm not disappointed, seventh place is okay and it's the clean side of the grid, but we could have done better. It's not ideal when you don't get the best out of it. In the last part of qualifying, I had a very slow outlap because of traffic so I had big warm-up problems. It was possible to beat Massa."
8th MICHAEL SCHUMACHER
"It was quite a tight qualifying today. I aborted my last lap in Q1 to save tyres, and having some fresh tyres left is the good news from Q3 as well. Overall it was a normal qualifying where we would probably not have much more in the pocket."
9th ADRIAN SUTIL
"It was a good qualifying again, especially Q1 and Q2, which went very well. It was tricky when the track temperature went down because we had trouble warming up the tyres, especially the fronts. In the end, in Q3, with one more lap I could have done better so I probably lost out to Michael."
10th PAUL DI RESTA
"Q1 and Q2 went well and we got the job done by getting in the top 10. Our approach to Q3 was to give us the optimum strategy for tomorrow. For the race we are definitely hoping for points."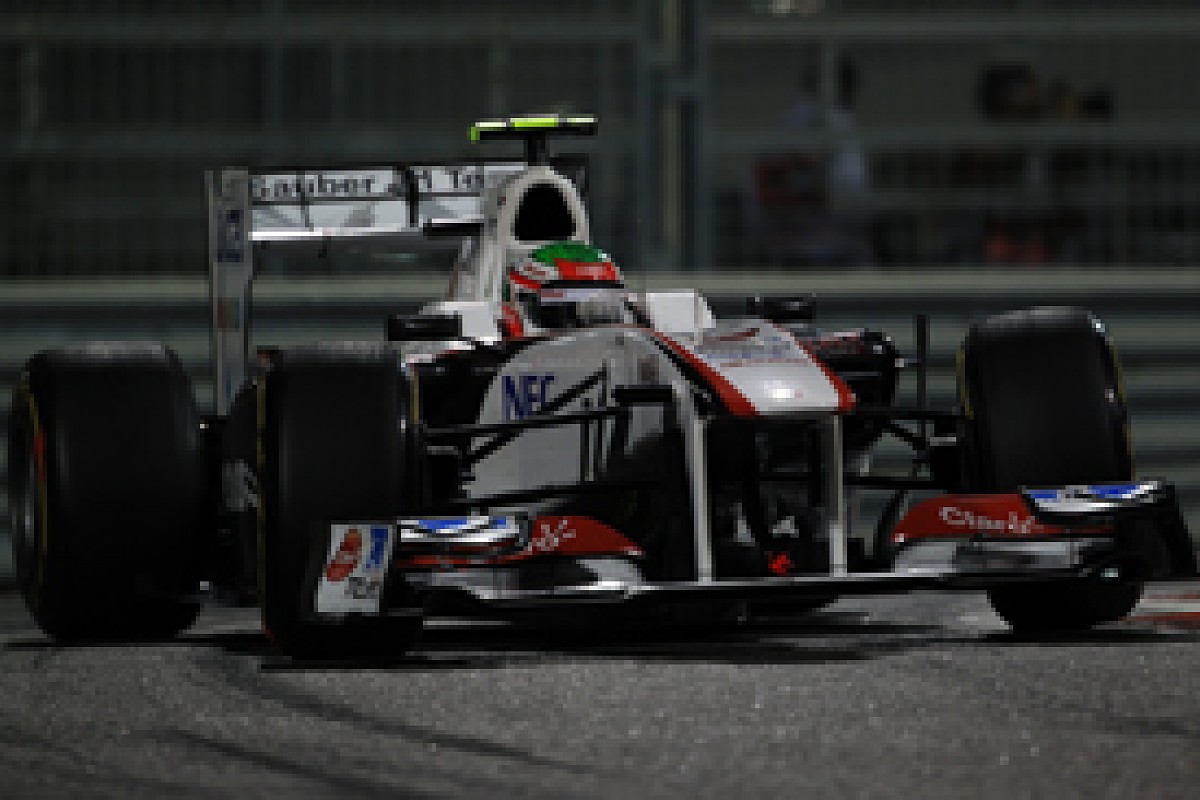 Perez missed out on Q3, but didnt' mind © sutton-images.com
11th SERGIO PEREZ
"I'm very happy with 11th in qualifying. Everybody in the team did a good job. I did my fastest lap time in Q2 with a set of soft tyres I had used before in Q1. Of course I was hoping to improve in Q2 when I got the fresh tyres, but it was impossible for me to get them to work."
12th VITALY PETROV
"We're pretty happy with what we did today. We took the maximum from what we have and maybe we could have gone quicker by one or two tenths, but it was limited."
13th SEBASTIEN BUEMI
"I am reasonably satisfied with my own performance, even if I am only 13, a tenth of a second off 11th place, which shows it was quite a difficult session. But I think that, in the cockpit I did a good job and unfortunately."
14th BRUNO SENNA
"I made a mistake on my last lap and lost a lot of time. It was a gamble to go for one flying lap, and unfortunately I could not get into the position I wanted to be; I really feel I could have made P11. At least the sets of tyres have only done one lap each."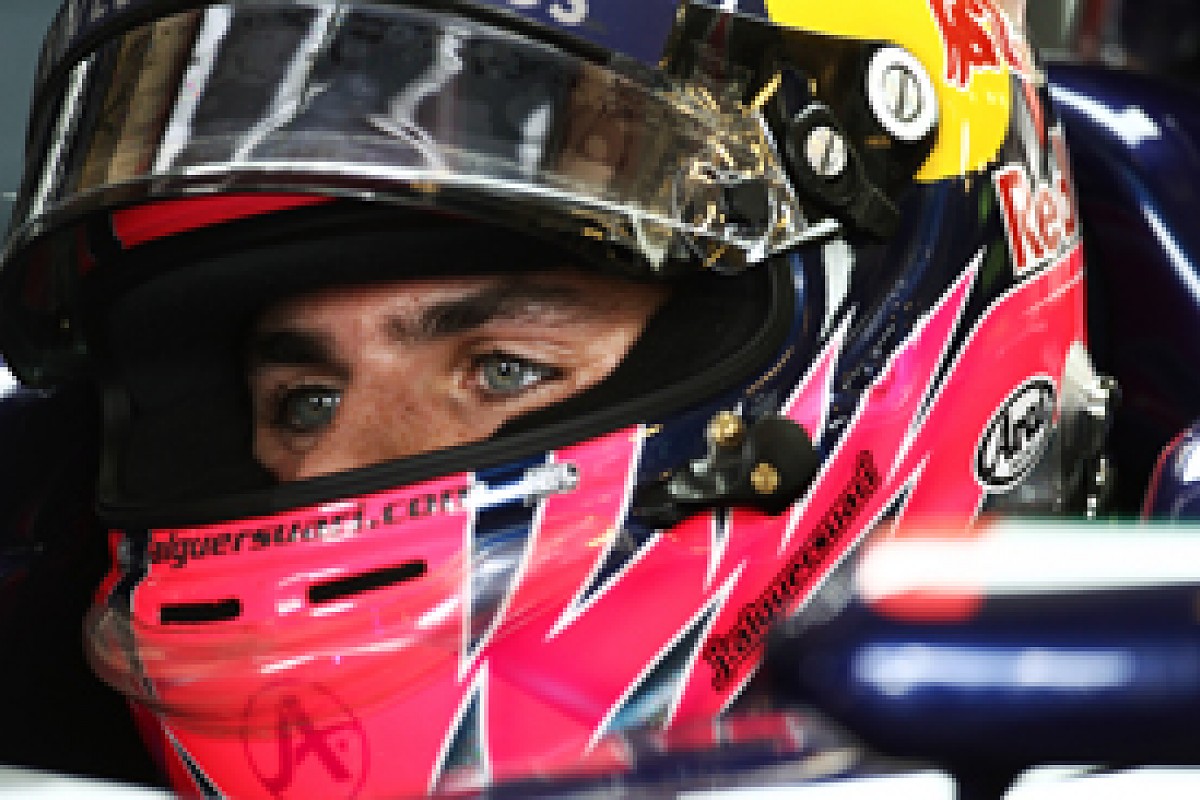 Alguersuari expects to be more competitive on Sunday © sutton-images.com
15th JAIME ALGUERSUARI
"I am pleased that we managed to improve the car from the practice session to qualifying and I believe we have made the right choices for the race in terms of downforce levels and other set-up tools. We are often more competitive in the race than in qualifying."
16th KAMUI KOBAYASHI
"I did what was eventually my fastest lap time in Q2 on the set of soft tyres I had used before in Q1. This lap wasn't perfect, but I put my hopes on the set of new tyres. Then we struggled a lot to get the fresh ones up to temperature.
17th HEIKKI KOVALAINEN
"We definitely got as much performance as we could out of the car and to break into the 1m42s is very satisfying. I pretty much nailed the quick lap and I think we know that where we are on race pace gives us another chance of a strong finish tomorrow."
18th JARNO TRULLI
"It was a tricky Saturday, having had to sit out FP3 with a gearbox issue. The team fixed the problem and gave me the chance to get out in qualifying, so putting together a lap that comfortably keeps me ahead of the guys [Virgin and HRT] behind is pretty good."
19th TIMO GLOCK
"The car was a bit more difficult to drive than on Friday. My qualifying lap was a good one and I am happy to be in front of HRT. The lap was good, with no mistakes, but I'm sure that if I had more confidence in the car I could push more."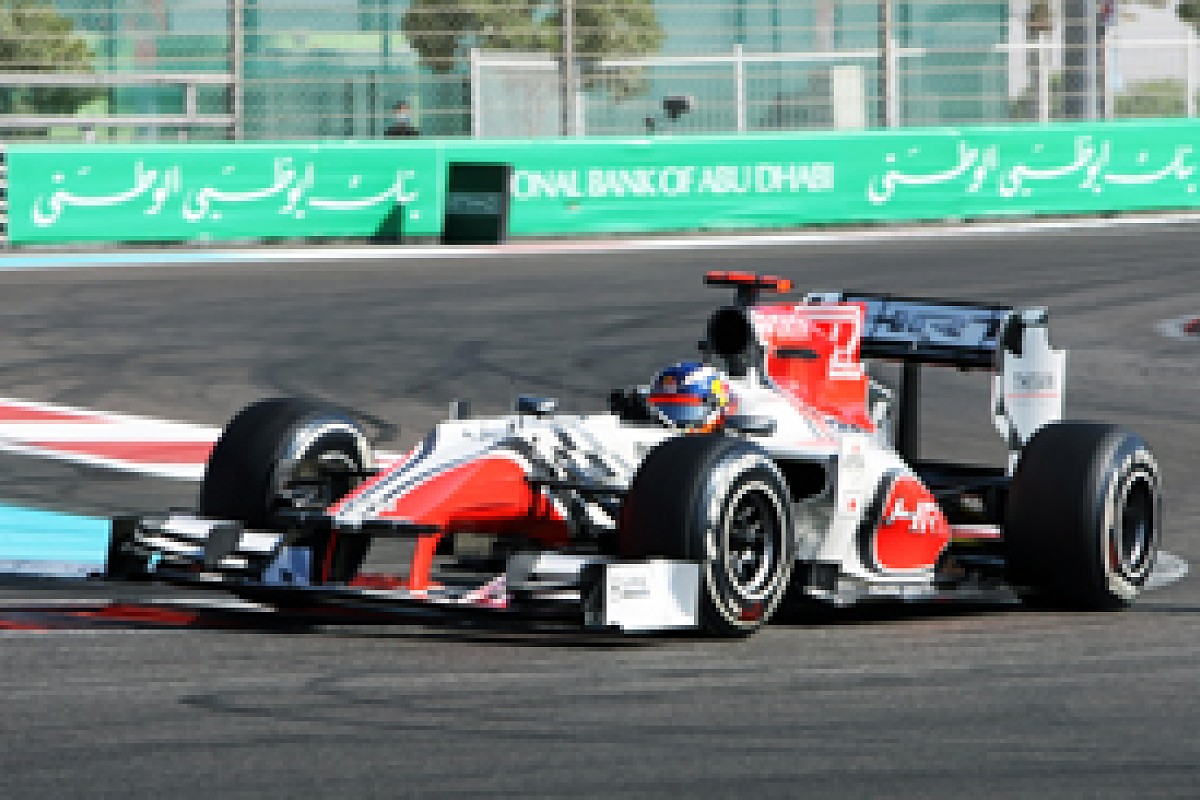 Ricciardo was brilliant in qualifying for HRT © sutton-images.com
20th DANIEL RICCIARDO
"Qualifying was good. We were a little bit unsure coming into qualifying because practice didn't go particularly smoothly. But in the end we put in a pretty good time even though we lost a bit of time in the second sector with one of the Virgins so we could maybe have got in front of Glock."
21st JEROME D'AMBROSIO
"I had a reasonable qualifying. I didn't get the perfect lap, but equally it wasn't such a bad one. I'm looking forward to the race tomorrow as my setup was oriented more towards the race rather than optimised for qualifying."
22nd VITANTONIO LIUZZI
"After my second run we suffered a broken suspension bracket and the car had massive understeer on left-hand turns, but I tried to continue doing some laps. The car wasn't fast at all and very unbalanced and that is why we were so far behind."
23rd RUBENS BARRICHELLO
"The team tried everything to fix the problem that we had this morning. Unfortunately, they weren't able to and I couldn't go out in qualifying. I fully support the team and know we will come through this smiling."
24th PASTOR MALDONADO
"From the back, the race is going to be hard again. We worked hard with high fuel to set up the car for the race because we didn't have any chance in qualifying with the penalty. We used only one set of tyres in Q1 and Q2."
THE GRID

Pos  Driver                Team
 1.  Sebastian Vettel      Red Bull-Renault
 2.  Lewis Hamilton        McLaren-Mercedes
 3.  Jenson Button         McLaren-Mercedes
 4.  Mark Webber           Red Bull-Renault
 5.  Fernando Alonso       Ferrari
 6.  Felipe Massa          Ferrari
 7.  Nico Rosberg          Mercedes
 8.  Michael Schumacher    Mercedes
 9.  Adrian Sutil          Force India-Mercedes
10.  Paul di Resta         Force India-Mercedes
11.  Sergio Perez          Sauber-Ferrari
12.  Vitaly Petrov         Renault
13.  Sebastien Buemi       Toro Rosso-Ferrari
14.  Bruno Senna           Renault
15.  Jaime Alguersuari     Toro Roosso-Ferrari
16.  Kamui Kobayashi       Sauber-Ferrari
17.  Heikki Kovalainen     Lotus-Renault
18.  Jarno Trulli          Lotus-Renault
19.  Timo Glock            Virgin-Cosworth
20.  Daniel Ricciardo      HRT-Cosworth
21.  Jerome D'Ambrosio     Virgin-Cosworth
22.  Vitantonio Liuzzi     HRT-Cosworth
23.  Pastor Maldonado      Williams-Cosworth *
24.  Rubens Barrichello    Williams-Cosworth *

* 10-place penalty for use of ninth engine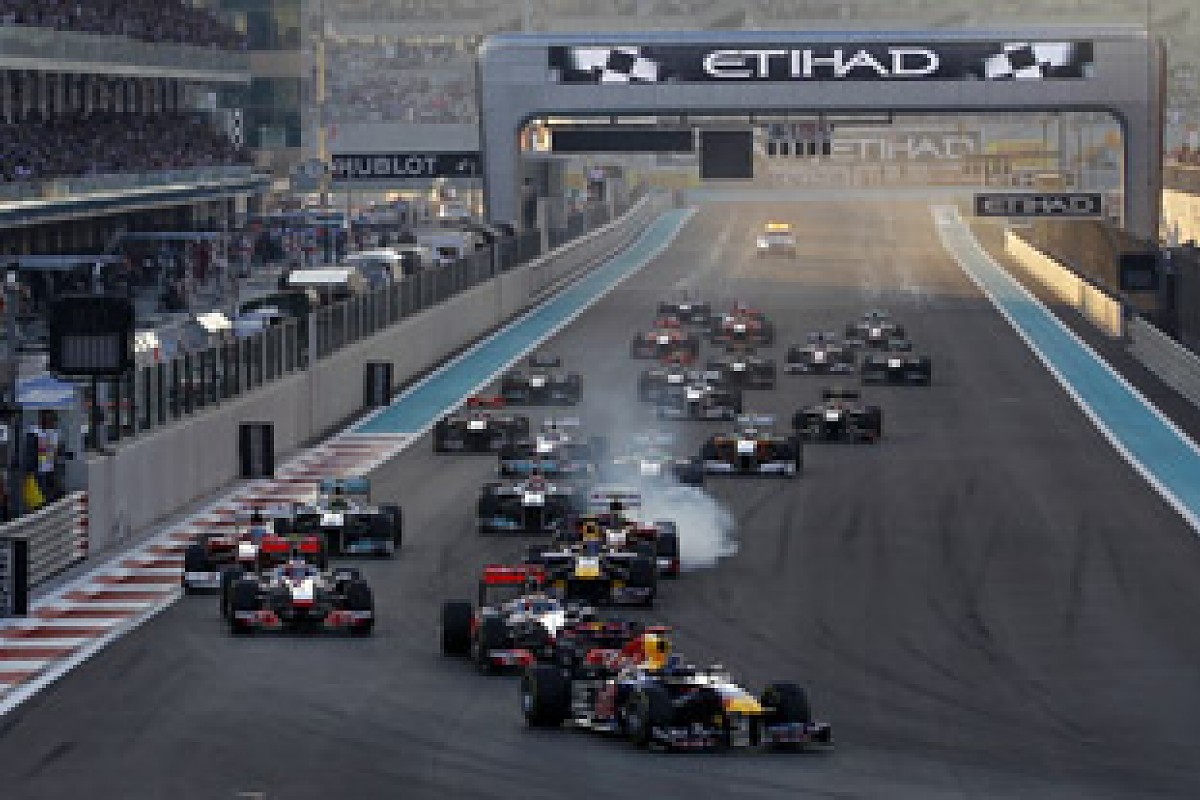 RACE
The men who shared the front row for the Abu Dhabi Grand Prix could scarcely have had more contrasting seasons - but the race would see their usual fortunes swap around.
Sebastian Vettel had been a relentless winning machine, delivering the most dominant steamroller of a campaign since his friend Michael Schumacher's decimation of the opposition in 2004.
Time and time again other teams had looked like they might have a shot of at least interrupting his progress, and repeatedly Vettel had pulled a little more speed out of the bag and beaten them all once more - most recently by overturning McLaren's superiority in the closing seconds of qualifying at Yas Marina.
That pole lap from Vettel looked like the death knell for practice pacesetter Lewis Hamilton's victory hopes. And in recent months Hamilton's season had been as disorderly as Vettel's had been serene. Overshadowed by a team-mate for the first time in his career, troubled by a seemingly endless string of collisions with Felipe Massa, and unsettled by issues in his personal life, Hamilton looked like a man desperate for it to be 2012.
But Abu Dhabi gave him a chance to redeem his 2011 season at the eleventh hour - and also showed that Vettel - or at least his equipment - wasn't totally invulnerable.
The pre-race wisdom was that the only way to stop Vettel would be to get ahead of him at the start - and a blistering getaway from the world champion saw him tick off that box by comfortably launching clear of his squabbling rivals by the time he turned into the first corner.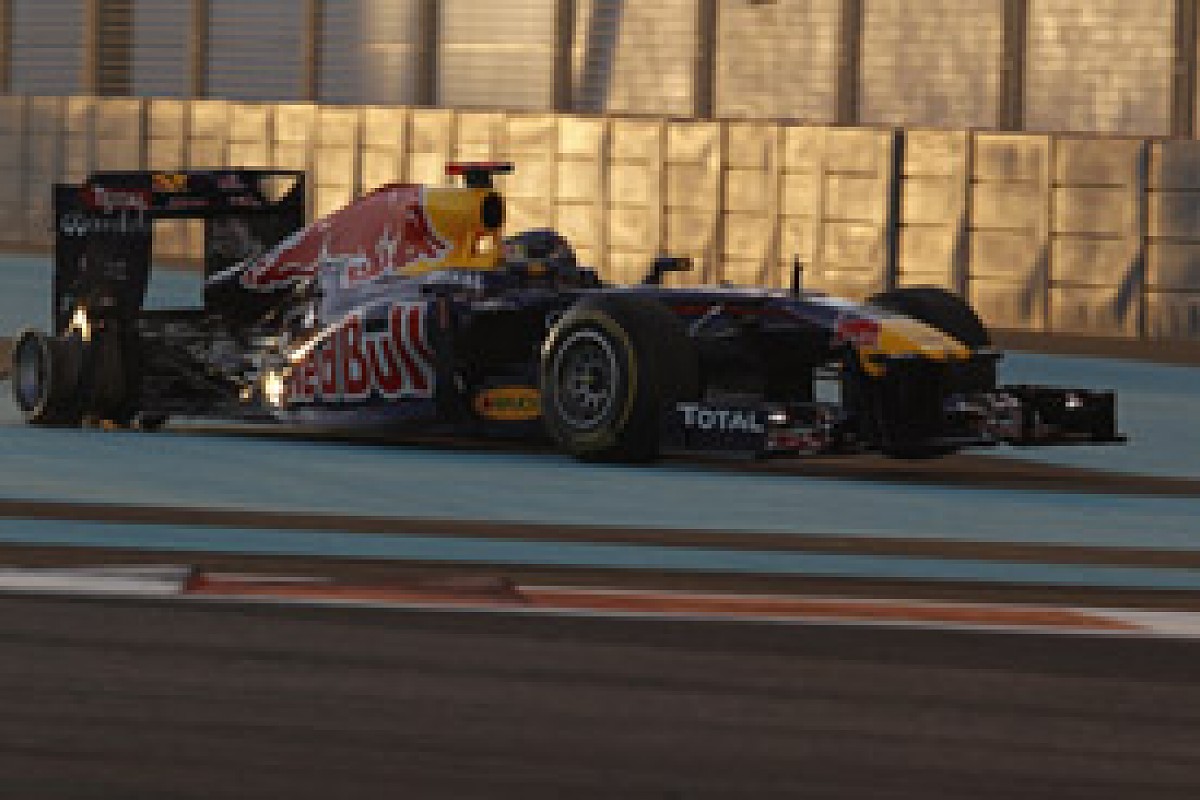 Vettel was eliminated by a second corner puncture © LAT
But at the second corner, his evening fell apart, as a freak right rear puncture sent the Red Bull spinning. Vettel had made no contact prior to the incident and his approach to the Turn 1 kerbs did not seem outlandish, so the deflation left Pirelli boss Paul Hembery slightly puzzled.
"We do know it was an instant deflation at least, and the most likely cause with such a quick deflation is debris," he said.
Vettel was as surprised as the watching world by the incident - which forced him to retire as the flailing rubber had done too much damage to the Red Bull by the time he got it back to the pits.
"At the exit of the first corner everything seemed fine but as soon as I started to turn in for the second corner I felt something was wrong with the rear right and I had to catch the car surprisingly, and the second time I had to catch it I couldn't do it anymore," he said.
So often this year the fight behind the runaway Vettel has been the interesting and unpredictable part of grands prix, so in theory his exit could have left the way open for a thriller.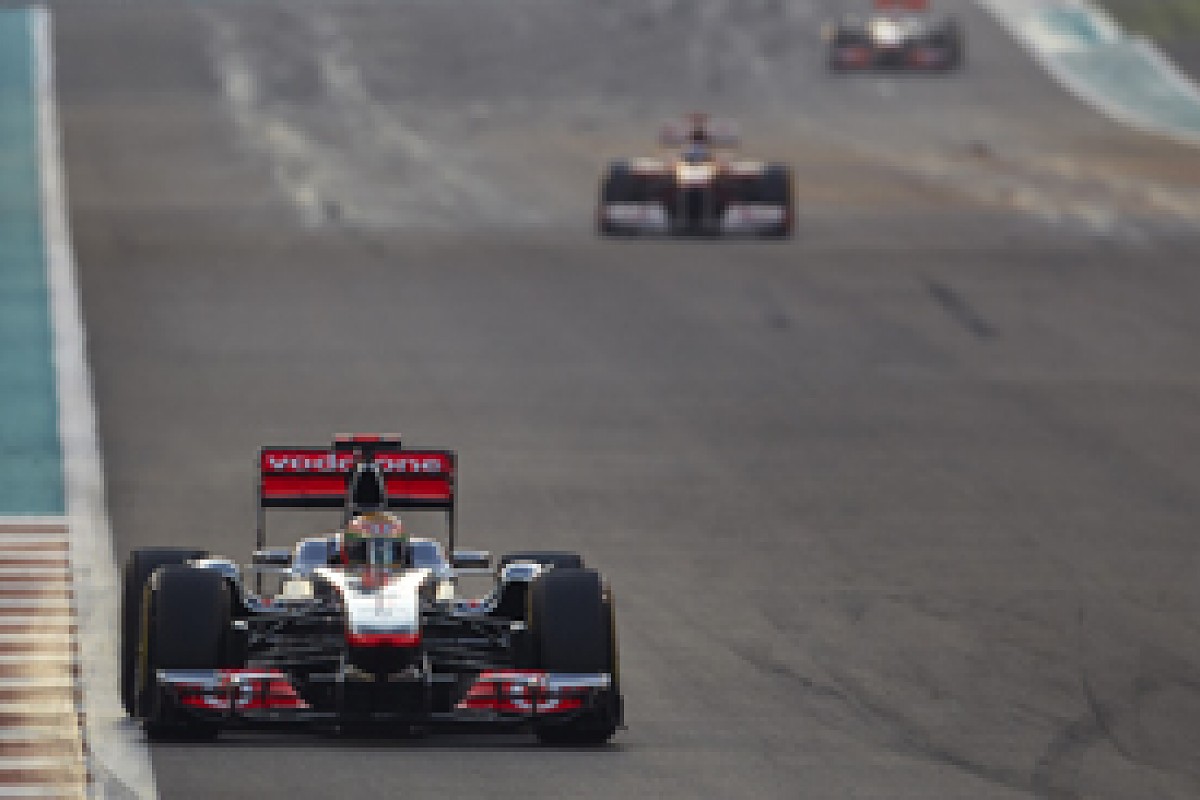 Hamilton controlled Alonso throughout the race © LAT
But this time Hamilton had everything in hand. Fernando Alonso had muscled his way up to second by overtaking Mark Webber at the start before going down the outside of Jenson Button at the end of the backstraight, and he was able to stay with Hamilton for much of the race. But despite Alonso's best efforts, which included "doing qualifying laps every lap" and Ferrari going two laps longer before its final stop, Hamilton remained out of reach.
It was the 2008 champion's first victory since the German Grand Prix in July, and only his second podium in that period. Hamilton hoped he would be able to look back on the Yas Marina evening as the moment when his form turned around - and said he was particularly satisfied to have achieved the result with Alonso breathing down his neck all the way.
"I think it was one of my best races," he said. "I said that as I slowed down: being able to hold off one of the best drivers in the world is tough to do. Looking after the tyres, managing the gap...
"I am ecstatic, really very happy to be back up here. This is great and I can get on the flight tonight and smile."
The other member of 2010's title-chasing pack who has had little cause to smile in 2011 is the still win-less Mark Webber. And while Hamilton turned a corner in Abu Dhabi, for Webber the night brought more of the same.
He spent most of the distance in a fraught battle with Button, in which he managed to pass the McLaren several times only to lose the place again. A sticky tyre change at his first stop then cost him several seconds and dropped him behind Felipe Massa - and he found trying to pass the Ferrari conclusively as tricky as it had been with the McLaren.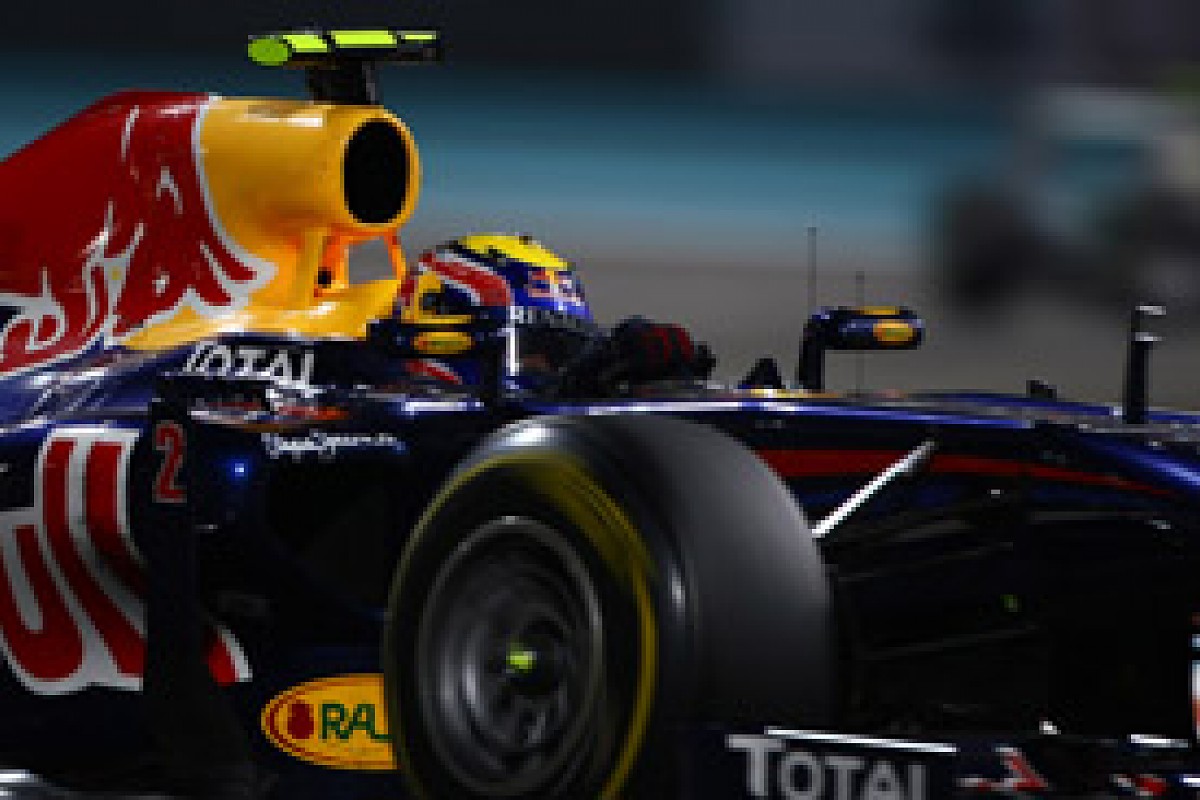 Webber tried three stops, but ended up fourth © LAT
Red Bull decided to try what Webber admitted was a "punt" and switched to a three-stop strategy, running until the very last lap before finally taking on the harder Pirellis. It didn't work well enough to beat Button - who wowed McLaren by completing the podium despite his KERS malfunctioning for much of the race - but it did get Webber ahead of Massa for fourth, helped by the Ferrari losing a few seconds with a quick spin six laps from the end.
That rotation left Massa only just ahead of Nico Rosberg's Mercedes at the flag. Rosberg worked hard for that result - spending the first two laps in a muscular battle with team-mate Michael Schumacher, before pulling clear of the elder German.
Schumacher then spent the race dicing with Adrian Sutil. The Force India got ahead at the first stops but lost out at the second, but Sutil's eighth place coupled with ninth for Paul di Resta - who one-stopped but felt he probably shouldn't have - left the team with sixth in the constructors' championship virtually in the bag.
They were helped by tricky afternoons for main rivals Sauber and Toro Rosso. Sauber still scored a point with Kamui Kobayashi even though his strategy of ditching the harder tyres on lap five didn't work as well as the team had hoped - forcing too long a second stint on the soft. His team-mate Sergio Perez damaged his front wing clipping Sutil on lap one, but did get back up to 11th by the finish.
Toro Rosso failed to score despite its cars surging forward early in the race once again.
Sebastien Buemi was stopped by a hydraulic failure while Jaime Alguersuari lost time with a slow pitstop and a penalty for blocking the leaders while being lapped, leaving him 15th.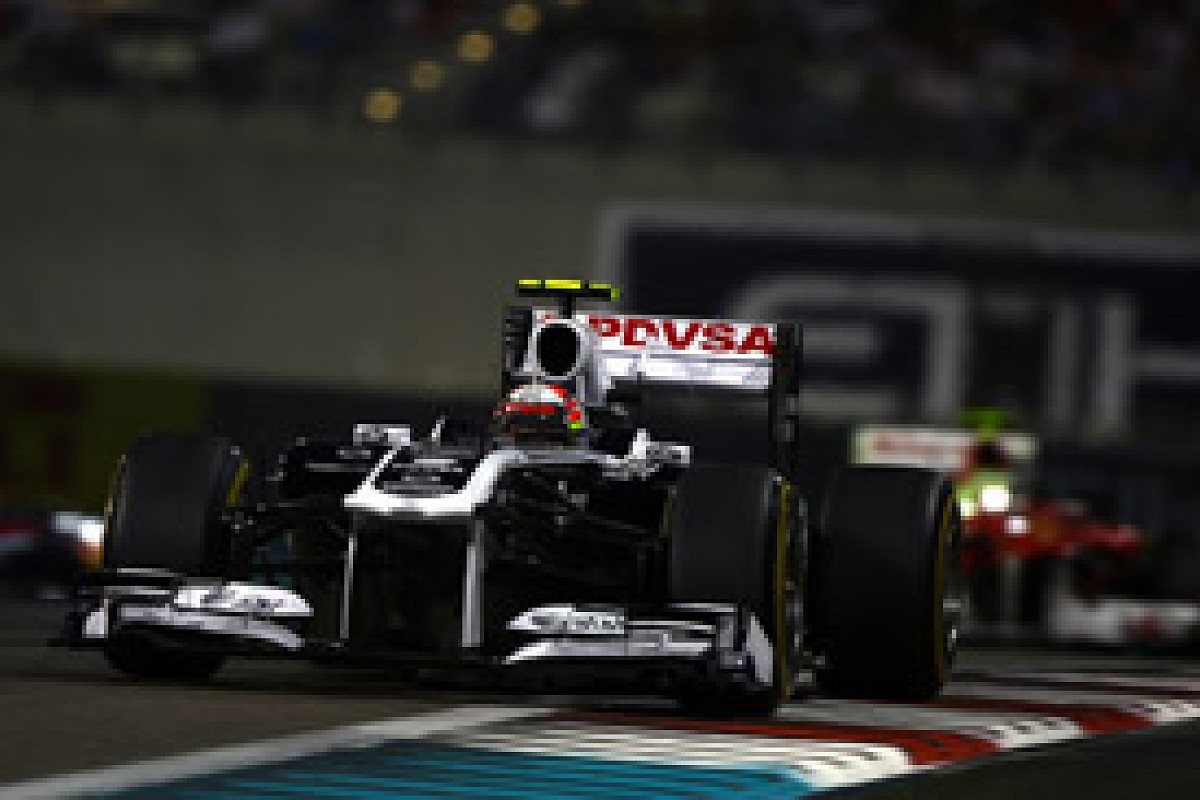 Maldonado was penalised twice for ignoring blue flags © LAT
He wasn't the only driver to get that punishment on a day of curiously frequent traffic disruption. Williams's Pastor Maldonado and Renault's Bruno Senna were judged to have similarly transgressed, putting them back in 14th and 16th respectively. With Senna also lacking KERS, his mood was dark at the end of the race. Stuck in 13th with a DRS malfunction, his team-mate Vitaly Petrov was similarly frustrated.
But at the end of a generally terrible weekend, Williams did have a little consolation as Rubens Barrichello battled through from the back to 12th, right behind Perez, producing an encouraging drive in what he hoped was not his penultimate grand prix.
For much of the race it looked like occasional giant-killer Heikki Kovalainen might be able to do something special for Lotus as he ran among Williams, Saubers and Renaults. In the event, he was shuffled back to 17th, but with Senna not far down the road, he felt he had more cause to look to 2012 with confidence. His sometime team-mate Hamilton was thinking much the same as his smile finally returned with a vengeance on the top step of the podium.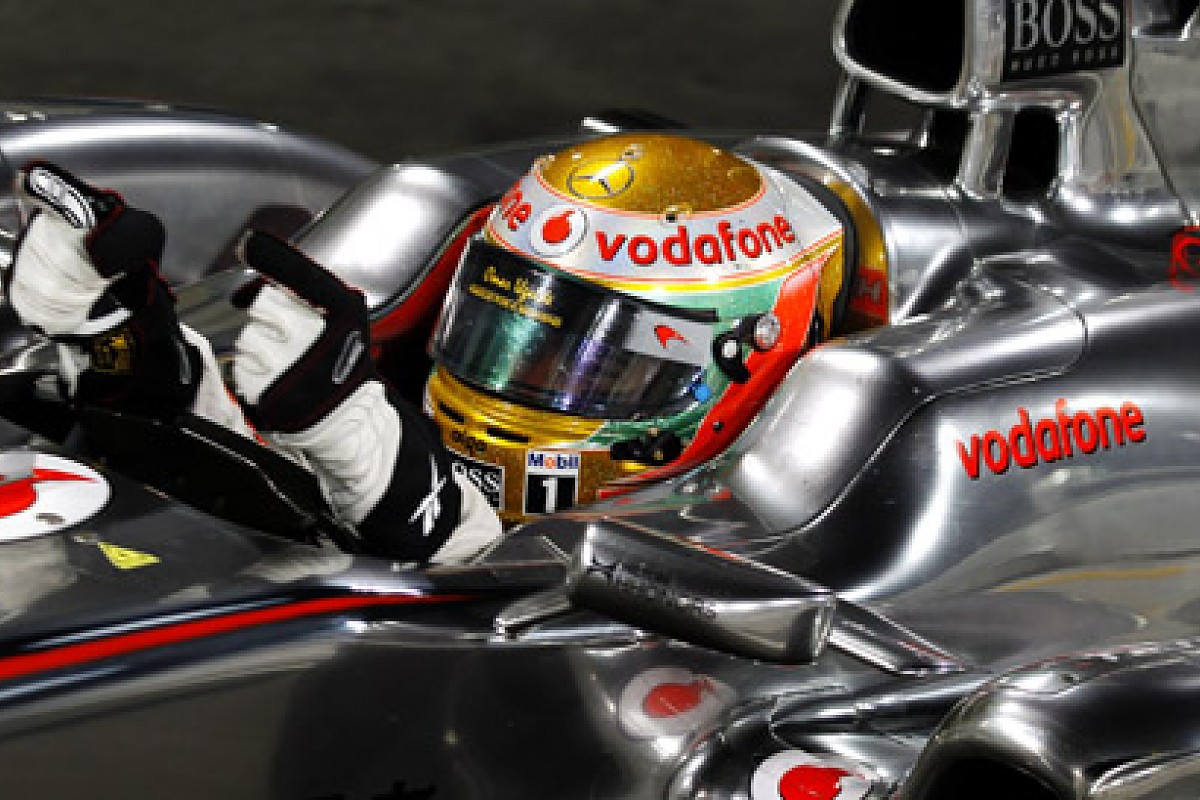 Lap-by-lap as it happened on AUTOSPORT Live
RACE RESULTS

The Abu Dhabi Grand Prix
Yas Marina, United Arab Emirates;
55 laps; 305.355km;
Weather: Clear.

Classified:

Pos  Driver        Team                       Time
 1.  Hamilton      McLaren-Mercedes           1h37:11.886
 2.  Alonso        Ferrari                    +     8.457
 3.  Button        McLaren-Mercedes           +    25.881
 4.  Webber        Red Bull-Renault           +    35.784
 5.  Massa         Ferrari                    +    50.578
 6.  Rosberg       Mercedes                   +    52.317
 7.  Schumacher    Mercedes                   +  1:15.900
 8.  Sutil         Force India-Mercedes       +  1:17.100
 9.  Di Resta      Force India-Mercedes       +  1:40.000
10.  Kobayashi     Sauber-Ferrari             +     1 lap
11.  Perez         Sauber-Ferrari             +     1 lap
12.  Barrichello   Williams-Cosworth          +     1 lap
13.  Petrov        Renault                    +     1 lap
14.  Maldonado     Williams-Cosworth          +     1 lap
15.  Alguersuari   Toro Rosso-Ferrari         +     1 lap
16.  Senna         Renault                    +     1 lap
17.  Kovalainen    Lotus-Renault              +     1 lap
18.  Trulli        Lotus-Renault              +    2 laps
19.  Glock         Virgin-Cosworth            +    2 laps
20.  Liuzzi        HRT-Cosworth               +    2 laps

Fastest lap: Webber, 1:42.612

Not classified/retirements:

Driver        Team                         On lap
Ricciardo     HRT-Cosworth                 49
Buemi         Toro Rosso-Ferrari           19
D'Ambrosio    Virgin-Cosworth              18
Vettel        Red Bull-Renault             1


World Championship standings, round 18:                

Drivers:                    Constructors:             
 1.  Vettel       374        1.  Red Bull-Renault          607
 2.  Button       255        2.  McLaren-Mercedes          482
 3.  Alonso       245        3.  Ferrari                   353
 4.  Webber       233        4.  Mercedes                  159
 5.  Hamilton     227        5.  Renault                    72
 6.  Massa        108        6.  Force India-Mercedes       57
 7.  Rosberg       83        7.  Sauber-Ferrari             42
 8.  Schumacher    76        8.  Toro Rosso-Ferrari         41
 9.  Petrov        36        9.  Williams-Cosworth           5
10.  Sutil         34       
11.  Heidfeld      34       
12.  Kobayashi     28       
13.  Alguersuari   26       
14.  Di Resta      23       
15.  Buemi         15       
16.  Perez         14       
17.  Barrichello    4       
18.  Senna          2       
19.  Maldonado      1       


TEAM-BY-TEAM
Red Bull
Sebastian Vettel's luck finally ran out as he retired for the first time since last year's Korean Grand Prix. Having crashed at Turn 1 in practice, the corner remained the world champion's nemesis in the race when his right-rear tyre punctured exiting the corner while he was leading on the opening lap.
As Red Bull and Pirelli busily investigated the cause, Webber tried to make up for a second row qualifying effort he described as 'scrappy'. After trading positions with Button early on, he embarked on an ambitious three-stop strategy in a bid to limit his time on prime rubber to just the final lap, while also recovering from a poor first stop. The plan failed to get him onto the podium; the Australian coming home fourth.
McLaren
Both Lewis Hamilton and Jenson Button were disappointed that their excellent efforts in qualifying had not resulted in pole for the team, but when Vettel spun on the opening lap, Hamilton was left out front. Despite pressure from Fernando Alonso all race, he never even looked like making a mistake and delivered a well-deserved third win of 2011.
Button was passed by Alonso on the first lap and later on by Webber, but his two-stop strategy proved the right one and got him home third, despite spending three quarters of the race without KERS being operational.
Ferrari
The Italian team continued with its new front wing, although Massa was forced to revert to the old-spec unit after again suffering excessive flapping - as he had in India. The Brazilian failed to convert practice form and qualified sixth, but was in the hunt with Button and Webber for third in the race until a late spin that made sure he stayed fifth.
Alonso, by contrast, produced a superb drive, keeping his car within 4s of Hamilton for the majority of the race. A decision to run a longer second stint in a bid to jump the McLaren could have paid off had he not been caught behind a slower HRT while entering the pits, but even Alonso didn't think he could have kept Hamilton behind him on the day.
Mercedes
For the fourth time in five races - and the ninth time in 2011 - Rosberg started seventh, although he felt he would have been higher up if not delayed on his second run in Q3. Schumacher, who struggled to get his tyres up to temperature in qualifying trim, was one place further back.
The pair ran close together during the first two laps, Rosberg almost eliminating his team-mate as he aggressively retook Schumacher at Turn 10, having lost out to the seven-time champion at Turn 7. Schumacher's car developed a slow puncture in the final laps, losing him over 15s to his sixth-placed team-mate and forcing him to park at Turn 2 on the slow-down lap after crossing the line seventh.
Renault
Vitaly Petrov and Bruno Senna were never at the races, both drivers suffering from a car that was not suited to the circuit and could not unlock the speed available from Pirelli's two tyre compounds. Petrov's DRS didn't work in the race, and finished a spot behind his 12th place starting position.
Senna's race was a little more eventful, the Brazilian's KERS cutting out intermittently (and to a greater extent as the race wore on). His own awareness also failed to the extent that he was given a drive-through penalty for ignoring blue flags. Sixteenth place was the result.
Williams
If Saturday was bad for Renault, it was a disaster for Williams as Barrichello and Maldonado started 23rd and 24th - the latter after an engine change netted him a 10-place penalty - to give the team its worst F1 qualifying session as two-car operation.
Things were somewhat better on raceday, the pair up to 13th and 14th by the first stops. Barrichello, having missed qualifying, had plenty of fresh tyres at his disposal, and made the most of it to finish 12th, right behind Sergio Perez's Sauber. Maldonado was given a 30s penalty post-race for ignoring blue flags, but his 14th spot was unaffected.
Force India
Sutil and di Resta spent Friday evaluating aero set-ups, with the Briton none too happy with his car's low-end stabity. Di Resta didn't bother setting a Q3 time; his mind on raceday already, and on a one-stop strategy that turned out not to be the right way to go.
Di Resta improved by one place on his starting spot to finish ninth, while Sutil was another position further up, his two-stopper limiting the amount of time he had to spend on the tricky-to-warm-up option tyres. Double points, however, has virtually guaranteed the team's sixth place in the constructors' championship, ahead of Sauber.
Sauber
After both Kobayashi and Perez ran on the fringes of the top 10 during practice, it was the Japanese driver who failed to make the most of his car's pace in qualifying; an inability to 'switch on' new tyres limiting him to 16th spot.
He started on the option tyres and produced a sterling fightback drive to take 10th and the final point while Perez's race went the other way. He damaged his nose on the opening lap after contact with Sutil and had to change his strategy as a result. Spending the final 12 laps with no working KERS limited him to 11th.
Toro Rosso
The Italian squad geared its weekend around race performance, its preferred aerodynamic set-up for Sunday limiting Alguersuari and Buemi to 15th and 13th on the grid.
Alguersuari felt a point was possible, but lost his chance when around 10s went begging at his first tyre change due to a mistake in the pits and ended up 15th, a position not affected by a post-race 20s penalty applied for ignoring blue flags. Buemi, after passing di Resta for a top 10 spot early on, gradually dropped back due to broken power steering which was caused by a hydraulic fluid leak that eventually caused his retirement.
Lotus
Another standard weekend for the team that will become Caterham next year, as it again comfortably outperformed chief rivals Virgin and HRT. Trulli did well to qualify 18th - one spot behind Kovalainen - after missing P3 due to a gearbox problem that was rectified in time for qualifying.
Trulli, afflicted by a fever, then suffered at the start of the race too with clutch slip, which forced him to recover the lost spots on-track. Both drivers struggled on their final stints on prime rubber, but were far enough ahead of their pursuers to ease to 17th and 18th spots, Kovalainen even closing down Senna's Renault towards the end.
Hispania
Another weekend full of niggling problems for HRT. An electronics issue afflicted Liuzzi on Friday and he then lost any hope of improving on 23rd on the grid (which became 22nd due to Maldonado's penalty) when a suspension bracket came loose during Q1.
Wholesale set-up changes to Ricciardo's car on Friday night paid off as he started a career-best 20th, ahead of Jerome d'Ambrosio, but a bad start dropped him three spots. Liuzzi's one-stop strategy meant he was 20th and clear of the two-stopping Australian when the latter's electrics packed in with three laps left.
Virgin
Glock struggled - like many - to get his rear tyres up to temperature once the sun set on all three days, but after qualifying 19th the German was satisfied with race pace that had him ahead of the HRTs (the Spanish cars having matched the Virgins in qualifying trim).
Jerome d'Ambrosio was no match for Glock over the weekend, and was running at the back of the pack when worsening braking problems caused him to call it a day.
RACE DATA