As Sebastian Vettel, Jenson Button and Fernando Alonso waited to go out onto the Indian Grand Prix podium, the microphones picked up their chat.
"What happened to Lewis?" asked Jenson. Alonso, with what looked like the faintest of smiles, informed him that Hamilton had touched with Massa. Again.
"Oh Jesus..." Button said.
As McLaren team principal Martin Whitmarsh conceded, they do seem to be magnetically attracted. It was the sixth time this year that the pair had collided. I'll confess right away that I was not in India. My other half is incapacitated, having had a small operation (definition: a medical procedure on other than oneself...) and I have temporarily become a childrens' taxi. I was therefore watching the inaugural Indian GP on the BBC.

It was on lap 24 when Hamilton, having closed in on Massa, attempted to pass the Ferrari on the inside of Turn 5. Felipe turned in and the pair made contact. Massa lost around 10 seconds and Hamilton pitted for a new nose.
Race commentators Martin Brundle and David Coulthard both feared that there would be a penalty for Hamilton. Both called it the same way and I was in agreement.
Whether you need to penalise drivers in such situations is open to debate. Do it too often and you discourage them from having a go, when what we want to see is entertainment. But, given the history between the pair, a penalty seemed more than likely.
Six laps later it was confirmed; drive through penalty for car #6. Well, okay, fair enough. Hang on a minute. Car #6? That's Massa!
What complete and utter nonsense.
It was about the only incident of note in the Indian race and, to make Massa's day worse, he was out shortly afterwards when he clobbered a kerb and broke the left front suspension.
Having broken the same apparatus on the right side of his car in qualifying, it completed the sort of symmetry that Massa won't have wanted to see. I don't know the loadings involved but I do remember that when David Coulthard's Red Bull broke its suspension on kerbs back in Malaysia in 2008, it was held to be a matter in need of investigation.
For the remainder of the afternoon the one thing you wanted to know above all else was Massa's reaction to that penalty. It wasn't forthcoming.
Post-race, Brundle and DC seemed to have modified their positions slightly. "Six of one, half a dozen of the other" was how Brundle put it. And former team owner-turned pundit Eddie Jordan inexplicably warbled on about how it was undeniably Massa's fault. EJ's justification seemed to be that when you watched it again, Massa had looked in his mirrors a number of times and seen that Hamilton was there.
Felipe Massa and Lewis Hamilton have often found themselves close on track this year © sutton-images.com
Well I never... A driver under attack looks in his mirrors to see what his opponent is doing. Surely not. What else was he going to do? Just because Massa knew Hamilton was there doesn't oblige him to open the door and let him through.
We heard from the podium finishers, as well as Schumacher, Hamilton and di Resta, and understandably Force India's Vijay Mallya. I presumed that Massa was either steaming too much to speak or visiting the stewards.
On into the BBC's red button forum I went. There we heard from the likes of Nico Hulkenberg and Adam Parr, who predictably told us precisely nothing about developments with the driver market/Kimi Raikkonen. We did learn that Mrs Parr works for Oxfam though, which was nice.
Finally, Massa! A few words from his post-race press conference making it clear that he thought Hamilton's attempt at rapprochement following the minute's silence for Dan Wheldon and Marco Simoncelli had been pretty lame. Nothing at all about the actual incident. Aaaaaargh!!!
I am indebted to my regular press colleagues for information from the track this weekend, which included speedy delivery of the sound file from Massa's post-race press conference. These things used to be pretty simple to call. A catching driver would make very gradual gains on the car in front and if he was alongside at the turn-in point, then he had every right to feel aggrieved if the other guy turned in. If he wasn't, he didn't.
These days though, in various situations you have KERS and DRS, sometimes both.
It seems that Massa had used all his KERS to defend Hamilton on the run down the straight from Turn 3 to T4, but that Lewis still had some in reserve. The in-car footage showed that Hamilton did not get a significantly better exit from Turn 4, so KERS is a good explanation for the way in which he almost got alongside the Ferrari relatively early in the run to Turn 5.
That though, is not the critical point. What matters is the situation when they reach the turn-in point. And at that point Hamilton, clearly, was not alongside.
It is a point that Massa made calmly and rationally, but strongly, later. He was on the racing line, the grippy part of the track, and could therefore brake later, which explained the Ferrari recovering the earlier ground that the McLaren had made, while Lewis was on the dirty part of the track.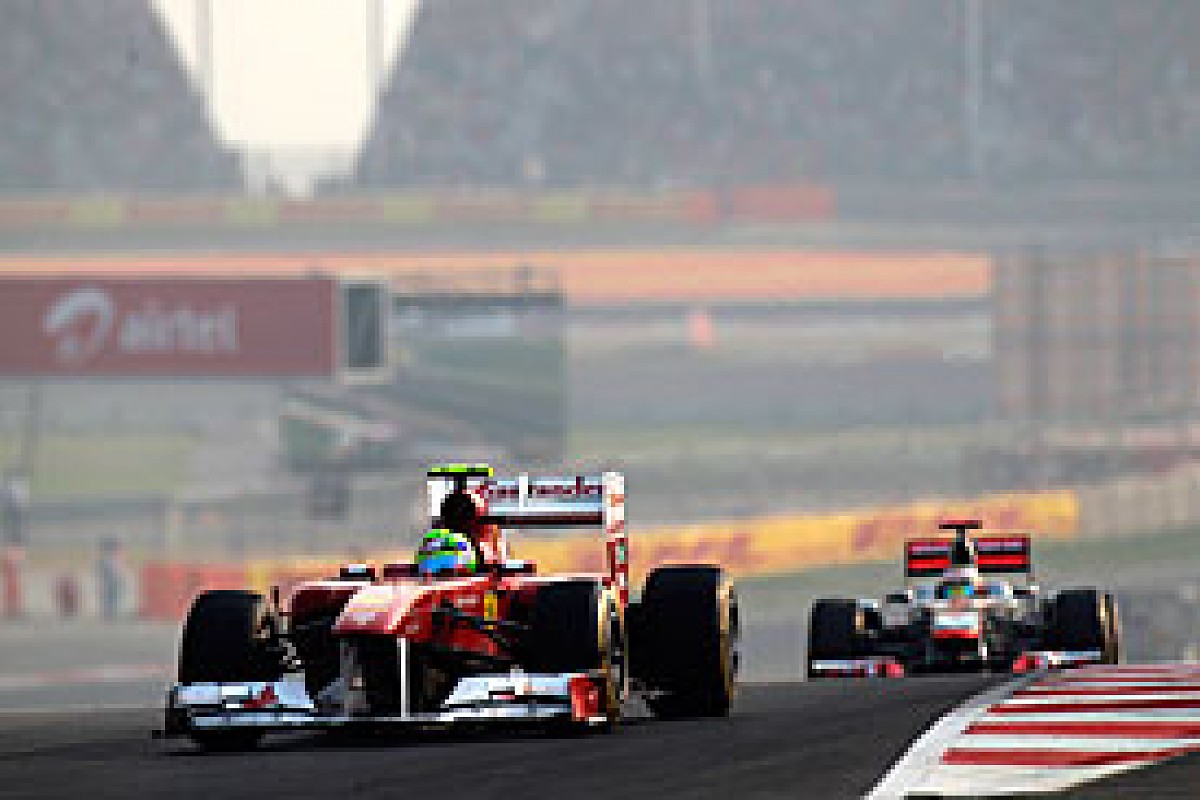 Lewis Hamilton is enduring a tough summer, on and off the track © LAT
"I knew he was at my side," said Massa, "but when I braked - and this is the important place, not where he was on the straight - he was not at my side. I braked later than him.
"He was on the dirty side and when I turned he touched me from behind. He didn't touch me on my side, or wheel-to-wheel, otherwise I wouldn't have tried to close the door."
So, what had the stewards' justification for the penalty been?
"Their explanation was that when Lewis was at my side, I went to the right. I said, yes, because I went to the grippy place. And this was the only explanation they gave me, because they were not sure as well..."
I don't want to be seen to be having another go at Hamilton. He's had a tough time lately and it can't be easy to go through emotional issues in the constant spotlight. Although he's made a number of misjudgments this year, no way should you label him a dirty driver either. He's just a racer and sometimes it goes wrong.
That looked to be the case in India certainly, and while you'd have been annoyed if you were Massa, perhaps 'racing incident' was the most appropriate verdict.
If consistency of decision-making is what you are after, then previous history should have no bearing. But, if it was decided that a penalty was necessary, then there is only one way it should have gone - the other way.
If Alan Hansen had been sat in his Match of the Day chair, he'd have said, in his Scottish brogue: "the refereeee had a shorker..."
The trouble is, the stewards' driver adviser was Johnny Herbert, a hugely experienced driver and good fellow. Let's hope JH was on a loo break...