Now 70 years of age, Jean-Marie Balestre has been president of FISA - the worldwide governing body of motorsport - for 13 years. In that time he has weathered storms, takeover bids, a constant shower of brickbats and even personal illness. Yet he shows no signs of weakening his grip on the sport.
He knows that he makes mistakes - but then who doesn't, he says. The criticism and the errors are water off a duck's back to the president, because he is driven forward by a positive attitude. He only looks back to see hoe the sport has progressed from what it was.
His conversation is littered with words like extraaordinaire, fantastique, fabuleux, remarkable and incroyable. He loves what he's doing and is delighted with the results.
"In the last two months, we have seen that motorsport is indisputably getting stronger," he says. "At Magny-Cours - in a French wilderness, without hotels or roads - there were 100,000 spectators for the first year. Only Formula 1 could do that.
"At Silverstone there was a fantastic crowd with an incredible enthusiasm. It was marvellous. It was an extraordinary spectacle and they were well-behaved too; they weren't hooligans. They had joyful expressions on their faces. For me, these are marvellous occasions.
"Then at Hockenheim there was a record-breaking crowd, even though there wasn't a regular German F1 driver. It's taken three years to get to this level.
"Normally-aspirated engines were my idea and I fought eight years for that. Normally-aspirated engined comprise 97 per cent of normal automobile production worldwide, and, besides, I'm a poet. I adore the sound of normally-aspirated engines. They're marvellous. When you hear a grid starting it's a fantastic noise.
Much of today's high level of competition in F1 is the result of manufacturer involvement - and this despite the current economic recession.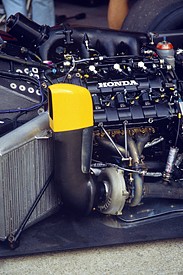 Balestre was influential in banning turbos in F1 © LAT
"I think we have had remarkable luck in spite of the crisis," he says. "Why have we had this luck? Because there are 38 major automobile manufacturers in the world and, of these, 34 are members of the Commission Internationale des Constructeurs de la FISA, which I created three years ago. We have this luck because the constructors took major board decisions that it is in motorsport that they should invest to compete for in major economic markets.
"We have all the German manufacturers in automobile racing; Mercedes, BMW, Porsche and Audi etc. We have all the Japanese in international motorsport. We have all the French. We have all the English; all the Americans; all the Italians. That's fantastic.
"What's also fantastic is that the boards and directors have voted for large budgets for these operations. Honda was the first to invest in this way two or three years ago. They took an immediate advantage. They invested a huge budget. The others were slower on the uptake. Now, in the last few months, we have reached the end of the transition period for the new engines. We're seeing fabulous sporting battles. I think that the press isn't enthusiastic enough to underline the quality of these sporting battles between Nigel Mansell, Alain Prost, Ayrton Senna and Jean Alesi, or the general quality of the drivers.
"A lot of people are talking about F1 in many countries. I think that world motorsport, in spite of the economic crisis, is in a positive evolution. I hope F1 continues as it is now. If there is no catastrophe, the next two years will be absolutely fantastic, with the new Ford engine and with Ferrari's developments. We should be seeing the most fantastic battles.
"It's not a miracle. We've been working for 15 years for this. We've had problems, conflicts, yes. But you should judge it now on the results. I don't think you can say that's negative. I ask for an objective judgement. I think that F1 isn't bad.
What about the current Japanese invasion?
"Eight years ago, the Japanese weren't in motor racing," he explains. "I went to Japan to tell them they had to come into motor racing. They said 'Oh no, we don't want to because it will break down barriers. We don't want people talking about us'.
"But I said: 'No gentlemen. If you have good products, if you have victories, if you have success then you will have the potential of the open market.' That's when Honda started to attack. And they had the intelligence to devoted an unlimited budget."
If the Japanese invasion is to be stemmed, Balestre believes that other companies have to adopt the same approach.
"The Mercedes board decided to return to motor racing with an unlimited budget in order to win the World Sportscar Championship and they won it. I said the same thing to Monsieur Agnelli [of Fiat] a month and a half ago when he invited me to see him about the situation at Ferrari. I don't want to go into details, but I said that in my opinion there was a problem of personnel and a problem of budget, because you have to put everything into it if you want to be world champion.
"If all the other manufacturers made the same effort, there would not be such a thing as the Japanese invasion. I think that they have to make it a point of honour - and commercial interest - to beat the Japanese. I think it's possible and the proof is Renault and Frank Williams, who are doing a magnificent job.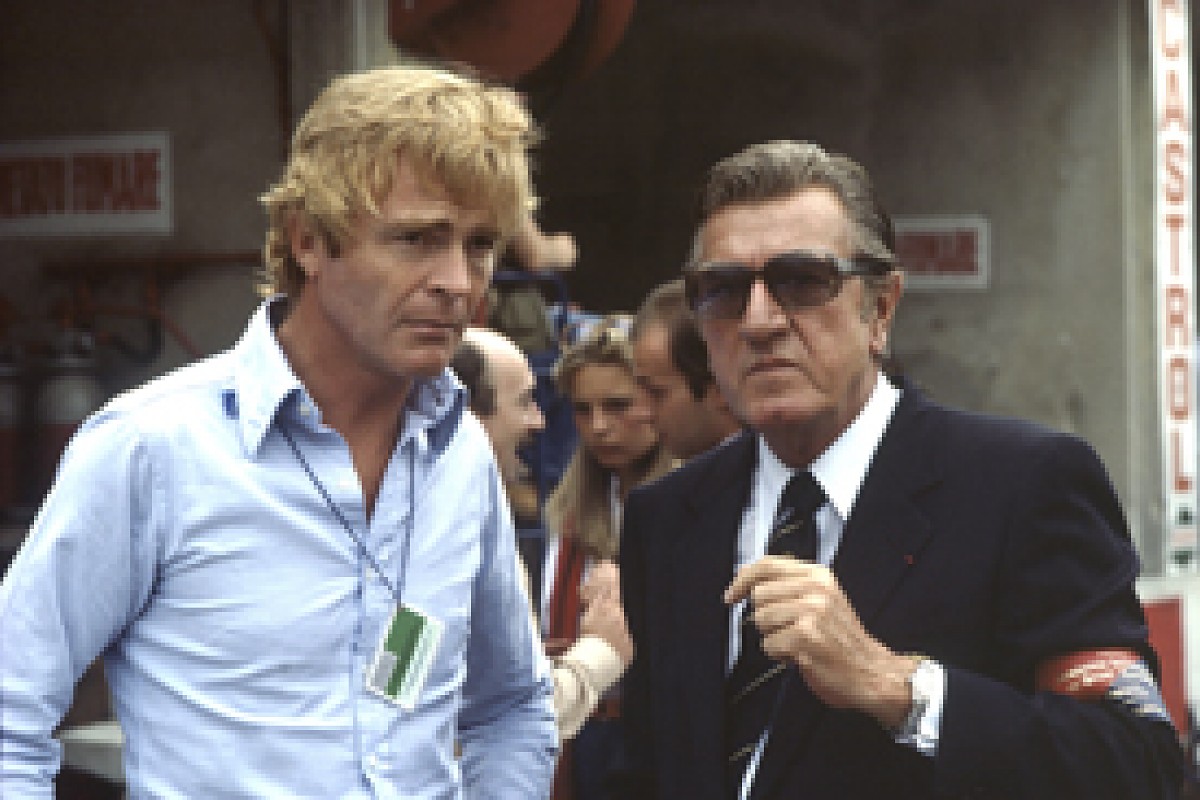 With Max Mosley, 10 years before the Brit ousted him as president © LAT
"At the moment, with that development, the impact of motorsport and the world championship, we have an attraction which plays an important role. Mike Kranefuss [of Ford] told me that his board very excited if we can maintain this level of quality in the championship. I think it's the best way of attracting business within the sport.
"Do you know at Silverstone there were 20,000 meals served to Paddock Club members on Sunday? Tennis is nothing compared to this now. I was jealous before.
"I have a letter from Jean-Luc Lagardere, the president of Matra, whom I saw at Magny-Cours, who said to me: 'President, thank you for what I have found. I haven't been to a race meeting for 20 years, the professionalism, the competence, the new organisation. I'm full of admiration, it's extraordinary.'
"Before the British Grand Prix I was very happy to visit the factories of the two major teams in Britain. I spent the morning with Ron Dennis at McLaren and the afternoon with Frank Williams.
"The McLaren organisation and the factory was extraordinary. It's the extraordinary peak of technology. It's already motor racing in the 21st century. The others are following. They have to.
"Similarly there is competition among the circuits. Each year there are now achievements and new investments at each circuit. They are in competition with each other and I encourage this. Each year we have the big F1 seminar in February with 200 people, including all the clerks of the course in the world, all the organisers and all the promoters. We establish the checklist - the Cahier des Charges - and the programmes for each race and for the whole championship.
"The same is true in safety. We're always searching to see if we can enlarge the roll bar to reinforce protection or conduct new tests on seat belts. We're always seeking to improve. We have the budget. We have the resources.
"You see the results of this work in the accidents today. It is formidable. At Hockenheim I had a marvellous evening after Erik Comas came to find me and said: 'Thank you Mr president.' I was close to tears."
Balestre admits that he has enormous respect for the grand prix drivers.
"I think that F1 drivers are the best drivers in the world," he says. "An oval is an oval. In F1 you are accelerating, braking, accelerating, braking, turning this way and that. These are boys that I adore like my own children. They are athletes, complete athletes. The public doesn't really understand. They have to live on special diets, they have to do special exercises because of the G-forces and the acceleration. They have to have remarkable concentration. They cannot make a single mistake for one hour and 45 minutes - working in a limited cockpit where its 60 degrees - and travelling at 180mph. That's incredible!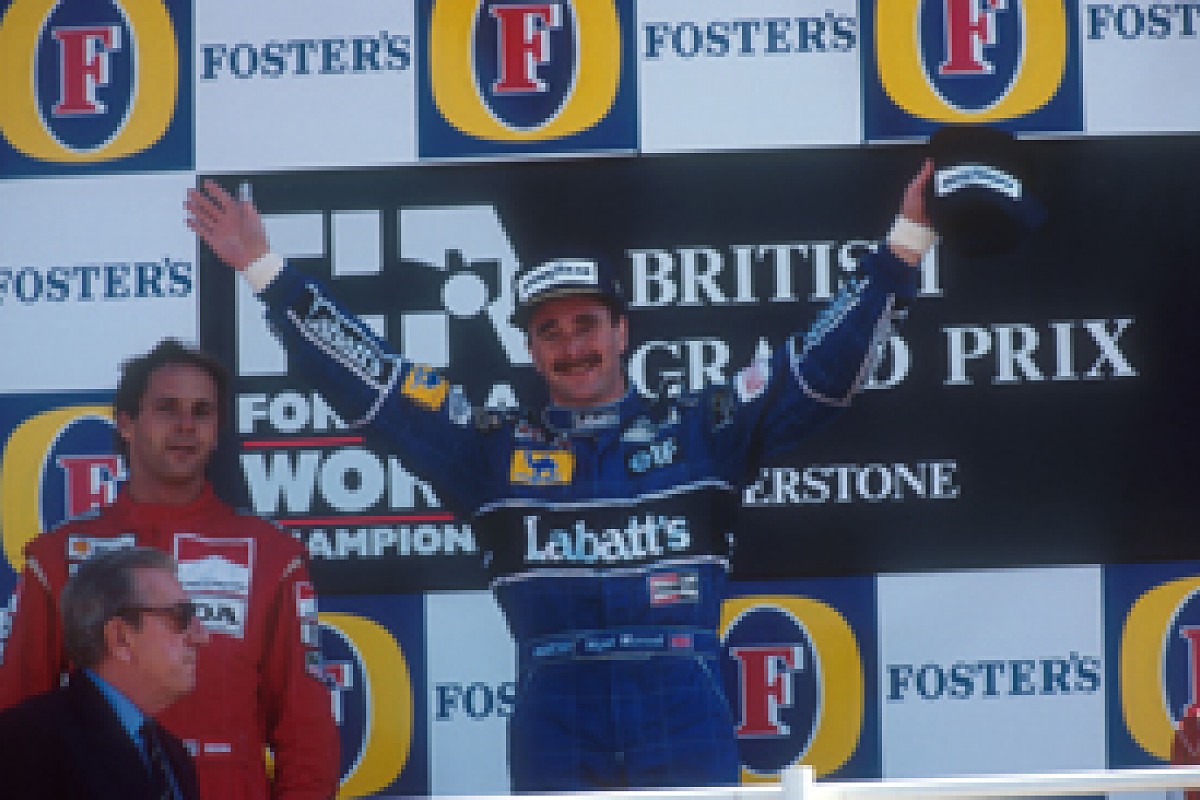 Balestre's admiration for Nigel Mansell endeared him to British fans © LAT
"To be a world champion you have to do this repeatedly, and even on the last lap, it's not won.
"I think Senna and Prost are great champions. Prost is as good as ever, but he needs the equipment to win. I think that Senna is still making progress. We have a new Senna this year; calm, and in control of himself. I don't want to say one or the other is the best driver in the world, because I don't want to upset the drivers.
"I don't understand how people can say things they have been saying about Mansell. He makes a great deal of effort, he's still making progress and he's been a new Mansell in the last few months. I speak with him all the time because I like him a lot. He's one of the drivers I like the most.
"I spoke with some Englishmen who were on the Cote d'Azur in France and they had watched the British Grand Prix on television. They said to me 'president, we want to tell you something. Now you are certainly one of the most popular Frenchmen in England because you embraced Mansell on the rostrum.' They said 'the president is marvellous, formidable' when they saw that.
"The drivers are extraordinary for another reason," he continues. "When they hold the steering wheel - even the richest and most professional - completely forgets about money. I guarantee that. The day that changes, I'll quit. It won't interest me any longer.
"Now there is passion - and not just in the drivers, the sponsors, the constructors, even the journalists are here because they share this passion. There is this drug in us all.
"The drivers have spent a long time getting to where they are now. Many started at 14 years of age in karting. MY greatest satisfaction is to have created karting in 1960. It was me who created the first championship, the first kart races. It was me who was international president. I'm very proud and happy because all those in F1 now started in karts. It's a school of reflexes, of driving, of controlled sliding in corners. Perhaps a little basic, but very special.
"I did that to attract to motorsport, young men of 14, with basic equipment to go and have some fun and start to learn to control their reflexes."
But what about the battles between Prost and Senna and all the bad feeling that's been seen in recent years?
"One can avoid this with the intervention of the governing body. At Hockenheim we called in Mansell and Comas after their disagreements. There were long explanations and so on and then they shook hands and left together.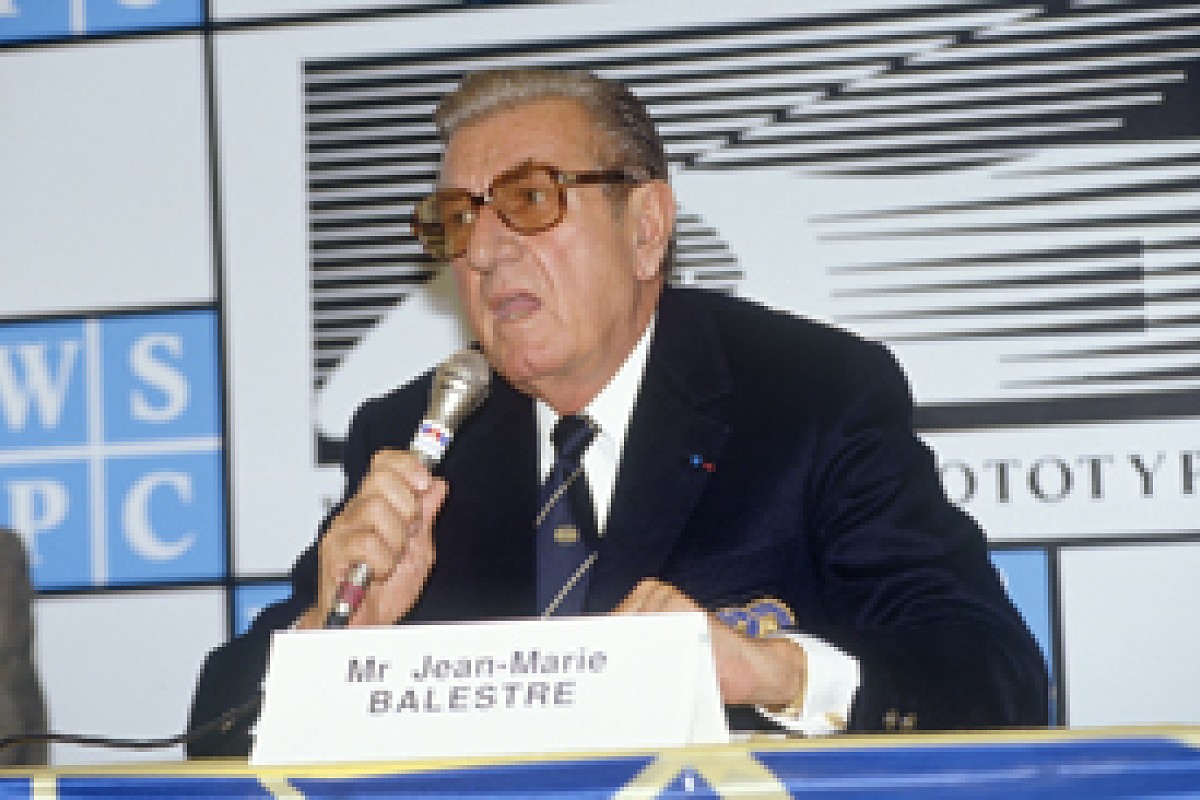 Too authoritarian? Balestre thought not © LAT
"I think that it is the duty of the officials, the federation, of me, of everyone. One can avoid this kind of situation by taking the drivers and telling them that you can't accept this kind of behaviour. If they don't understand then we must use very tough sanctions, not because we want to, but because we can't accept that kind of situation.
As long as my current advisors and I have the majority and control of automobile sport, we want the sport to control commercial interests. That's logical, but not the other way round, because showbiz destroys all the value of the event."
But what about the criticism that Balestre holds too much power?
"People think I'm authoritarian," says Balestre. "Why? Because they don't know me. Believe me, I make mistakes, I know. I'm not very good on communication, but sometimes what people say is not true. When you try to do five different things in life, and you have two successes, you have not been fully successful and you must work. Eight years ago, I didn't speak English, for instance. But I do now. I don't take money from F1. I don't take money from motorsport. Sure I take my expenses, but that's normal.
"My main hobby isn't F1," he continues. "It's my lawn. I have the best, the most beautiful, lawn in the south of France, perhaps in the country. And the best lawnmower in the world. I love that. I love my trees. I love nature. I love my grandchildren. I have a fun life. I'm not married to motorsport."
And what would Balestre personally like to see to make his sport complete?
"I would like a British world champion, because although Britain is the home of motorsport, we haven't had a British champion for many years. Afterwards, I would like an Italian world champion because Italy is a great motorsporting country and we haven't had an Italian world champion for many years. These are the two things I wish for.
"The third is that I wish for Ferrari to win very soon. It's not because I like Ferrari more than the rest. I just want Ferrari to win because it's good for the general public. Ferrari is magic. For the world championship we need Ferrari to be in the race.
"Fourthly I would like there to be two German drivers in the championship as soon as possible, and I would like there to be two American drivers too. These are things which would make me happy and improve the championship."
And outside F1?
"We're working on the new touring car championship which would support the grands prix. But my big aim at the moment is the success of the World Sportscar Championship. That's my ultimate aim.
"The programme that I created for 3.5-litre engines will soon be accomplished. I think we shall have 18 engine makes. If, in two years, this is confirmed, I hope competent and serious journalists will say I have done a good job."
Does he see anyone as his obvious successor?
"I see many people, but I would say - with modesty - that I am happy to hear important people saying that I'm the best. I don't know if I'm the best, but I'm happy that I am one of the rare Frenchman to have won the confidence of the English. That's very difficult for a Frenchman. I have won the confidence of Bernie Ecclestone. You could ask the question of Frank Williams what he thinks of me, or others, even those who don't agree with me, but who respect me. I am a president who has authority."
How long will Balestre continue in office?
"As long as possible," he says. "If I am no longer president, I shall die immediately. If I'm no longer president, I shall lose my oxygen."
*Originally published on September 5, 1991.