This was copybook stuff from Nelson Piquet and Williams-Honda. Unlike Nigel Mansell, the Brazilian had a trouble-free afternoon and inconclusively the fastest car in the race. And he made the most of it, even able to indulge in the luxury of two tyre stops while toying with the McLarens, for whom Keke Rosberg was the star.
Rosberg took the pole and led the early laps. He also led each time Piquet went in for fresh Goodyears, but each time the Williams was able to reel in the McLaren with ease. It was just so, with five laps to go, when the lead changed for the last time. And in the end there were only two points for Rosberg, one for Alain Prost. Each ran out of fuel on the last lap.
Ayrton Senna and Mansell were second and third, the Lotus also dry. Mansell, in serious handling trouble throughout, was happy to have four points. Even on bad days his luck is good just now.
Qualifying
"Vegas?" Keke Rosberg said back in 1982. "I thought I didn't like it. Then I saw Detroit..."
That was how most people felt at being back in Hockenheim. Compared with the genuine article Nurburgring, it was a poor joke. Against the new sanitised version, it is a rare test of man and machine.
And Rosberg was very much the man in the news. On Friday morning he announced that he would be retiring at the end of the season. "I didn't sleep much last night," he admitted, "but it's done now, and I feel good about it."
Twelve months ago, in Austria, Niki Lauda gave us similar news and was then scintillating - even in qualifying - for the rest of the weekend. It was just so with Rosberg, who was fastest in both timed sessions, on pole for the first time since joining McLaren.
Was it something to do with a lightness of heart at a difficult decision finally taken? He wouldn't have it: "At the end of '84 I decided on two more seasons. It was in the schedule." For all that, this was a new Rosberg at Hockenheim last weekend - or rather a return of the old one, gossipy and joking in a way we have not seen this year.
So now here he was, going into the last few races of his career, and a man of Rosberg's ability and pride would obviously want to finish on a high note. But we had not expected a McLaren on the pole in this, a horsepower circuit, despite the fact that Prost started from there two years ago.
Hockenheim is a minimum 'downforce' track. So much of it is flat out that straightline speed subjugates everything else. The 'stadium' section, while not spectacular in itself, usually makes for good viewing because you see cars sliding much more obviously than usual. For the long stretches to and from the Ostkurve they run as little wing as possible, and occasionally through the stadium this catches them out.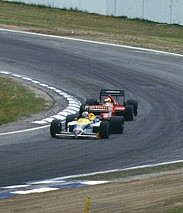 Mansell was unusually down in sixth on the grid © LAT
"We haven't made any fantastic breakthrough in qualifying horsepower," Rosberg said. "I'm quick through the trap before the first chicane, sure, but look at how little wing we're using. The thing is, even in that set-up the balance is very nice. I'm happy with it. Over the past few weeks we've made changes to the set-up of my car, getting more and more away from the standard McLaren set-up - but more how I like a race car to be. I think, for instance, I was in very good shape at Brands, but unfortunately the gearbox broke before I could show it.
"On Friday I made a big mistake on my first run - hit the kerb at the first corner and then selected the wrong gear while the car was up in the air..." (Vintage Rosberg, yes?). "So I was quite eager to go on the second set, and I had a big moment at the second chicane. One of the Arrows was on the line, just on the point of turning in - and I went by him at what, 185mph? It was a typical Zolder '82 thing, you know. Most times I back off when that happens, but the lap had been so good..."
There had been spots of rain intermittently through the first session, amounting almost to drizzle at one point. The following afternoon was not marred by the predicted heavy showers, but again there were odd drops. Rosberg's time was seriously threatened by Gerhard Berger's Benetton, but on his second run the Austrian had an exhaust failure, and pulled off. The Williams-Hondas were quick but not quick enough, and Rosberg's only real rival was suddenly Prost, his own team-mate.
Twelve minutes from the end of the session Prost went round three-tenths quicker, and now it was all a matter of Rosberg's final run. He gave it everything, fairly pitching it into the right hander into the stadium and using all the kerbs, all the runoffs. And the pole was his. It was quite a lap.
"It was damp in the stadium, and very slippery. Two cars had blown up, and so on. There was rain on my visor as I set out on the quick lap, but fortunately the track temperature was high, so the water vaporised quickly. I just had to go for it, and hope."
New KKK turbos, Rosberg insisted, did nothing much for the power. Simply, the car felt good and so did he.
A McLaren front row then for the first time this year. Prost, third fastest on Friday, was not pleased with his car. Too much understeer at first; then, after changes to the set-up, violent oversteer. As well as that, he had 'turbo surge' when the boost was right up, and he set his best time with less.
"Today, no problem with that," he said on Saturday. "They have remapped the engine, and that is okay. Also, I have found something in the handling - it's not perfect, but better. Race set-up is okay, on full tanks good."
Third fastest was Senna. Ridiculous to say this was a surprise, but such was the case. For most of practice the Brazilian was not a factor. "We had a problem with the qualifying engine on the first morning," he said, "and that had to be changed. So I used the race car all that session, and did not drive the qualifying car until the timed sessions began."
That being the case, he used soft race tyres for the first run, then taking a set of qualifiers. In the course of his flier he was slightly slowed by a shunt involving Allen Berg's Osella at the second chicane, but admitted it cost him little. The balance of the car was not as he wanted it.
Saturday morning was much better, the 98T topping the list, but a faulty fuel pump revealed itself at the start of the last session. For his run Senna had to use the race car, with race engine, and was down in 13th place. But the Lotus mechanics did some truly remarkable work. In only 35 minutes they were able to 'drop' the Renault V6, change the pump and reassemble everything. With five minutes to go, Ayrton went out for a banzai lap and it was enough to gain their full attention in the McLaren pit - third fastest, and only a couple of tenths away.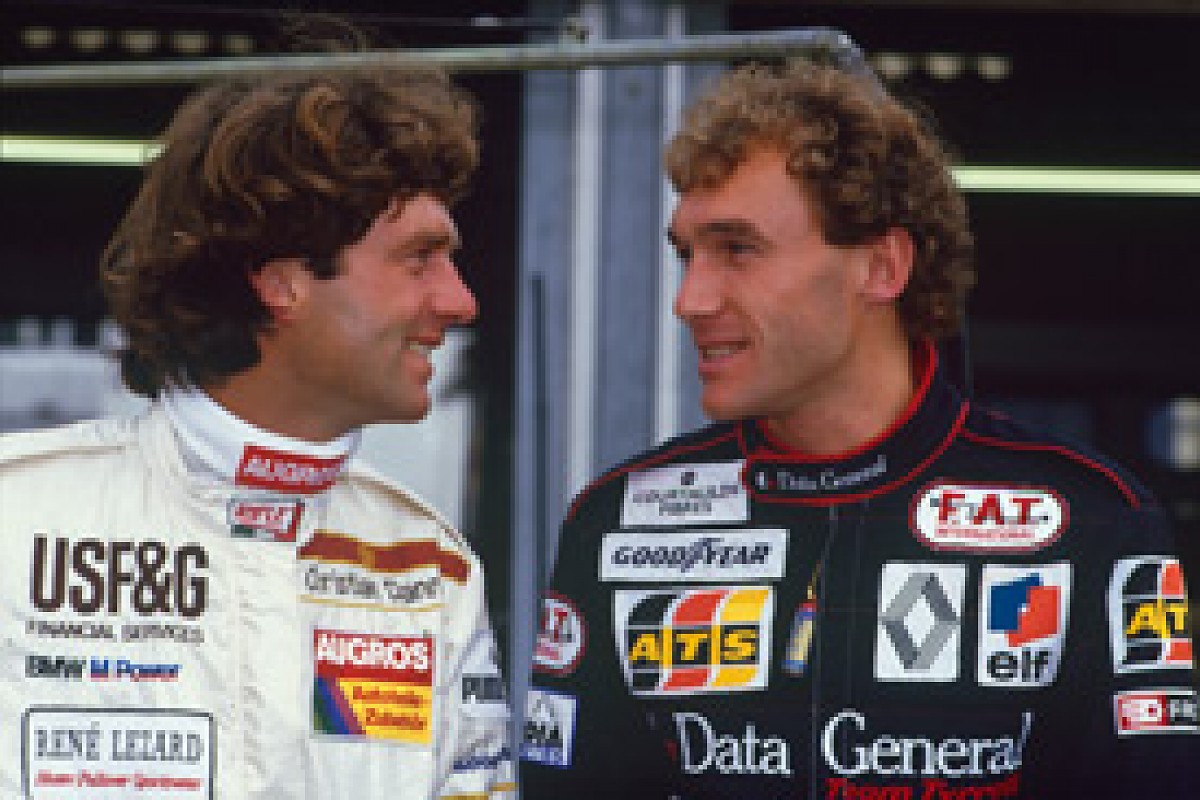 Danner and Streiff squared up © LAT
"I think," Senna said, "that with no problems and two sets of qualifiers on this car, we might have got the pole. But I can't complain - they did a fantastic job."
Berger, too, thought he might have been the man to start at the head of the field. Satisfied with neither engine nor handling on Friday, he was nevertheless sixth fastest, and his first run on Saturday gave Rosberg's time a nudge. The second one looked even better. On acceleration, it seems, there is still little to beat an 'upright' BMW on full boost. Over the start line, Gerhard was quickest (173.7mph), with team-mate Teo Fabi next up. Into that second flier the green car was trailed by really dense black 'boost' smoke, but out of the Ostkurve the haze was suddenly grey. "Turbo, I think," he said, as he walked dejectedly in. "That lap was much quicker than before - I'm sure it would have been a 41." Certainly it had looked that way.
"It was a broken exhaust, in fact," Peter Collins said later. "We probably overboosted it, I suppose, but you've got to try haven't you?" Later improvements by Senna and Prost dropped Berger to fourth.
Fifth and sixth - yes, that far down! - were the conquerors of Brands, the Williams-Hondas, with Piquet a tenth up on Mansell. It would be less than the truth to say that all is wine and roses in the team at present, despite its results of the recent past. Piquet and Mansell do not exactly constitute a mutual admiration society, and the Brazilian has had some harsh - and hardly justifiable - things to say about his team-mate's driving during the British Grand Prix. It seems that Piquet considers Mansell to have unfairly chopped him at South Bank on the lap following the Englishman's tyre stop. Certainly Mansell was assertive in holding his line, but are we to believe that Piquet himself would have behaved differently and waved his team-mate through?
On top of that, Mansell is currently grand prix racing's upwardly mobile man. Everyone wants him for next year, and he is not to be browbeaten into signing - or re-signing - any contract until he's good and ready.
Fortunately, though, Mansell is now too mature a racing driver to allow such things to distract him from his immediate task - which is to win races and become world champion. On Friday morning he was fastest, in the afternoon second to Rosberg despite being badly held up by Senna at the end of his first run. Even that he did not allow to disturb him: "I honestly don't believe he saw me - that's what I'd like to believe anyway.
"It was raining a bit at that point, and I was still sixth quickest, so I wasn't too unhappy. As it was, though, the track dried and I had a fairly clear second run - just a confidence lift to pass one car at a chicane in case he hadn't seen me. And that lap made me second, which was good."
Saturday, though, was disappointing, Mansell finding that his engine simply would not accept full boost: "It was no quicker on the top setting than on the mid one, and that's all there was to it." Half a second slower than the day before, he dropped to sixth - pipped by Piquet, who found well over a second.
Piquet's problems were confined to the morning sessions: a surfeit of understeer on the first day, a fuel tank leak in his race car on the second. His spare FW11 then suffered a water leak, but all was well in the final hour, his quick sub-1m43s lap coming on his second run.
The Brabham drivers had very different fortunes, Ricardo Patrese qualifying seventh and Derek Warwick 20th. After its outing at Brands Hatch, the BT54 has now been returned to the Donington Museum (for the time being at least), and Patrese was back in a BT55. The team had three at Hockenheim, but only one - the spare - was available for the first timed session...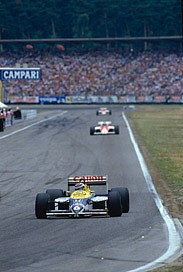 Piquet wasn't ahead of the McLarens on Saturday © LAT
On Friday morning Patrese had an engine failure in his own car and transferred to the spare - which was bad news for Warwick, whose car had lost seventh gear. That rectified, he went out briefly only to find his engine suffering from turbo surge and intermittent cutting out. All three BT55s needed engine changes therefore and it was decided to concentrate on the T-car.
Dark clouds were gathering as the last session began, and it might have seemed logical for each man to get one run in before the rain arrived. But Patrese, the team decided, should have his two first, and by the time Warwick climbed in there was drizzle. There was also a split in the intercooler which accounted for loss of boost.
Saturday morning: the boost was down on Warwick's car and the spare blew all its oil out. "I stopped out on the circuit," he said, "and I was determined to prove them I hadn't over-revved it so I thought I'd take the computer memory back to the pits with me. It took a few minutes to get it off. 'Thanks very much, Derek,' they said, 'but why have you brought the radio back?' They'd moved the thing! Very bright of me..."
Patrese 'buzzed' his engine during the morning, so two more engine changes were necessary, the T-car out of commission for the afternoon. And Warwick frustratedly sat there while they tried to get his engine to run. It wouldn't, and he never got a lap in: "I've had five timed laps I think since I arrived. I can never remember a weekend like this..."
For Patrese though the last session was a success, moving him up from ninth to seventh. His speed trap figures were fascinating. Only 14th fastest over the start line (at 165.1, the Brabham was more than 8mph slower than Berger's Benetton), he was yet quickest of all (at an amazing 211.716) at the speed trap before the first chicane. It was a demonstration of the 'laydown' BMW's poor initial acceleration and of the ultra-low BT55's effective slipperiness at really high speeds. Exactly similar weakness and strength were revealed at Imola (start line and approach to Tosa), which proves that little or no progress has been made in three months and more.
Disappointed after final qualifying was Rene Arnoux, who won here for Ferrari three years ago. Fifth on the opening day, Arnoux was delighted with his Ligier JS27 and with its Pirelli tyres. And he felt sure of improving on Saturday, but such was not the case.
"I don't understand," he said. "I am quicker, yes, but only by three-tenths, and I had no problems at all apart from a bit of traffic. The grip feels good and we are okay on the straights - and I lose three places..." Still, he had his hopes for the race, running Renault's EF15C 'economy' engine (with new cylinder heads) for the first time.
Next up, ninth, was Fabi in the second Benetton, and it was a grid position the Italian would willingly have settled for after the first day, which found him down in 25th with not a single timed lap to his name. The engine in his race car broke on its first lap out of the pits, and in the spare he parked out on the circuit with a puncture. So ninth was quite acceptable.
And then we had the Ferraris. Hockenheim, with its long flat-out stretches, is a circuit hard on engines. It has always been so. In the 3-litre era, what you needed for this place was a flat 12 from Maranello. But Ferrari's engine reliability in qualifying last weekend was simply disastrous and as usual most of the misfortune found its way to Stefan Johansson.
"Let's see now," Johansson said, trying to find some light humour in his strife. "I had two engines go on Friday morning, so I missed a lot of the timed session while they changed the one in my car. Did one run. Then had a turbo failure on the second - had to walk in.
"Then another engine went this morning - walked in again... Don't think one went this afternoon, but it's difficult to keep track..."
When the Italian V6s were in one piece, their horsepower was impressive. "There's no doubt about that," Johansson said. "But even in this place, unfortunately for us, there are corners you have to go round! In the stadium its hopeless - just touch the throttle and you're sideways."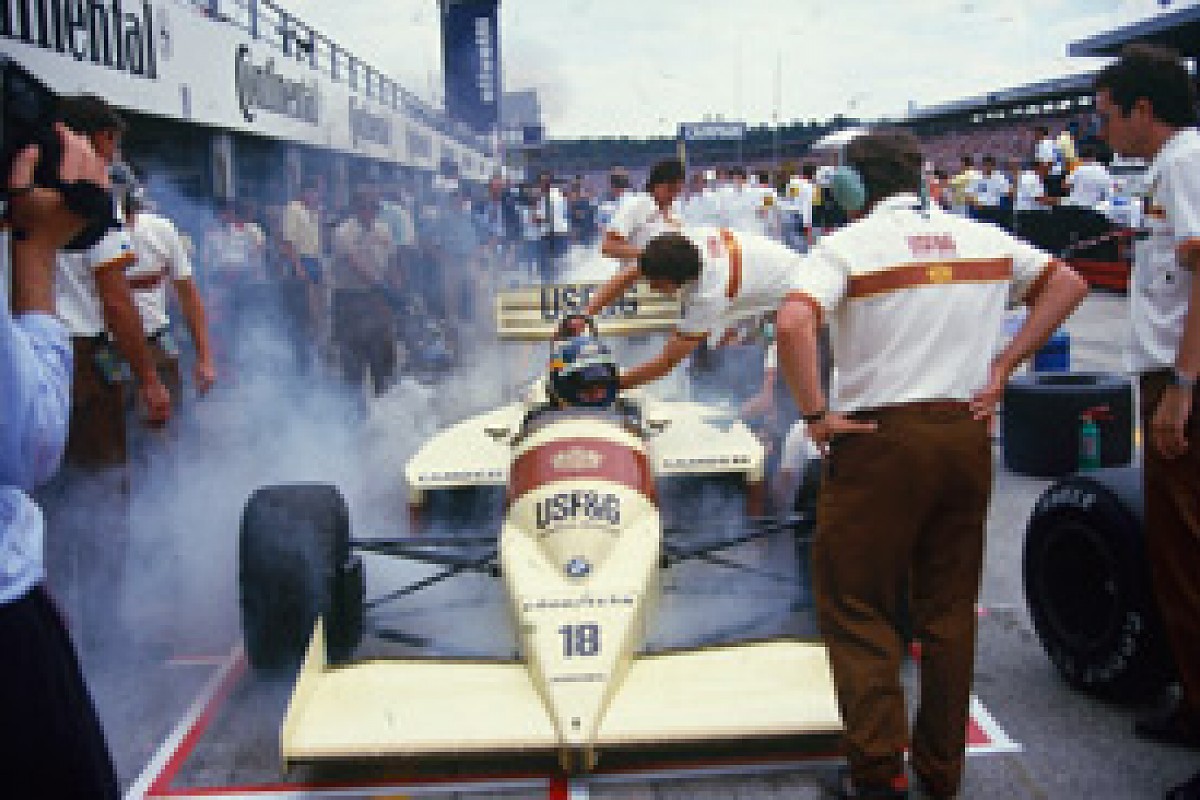 A turbo fire in Arrows' new A9 denied Boutsen a quick lap © LAT
Michele Alboreto, a hundredth quicker, concurred: "Here we run so little wing, you know, for the straightline speed. And our car is short of downforce even running a lot of wing. Sure we are okay in the straight, but through the corners - the slow ones particularly - everyone is quicker than us." How many blown engines for you, Michele? "Mmmm, just one I think, on Saturday morning. Yesterday big problem was gear selection..."
Johnny Dumfries was new to Hockenheim, but did well to qualify the second Lotus 12th, a couple of seconds slower than Senna. He was unlucky to miss out on some learning time during Friday morning, sitting around for much of the session after the failure of a driveshaft boot. Fifteenth on the first day, he lopped off more than three seconds on Saturday despite, by his own admission, making several mistakes. "Unfortunately I couldn't go for a third run," he said, "because I blistered both sets of rears. But I was quick this morning with race set-up, and we should be all right tomorrow."
Team Haas were 13th (Patrick Tambay) and 19th (Alan Jones) - these qualifying positions fairly typical of the Lolas since the Ford V6 arrived. Impressive initially, they are now suggestive of a team making little or no progress. Eddie Cheever, who stood in for Tambay at Detroit, describes the car as "a jewel, the nicest Formula 1 chassis I've experienced." And the fact that Tambay a couple of months back was fastest of all through Spa's Eau Rouge suggests that there is not much wrong with Neil Oatley's design.
What the car doesn't have at present is competitive top end horsepower. Taking off some downforce for the second day helped straightline speed and improved times significantly, but did little for grid positions. Tambay, happy enough with the handling, stayed 13th, and Jones, still finding too much understeer, improved three places from 22nd. Jones also complained of an engine pick-up problem at the second chicane, which obliged him to use first gear rather than second there.
During the morning he had had an oil leak on his race car and a misfire in the spare, while Tambay had parked with what was politely termed "a detached flywheel!" All told, it wasn't very impressive.
Only a fraction slower than Tambay was Philippe Alliot, in for the injured Jacques Laffite at Ligier. The Frenchman's RAM career is remembered more for its accidents than results, but on Friday he was immediately quick and looking confident. That first afternoon indeed found him up in seventh place, but on Saturday he was mysteriously slower and could find no good reason for it. "Rene and I both had blown engines this morning," he said, "but it felt fine this afternoon. Yesterday I was quicker than I expected to be - and today I am disappointed to be slower..." Gerard Larrousse and Michel Tetu were nevertheless delighted with his performance.
Martin Brundle had another difficult time of it in practice. "An awful day," was his summing up of Friday. For the first time there were three Tyrrell 015s at a race, and Martin had the luxury of a qualifying car (with appropriate Renault V6). On Friday morning though it refused to run properly. "It was an electrical problem, but it meant I had to use the race car - with race engine - for the timed session.
"I timed it badly, went out when there was some rain down, and spun in the stadium. Then on qualifiers I got caught up in the chaos of Berg's accident at the chicane..."
That left him down in 18th, which he improved by three places (and four seconds) on Saturday, despite being baulked and setting his best time on used tyres. But it wasn't a happy introduction to Hockenheim.
Zakspeed were delighted with Jonathan Palmer, and rightly so. 12th fastest in the mixed conditions on Friday, Palmer rather shook everyone by setting sixth best time for the following morning! "I'm not expecting to be up there this afternoon," he grinned, "but I'd like to think we'll be in the first 18 or so."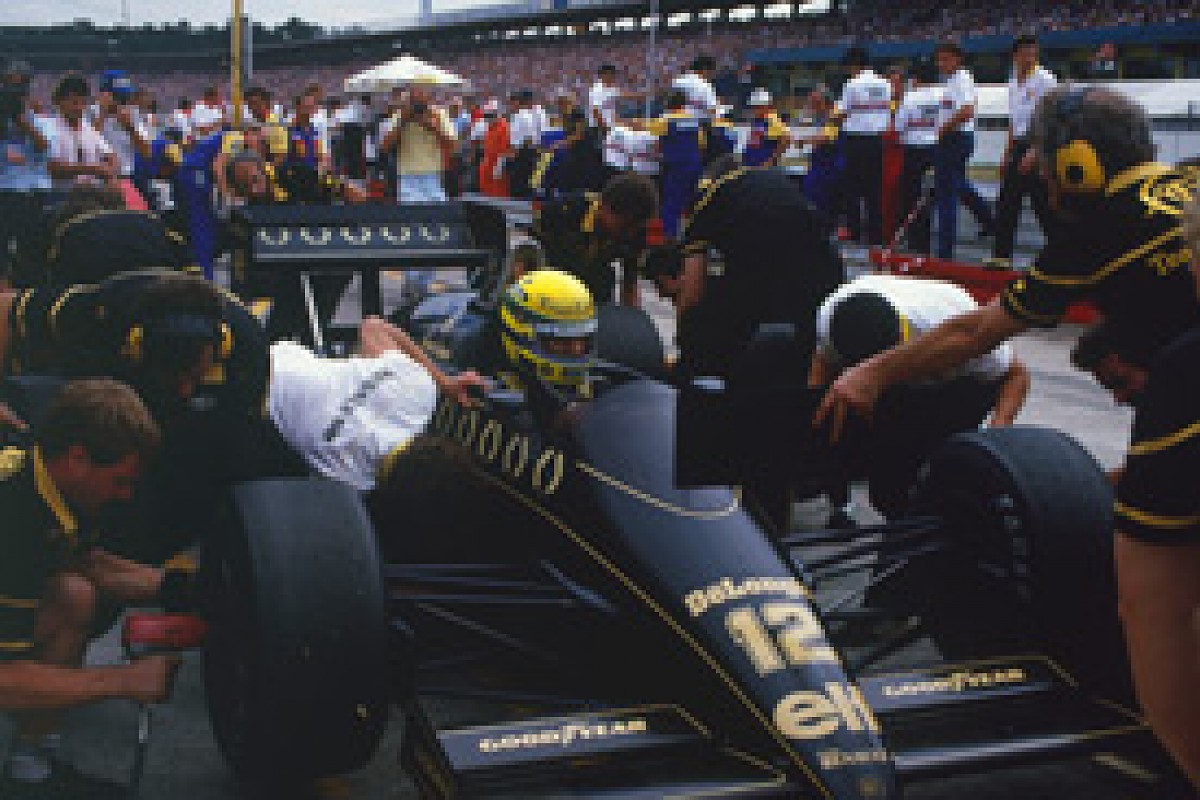 Senna gets a fresh set of qualifying tyres © LAT
A turbo failed on his first run so he took out the race car and did a fine job to qualify 16th. "We were losing boost at Brands and elsewhere because the air boxes were delaminating. Now the boost is staying up, and the handling's not bad at all. I'm quite pleased."
Christian Danner, the only German in the race, put the old Arrows A8 into 17th spot, four ahead of Thierry Boutsen's new A9, which had a troubled baptism. "Effectively it's like a test session," Jackie Oliver said. "The car's only had a shakedown at Silverstone."
Boutsen had good things to say about the A9's general behaviour: it was much more agile - modern - than the A8, but a succession of problems hobbled it. The six-speed gearbox, new in having the gear pack in front of the differential, overheated, making selection difficult, and Boutsen also lost time with a water leak on Friday. On Saturday his qualifying session ended with a turbo fire before he had run a single quick lap.
The second Tyrrell-Renault of Philippe Streiff suffered from a persistent misfire, which defied the mechanics to the end. Even changing the wiring loom failed to cure it, and the Frenchman was a second slower in the last session, ending up 18th.
Despite engine failures in each session on Friday, Alessandro Nannini again bested Andrea de Cesaris in the Minardi race, this time by three-quarters of a second. Huub Rothengatter, who blew up on Saturday morning, qualified the second Zakspeed 24th, more than five seconds from Palmer, and the Osellas - as usual - were at the back. Piercarlo Ghinzani missed the first timed session (having blown up in the morning), and the luckless Allen Berg missed Saturday altogether. Having crashed on Friday afternoon, he needed new rear suspension bits for his car. The team had no spares with them, and replacements from Italy failed to arrive in time.
See FORIX for the full grid and all the stats from the 1986 German Grand Prix
Race
Probably we were going to have a dry race. That was the happy outlook on Sunday. Odd clouds scudded about, but there was more blue sky in early morning Heidelberg than we had seen through the practice days.
I expected a massive crowd, and one of Bernie Ecclestone's men assured me (this was a Bernie race) it was almost certainly the biggest ever at Hockenheim. Sizeable it certainly was, but there were empty grandstand seats in the stadium, which has not always been so in the past. However...
The warm-up began at 10.30, and towards the end of it the right names were in approximately the right places: Mansell, Prost, Piquet, Berger, Rosberg, Arnoux ran the top six. A surprise was that the McLarens were not in their habitual 1-2 positions - the position, after all, they held on the grid.
A bigger surprise came right at the end of the session. Patrese, who had been down in 13th on 1m52.816s, suddenly went round in 1m46.321s - more than three seconds faster than anyone else! In the Brabham pit there was some embarrassment: "He was supposed to do a 48.9..." muttered one team member.
It meant nothing, of course, beyond the fact that the Chairman of BMW was present and this looked like being the highlight of his day. Of course, Patrese may have been on full tanks, race tyres and low boost.
The warm-up done, mechanics set to work on preparing for the race, and the rest of us retired to the paddock for a glass of wine and further discussion about where Milton Spag might go next year, and was Skoda really pulling out? That time of year has arrived a little early this time.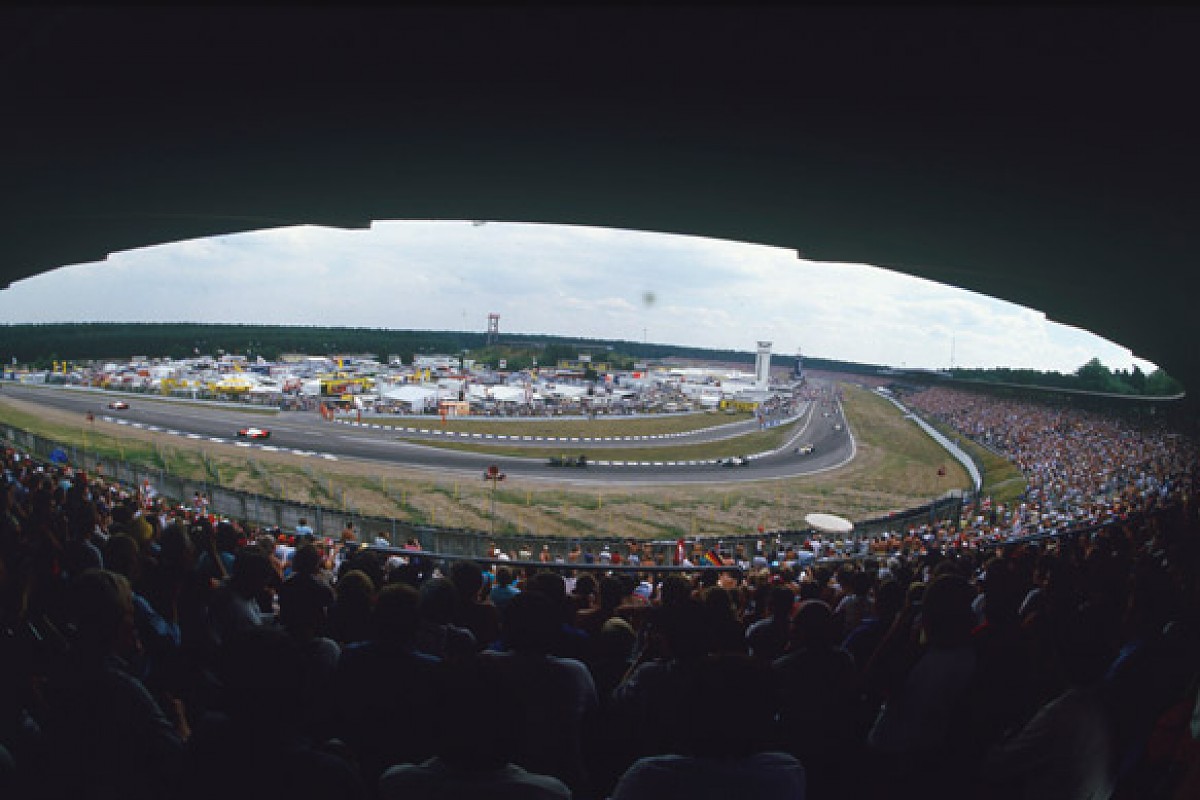 On to 2.30, and the Grosser Preis von Deutschland. With a few minutes to go, Jones' Lola-Ford was found to have a water leak, which meant racing the spare, starting from the back. And Warwick had two No.8 Brabhams near the grid, each refusing to run properly. The problem on his race car proved to be a fault injector, and this was changed in time for the start.
Both McLarens were a little tardy in getting away from the start, and Senna was able to get the drop on them, forcing through a gap between them which was only very slightly wider than his Lotus. Senna did in fact clout Prost's right front wheel as he passed, which probably lost the world champion another couple of places on the run down to the first corner.
Into it and through, Senna led from Berger, Rosberg, Piquet, Prost and Mansell. But behind them was yet another startline accident, which the faceless figures of Paris will doubtless have noted. (Won't they?)
It was started by Arnoux, who decided against being outdragged by Fabi and moved right to edge him towards the pit wall. Fabi finally had to back off, obliging the following Johansson to swerve left to miss the back of the Benetton - right into the path of Philippe Alliot, who had everything wound on.
As the two cars hit, the Ferrari was spun around and into Fabi, who somehow slithered right across the pack without being struck again. Fabi's car finished up against the outside wall at the first turn, and Johansson's was without a nose wing. Alliot had a right front puncture. The Swede and the Frenchman set off on their slow lap together, vigorous sign language indicating there was no agreement as to where responsibility for the incident lay.
Nor had it been reached after the race. "He just came across and hit me," Alliot exclaimed.
"Typical Alliot," said Stefan. "He didn't react at all! Straight into me..." A similar incident eliminated Johansson on the first lap at Brands Hatch two years ago.
At the end of lap one Senna still led, but Berger was right behind and threatening. Through the stadium Rosberg closed on the pair of them, and as they dragged away into the forest to begin their second lap Rosberg went by both to take up the lead. Into the stadium the McLaren was nearly two seconds ahead, and we wondered briefly if its driver was being cavalier with his boost control.
Such was not the case, however. True, Rosberg was going hard at this point, but Senna knew he was in no position to race with McLaren or Williams and Berger was already losing boost. Therefore something of a logjam built up behind them, and Piquet and Prost were keen to find a way through it.
On lap three Piquet effortlessly sailed past the Benetton on the approach to the first chicane, and a mile later dealt with the Lotus on the return leg. Senna sat it out with the Williams a little too long in fact, had to lift more than usual to get through the chicane and lost momentum out onto the sprint down to the stadium.
Berger was right behind him but still couldn't pass. On the next lap he was taken by Prost, and at the end of the fifth was into the pits.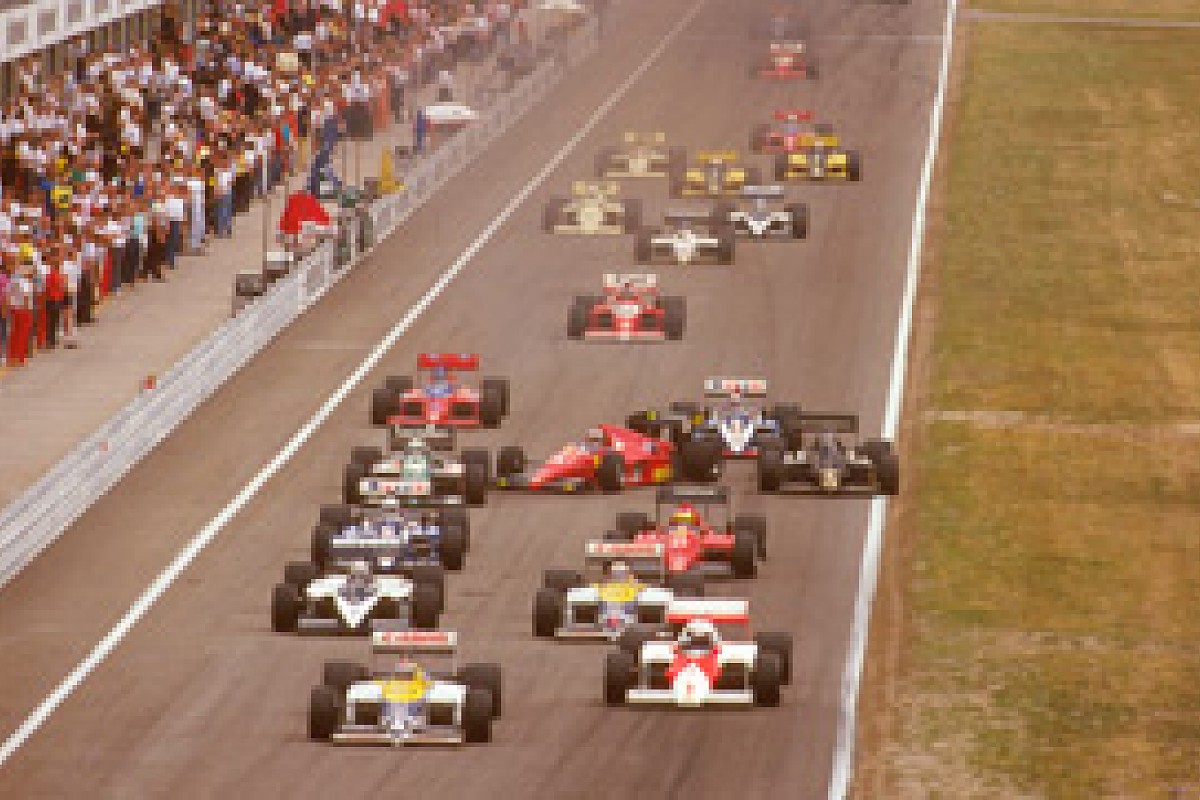 A tap from Alliot sent Johansson into Fabi at the start © LAT
Tyres were changed as a matter of course, and then off came the engine cover. The car was down on boost because the crossover tract (from intercooler to engine) had split. This was changed, whereupon Berger returned to the race to drive like the hammers for the rest of the day. Two laps down, alas.
In early, too, was Tambay, who had been an encouraging eighth fastest in the warm-up. His left front wheel had shed its balance weights, the resulting vibration so bad that he decided to come in. Exactly the same thing would occur with his second set - and also to Jones' sister car. It seemed a silly reason for a team to lose so much time.
On lap six, with no ceremony whatever, Piquet powered by Rosberg on the approach to the third chicane, and the Williams-Honda looked - as at Brands - a class above everything else in the race.
This time, however, that applied only to one of the cars, for Mansell was making no progress at all - indeed he was passed by Arnoux's Ligier on lap seven. Out of the last right-hander each time the world championship leader was all over the place, clearly having trouble getting the power down.
"We still don't know exactly what the problem was," he later said. "All I can tell you is that from about the third lap the balance was suddenly terrible - with terminal oversteer. It felt fine in the warm-up this morning, so something under the car - the diffuser, maybe - must have broken. All I could do was keep on going, just concentrate on keeping the thing on the road."
Alboreto would happily have traded places with him. After going well in the first few laps, he had got the Ferrari up to ninth, but on lap seven his miserable fortunes this year were maintained. Near the Ostkurve he parked, differential broken. A minute or so later Streiff's Tyrrell pulled off nearby, engine blown.
It was not a good day for Ken's team, for Brundle had to go away from the grid stone last: "I just couldn't get the thing into gear on the line," he said. "Eventually I found second, and got away in that. It went like a train for a bit, got up to ninth, then started cutting out. At first I thought that was that, but then it was okay again for a bit." Eventually Martin pitted to have the black box changed.
Out, too, in the early going were Boutsen's new Arrows (overheating turbo) and Dumfries' Lotus, which had a damaged water radiator after going over a kerb.
For Piquet though there seemed to be no problems at all. Once into the lead he had pulled two to three seconds out over Rosberg, and was content to hold it at that - the Finn indeed now being caught by team-mate Prost.
On lap 15, though, Piquet headed into pit lane. Unlike at Paul Ricard, Williams had this day planned on only a single tyre stop for their cars - and not as early as this.
Mansell, however, was expected. Early in the race he had radioed his pit to tell of the oversteer problem, and to warn them that his rear tyre wear was consequently going to be heavier than anticipated. Two stops would be needed, and his pit prepared accordingly, repressurising the new rears in an attempt to counter the oversteer.
Now - at the last corner - Piquet suddenly spoke into his radio: "In!" There was no warning for the team, and Patrick Head was anything but pleased. More, there was no alternative but to give Nelson the tyres readied for Nigel - and to tell the Englishman to stay out there a bit longer. He came in at the end of lap 17.
Piquet resumed in fourth place, behind Rosberg, Prost and Senna, all of whom would shortly be stopping for tyres. But such was his car's superiority that he quickly chopped into their advantage. "I didn't go into the race intending to change tyres twice," he said, "but decided this would be the best thing to do..." He had the luxury of being able to make that decision.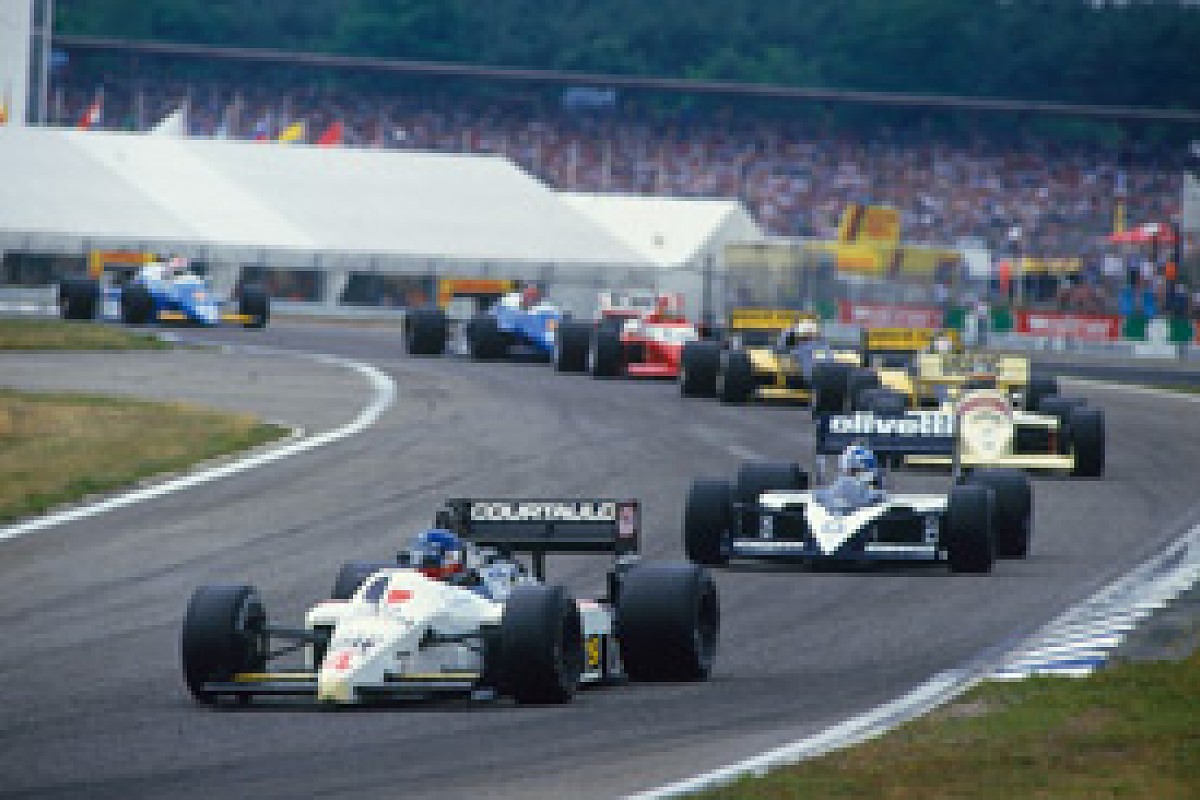 Before long Streiff was the only Tyrrell driver left in the race © LAT
"Nelson had such a power advantage," Rosberg said later, "that two stops were the best thing for him. For us there was no point. We had to run minimum boost all the way - we knew that - and there's no point in having fresh tyres all the time unless you can really use them."
The economy to horsepower ratio of the Honda engine, in other words, is such that Piquet was able to drive hard enough to hurt them and start all over again - three times. No one had an answer to that.
Everyone else came in more or less on schedule. Rosberg duly came in after 19 laps, Prost after 20, Senna 21. All stops went without hitch, and the revised leader board afterwards had Piquet back in front, seven seconds ahead of Rosberg, then Prost, Senna and Arnoux, who had retaken Mansell again for fifth place.
At the same time Patrese - hero of the warm-up - retired with a broken turbo. A spark plug electrode had broken, causing the turbo to overheat, then disintegrate. Team-mate Warwick however was going well in the other Brabham, up to seventh. A quite brilliant first lap by the Briton, incidentally, had taken him up to 11th after being 20th on the grid!
Rosberg, on fresh Goodyears, chipped away at Piquet's lead, but it was a matter of a tenth here, a fifth here. But at the end of lap 27 the McLaren was in front once more, for the Williams was coming in again. Another set of tyres, another superbly-drilled stop, and Piquet was on his way once more, third this time, four seconds behind Prost and fourteen adrift of Rosberg.
The McLaren men were utterly (and literally) powerless to resist. By lap 31 Piquet had dispensed with Prost on the run towards the last chicane, and finished it 11.7 seconds behind Rosberg. After that, the gap on succeeding laps came down like this: 10.5, 8.2, 5.6, 4.1, 2.4, 1.1, nothing.
On lap 39, with five to go, Nelson took the lead back for the last time. Rosberg made him go the long way round - on the outside of the curve before the first chicane - but the Williams-Honda simply blasted by. To his great credit (and perhaps his cost) Rosberg kept the pressure on, but there was no answer to Piquet.
Now, it seemed, everything was decided. It was merely a matter of reeling off the handful of laps remaining. Was this to be the 'fuel race' so many had predicted? As Rosberg had said: "They're all fuel races, aren't they? I know some, like Imola, are more critical than others, but in all of them you're aiming to finish on zero right?"
Piquet led him by around two seconds as they began the last lap, but the man in third place now was Senna! After a quiet afternoon the Brazilian had decided to chance his arm during the last few laps, closing on Prost and overtaking him. Prost, disciplined as ever but seething, had his eyes on the fuel read-out and knew he could not resist and finish.
Down to the first chicane Rosberg trailed Piquet but instead of going through it he slowed, took to the escape road and threaded slowly between the polystyrene blocks. He was out of fuel. Briefly the engine coughed into some sort of life, but a little further on Rosberg pulled off for good, after one of the greatest fighting drives of his life.
All the way down the final straight towards the stadium Piquet flicked the steering wheel left to right, suggesting that he too had little to spare. But all was well. To massive applause he burst into view, cruised through the remaining corners and raised his right hand to the man with the flag.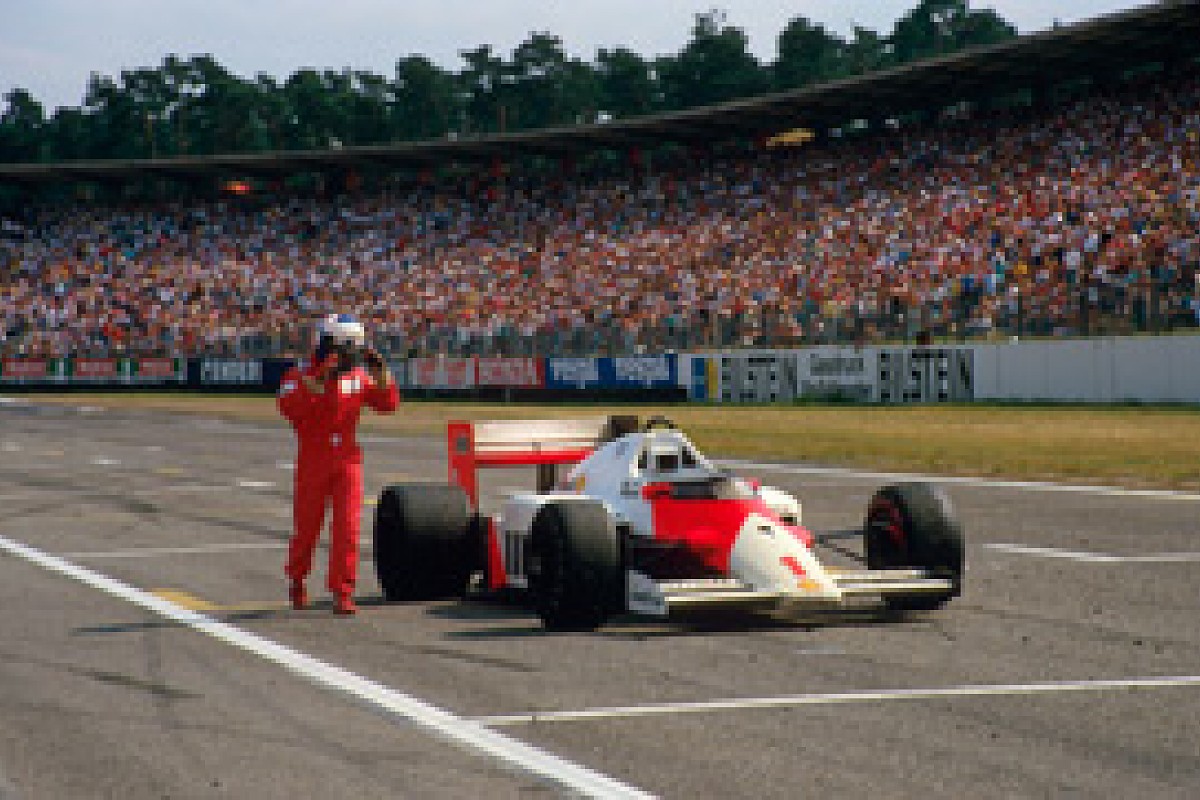 Prost ran out of fuel on the last lap © LAT
As Rosberg failed to materialise the racket from the stands continued, building yet further when Senna was seen to come next into sight. Out of the final corner the Lotus-Renault was clearly down to its last dregs, Senna weaving up towards the line. But he made it.
Prost too made it into the stadium, but the McLaren was in dire trouble. Prost tried to slosh what remained of his fuel into useful work, but into the last two corners the engine was dead.
If anyone had any doubts about the sheer competitive spirit of the world champion they must have cast them away now. Prost undid his belts so as to be able to jerk the car forward - anything to get it to the line. As he did so, Mansell went by to take third place.
Now, at last on the finishing straight, Prost stood up in the seat, jumped out before the car had come to rest and began to push. The crowd, now at crescendo point, urged him on. "Finally," he said, "I remembered that pushing over the line doesn't count, so I gave up."
In the scrutineering bay Mansell came to a halt. "Where was I?" "Third!" It had been a miserable race for him, but that cheered him up, kept his championship lead intact. Stepping out of the car, he walked over to Piquet. "Well done," he said, holding out his hand. The Brazilian gracelessly chose neither to shake it, not acknowledge his team-mate at all. Mansell shrugged, walked on.
"The oversteer was incredible," he said. "Even on the straights the car felt unstable. Still, because I had to run such a slow race I was well up on fuel and could go quite hard towards the end. I passed Arnoux, and then on the last lap saw Rosberg in trouble and thought my luck might be in. Third place today is a lot better than I expected."
Piquet confirmed that he had intended to make only one tyre stop. "I was able to pass the McLaren more easily than I expected. We had no fuel problems, so then I began to think that maybe it would be better to stop twice for tyres. Each time it was quite simple to make up the time."
He was a happy - and relieved - man after this, his first victory in nine races. And Senna, too, was agreeably surprised to take second: "Fuel worries all the race, and tyres finished at the end. Not too bad..."
Others, though, were angry and fed up. "The car ran pretty well after the bloody startline accident," Johansson said, "but towards the end I lost the right hand side plate from the rear wing..."
After losing time early in the race, Berger charged, taking the fastest lap, making two tyre stops (with nothing to lose), perhaps impressing the BMW hierarchy, one hopes.
Palmer was disappointed to retire the Zakspeed 'at home' during the last few minutes: "It was a pity - would have been nice to make the finish here. Timing gears in the engine broke. We had terrible oversteer for some reason, but the consumption was good, at least..."
Warwick, a good seventh in his misfiring BT55, was one of several drivers to need a lift back to the pits. "I didn't run out," he said, "but I forgot to put the low pressure pumps on during my slowing down lap. I thumbed a lift from Brundle, who stopped. But his engine died, so I ran down the road to get a ride from Tambay. I get on the side of the car, and Patrick takes off - leaving Martin behind! I don't think he was very pleased..."
He was assuredly more pleased, however, than Rosberg and Prost. Both reported that, according to their fuel figures, they were exactly on schedule to cross the line with a zero reading - perfect, in other words, as fast as they could run on 195 litres.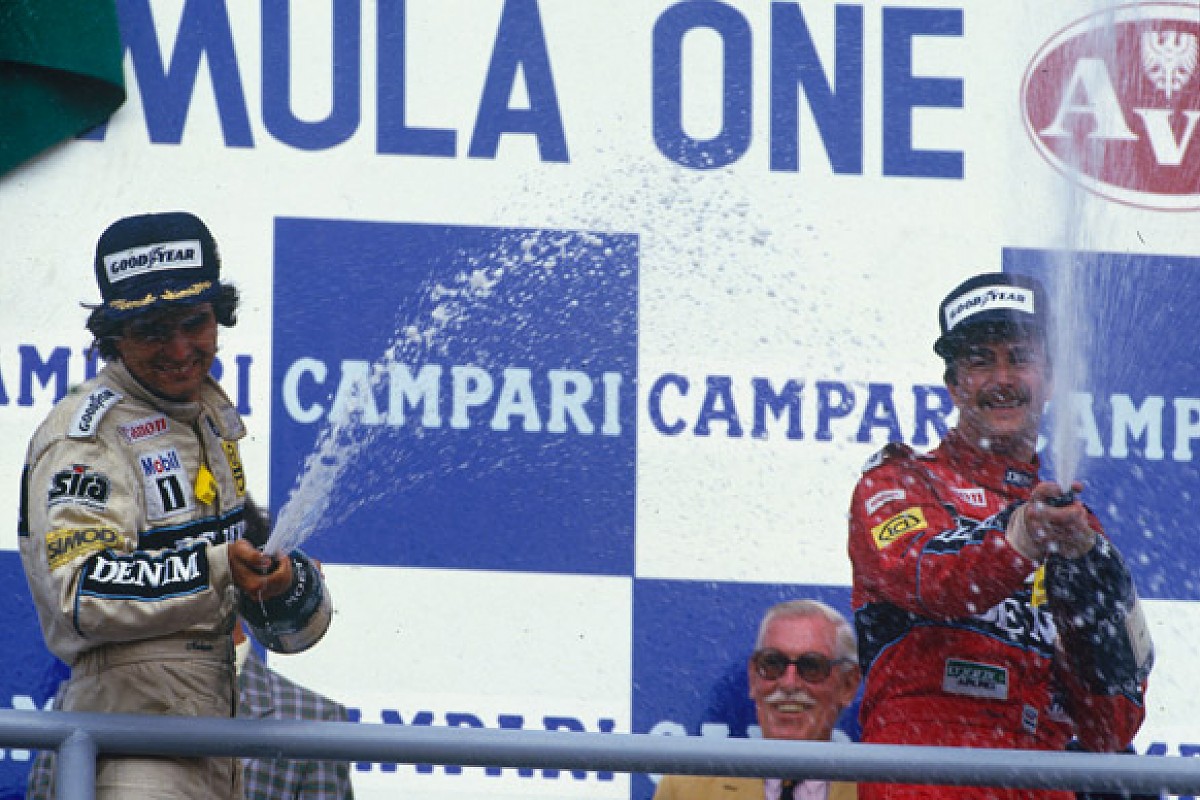 "I'm not a fool," Keke said. "If my read-out had told me there was a problem, would I still have been running that close to Nelson on the last lap? No, I would have eased off - I knew my second place was not in danger. Alain and I both ran minimum boost all the way - we knew there was no other way to finish.
"It's not Porsche's fault. It's just something which is bloody difficult to achieve. When the mechanics of the engine are changing all the time you've got to be able to change the computers accordingly, you know. And you need test data for that - if you don't have it, they're lost. It's not their fault - it's just the whole bloody system that's ridiculous.
"I finally get a car I can drive as I like it, and I run out of gas. I mean, is this racing? Like it was today?"
Prost was livid and succinct, if polite as ever. "Minimum boost from the start. Sit there all afternoon, looking at the gauge. Then find the gauge is wrong, run out, push. You might as well have robots driving the cars like this."
The Japanese pioneered building cars with robots, and they may well one day have them designing Formula 1 engines. With technology like theirs, though, they do not need them yet.
See FORIX for the results and stats from the 1986 German Grand Prix