The momentum just builds and builds. Nigel Mansell broke a CV joint within yards of the start at Brands Hatch, but a multiple accident brought out the red flag - and with it another chance for him. It meant using the spare Williams, set up for Nelson Piquet - the only man ahead of him on the grid. Piquet led for 22 laps, and then Mansell passed him. Their tyre stops were identical and they put a lap on the whole field. Mansell-Piquet was how they finished, five seconds apart. This was Mansell's greatest day - and at home.
World champion Alain Prost trailed in third followed by Rene Arnoux's Ligier and the Tyrrells of Martin Brundle and Philippe Streiff. Johnny Dumfries drove well for seventh, his team-mate Ayrton Senna retiring. A great drive by Derek Warwick should have been rewarded with fifth, but the Brabham ran dry within sight of the flag, finishing eighth - one place ahead of Jonathan Palmer, whose computer indicated a minus amount of fuel!
The best of the day was Mansell, the worst of it Jacques Laffite. The poor guy has severe leg injuries and faces a long spell in hospital.
Qualifying
The highlight of the practice days was seeing Frank Williams again. He always aimed to be at Brands to see his cars, to breath a grand prix atmosphere again. And to face the press on Friday afternoon was the act of a very brave man. The voice was a little quieter than we remembered, but as his confidence grew so the rapid speech returned. The press room was packed yet quiet. It was lovely to see him back where he intrinsically belongs.
And his boys did their best to make the days memorable for him. By Saturday afternoon they had the front row to themselves and he was smiling as he was driven from the paddock. 'Don't worry, Frank - we're minding the store' read the banner Bernie Ecclestone and the rest held out for the TV cameras on the Rio grid. Since that awful day in March, Patrick Head and his colleagues have assuredly taken care of business. Williams must derive immense satisfaction from the strength of the company he has created.
Brands Hatch was in capricious mood last weekend. Perhaps aware that it has been reamed in recent weeks, that it might not host grand prix cars and drivers again for some little time, it decided to be plain treacherous on Friday, relenting only a little the following day. Times during the first unofficial session were mysteriously slow. In the cool of last autumn Senna forced his Lotus round in 1m07.169s (a shade over 140mph), but on Friday afternoon no one was within 0.5s of that. Indeed, only Piquet broke into the 1m07s. Senna himself did 1m09.042s.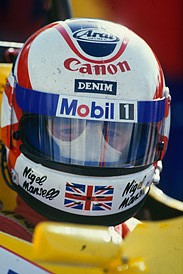 Mansell was a man on a mission at home © LAT
What's more, Senna's quick laps reminded you of Gilles Villenueve. They made your heart beat quicker, but they were not pretty. Afterwards, he was complaining of poor balance in the car and of way too much oversteer, but most of his rivals looked skittish, too.
The track, everyone decided, was a little dirty - and very slippery. "It'll be better tomorrow," Mansell said. "Then more rubber will have gone down on it. Times will be in the 1m07s, maybe faster. I guarantee you."
He was right, but not in quite the way he would have wished. A Williams-Honda did break the 1m07s barrier, but it was that of Piquet, who maintained his Friday position at the top of the lists. "This is one of the great circuits," he afterwards. "It means something to be on pole here." He did not add that it also meant something to beat Mansell, but after the last few races you took that as read. Of late the psychological advantage has very much been with the Englishman.
Even Piquet felt sure though that the track was 'slow'. It may seem ridiculous to say that of a lap of 140.536mph - remember how excited we all were when Jimmy Clark did the first at over 100mph in 1965? - but pole times this year have been 2s and more inside those set in 1985. "It is," as Keke Rosberg put it, "as though they've put in an extra corner somewhere without telling us."
Throughout, though, Piquet was on scintillating form at Brands, his driving cool and fluent. He had no problems worth the name over the two days, even being fortunate with clear laps. He seemed determined to put his recent indifferent run behind him and looked able to respond whenever anyone came within spitting distance of his pole position.
Only two men did. But Senna, this time around, was never convincing as a contender for the pole. His hot laps were awesome, but they were also untidy. The Lotus wagged its tail at every opportunity, seemingly tagging every piece of kerbing on the circuit. It was quite apparent that Senna needed a lot more road than Piquet, and second on the grid ultimately went to the other Williams-Honda, whose driver had a trying time of it.
Mansell wanted pole position here perhaps more than at any race of his life. The Sunday before he had dominated in France, and now he was in Blighty as a potential world champion. But this time around it was his turn to have all the team's ill luck.
On Friday morning the engine in his own car blew, and then the spare had a boost problem, giving poor response. There was no opportunity to try qualifiers at the end, so he opted for Goodyear Cs for his first run in the afternoon. They were good enough to give him pole temporarily, but this was then beaten by Piquet on qualifiers.
Out came Mansell on his qualifiers, but now he found the engine misfiring on high boost. And he also found Streiff and Patrick Tambay in his way on his quick lap. Never mind, Saturday would be better.
Not a bit of it. Although unintentionally baulked by Thierry Boutsen, Mansell set the fastest time yet on his first run, only to see his team-mate go quicker. Out he came again, and once more Boutsen was momentarily in his way. Abort the lap, try again. Now, go for it - and this time Mansell, coming up on Palmer, went off the road coming out of Stirlings. There was some damage to the underside of the car, repaired in time for him to do a third run, which was 0,5s slower than before.
"On top of that," he said afterwards, "I was getting a misfire on full boost, so I had to run with less that that. It was just one of those days that began badly and got worse." There was a time when Mansell would have been thrilled to start second, but not any longer. Not at Brands. Not with Piquet starting first. The first corner could be busy - especially as Senna was right behind the Williams pair. On Friday the Lotus driver's qualifying laps were simply lurid, and he confessed afterwards that the car had been very difficult to drive. The following day he was happier with it, although still not thrilled. Knowing he had no answer to the Williams-Hondas, he took his race car out towards the end of the final session, simply to check that a persistent misfire had been sorted out.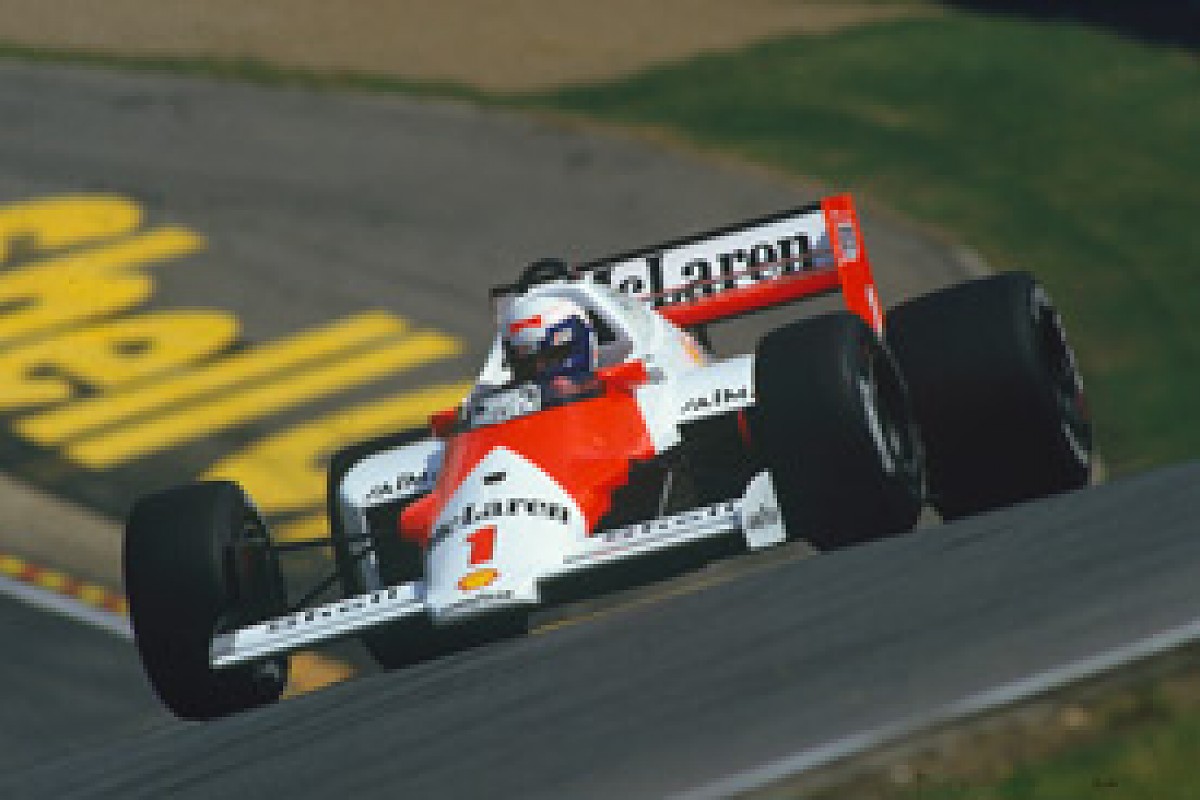 McLaren wasn't on the pace of Williams, but Prost plugged away anyway © LAT
As at Ricard, Senna uniquely had Renault's latest EF15C engine in his race car. With new cylinder heads, combustion - and therefore, fuel efficiency - is improved, but the engine refused to run cleanly in either of the untimed sessions. On Saturday morning the mechanics even changed the wiring loom. Perhaps this would be stronger in the race than in qualifying.
Watching a Dumfries absolutely confident at a grand prix circuit which, for once, he knows well, made you regret again that he was given no opportunity to drive here during the tyre test in early June. He looked good throughout practice - even daring to be briefly quicker than Senna on Friday morning!
In the afternoon he set his best time on a mixed set of used qualifiers, reckoning that he made a couple of mistakes in the course of the lap. But on Saturday he was disappointed not to improve, encountering Michele Alboreto's smokey Ferrari (turbo gone) on one quick run and unspecified traffic on the second. Having felt sure of improving, he dropped from eighth to 10th.
Benetton looked to be in very fine shape, with Gerhard Berger a superb fourth and Teo Fabi seventh. The Austrian might well have disturbed the leading trio had he not suffered a blown engine in the last session and taken over the T-car. Consequently he was nearly 1s slower than before and Friday's time (second on the day) had to stand. With their 'conventional' BMW engines pumped up, the B186s were prodigiously quick in a straight line - the only cars, indeed, to exceed 190mph on the approach to Hawthorn's in the last session.
Fabi was also fastest over the start/finish line, recording 187.457mph on Saturday afternoon. On Friday it had been his turn to have an engine failure, and he then over-revved the one in the spare car, which did for a valve. He was not up with Berger, but two in the first seven looked promising.
McLaren had two in the first six, but that was expected. And as Piquet this weekend put it over Mansell in qualifying, so for once Rosberg was quicker than Prost. And nor were the Finn's practice days free of incident. On Friday he had but one timed run. As he warmed up for his second, cruising through Druids, his car was savaged by Laffite's Ligier.
"I was keeping to the outside and he was on a quick lap. I guess he locked up, slid straight on and went over the front of my car. That meant no second run for me. 'Jacques', I said. 'If it had been anyone but you, I'd have been really mad!' No, the damage was not too bad - just the right front suspension. Of course, the risk with things like that is that you maybe get him on your head."
Laffite, typically, made no excuses: "My tyres were not quite up to temperature, and I understeered into the corner - and also braked too late. My fault completely." Wish all the drivers were like him.
Only one run on Friday for Rosberg then, and the following afternoon he had a turbo failure, consigning him to the spare. For all that, he was almost 1s up on Prost, who said again that setting a car up at Brands is more difficult than at any other track in the world.
"I did not expect to be on pole - but I did not expect to be more than 2s off either!" the world champion said. "I cannot balance the car properly, just like last October, you remember? Here the difference in set-up between qualifying and the race is so different, and, to be honest, I'm a little bit confused. Even when the car is quite quick, it's not comfortable, not nice to drive. Today I have found one or two things for the race, though, so I hope tomorrow will be better - it has to be!"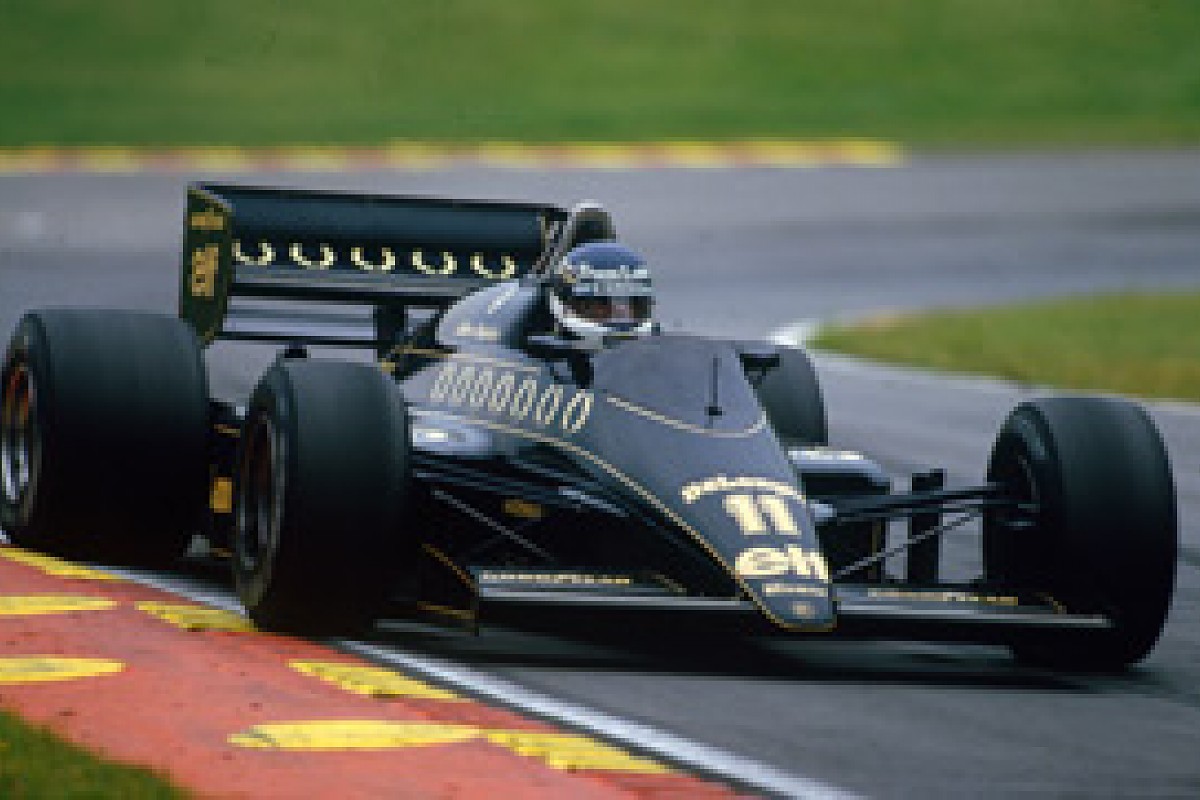 Dumfries at least knew the Brands layout and qualified 10th © LAT
Not far away, sharing row four with Fabi, was Rene Arnoux, another man thoroughly dissatisfied with his car. In the race here last autumn the Ligiers played a starring role, but this time around neither was truly on the pace. "I can't believe I am so high in the times," he said. "For sure, the others must really be in it. The balance is terrible - I have no grip at all. The car wont turn in, and the oversteers badly out of the corners."
Arnoux preferred the feel of his car on soft Pirelli tyres, and it was on these that he set his fastest times. But if he was discontent, he was a good deal happier than Laffite. Here he was, the Brands Hatch lap record holder, going into the 176th grand prix of his career (equalling Graham Hill's all-time starts record), and he was starting 19th.
We have mentioned already the accident with Rosberg on Friday afternoon. This was the second drama in Jacques' day: right at the end of the morning session he had come slowly down from Druids, the back of the car ablaze. An injector had broken (as happened also to Streiff at Paul Ricard), and he pulled off by the marshals' post at the bottom of the hill. The fire was out - apparently - very quickly, and he set off to walk back to the paddock. But then it caught again, and on the side of the car away from the marshals. When they realised, they had it swiftly out once more, but by then the monocoque was badly burned.
"That was my car", he said. "So it might mean the spare for the rest of the weekend. Days like this it's better to forget." But the car was repaired.
Saturday came into the same category. The car's understeer was appalling, and if that were not enough, its engine kept cutting out through the final session. "I am slower." Laffite mused, "than in the race last year."
Ninth on the grid was Warwick, and that was a happy surprise, not least to the man himself. The Brabham BT55's behaviour looked no nicer than on its previous appearances (recall seeing him snatch opposite lock halfway through the long, gentle, curve behind the paddock?) - and on the opening day it was down in 16th. He had lost time with clutch problem during the morning and was not a happy man.
Saturday was better. "We changed the set-up fundamentally - and it was horrible! I mean, undrivable. Then we went back to the original settings, and it felt a lot better. Maybe it's psychological. I don't know."
Had it been a 'shut your eyes and go for it' lap? "Not really, no. I'm sure I could have repeated the time. And let's not get too excited about it. We're ninth, yes, but we're more than 3s off the pace."
Warwick may have felt that way, but few expected to find the BT55 in the first 10 - including Brundle, who was nudged down to 11th by it. But he too, was much happier on the second day. Despite dropping a couple of places from Friday, he improved by more than 1s, thanks to aerodynamic changes.
On Friday morning he had hit a damp patch, slid into Piercarlo Ghinzani's Osella and bent a steering arm, and in the last session admitted that he might have been a bit quicker. "I was behind Michele - on my quick lap - when his turbo went. You always wonder, when you see smoke, if there's going to be oil, and I lifted off."
The other Tyrrell, that of Streiff, was 16th. Streiff, you may recall, rather stunned everyone last autumn by qualifying his Ligier sixth. This is a circuit he loves, but he had a spin on Friday afternoon, knocking the nose off, and when he went out again the engine cut. A fresh Renault V6, installed overnight, he found less good, and the final session dropped him from 12th to 16th.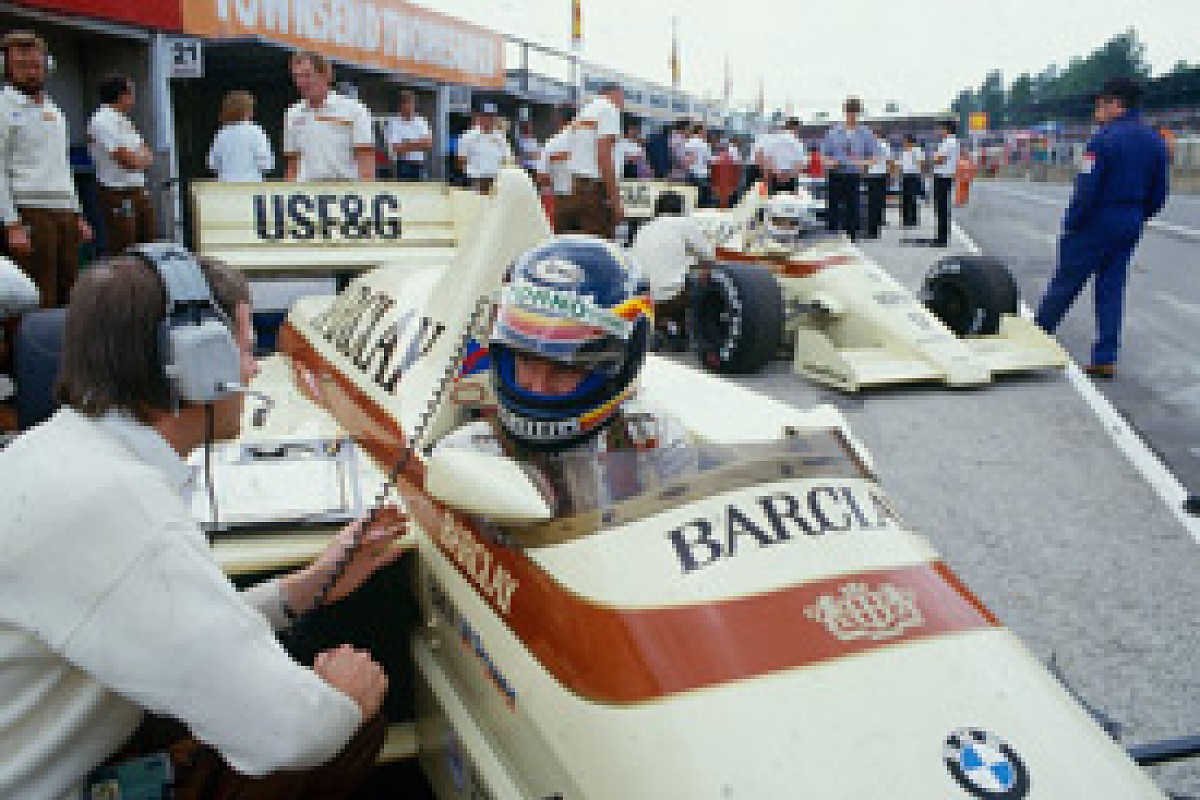 The Arrows boys had to make do with their A8s after the new A9s were delayed © LAT
On the sixth row, next to Brundle, we found Alboreto in the first of the Ferraris. It was the old story: understeer, poor traction, bad over bumps (which is not what you need at Brands). The only strong card Maranello held was that awesome qualifying power. Through all the speed traps the Ferraris were right there, and you had to keep in mind that they had not come off the previous corner very quickly.
Alboreto was 11th on the first day, a whisker slower than Stefan Johansson, and on Saturday he had a turbo failure and fire (superbly dealt with by the marshals) before setting a single quick time. Back to the pits he walked for the spare - which already had Johansson in its cockpit.
The Swede had earlier suffered an engine failure, this putting him into a harmless spin at Druids. He had then gone out in the T-car, and found oil over the back of the circuit. The prudent move seemed to be to come in, wait for it to be dealt with. That he was doing, when in walked Alboreto.
The Ferrari management did not hesitate: Out! The car was Alboreto's for the balance of the session, and right at the end of it he plucked a time which moved him six places clear of the watching Johansson. Afterwards his team-mate was almost speechless with rage, and he could hardly be blamed for that.
Arrows now tried all it knew to have the first of the new A9s ready for Brands Hatch, but eventually abandoned the plan. "This is the fourth race in five weekends," team boss Jackie Oliver said. "And just preparing for a schedule like that is bad enough without building a new car, too. In the end, we had to forget it, but the car will test early next week."
Boutsen will definitely have an A9 for Hockenheim, but in the meantime did his usual fine job in the old A8, qualifying 13th. A lost rear wing on Friday morning was his only (!) mishap during the qualifying days, but Christian Danner had a trying time on Saturday. He found his engine very down on power during the morning, so a fresh BMW went in for the last session. This misfired on full boost, and eventually went onto three cylinders. Danner, unable to improve, was down in 23rd.
Alan Jones was much the happier of Carl Haas' men during qualifying. Running a revised-spec Ford V6 ("I was impressed - it seemed to have better response than the other") in his Lola, the Australian qualified 14th, his fastest time coming on a mixed set of used qualifiers towards the end of the last session.
If he was pleased with the balance of his car however, Tambay complained of excessive understeer. The meeting began badly for him, an engine losing all its water on Friday morning (apparently because of a radiator cap not properly affixed), and he found the replacement sluggish. For the race, however, he would also have a revised higher-compression Ford. But he was starting from 17th.
Between the Lolas we had Riccardo Patrese - and, yes, the rumours were true, he was in one of last year's Brabham BT54s. Very pretty it looked, too. Last October Piquet thought he was on course to win in one at Brands, and Marc Surer ran an easy second for much of the race. It was not the same story for Patrese.
Somehow the mechanics cobbled a couple of cars together from sundry bits and pieces (including some from the Donington Museum!), and BMW dug out a couple of engines. This was one of the major problems, for Brabham have used the 'laydown' motors exclusively this season, of course.
As the decision to go with a BT54 was taken so late, there was no opportunity for testing, and Patrese qualified only 15th, his car several seconds slower than Piquet and Surer managed last year.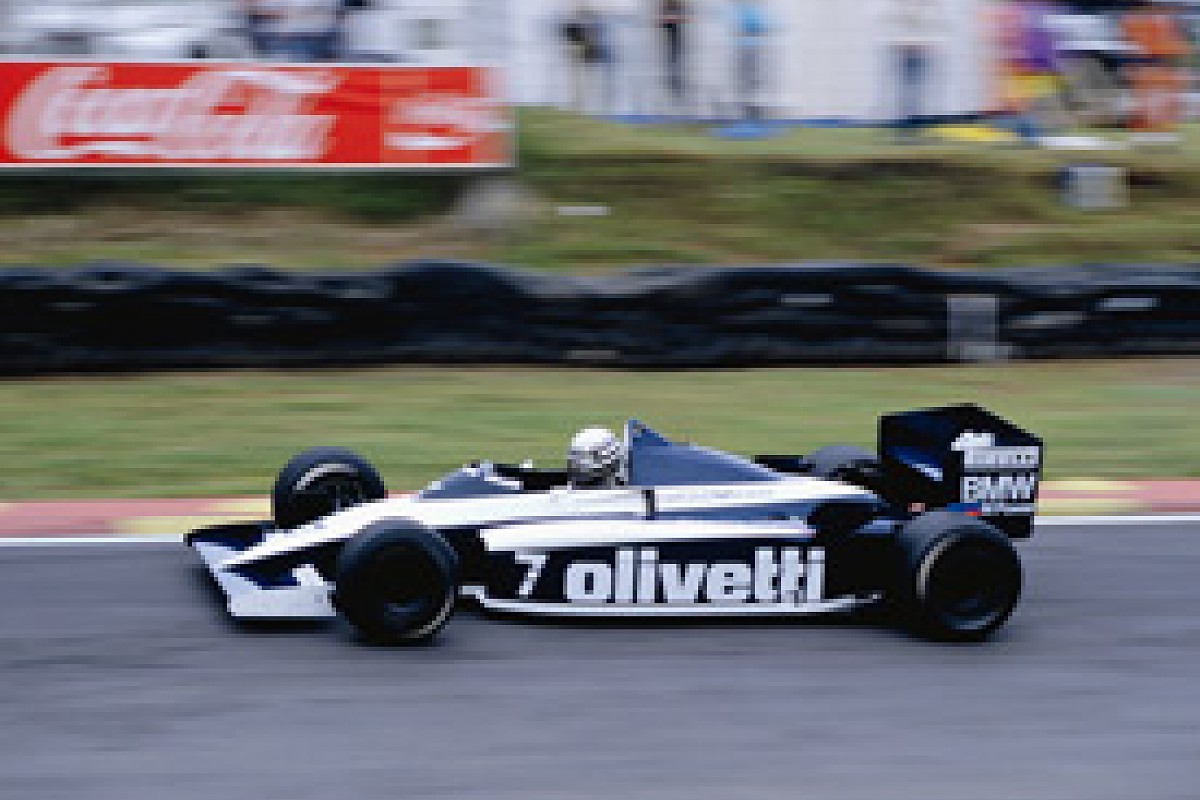 Patrese reverted back to a 1985-spec BT54 Brabham for Brands © LAT
Despite missing a second run on Saturday (turbo failure), Alessandro Nannini once again outqualified Andrea de Cesaris, the Minardis 20th and 21st, just ahead of Palmer's Zakspeed.
"Horsepower has been a problem," Palmer said. "I was down on boost this morning, and they found a crack in the exhaust. But it was exactly the same this afternoon, so I had to qualify with only race boost. On the plus side, we've stiffened the whole car up, particularly the front end, since yesterday, and it's much better. In fact, the handling's good now. And at least we know what we can do on race boost."
As at Ricard, Huub Rothengatter's sister car was considerably slower, but only two places further down the grid. His Friday times were discounted (and a fine of $2000 - the currency of F1 - imposed on the team), after scrutineers found his extinguisher bottle to be empty.
Ghinzani's Osella was between the Zakspeeds, and his team-mate Allen Berg, as usual, was at the back. The young Canadian missed the final session altogether, having heavily shunted his car at Druids early in the Saturday morning session, causing it briefly to be stopped.
See FORIX for the full grid and all the stats from the 1986 British Grand Prix
Race
"Think it's going to rain?" Prost was asked on Sunday morning. The forecast for the afternoon was clear and bright, but now the sky was murky. "I don't think so," he replied. "But a wet race is the only way to challenge Williams.
"In fact, I think today could be like Niki and me in Austria last year. No one was near McLaren that day, and Williams will be the same today. We are concerned about fuel. They will be able to run boost we can't even think about, so I think the rest of us are racing for third place. Maybe our best hope is that Nelson and Nigel will race each other."
Sunday morning though, was not all roses for Williams. Although Mansell was second quickest in the warm-up (between Rosberg and Prost), Piquet pulled up very sharply on the pit straight, a considerable turbo fire behind him. But once again the marshals' work was exemplary and the mechanics were relieved to find comparatively little damage done: Piquet would not need the T-car for the race. Which, as things transpired, was just as well...
Patrese, on the other hand, would have to call on the spare Brabham BT54, having blown up his race car right at the end of the session after some very quick laps.
Over the next couple of hours the day lightened, and we savoured an air display, which included Concorde and the glorious Vulcan, a sort of Indy roadster of the skies. Eddie Cheever did some demo laps in the TWR Jaguar, but unfortunately was not able to really do justice to the car, thanks to the presence at the trackside of sundry persons in British, American and German WW2 uniforms, who proceeded to have a rerun in the infield at Clearways. Nothing like the restful crack of gunfire to help the lunch down a treat. Eventually - mercifully - they ran out of bullets or something, and they all trooped off again. Extraordinary.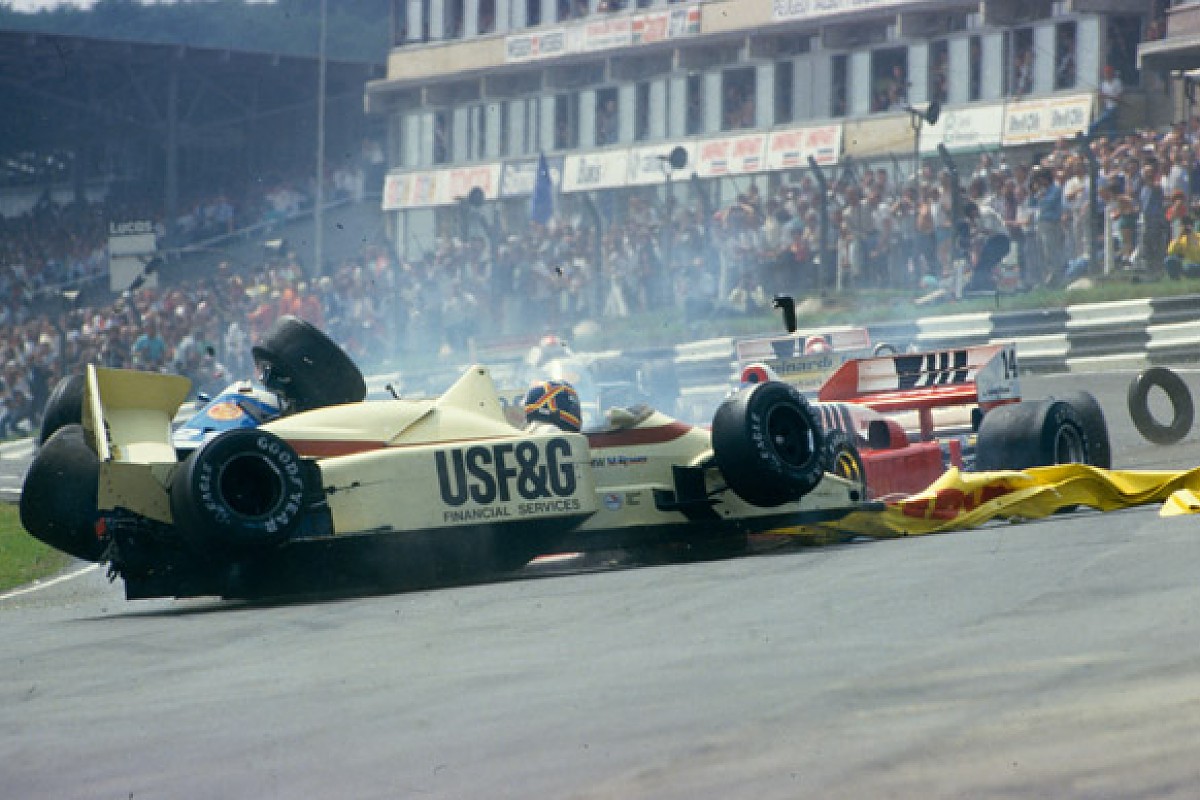 Derek Bell had a lap of honour, and so did Richard Branson. The discotheque lorry (a real nightmare concept, this) came past for the last time, and the serious business of the day was at last top of the agenda. We got ready for 2:30pm and the start of the British Grand Prix.
Through the morning there had been several conversations about the parallels between this race and that 10 years ago. In 1976 we had team mates - Niki Lauda and Clay Regazzoni - on the front row; we had an accident between them at the first corner; we had the race stopped; we had a restart; which gave another chance for the British championship contender...
At the green Mansell initially got the jump on Piquet, but as he let the clutch out after snatching second gear the right hand driveshaft coupling exploded. Suddenly he had drive only to one wheel, and the pack engulfed him at the approach to Paddock. Briefly he thought his British Grand Prix over.
Behind him, though, there was absolute chaos. For reasons unknown, Boutsen's Arrows snapped out of control at the top of Paddock, veered to the left, in front of Jones' Lola, and hit the outside guardrail very hard. From there, with an advertising banner wrapped around it, the car bounced back into the middle of the road.
Johansson, confronted with the Arrows right in front of him, swerved right, and Laffite (on his right) had no alternative but to do the same. The Ferrari skated over the grass, but Stefan was able to get away with clipping the end of the barrier. It punched a hole in the right hand sidepod, but the car otherwise survived.
Laffite, sadly, had neither time nor space to work with, and went head on into the barrier (there to prevent cars from going over the drop down to the tunnel). It was quite an impact, of course, but the front of the Ligier was absolutely shattered, the driver trapped inside and badly injured.
The scene behind was one of mayhem. Palmer, with no escape route available, had T-boned Boutsen, and Danner, de Cesaris, Ghinzani, Rothengatter and Berg all became involved. As the black flags came out around the circuit (red at the startline), Palmer - now doctor, not driver - ran to Laffite's car to see if he could do anything. "The steering column was all up around him. I think he must have done a leg."
So badly was the blue car crumpled that 35 minutes passed before the driver could be released. An ambulance then took him the short distance to the helicopter at Clearways, which flew him away to hospital in Sidcup.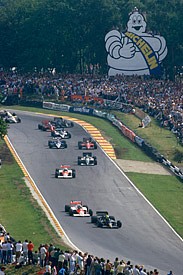 It was tight behind the WIlliams pair © LAT
Poor bloke. This meeting had been wrong from the start, from the fire on Friday morning and the shunt with Rosberg in the afternoon to the engine and handling problems in the final session. Circumstances had put him artificially far back on the grid, and this was the consequence.
On the grid Prost's anxiety for his close friend lessened a little: "Apparently both his legs are broken, and also his pelvis, but he is not in danger."
Everywhere drivers were in huddles, discussing what had happened. "I can't explain it," Boutsen said. "The car just suddenly turned left - there was nothing I could do." There were suggestions that maybe a driveshaft had broken, as on Mansell's Williams.
"No refuelling!" came the order as mechanics hauled churns onto the track, but a few minutes later this would be rescinded. It would not be a restart, but a new race over the full distance.
There was plenty of other work to be done, too. Danner, Ghinzani, and Berg were out for the day, but Palmer and de Cesaris would race their T-cars. So would Mansell: "I couldn't believe it when I saw the black flags," he said. "I was just telling them on the radio that that was it: I was out. I'm terribly upset about Jacques - like everybody is - but the accident's given me another chance, and I've got to take it. I just wish I knew a bit more about this car. It hasn't really worked well all weekend."
Elsewhere in the grid engineers spoke of what a second start would do to transmissions. Two years ago, such a thing was to rob Prost of what would have been a comfortable victory.
The Ferrari mechanics wheeled Johansson's repaired car back to its grid position and Warwick's Brabham got a new nosecone to replace that crumpled by Dumfries at the first corner. Dumfries himself had done that first, slow, lap with a punctured right rear tyre.
"And in the interests of safety," Warwick said bitterly, FISA is proposing to put us through this twice each weekend next year. What a bloody joke." A lot of colleagues echoed that.
Not until the helicopter returned, of course, could the new race start, and six minutes before 4pm they got the green light again. This time Piquet led off without a problem, Mansell tucking in behind at Paddock, followed by Berger, Senna, Rosberg and Prost.
In those first few minutes Mansell was shrewd enough not to try anything heroic. First he had to feel out the strange car (set up for, and by, Piquet) and get acclimatised to it. Down Pilgrims' drop towards Hawthorn, Berger went by into second place.
There were groans from the stands when the Benetton emerged between the Williams pair at the end of the lap. The Austrian, his pace and zest so reminiscent of the young Lauda, was really on a charge, even closing on Piquet at this point. But after a couple of laps Mansell decided he knew enough about his new FW11, and repassed Berger, again at Pilgrims' Drop.
Elation from the stands this time around. Now the groans came from Piquet's cockpit: Mansell was in his mirrors again, albeit nearly a couple of seconds behind. They would run for quite a while like that, leaving the rest behind.
Behind them ran Berger, Senna (under pressure from an extrovert Rosberg), Prost, Fabi, Alboreto, Arnoux, Jones, Dumfries and Brundle. For the first seven laps the orderly procession was undisturbed, but at the end of the eighth Rosberg was into the pits and quickly out of the car, whose gearbox had broken. One of the front runners was already out, and Rosberg, consistently ahead of Prost this weekend, was highly disappointed.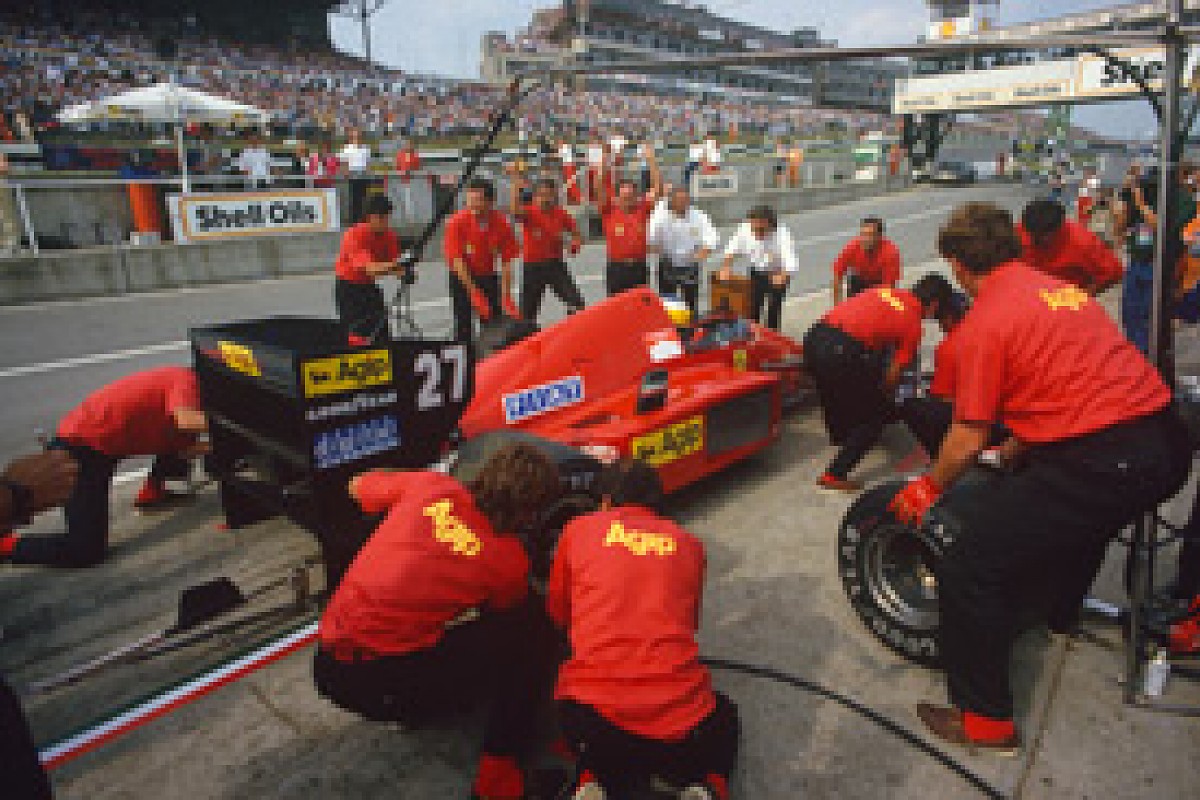 Alboreto was best of the rest until Prost got by after the pitstops © LAT
Round and round they hammered, Piquet and Mansell, with never more than a couple of seconds between them and usually much less. Their advantage at this early stage of the race was staggering, and there were no team orders. "I ran medium boost for most of the day," Mansell would later say to the astonishment of his colleagues. Piquet did the same. Prost's prediction in the morning had been on the button: the Williams-Hondas were on the same track as the rest, but not in the same race.
The Benetton team's afternoon began to go awry at the end of lap 14 when Fabi came in with a delaminating tyre. Both he and Berger had started with soft Pirellis on the front and hards on the rear, whereas the Brabham drivers had opted for hard left fronts and softs elsewhere. Arnoux, to complete the picture, had hard lefts and soft rights. The Goodyear position was rather more straightforward: everyone had taken Cs all-round.
It was with astonishment that we saw Prost heading for the pits after 17 laps. This early in the race, the problem had to be serious, but no. It was simply a tyre change, requiring 9.3s. Prost is perhaps easier on tyres than any other man in the business, so was this a tactical move - getting the change done early? Not so. The McLaren, for once not handling to the world champion's pleasure, was eating tyres, and would have to stop again later in the afternoon.
Twenty laps: Piquet now had Mansell right with him, and after a lengthy interval there followed Berger, Senna, Alboreto, Arnoux, Jones, Warwick, Patrese - and Prost, now back in 10th.
Jones, unfortunately, was soon to disappear. He had given the Lola-Ford an excellent run, but pulled off behind the paddock on lap 22 with - of all things - a break in the throttle linkage. He had been pleased with the higher-compression engine, he said, but had been fighting severe understeer from the beginning. His team-mate Tambay, further back, was in the meantime troubled with oversteer!
Gone by this stage, too, was Johansson, who came smokily into the pits: "I got a stone through the radiator, but there was another problem somewhere right from the start - the thing just had no power at all."
A more significant retirement though, was that of Berger, who failed to materialise at the end of lap 23. The Benetton, engine dead, had pulled off at Westfield. The black box had failed. After the race the mechanics changed it, and the BMW burst into raucous life. The team is not having a lucky time of it this year.
Berger's absence though, went largely unnoticed for a while. The crowd, swept away by Mansell fever, was waving and clapping with joy. Out of South Bank, and down Pilgrims' Drop, Piquet missed a gear - a costly mistake - and in an instant Mansell was past into the lead. Be in front when the tyre stops came - psychologically it was the right place.
Senna was in after 27 laps and four new Goodyears were smartly on the car. But he made no move to go back out and the car went up on its jacks again. Eventually he returned for one slow lap before pitting for good. He had stopped originally to have a gear selection problem investigated, but fourth gear was broken. "There was no chance to match Williams on economy," he said. "So I was just hoping for a good finish and some points." It was only his third retirement of the season - but his second in a week.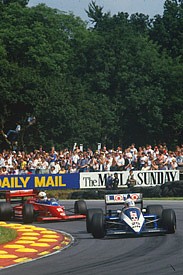 Veterans of a past age: Arnoux and Jones © LAT
Twenty-nine laps: Mansell, Piquet, Alboreto, Arnoux, Warwick, Patrese, Prost. These were the only men on the lead lap, and now the stops were about to begin.
The Williams mechanics were facing a tough time. Out on track Mansell and Piquet were fighting for the lead, and there were, say it again, no team orders - save those on boost. This was a race, and a mighty important one for both men. Mansell, on a high these months past, wanted to retain his psychological advantage within the team, and Piquet, aware of that, was keen to usurp him, answer his critics.
It was possible - indeed likely - that the outcome of the day would be settled by the tyre stops. One small slip, and maybe a man would lose the race. There was nothing to discuss. It was simply a matter of trying to do the job as quickly and perfectly as possible for both drivers, and hoping that the times would be near enough the same.
In came Piquet at the end of lap 30. No hitches on this one, and he was stationary for 9s. Now we waited for Mansell, who pitted two laps later. Again the work was flawless: 9.6s No one could quibble about half a second. Allan Challis and his boys breathed a little easier.
Mansell hurtled out of the pits and into Paddock just as Piquet approached. In time past Piquet would have sprinted by, but in these days of pre-heated tyres Mansell was able to go quite hard from the start. Into Surtees the Brazilian dived for the inside, but had the door closed firmly in his face.
All round the lap the two cars were nose to tail, and as they crossed the line to begin lap 34 Piquet went wide into Paddock, clearly aiming for a slingshot at Mansell into Druids (perhaps with a dash of boost). It was perfectly timed and might well have come off - save that Nannini was over to the right, keeping out of the way, and that obliged Piquet to lift off and duck in behind once more. By the end of the lap Mansell had edged away a little. We were beginning 40 laps of nip-and-tuck at record speed, and everyone else was incidental to the action.
On lap 35 Piquet closed up once more, lapping in 1m11.250s, a mere 0.01s from Laffite's record, but four laps later Mansell shattered it, going round in 1m10.713s. Clearly they were running hammer down all the time. We knew about Honda's astounding fuel economy. But could it stand this?
Arnoux, in third place, came in for Pirellis at this point, opting for a hard left front and three softs. It was a choice he was to regret. Arnoux has never been easy on tyres and the new left rear lasted no time at all. In fewer than 20 laps he was back for more (reverting to his original combination this time). Ligier tyre changes are not swift by the standards of Williams or McLaren, and this second stop was to cost him third place.
After 40 laps Mansell led Piquet by 1.57s, and then came Prost, Alboreto, Arnoux, Patrese and Arnoux. In race trim there seemed precious little between Brabhams old and new, but Patrese's fine drive now came to an end. At the bottom of Paddock he pulled off, engine blown. Warwick in the meantime was giving the BT55 the best of its life, reminding the Brands crowd that the man in car five is not the only world class British driver.
Mansell continued to drive beautifully in the lead, with Piquet also at the limit. By now there were comparatively few cars still running, and that was good for the Williams duo, for many of those back in the field showed little inclination to make life easy for them. On one lap Mansell was disgracefully baulked by Streiff, but the Frenchman was then democratic enough to hand out the same treatment to Piquet.
As the 50-lap mark approached, the two men came up to lap Brundle again. Between Hawthorn and Westfield the Tyrrell moved right momentarily, but there was no time for Mansell to get by. Through Westfield and Dingle Dell the Tyrrell was still ahead, and Piquet was closing, closing. In the end, both Williams went past at Dingle Dell Corner, Brundle getting on the kerb coming out. It was one of those occasions when a man in a slower car is in the way, whatever he does.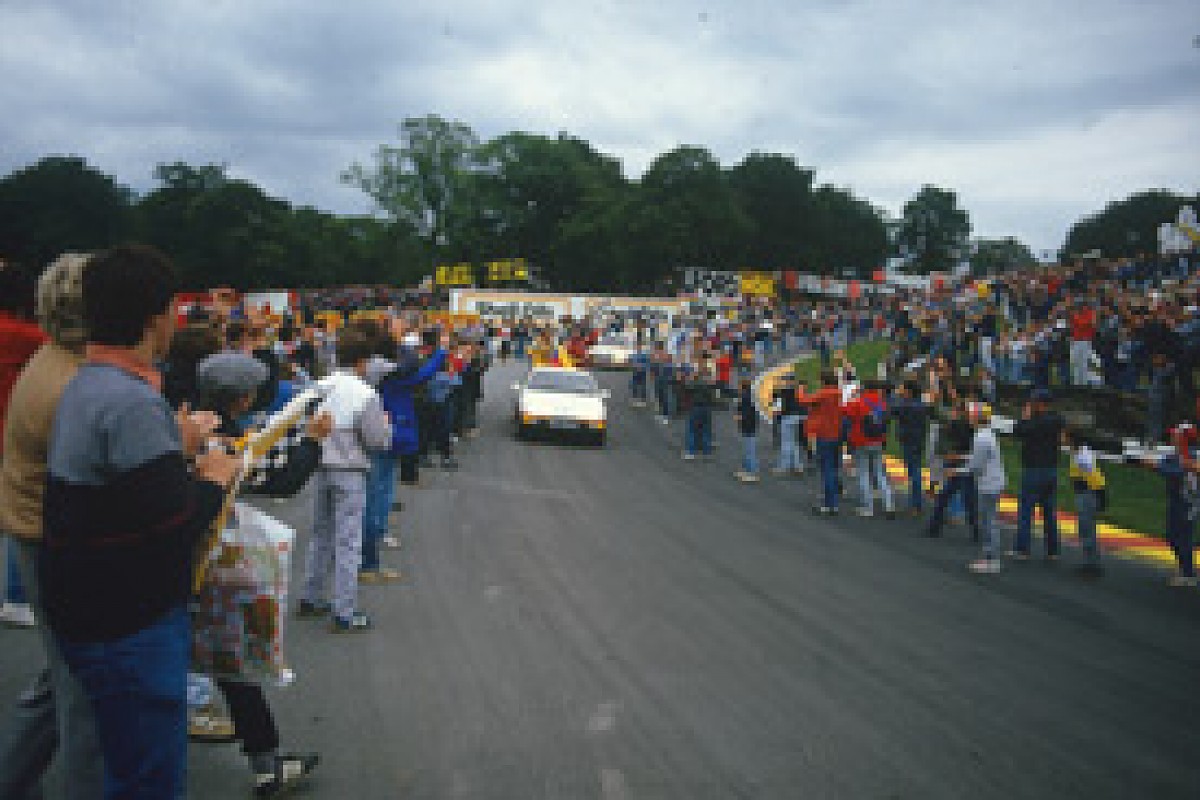 Fans lined the track waiting for their winner © LAT
After 50 laps too, Prost came in for more tyres, rejoining without losing third place but suffering the indignity of being lapped. That was the measure of the Williams-Honda superiority on Sunday. On lap 54 Piquet set a new record of 1m10.089s, but still the gap stayed at more than 1s, and a few laps later Mansell responded with 1m09.808s.
As the race neared its end, Piquet gathered himself together for one final onslaught. On lap 68 he went round in 1m09.805s, his fastest lap - and must have been stunned to find himself even further behind Nigel, who then put matters beyond doubt by recording 1m09.593. That was the end of Piquet, who accepted now that he wasn't going to win the British Grand Prix.
Four laps from the end the spectators were already waving as Mansell passed the startline, and when he did it for the 75th and last time they went crazy, just as they did for James Hunt 10 years ago. Piquet followed, a little under 5s later, and then came the lapped Arnoux, the thrice-lapped Brundle and Streiff.
The man who should have been fifth dropped to eighth in the last few hundred yards. Warwick came up to the line with a dead engine, the driver half out of the cockpit as he willed the car on. He was out of fuel, his computer three laps out. And he was very angry indeed as he left the circuit. Understandably so.
In terms of Mansell, we move from superlative to superlative. Four wins out of the last five races, two in a week, and this one the hardest of all, under pressure from a resolute team mate and driving the spare car. As Brundle said, "If he can outdrive Piquet in equal cars, he's ready to be world champion."
As they pulled into the scrutineering area and stopped, the cheers were still building. Mansell struggled to get himself out of the car, half-collapsed against it, begged for some water, half of which he poured down his neck. Piquet, unsmiling, came by and cursorily patted him on the shoulder.
"I'm shaky," Nigel explained, "because we don't have a water bottle in the T-car. I'm just dehydrated. That was the fastest race - in terms of being balls out all the way - that I've ever driven." It was also the best. Last October he won at Brands, and that was good and important because it was his first. But most of the time there was no pressure. On Sunday, as a matter of interest, his average lap time (including tyre stop) was 1m12.513s. Seven of the 26 were slower than that in qualifying.
That was also true of Piquet's pace (1m12.587s). To drive at that speed and lose was perhaps the reason for his stony expression. Mansell has them all on the run just now.
See FORIX for the full results and all the stats from the 1986 British Grand Prix