On Sunday, Nigel Mansell guaranteed chaos on the roads of Kent this coming weekend. For the first time in a decade British spectators will go to their home grand prix to cheer on one of their own as a truly serous contender for the world championship. Mansell has now won three of the previous four races, and this one he laid claim to in the opening seconds. Only Alain Prost offered true opposition.
Ayrton Senna took pole, but crashed early. Nelson Piquet and Keke Rosberg were thereabouts, but not truly in the picture. Poor tyre stops did nothing to help the Ligiers, although both took points. The Ferraris were not a factor. Patrick Head correctly surmised that two tyre stops were the right policy for Williams-Honda and left the rest to his driver, who made no mistake. It was another drive from the top drawer.
Qualifying
The Circuit Paul Ricard has ever been unloved. 15 years ago, in its virgin state, the track was variously dismissed as bland and boring. Why, the drivers wondered, had Monsieur Ricard chosen about the only flat piece of land in Provence on which to build his new super-duper autodrome? It is to a place like Spa-Francorchamps what Sacha Distel is to music. Come to think of it, he might have designed it.
The only place worth watching was always the Verrerie 'S' at the end of the pit straight, but it was unhappily here that Elio de Angelis suffered his fatal accident during testing in May. Certainly it was a quite staggeringly fast left-right, very much a sequence for the brave, but also the Verrerie needed great precision.
For we who were merely watching racing cars, the decision to do away with the esses seemed an illogical response to the accident. There can be no suggestion that the corners - their sheer quickness apart - were the cause of it. In light of the appalling aftermath, it would seem more logical that FISA, the FFSA, the circuit organisers et al should rather have addressed themselves to the problems of inadequate marshalling and safety facilities. On Saturday afternoon there was disturbing evidence that such has not been the case. However, we will return to that.
To by-pass the Verrerie we had two new right-handers that linked up to the Mistral straight about a third of the way along its length. And cutting this - grand prix racing's equivalent of the Mulsanne - was undoubtedly a plus point. A mile on full noise in July heat is a long way for engines and tyres (and drivers' nerves!), and Mansell's practice accident last year is still clearly remembered by all who saw it. Terminal speeds approaching the right-handed Signes were in any case unaffected. Indeed, despite the inaccuracy of the speed traps on the Mistral, it may be assumed that they were up on 12 months ago.
The new 'link' corners were greeted with muted approval. "Not very interesting, no," said Prost on Friday. "But then nowhere on this circuit is very interesting is it?"
Mansell agreed, but added that the Verrerie was getting a little out of hand. "I can understand why it was so good to watch there, but I think it might have been a bit ridiculous this time, particularly in qualifying. Probably absolutely flat, at close on 190mph. And if anything - anything - had gone wrong, it would have been a complete disaster."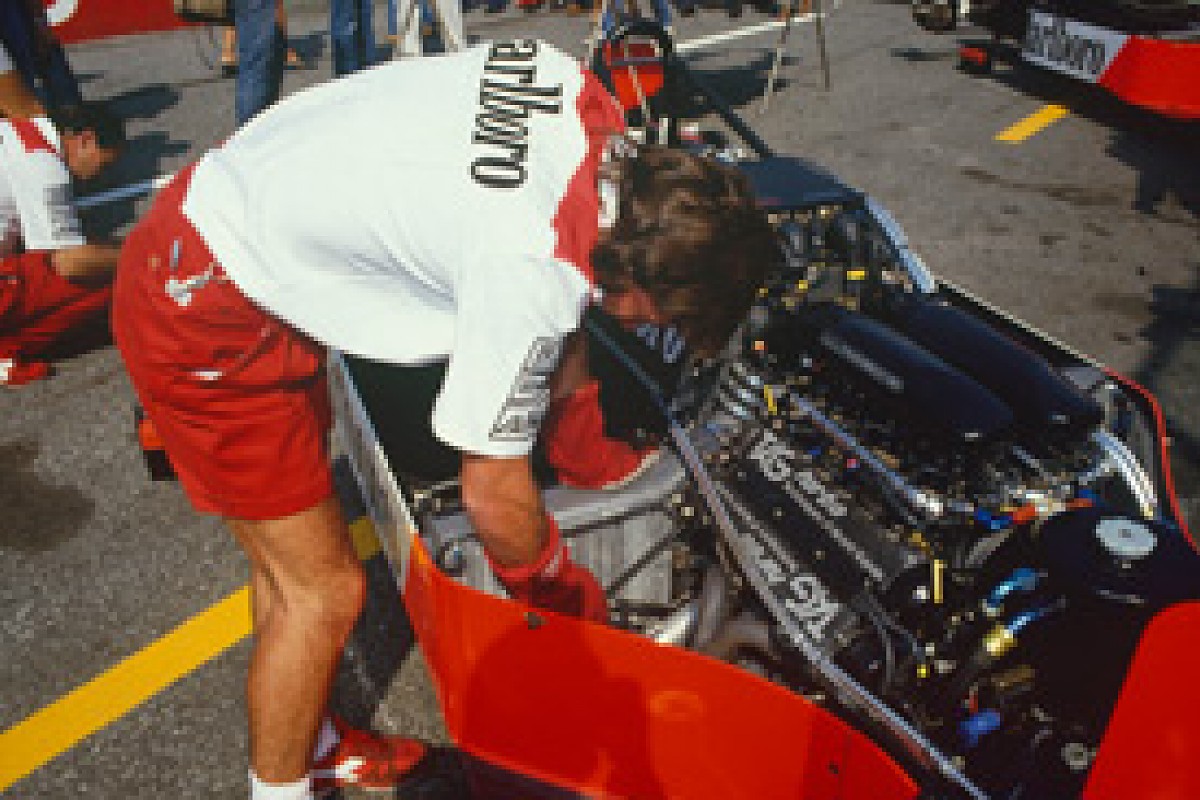 McLaren engineers were constantly tweaking the cars of Prost and Rosberg © LAT
Its Mickey Mouse character apart, the main deficiency of the new short loop was its fresh, very abrasive, surface. That, and its foolishly high kerbing. 'We don't like it very much, but we'd better not grumble,' seemed to be the general feeling.
Certainly there was more guardrail than in the past, and at the new look there were gravel run-off areas (surely the most significant safety improvement in the last few years). There were also, for reasons that remain shrouded in a Gallic mind somewhere, vast quantities - 20 tons apparently - of pale blue paint edging the sides of the circuit. This, the organisers claimed, was to provide a 'visual shock' for the spectators, emphasising the track itself (mercifully left black). The spectators were to get a visual shock on Saturday afternoon, but more of that later.
The man who most successfully coped with this melange of new corners and colours was the man who won two weeks ago at Detroit. For Ricard, Senna had Renault's latest EF15C race engine in his Lotus 98T.
"Some people have suggested it's a new engine," said Jean Sage, "but it's not. It has new cylinder heads. We tested it last week at Silverstone, but we had a lot of problems there - although not with the heads. There were two broken gearboxes, and the telemetry was interfering with the electronic system. We lost a lot of time, and only did about 250 miles over the two days. But we thought the head good enough already to put it on three engines for Senna's use here."
Since doing away with the valve springs in their race engines this year, Renault's engine reliability has been quite remarkably good. If they have lost out to Honda, TAG and others, it has been on fuel consumption - or rather, the ratio of consumption to horsepower. The aim of the new heads is to improve combustion, and therefore consumption.
Senna ran a huge number of laps in the race car during the untimed sessions at Ricard, in effect using them as an extension to the Silverstone test. And by Saturday afternoon he was pretty convinced that the revised engine was the way to go for Sunday.
As a consequence the Brazilian spent less time than usual in his qualifying car on the first morning, and when he finally climbed aboard he was not entirely happy with it. For all that, he was a very serious pole contender from the start.
On this track, most people found a set of qualifiers good for two quick laps, although the first was nearly always quicker. Senna cranked out a 1m06.896s on his first run, improving to 1m06.526s on his second. The Williams-Hondas of Mansell and Piquet beat the first time, but were a couple of tenths away from the second.
Conditions on Saturday were considered slower thanks to a combination of oncoming winds on the Mistral, another five degrees on the temperature, and eventually a quantity of oil (originally resident in the Arrows-BMW of Thierry Boutsen and the Minardi of Andrea de Cesaris). Of the real front runners, only Rene Arnoux and Prost shaved their times - although Senna and the Lotus were again fastest, the only combination to get into the 1m06s.
"When I was out, the track conditions were quite good, particularly in the new loop, where more rubber had gone down," he said, "but the heat was working against the engines. The car itself felt better today," he went on.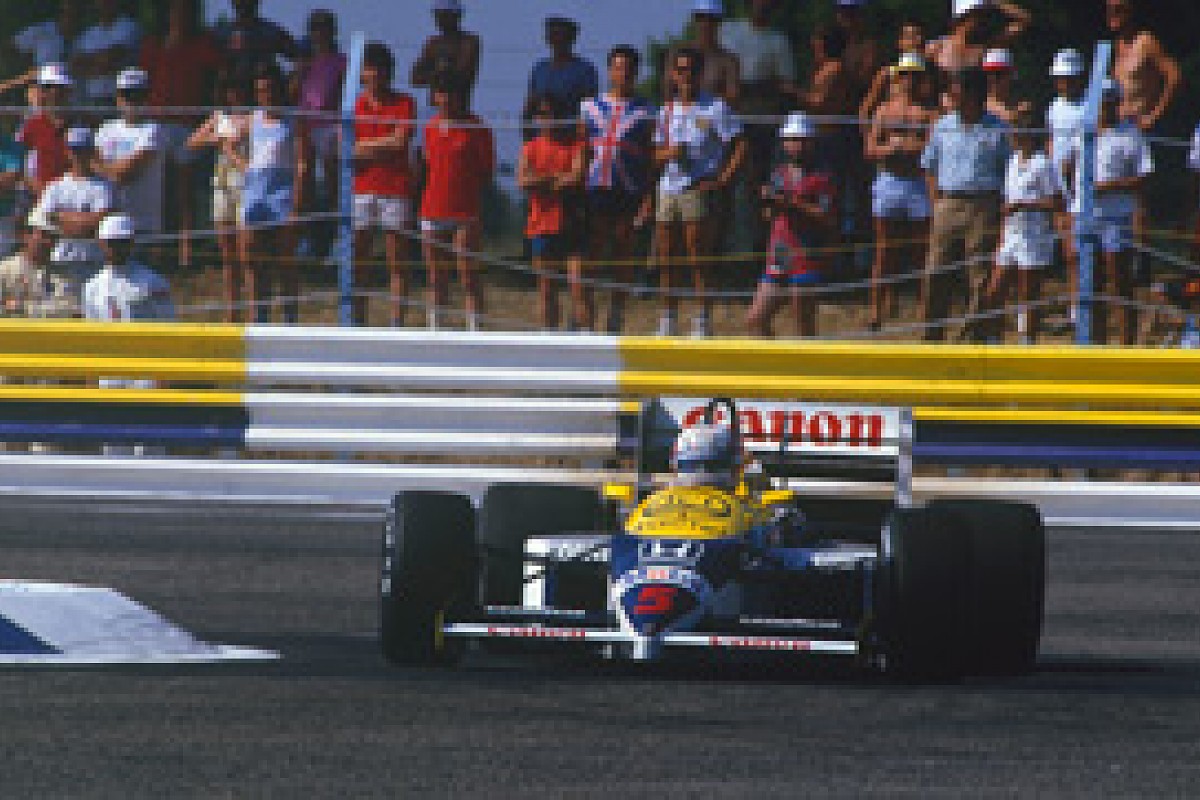 Mansell was furious about the haphazard organisation in Saturday qualifying © LAT
If Senna was quite content on Saturday, Mansell was assuredly not. Second fastest on the opening day, he had felt quite confident of improving on the last session. "First run good, second not bad, but quite a bit of traffic, third one ruined," he remarked on Friday afternoon. His third run had been spoiled by Michele Alboreto, and in a way which left Mansell a bit nonplussed.
"I was on my quick lap and he overtook me on the Mistral, no bother! Problem was, the Ferrari was slow into Signes, and through all the slow corners afterwards. I had to throw away the lap and try another, but by then the tyres were really gone."
Saturday, though, he expected to be better. And perhaps it would have been, had not Messrs Boutsen and de Cesaris blown up. Immediately everyone came in, and it was expected that the session would be temporarily halted.
"I went to ask the officials if the session was stopped, the circuit closed," said Patrick Head. "They told me no, the track was open. 'We've had reports,' I said, 'of marshals all over the place, cleaning the track'. 'No,' they said. 'It's all clear.' So I went back and told Nigel to go out."
Mansell takes up the story: "I went out, did my slow lap, and there were people about. I signalled that we were supposed to be qualifying, did another lap - and there are marshals all over the place, one guy's standing in the middle of the road at Signes, telling me which bit of road to use! And I'm on my qualifying tyres!
"I came in to find out what was going on. If there were people on the track, there should've been a chequered flag, and the session stopped. Instead of that, they just kept the session running, and screwed it up for anyone who could go quicker. A bloody joke."
"It's terribly depressing," Head concluded, "to find something as badly run as this. I think of the level at which Honda work, and at which we try to work. And then we come to a place like this, run like this! All in all, it's amazing a marshal wasn't killed."
Red, someone quietly said, would really stand out on all that pale blue paint. That truly would have been a 'visual shock'. The money could more wisely have been spent on hiring someone who understood about modern grand prix racing. "After de Angelis' accident, and all the criticism of the track afterwards," said another driver, "you might have expected them to be ultra conservative and safety-conscious, right? Instead of that, we get a fiasco like this."
The Saturday afternoon session was therefore something of a waste of time, if not - happily - of lives. And the grid was based broadly on the Friday afternoon times. Third, a few hundredths slower than his Williams team-mate, was Piquet, who had a new FW11 (originally destined for Mansell), replacing the one he destroyed at Detroit.
Like most teams, Williams began on Friday morning with gear ratios too long, but once these had been sorted out Piquet was always towards the top of the list and he finished up fastest of all. Third in the afternoon, he blew up his race car on Saturday morning (thanks to a computer programming error that ran the Honda V6 too lean), but placed third in the last session and felt quite content, particularly pleased with his cars handling through Signes. All in all Williams looked very strong the night before the race.
Danner's 18th starting spot was the German's best to date in the Arrows © LAT
So too did Ligier, with Arnoux fourth and Jacques Laffite a rather unrepresentative 11th. Arnoux in fact was quite certain after practice that he would have joined Senna on the front row, had he not been blocked - Lafitte! It was not deliberate, of course, but Arnoux reckoned it probably cost him 0.3s or so.
The little man was right on the pace throughout, untidy as ever but mightily effective over the single banzai lap. Sporting a new and ultra-short haircut, Arnoux believed the JS27s would be up there in the race too. And Mansell took that a step further: "I think either Ligier could win the race tomorrow, no question about it. In my book they're the favourites because I think the Pirellis are working really well here. If you look at the exit speeds at the new corner onto the Mistral, you'll see that the Ligiers - and the Benettons - are much quicker than anything else. I can see them winning."
Arnoux and Laffite were first and second on Saturday morning, and Lafitte expected to climb into the top six in the afternoon. "By the time I went out," he said, "there was oil everywhere, but I don't think my position is a problem. The secret here is going to be surviving the first minute of the race - the first corner, particularly."
Only Senna's car had the new Renault cylinder heads, but both Lotuses and both Ligiers had new, smaller wastegates intended to reduce throttle lag during gear changing. All the Renault engines at Ricard (including those in the Tyrrells) had a new map for the injection.
Fifth - only fifth - was the first of the McLarens, driven by Prost. Throughout qualifying he was at peace with his car's balance and handling, but less so with his engine. "I have a turbo problem today for sure," he reported on Friday. "The engine was very much down on power, and the throttle response was also bad."
He wasn't a lot happier with it on Saturday. When the boost was up for qualifying, the lag was terrible: "I am surprised to be fifth, honestly." But Sunday, he was quite sure, would be a different matter.
The world champion was out when, after Boutsen blew up in the final session, he saw the oil flags and lifted right off. Alboreto behind him did not, tried to snick past the McLaren - and the two cars banged wheels quite substantially. The Ferrari skated off the road for some distance but neither car suffered any real damage, and each made it back to the pits without problem.
Rosberg, who left his braking just a little too late for the new loop during the last session, skating off towards the old Verrerie, was seventh fastest - Alboreto succeeding in splitting the McLarens. One of his Ferraris had new, swept forward front suspension, which lengthened the car's wheelbase by 55mm.
Could he feel any improvement? "Mmmm," Alboreto grimaced. "Yes, a little I think. Anyway, I will use it in the race. We have still too much understeer, but the car is better here than at some places." Not in doubt at all was the Ferraris' prodigious qualifying power. Wayward and confusing the Mistral speedtrap times may have been - it was just inconceivable that Jonathan Palmer's Zakspeed was third fastest down there in one of the sessions - but if you needed proof, you only had to recall Alboreto's sprinting by Mansell on the Williams-Honda's hot lap. For what it's worth, they quoted his Ferrari at 210.041mph on Saturday afternoon.
Towards the end of the session, the TV monitors in the pits showed Stefan Johansson's car suddenly up to second overall, and briefly there were whoops of delight. Johansson himself momentarily thought himself on the front row, but there had been an error. He had not done a 1m06.6s after all and, like his team mate, he had to make do with his best from Friday.
"Understeer? Yes, of course, but we got rid of some of it today," he said afterwards. "I'm surprised I'm not as quick as yesterday - the car feels better, for sure. I think we might have a reasonable race actually."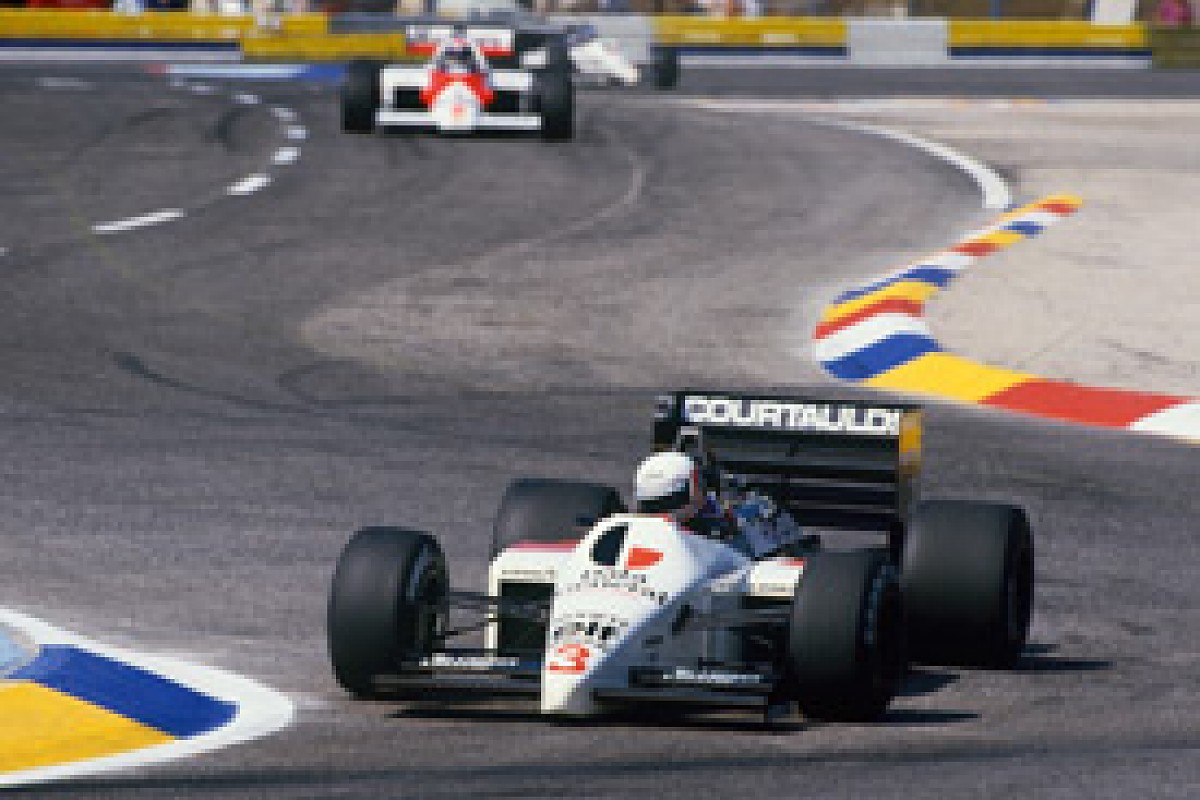 Brake problems blighted Brundle's efforts © LAT
Both Benettons were in the top 10, Gerhard Berger 0.3s quicker than Teo Fabi. The two of them had little in the way of problems in practice although Berger had a bit of a misfire towards the end of the last session. Fabi set his time right at the end - after all the oil, and consequent cement dust had gone down - which was a fine effort and virtually a full second faster than he had managed on Friday. They were in the ballpark, but not quite at the plate.
Sharing row six with Laffite we had Johnny Dumfries in the second Lotus, and this was another fine effort in the closing minutes. He had goofed in the opening session, slithering down the escape road at the new loop, but had reason to feel pleased with himself on Saturday.
After missing Detroit, Patrick Tambay was back in the Haas Lola team, but still in some pain from his Montreal injuries. "My foot's okay, but the bruised ribs are not very comfortable against the belts," he admitted after the first day. On Saturday he felt much better, but failed to improve his time. "I got some oil on what should have been my best lap and nearly went off. In the end my quickest time was on a mixed set of used tyres right at the end."
On Friday he had been 13th, with no complaints bar the perennial bugbear of this team - a very poor gearchange - and that remained his position through Saturday. Seven places further down was team mate Alan Jones, who complained of traffic on the opening day, and had an uncomfortable fuel leak into the cockpit on the second.
The Brabham-BMWs again looked horrible out on the circuit, understeering mightily into the slow corners, flicking into oversteer on the way out and looking cumbersome between. Handling problems aside, the cars pathetic (we speak in relative terms, of course!) initial acceleration was still in clear evidence. A speed trap on the short squirt between the two 'new loop' corners revealed the BT55s to be 12-15mph off the pace.
Derek Warwick and Riccardo Patrese continued to put a brave face on it, but were hardly thrilled with their respective 14th and 16th grid positions. In the last session Warwick was further hampered by the fluctuating boost pressure, while Patrese had to take the spare after gearbox problems with his own car.
There was disappointment again for Martin Brundle, who changed settings on his Tyrrell for Saturday, and found the revisions a distinct improvement. "Even though the track was slower today, I thought we were sure to go quicker," he said, but brake problems put paid to that.
What happened was that Brundle's left front brake completely seized, the temperature of the disc reaching a point where the grease on the wheel bearings caught fire. His team-mate Philippe Streiff, who had a light coming together with Alboreto on Saturday morning, did go a little quicker in the last session, despite being slightly down on boost. The two 015s started 15th and 17th.
Boutsen had a dreadful time of it in qualifying. On Saturday afternoon, as we know, his BMW engine came unglued before managing a single quick lap, and the day before his problem had been low fuel pressure. That left the Arrows number one down in 21st spot, three behind Christian Danner in the other A8, who also had an engine failure in the last session.
A fraction slower than Danner (and a fraction quicker than Jones' Lola-Ford) was the consistently impressive Alessandro Nannini, who is starting to emerge as a very fine prospect. The young Minardi driver, who consistently surpasses the experienced de Cesaris these days, was 13th fastest on Friday morning and qualified 19th. He is quick, neat, and makes very few mistakes on circuits largely unfamiliar to him. De Cesaris, 23rd, was well over 1s slower, although it should be noted that he blew up before setting a time on Saturday (as usual laying down a trail of oil on the line).
One place up on de Cesaris was the Zakspeed of Palmer, who was disappointed to be down there. "In a straight line the car was pretty reasonable on the first day," he said. "But we knew we were short of downforce. So today we ran a different wing and so on, and also stiffened the springing. That was much better, and we only lost 2mph on the straight. Overall it was better over the lap, but our engine doesn't like heat and in today's temperatures I had no power at all under 10,000rpm. When you get that, of course, the handling goes too, because you just plough on and on in understeer."
His team-mate Huub Rothengatter was nearly 2s slower, but only two places further back, and the final row - to no one's surprise - comprised the Osellas of Piercarlo Ghinzani and Allen Berg. The young Canadian had a wretched introduction to Ricard, sitting out most of Friday morning after two fuel filters ruptured, and breaking a turbo almost at once in the afternoon.
See FORIX for the full grid and all the stats from the 1986 French Grand Prix
Race
There had been talk of storms imminent in Provence ever since our arrival, but the practice days were perfect. Sunday brought a different story. There was heavy cloud from early morning on and as lunchtime neared a wet race looked distinctly possible. For the Pirelli teams this was especially depressing, for most people had reckoned that the Italian tyres would have an advantage in the heat. It was just a year ago at Ricard, remember, that Pirelli took its first win in the modern era, Piquet's Brabham running away.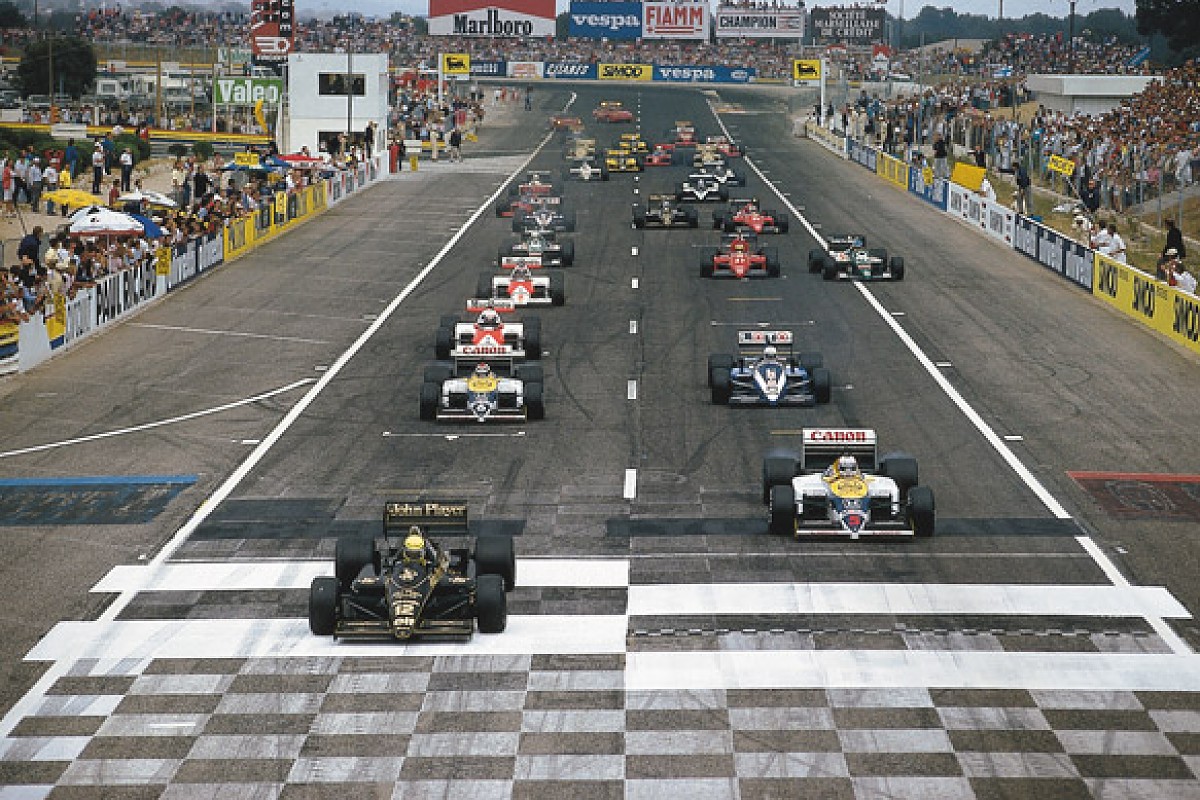 The start time - 1:30pm - was earlier than usual for Ricard, this to accommodate Messrs Boris Becker and Ivan Lendl, whose activities were to dominate TV schedules in the afternoon. Get the French Grand Prix out of the way, then concentrate on Wimbledon, was apparently the way of it. And as we looked at the darkening skies, we wondered about extra 'wet' practice sessions and delayed starts. Then we remembered the TV revenue and knew that, come hell or deep puddles, the race would begin on time. Happily the weather was to work with the drivers, confining its malice to a few spits of rain now and then.
The teams had other worries too. In the context of Imola and Montreal, this was not judged a 'fuel race', There was no question of profligacy with the precious fluid (it is still a fluid - just), simply that consumption would not be the key element of the day. "It will be a race of tyres," Ron Dennis predicted, and Head concurred.
To nobody's real surprise, the McLarens headed the morning warm-up times, Rosberg ahead of Prost (as he usually is in the session). The list was very much to form, in fact, with Mansell, Arnoux, Piquet and Senna completing the top six. Encouragingly high were the Brabhams of Patrese and Warwick, eighth and ninth. Among those who had problems were Johansson (turbo failure) and Berger, whose engine misfired appallingly, obliging the Benetton mechanics to fit a fresh BMW for the race.
It was going to be a tyre stop for everyone, that much we knew, but how many times would they be coming in? All the Goodyear runners went for Cs all round, which gave no hint, but Prost said he and Rosberg would be trying to go the distance on two sets apiece. Williams, by contrast, had decided on three. "We've done a lot of full tank running," Mansell said. "And Patrick's convinced our quickest way of running 80 laps is to change tyres twice."
To the start, then, with rain still threatening. With seconds to go, Alboreto began vigorously waving both arms indicating to the rest that he had stalled the Ferrari. Towards the back of the grid Danner was in the same predicament.
Senna and Mansell both got away perfectly, the Brazilian looking sure to lead into the first turn. But after a hundred years or so the Lotus faltered momentarily, and Mansell had the Williams-Honda by, chopping across in resolute style to claim the corner.
This new first turn, considerably more than a right angle, had been anticipated as a scene of carnage on the first lap, but there was less chaos than expected. As they funnelled into the tight corner, tyre smoke everywhere, Tambay found himself with no immediate route and took a shortcut over the pale blue gravel of the infield, which seemed like a shrewd move.
In trouble, though, were Warwick and Fabi. "I made a good start," Warwick said. "But I damaged the right front wing on Teo's wheel." Into the pits he went for a new nosecone followed by Fabi, whose left rear tyre had punctured.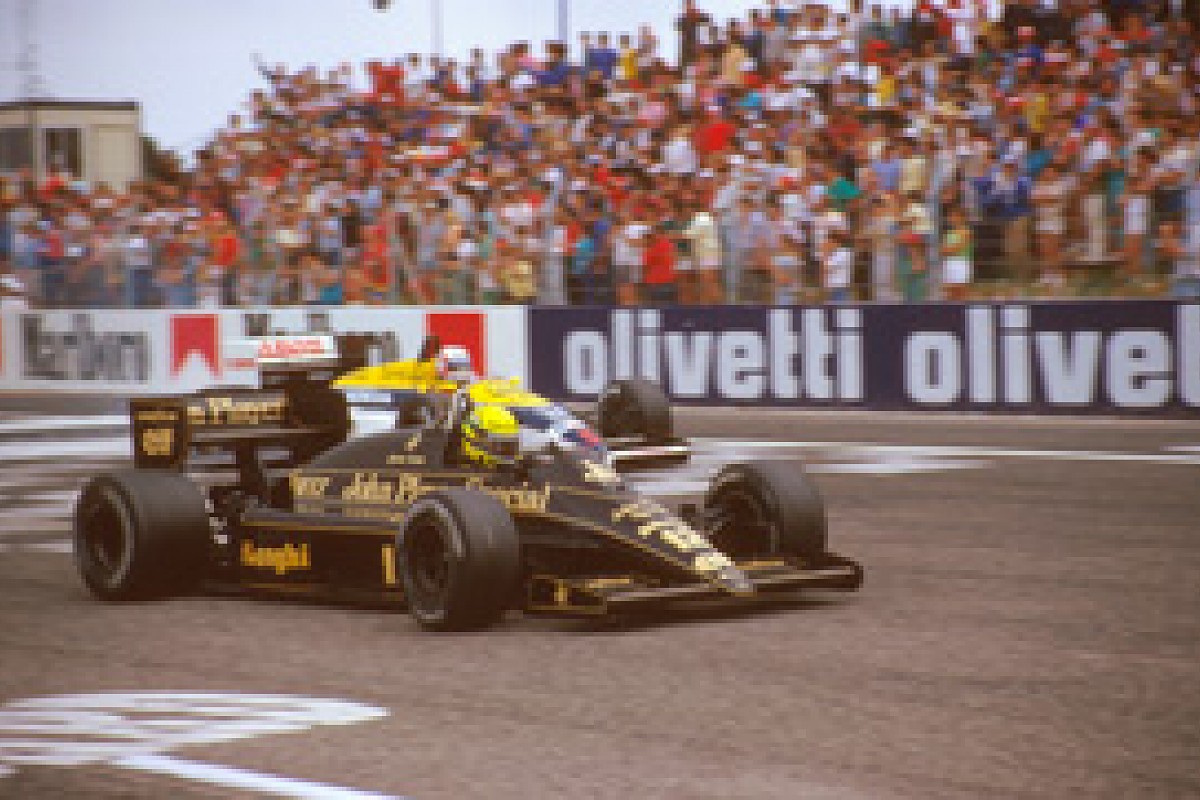 Senna didn't lead much further than this © LAT
There were no such problems for Mansell, however, who had a clear track and was making the most of it, already pulling well clear of Senna. Behind the Lotus ran Arnoux, Berger, Prost, Piquet, Rosberg, Dumfries (a great start), Laffite and Johansson. At the end of the third lap, though, the luckless Johansson was into the pits, his engine down on boost. Briefly he rejoined, but turbo failure had him back for good within a couple of minutes. With Alboreto far back after his delayed start, it was a disastrous day already for Ferrari.
For others, too. On his third lap, de Cesaris blew the engine of his Minardi-Moderni on the Mistral, and being the thoughtless driver he is, did not immediately pull off. He had done precisely the same thing the previous afternoon. This time he continued through Signes on the line.
Shortly afterwards the leaders arrived, on their fourth lap, and they found the oil. Mansell's Williams twitched and slid, but Senna's Lotus plummeted off the road, and slid into a tyre barrier very hard. The left front corner took the brunt of the impact, but the mechanics said afterwards they thought - hoped - that the monocoques had survived.
Senna was therefore out, for only the second time this year. "No excuses," he apologised to his team. "I didn't see the oil in time, and I just lost it." Which was remarkably phlegmatic and philosophical for a man who had perhaps lost his championship lead because of another's lack of grey cells.
Jones was also a victim of the Minardi's oil, and Ghinzani and Nannini had their own private coming together, both cars eliminated. Five laps into the race, six drivers out.
At this point Arnoux, cheered on by the crowd every time around, was cutting into Mansell's lead, albeit not substantially. The Williams was still more than 3s up the road and looking very secure. Third, and dropping back from the Ligier, was Berger's twitchy Benetton, which was clearly delaying Prost, fourth. Not until lap eight, in fact, did the world champion get by (into Signes), and a lap later Rosberg, too was by the Austrian.
The Benetton pit was shortly to be a place of despondency. After seven laps Fabi had come in a second time, his engine misfiring and about to seize. And after 11 Berger too was in, having bent his car's nose against Danner's Arrows (being lapped early, following its delayed start). Berger spun over a high kerb as a result, which also damaged the gearbox. That, a few laps later, was to account for his retirement.
Now, as spots of rain continued intermittently to fall, everyone had their stopwatches on Mansell-Prost. After dealing with Berger, Prost had swiftly caught Arnoux's Ligier, passing it for second place on lap 15. It was Rosberg's turn to deal with Arnoux's best weaving efforts.
For a few laps Prost made no real impression on Mansell, whose lead stayed at around 5s. But the Briton, we knew, would shortly be in for the first of his tyre stops. By lap 20 the McLaren was indeed beginning to close.
A couple of laps earlier Arnoux had been the first of the frontrunners to pit, and it was by no means a great stop, putting the Frenchman temporarily back to ninth. Lap 22 brought Piquet in, and three laps later his team mate stopped.
Let there be no doubt about it, the Williams team is unequalled in the art of the swift tyre change. Others are virtually a match sometimes, but none has the consistency. These days you can virtually rely on the stationary time of Mansell and Piquet being under 8s. Nelson's first took 7.9s, Mansell's a quite remarkable 7.2s. Red five rejoined in third place behind the two McLarens. Then came Laffite's Ligier (yet to change), Piquet and Arnoux. We were on lap 26, and 17s separated Mansell from Prost.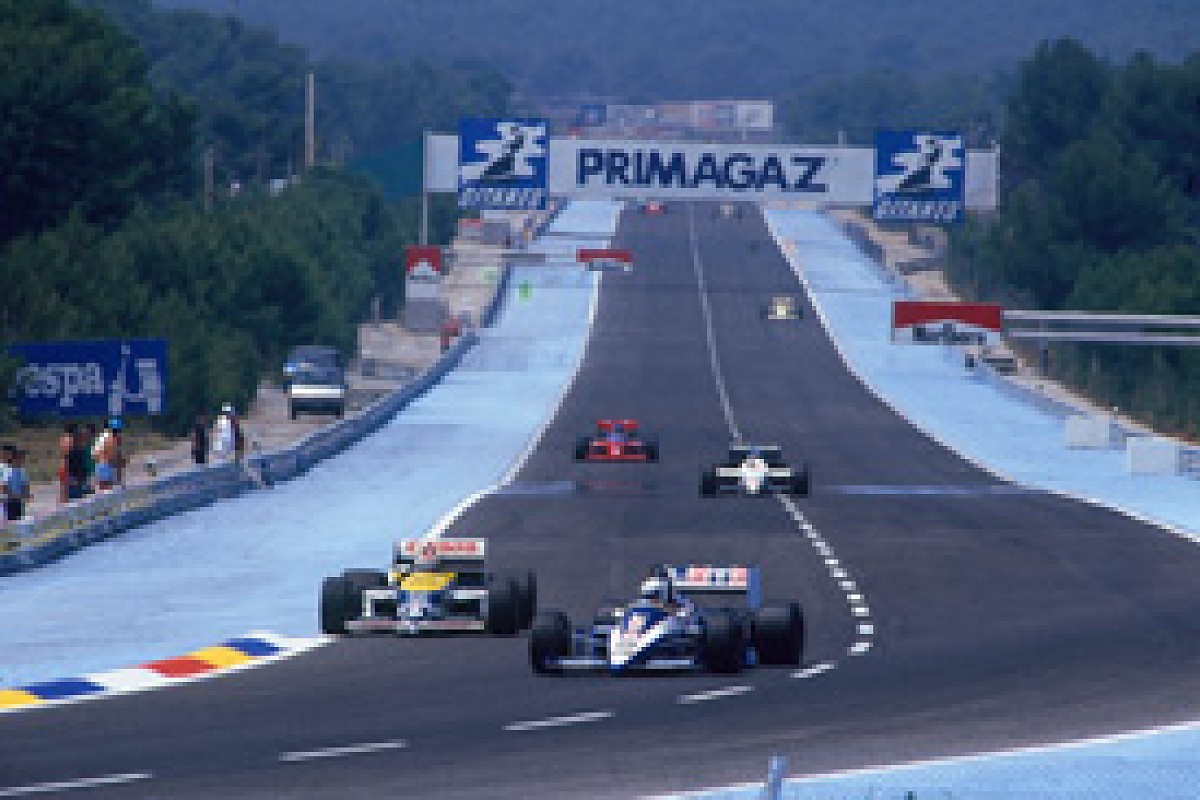 Piquet and Arnoux scrapped over the first 20 laps © LAT
Rosberg was the first of the McLaren drivers to pit on lap 30, coming back out in fourth place and behind Piquet. Now Mansell was beginning to make inroads into Prost's lead, but it was only a matter of 0.5s here, 0.1s there. Each had a tyre stop to come (the first for Prost). Had McLaren made the right decision?
The world champion finally came in on lap 36, rejoining in second place, fractionally ahead of Piquet and Rosberg. For a while this trio circulated together, but all the time Mansell looked unassailable, building the sort of lead necessary to allow him his second tyre stop. He looked immensely composed, and would have been even more so if he had known of Prost's problems.
"Mainly, it was fuel," Prost said afterwards. "Early in the race, when the oil was down and people were going off the road, there was a big rock in the track which I couldn't avoid. Fortunately my tyres survived but it damaged the right side bodywork.
"The big problem, though, was that I knew very early in the race that I was marginal on fuel, that I was using more than in full tanks runs in practice - more than I should.
"Something was wrong in the electronics, so I had to run absolutely minimum boost for the whole race, which made traffic very difficult to get by."
One of the highlights of the race had undoubtedly been the performance of Dumfries, who had made a great start and capitalised on it, running as high as sixth at one point. Johnny had pitted for tyres on lap 30, sadly losing many places as a consequence, but he came out again with the same vigour as before.
Only five laps later, however, he tangled with Rothengatter at the first turn, the Dutchman's Zakspeed running into the back of the Lotus, pitching it into the air. "I was in brake trouble," Rothengatter said. "And I simply couldn't stop." He was out on the spot, right front suspension deranged, but Dumfries' car amazingly survived. After another pitstop, the Scot continued until lap 57, when the engine blew. He deserved better.
A much more dramatic retirement was that of Streiff on lap 44. There were flames from the white Tyrrell as it came out of the last turn and Streiff at once pulled off before the beginning of the pitlane. This was clearly no ordinary 'turbo fire', for the back of the car was now blazing. In fact, fuel was leaking - onto the hot turbo.
What followed was farcical and a disgrace. Ten seconds after the car had come to rest, a marshal appeared with a small extinguisher. Quite obviously he was scared of approaching the fire too closely and who could blame him? Like those on the scene of de Angelis' accident in May, he was not wearing fireproof clothing. Nervously, he hung round the front of the car, vaguely aiming his extinguisher in the general direction of the Tyrrell, but not directing it at the fire itself.
Then a second marshal ñ wearing the proper clothes this time - came on the scene, but his extinguisher was inadequate for the job.
Next arrived The Three Stooges, driving their fire truck into the pit lane entry road - in the wrong direction, of course. It was good that no grand prix driver picked that moment to come in for tyres or whatever.
Here however was a vehicle capable of dealing with the burning car. They turned on their hose and the pipes at the rear of the truck flew off, allowing the extinguisher fluid to trickle uselessly to the ground. By the time the fire was out, the Tyrrell was ruined.
Streiff, in his understandable anxiety to get quickly away from the cockpit, had forgotten to flick off the ignition, so the fuel flow stopped only when the car's battery flattened itself. Even so, the handling of the crisis by the track workers was pathetic, and doubly so in light of the criticism the Circuit Paul Ricard faced in the aftermath of de Angelis tragedy.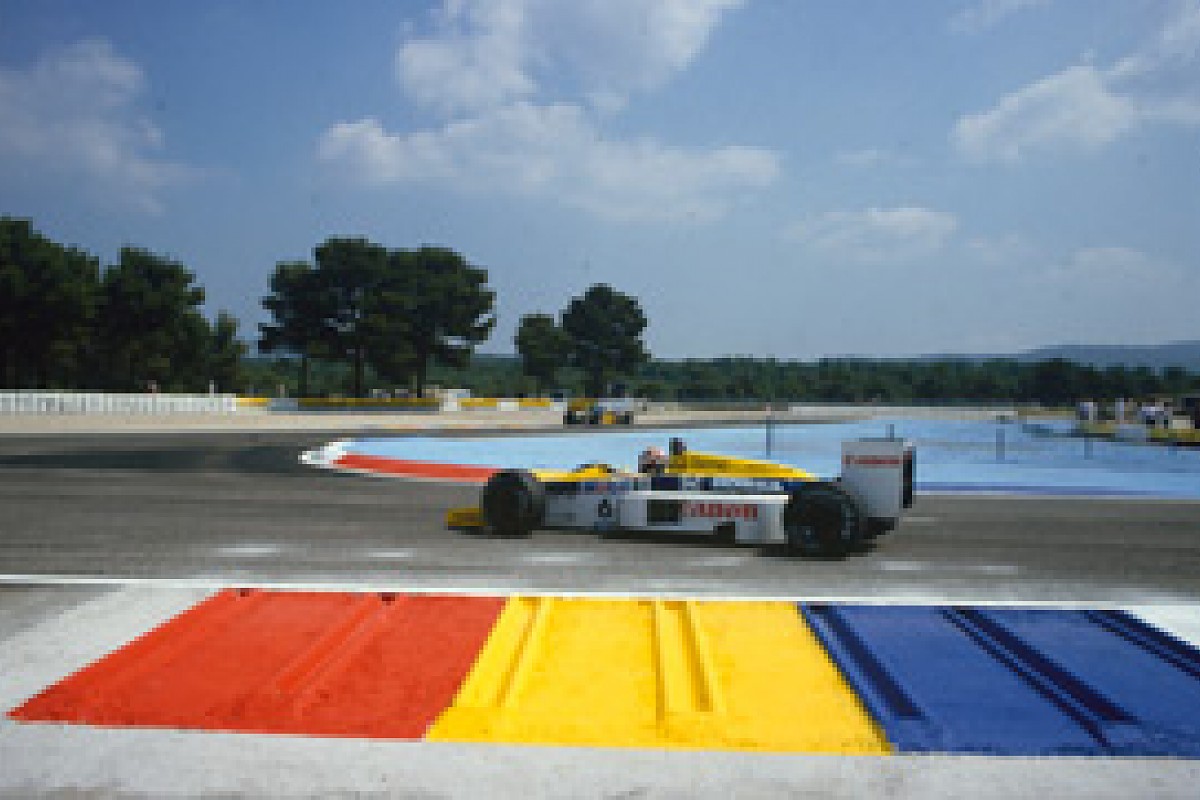 Piquet kept going and finished third © LAT
On Friday morning practice had started late because, believe it or not, two trucks were parked on the circuit, and no one knew where the keys were. The FFSA was heavily fined by FISA for that. The fine for allowing qualifying to continue on Saturday, when marshals were on the track dealing with the oil, should have been far more severe. And the penalty for this public exhibition of incompetence in the race should be the removal from Paul Ricard of the French Grand Prix ñ preferably for ever. As it is, of course, FISA recently confirmed that the place is to stage the race until 1990, while the infinitely superior Dijon-Prenois circuit languishes.
Ponder on that, Monsieur Balestre, please, and act accordingly. The safety facilities at Ricard were lamentable in May, and they remain so. If Streiff's fire had been the result of an accident, the driver unconscious inside, he would not have had a chance. The pretty blue paint would have done nothing for him.
However, back to the race. The thick black smoke from the Tyrrell now melded readily into the sky, and rain was surely on its way. Spots were coming down at the 50-lap mark, and Mansell's lead was being eroded by Prost. The Williams, however, still led by 13s as it came into pitlane (now happily devoid of fire trucks) at the end of lap 53. Three laps before they had turned Piquet around in under eight seconds, and now they did the same again for their leader. Mansell was nine seconds back of Prost when he resumed.
On fresh tyres the Williams took chunks out of McLaren's lead: 8.8s, 6.7s, 4.2s, 1.1s were the gaps on successive laps, and on the 59th Mansell was easily by into the first corner. Prost's self-discipline kept him from fingering the boost control switch, and he concentrated on driving as hard as possible to keep some sort of pressure on the leader.
"Okay lads, here we go," Mansell radioed to his pit after retaking the lead, an indication of the confidence in the man this summer. But later he admitted that Prost's continued presence in his mirror was a surprise.
"He's such a fantastic driver. And apart from that, he manages his car so well. I wasn't pulling away as I'd expected, and I really thought he might pressure me again in the late stages of the race."
Prost, though, could do no such thing. So far as his fuel allowed, he would continue to push, but uppermost in his thoughts had to be that read-out figure in front of him. And it told him not to touch the boost.
By now we were appreciating the shortness of the new lap, for there were not many cars left to watch. Palmer was robbed of his second finish in as many weeks when his Zakspeed's engine seized, and Tambay, who had run in the first group throughout, retired when a front brake calliper seized on the Lola-Ford. The latter, also troubled by fifth gear jumping out, had been in some discomfort from his bruised ribs and this was a brave drive from the Frenchman.
Others too had their problems. Warwick's Brabham ran reliably after its first lap pit stop, but its handling was terrible and he had to hold third gear in for all but the first few laps. His team-mate Patrese, who had run in company with Dumfries earlier, was still going but his efforts were hardly rewarded by seventh place.
Boutsen was miles back, his Arrows needing two long stops to tape up bodywork that had attempted to get free. And Brundle was anything but cheery, lapping without the use of fourth gear.
In the last few laps the on-and-off drizzle stopped for good, and the sun emerged at last. Prost, having kept Mansell in sight for a long time, finally accepted that he wasn't going to win the French Grand Prix and that second would have to do. Mansell then moved away at 1s a lap, and there was more delight for Williams when Piquet took Rosberg with seven laps to go.
Of the gang of five (latterly more a gang of three), only Senna failed to score on Sunday. Mansell's victory was every bit as convincing as his Montreal triumph and only he has won three times this year. At Ricard Prost alone was a possible threat.
"No, I don't think it was a mistake to have only one tyre stop," Prost said. "Before the race I thought the only advantage I had over Nigel was in tyre wear. In practice my tyres seemed in better shape than his after 30 or 40 laps. With the fuel problem I had, a second tyre stop would have made no difference. Today the Honda consumption was better, and he drove a perfect race. C'est tout."
Was Mansell now beginning to cast a serious eye on the world championship trophy? He said not: "It's all going beautifully at present, but things can change. If the positions are the same when we go off to Mexico, maybe I'll start thinking about the title." He's a cautious man.
See FORIX for the full results and all the stats from the 1986 French Grand Prix