"I think it was a day when maybe I have less problems than anyone else," Ayrton Senna modestly said afterwards, and perhaps there was some truth in that. Nigel Mansell, right there as usual, had brake problems almost throughout. Keke Rosberg retired in the first few minutes. Nelson Piquet crashed, and so did Rene Arnoux. Alain Prost's engine occasionally went dead.
But Senna sells himself short. After only a dozen laps, he needed an unscheduled stop after picking up a puncture, after which he scythed back to the leaders, picking them off. He was one of five men to lead the United States Grand Prix at one time or another, but he always looked the one likely to be there at the end. It was a consummate performance, and puts him back into the world championship lead.
Qualifying
And so to Detroit for three or four days in the Orwellian nightmare surroundings of the Renaissance Centre (say it 'Ren-Cen), an inappropriate name for a place that looks like a power station and houses so many examples of Neanderthal Man. After the joys of a short spell in New York, it always seems an especially brutal shock to be confronted by this festival of beer slopping, faceless security men and appallingly bad rock music, which churns out at 96,000 decibels day and night.
It does have its compensations, though. Some hotel rooms, which seem to be roughly at levelling out altitude for a 747, overlook the chicane, and beyond it the Detroit River and Canada. That much it has in common with Montreal: proximity to water. And one other thing, too: pole position was a straight fight between Senna and Mansell, the verdict this time riding with the Brazilian.
We had not truly expected it to be so. Mansell, winner of the last two races, arrived in Michigan with his blooming confidence at another new high. Montreal had been one of the simplest races of his life, and he had walked it. Why not another here in Detroit, a place at which he has always been quick?
On Friday he looked quite simply unbeatable, fastest by close on a full second from Senna. In the morning Senna had set the pace, and in the afternoon he quickly registered a time which proved beyond the reach of all save his English rival. But Mansell, who could walk on water at the moment, calmly went out and shattered it - and on Goodyear Cs rather than qualifiers!
Detroit, like Monaco, is a racetrack for only a few days each year, and pre-race practice is, of course, out of the question. On the first day, therefore, the surface is a little green and slow. Saturday, when a deal of rubber has been laid, is always a good bit quicker, qualifying tyres coming more into their own.
Senna used them for all his runs on Friday, but Mansell preferred to hedge, take a set of each: "There wasn't a lot in it," he said. "But I wanted to try both." On the qualifiers he was a little slower - but still faster than Senna. In fact, he did three laps which would have been good for the pole, and five which beat the best of his team-mate Piquet!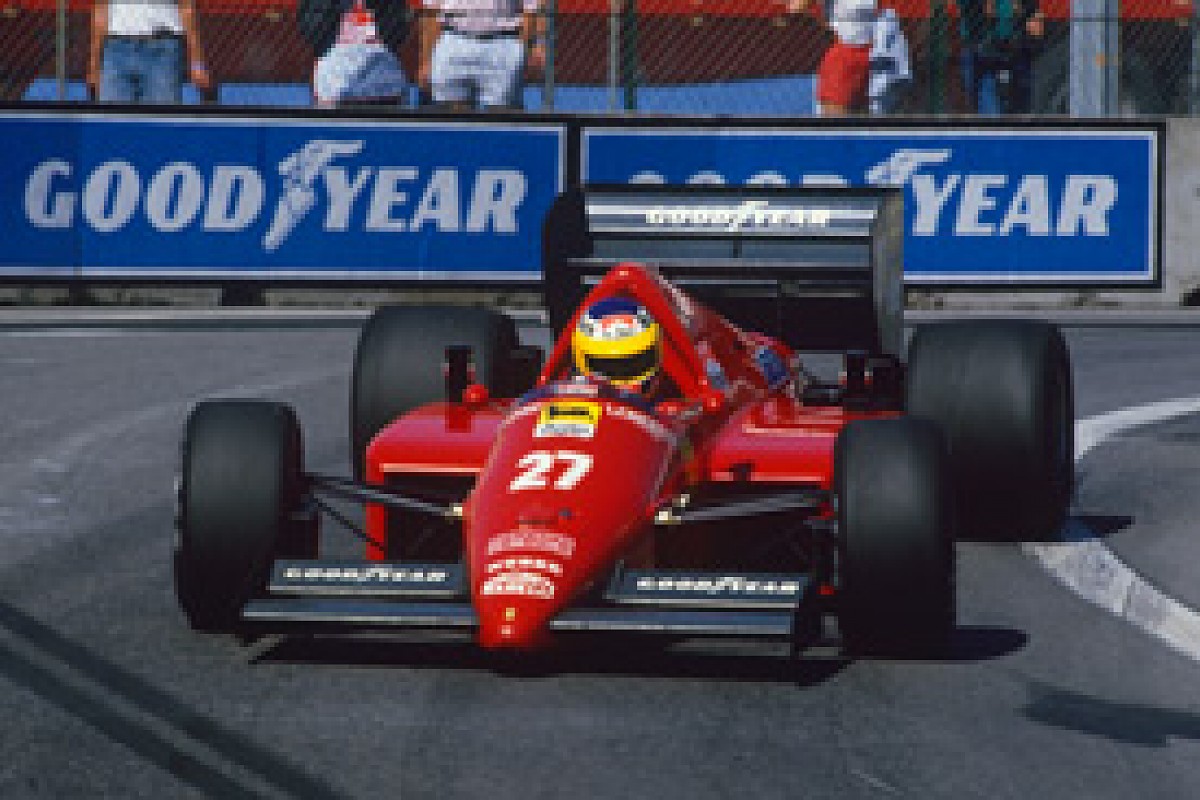 Alboreto's Ferrari was poor over the bumps in qualifying © LAT
Overtaking in Detroit is not the virtual impossibility that it is at Monaco, but clear laps are nevertheless at a premium. And in the final session the fates worked against Mansell. Again he went for one set of Cs and one of Es (qualifiers), and again he was aiming at a stunning time by Senna. "On the race tyres," he said, "I was on a flier - and Huub Rothengatter chopped in front of me. Maybe he didn't see me, I don't know."
There was a lot of traffic out at the time, so Nigel decided to take a breather before taking his qualifiers. Out he came finally, out of the chicane perfectly over the line and down into the first two corners, down the straight to Turn 3... and this looked like the pole lap - but then came an urgent message on his radio: red flag, ease off, save your tyres. "Prost had crashed at the chicane," it said. "Obviously I had to throw the lap away, but I'd really used the tyres through four corners, and the edge was gone from them."
The session resumed after the McLaren had been removed, and Mansell went back out on his part-used tyres. As he had expected, they were not good for a full lap, but he got within 0.5 seconds of Senna's time and was not too unhappy. Later he went out on the Cs again, producing another remarkable time (under 1m40s), but not one which threatened for pole. It was a pity, he remarked, but not a disaster: the race set-up was excellent.
Towards the end of the session Senna went out for a second run, but this time was 0.7s slower. He then closeted himself in his hotel room, there to concentrate on the important business of the day - Brazil v France - and declined to attend the post-qualifying press conference, instead sending a taped message of banalities for the team's hapless PR lady to play over the loudspeakers. The team's management and sponsors presumably took an accommodating attitude to this. The 200 waiting journalists - mainly American, and used to dealing with the likes of Mario Andretti and Jack Nicklaus - did not. It rather reminded one of Carl Lewis autographing bibles at the Los Angeles Olympics. And there was little distress in the press room when the news broke: France 5-4 Brazil.
Still, there was the great man's voice telling everyone he was glad to be on the pole, and it had been very difficult, what with Mansell driving so well, and the team was happy, and it was going to be a tough race, hot and heavy on brakes and...
Well, yes, it was certainly going to be a tough race, for behind Senna was not only the Williams-Honda of Mansell, but also the sister car of Piquet. Never at any stage did the Brazilian look like out-qualifying his British team-mate - indeed there were signs that he was trying too hard, over-driving, and losing time as a result. On Saturday morning he had a heavy accident at the chicane, causing the session to be stopped. Two corners and the wing were gone from the car. "My own fault," he shrugged, grim-faced. "I just lost it."
A fine lap in the last session kept him in third spot, though. Unlike Mansell, he went for two sets of qualifiers, but found one so badly out of balance that he made no attempt to set a time with them. After the morning debacle, he was of course in the T-car, but the race car's moncocque was intact, and he expected to use it for the race.
Right up there once more was Arnoux, fourth for Ligier in typically untidy but effective style. Although well up on the first day, Arnoux was not thrilled with his car, complaining that it was very difficult to drive. On one occasion he had brushed a wall, which meant abandoning the lap to have the JS27 checked over, but on Saturday there were no mistakes. "Michael [Tetu] made big changes to the set-up since yesterday," he reported. "And it was much better, much more balanced." And he added that the car would be better yet in the race, being much more comfortable on full tanks. That, however, was true of virtually every car in the place: over the bumps of the Detroit streets cars running light jump all over the place.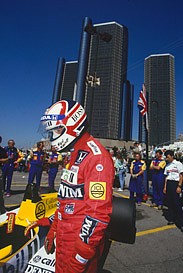 Mansell was a second up on Senna on Friday © LAT
Right there, too, was Jacques Laffite, vaulting from 12th to sixth. Until the final session he expressed little confidence in the car, describing it as "undriveable," but in the afternoon, perhaps spurred by the thought that he was missing Michel Platini & co, he found more than 2s from somewhere. Two Ligiers in the top half-dozen.
Fifth on the grid was a perky Stefan Johansson, not delirious about the Ferrari, but pleased with his position. On this 'acrobatic' track (where he finished a fine second last year) he was always towards the good looking end of the grid. "The car's not brilliant here," he said, after placing fourth on the opening day. "My quick lap today was just one of these where all the risks come off."
They made few changes to the car for Saturday, and he was concerned that, with the increase in pace inevitable, he might drop down the list. "Not a good first run," he mused during the delay following Prost's accident. "I had a couple of cars to get around, and it was jumping out of fourth and, occasionally, fifth."
An excellent final run kept him in the reckoning: "Yes, it was pretty clear, and everything went okay. I feel quite pleased with myself, actually! The car feels horrible over the bumps on empty tanks, so I can only assume it's the same for everyone. It could be a good race."
Down in seventh, on the track he most loathes, we found the world champion. What was it about Detroit, he wondered, that defied McLaren? John Barnard's wonder car had proved adaptable at every circuit in the world, save the tatty streets of this city. "I admit I hate this place," Prost said. "But that's a personal thing. What I don't understand is that we cannot make the car like it."
On Saturday afternoon, just going for it, Prost crashed - yes, you read it right, Prost crashed - at the chicane, in much the same way Piquet had done during the morning. While they halted the session, he walked the few yards back to the McLaren pit - there to be told that Brazil had just taken the lead against France. "I thought, 'What else can go wrong?'" He went out in the spare car, but failed to improve. Seventh was it.
Sharing row four with him was Riccardo Patrese, who found the Brabham BT55 "not too bad" over the bumps and through the hairpins, as was also the case - to the teams general surprise - at Monaco, although the car was a leaping handful on empty tanks. He was agreeably surprised to find himself one spot ahead of Rosberg, ninth in the McLaren at this circuit where last year he won for Williams.
Like his team-mate Prost, Rosberg thought the car was very short of grip here, with poor traction out of slow-speed corners. Indeed, on Friday both drivers tried running with more than usual fuel (for qualifying) to put some weight on the rears. It did not have the desired effect.
Although Patrick Tambay (limping painfully in open-toed sandals) was present as a Ford man in Detroit, his Montreal injuries made it impossible for him to think of driving, and after attempts to get Mario and then Michael Andretti into the Haas Lola-Ford had failed, Teddy Mayer called Rome to speak to Eddie Cheever.
From the beginning of practice, Cheever looked good, although decidedly jet-lagged on the first day. "I got the call on Wednesday, and spent all of Thursday travelling," he said. "And when it comes to driving these things, I'm rusty, no question about it. You get out of practice. My neck's hurting, all that stuff."
By Saturday morning he felt much better. "If I get a reasonable run," he ventured, "I think I'll make the first 10." Which is precisely what he did, setting his best time on Goodyear Cs. "I took the qualifiers for my last run," he said, as ever dissatisfied with himself. "And I hit some oil and glanced a wall. I should've stayed out there, but came in, thinking there was something wrong with the steering. But I feel quite pleased. There's been a lot to learn in a short time - this is the first time I've ever run with carbon brakes, for example, and the lack of feel takes a bit of getting used to. What I need now is a little more rest before the race."
It was a fine performance, and a reminder to the F1 team managers that Cheever, like Derek Warwick, should never have been left out of the sport in the first place.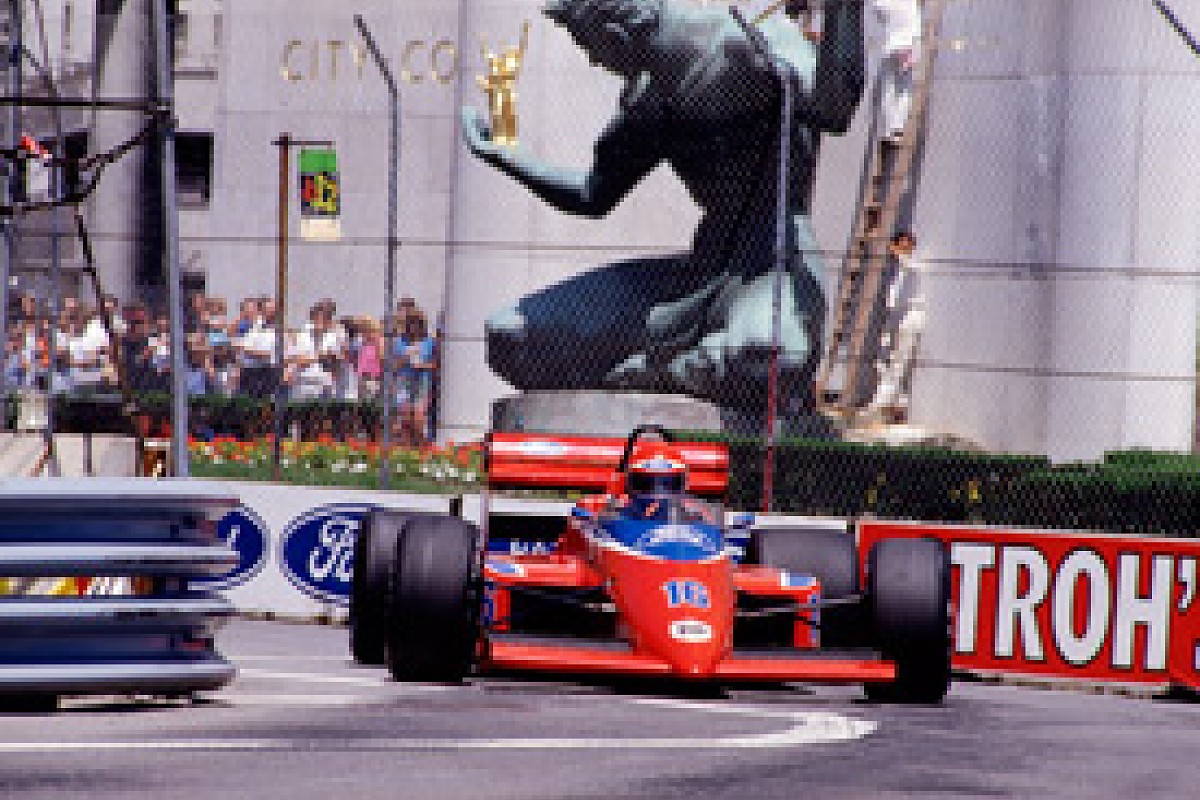 Cheever subbed for the injured Tambay at Haas-Lola © LAT
Michele Alboreto, 11th, was not too happy with his Ferrari, complaining of its poor behaviour over the bumps and poor throttle response. But he admitted that the main problem lay with himself, a legacy of his 'phenomenal avoidance' last weekend in Montreal. When he threw his car into a spin to miss the Johnny Dumfries/Alan Jones fracas, it seems that his legs were flung around pretty fiercely. Apart from being excruciating at the time, the battering had repercussions throughout the following week, sudden shooting pains upsetting him throughout qualifying at Detroit. By Saturday evening Niki Lauda guru Willy Dungl was administering unto him.
In practice Detroit proved emphatically not to be a Benetton circuit. Gerhard Berger, very much a qualifying star of late, could do no better than 12th with the car, which he found very ill at ease over the bumps. Quite content, though, was Thierry Boutsen, as at Montreal proving that - on some circuits - driving ability can still flatter an uncompetitive car. The leading Arrows A8 was 13th on the grid.
Dumfries, sharing row seven with the Belgian, reckoned he should have been higher. On Friday he adapted well to a circuit new to him, and on Saturday afternoon liked the feel of the Lotus during his first run, done on Cs. While warming up his qualifiers, however, he stripped fourth gear. During the lull following Prost's accident the mechanics put the car to rights, and he went back out on the Cs to check that all was well before taking the qualifiers again - only to clout a wall and bend the front suspension.
Until the last session Warwick was setting times virtually identical to those of his Brabham team-mate Patrese. "The car feels quite good with a lot of fuel on board," he said. "I did a 1m43.7s with 32 gallons, so I think that's quite promising for the race. Jumps about a lot when it's empty, mind you."
On Friday Warwick, like Patrese, found Pirelli's soft race tyre a better bet than the qualifier for the timed session, but on Saturday afternoon he broke with recent Brabham tradition by running with a rear anti-roll bar. It was not a success, making the BT55 unmanageably skittish over the bumps. Hence he dropped from 11th to 15th.
Perhaps Martin Brundle was the most disappointed man in the place. On Saturday morning the Tyrrell 015 was up among the really quick times, in the top six for much of the session. For the final hour he opted for race tyres for the first run, qualifiers for the second, and it was a gamble that failed. Going for it at the end of the session he was baulked three times, finding himself down in 16th at a circuit at which he has always shone.
Brundle's team mate, Philippe Streiff, was a couple of places further back, just 0.1s slower than the Benetton of Teo Fabi (who never got the car working to anything like his satisfaction). To be sure of having two 015s in the race, Ken Tyrrell kept the Frenchman in the old 014 for Friday, allowing him the new one on the second day. Streiff went for the same tyre option as Brundle in the last session - and met the same fate: "I had to back off for Alboreto on my quick lap, and after that the tyres were finished."
This weekend Christian Danner was in the Arrows team, finally free of Osella, and he did well at a track new to him and in a car of which he has little experience, to get round within a couple of seconds of Boutsen, placing 19th, a little quicker than Jonathan Palmer's Zakspeed.
"Friday was a bit of a non-event," Palmer said. "An engine went on one car, then a turbo in the other. But today was not too bad at all. Because of all the problems yesterday we finished up doing the last session with the small turbo, which definitely cost us something. But the grip's quite good. My main hope now is that we'll be able to get the car started on the grid."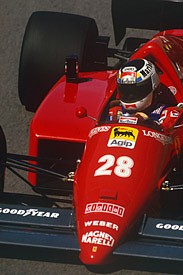 Johansson was delighted with fifth on the grid © LAT
Jones, 3s slower than temporary team mate Cheever, was very dissatisfied with his time, freely admitting that he simply hadn't got it together in final qualifying. "On my best lap I got shoved into the wall by Andrea de Cesaris, which didn't help, but I really should have done better."
No man in the business works so hard for so little as Piercarlo Ghinzani, and at Detroit he scored a small personal triumph by heading the Italian 'B' teams in qualifying, as brave as can be in the ratty Osella-Alfa. Behind were the Minardi-Modernis of de Cesaris and Alessandro Nannini, but this was not a true reflection of the latter's form. On Friday Nannini was quicker than de Cesaris, and it looked it, and it was unfortunate that engine failure prevented his doing a single lap on Saturday afternoon.
Replacing Danner at the Osella team, Allen Berg looked frankly out of his depth during the opening day, but then who would choose that car to make their F1 debut? However, the Canadian worked away and on Saturday, running qualifiers for the first time, found more than 8s to move within a respectable three of Ghinzani. In so doing, he edged himself from the bottom of the lists, replaced by Rothengatter's Zakspeed, which broke its engine before recording a time in the last session.
Detroit is always a bit of a wildcard on the grand prix calendar. How else can you describe a race in which neither Barnard's miracle car nor Prost has ever been truly competitive? At Montreal the word on everyones' lips was 'fuel', but here talk, as usual, was all of brakes. Twelve months ago Williams - uniquely among the top teams - opted for steel discs, and Rosberg won without trouble while most of those about him - including Prost and Senna - parked against the fence. They don't have the efficiency of carbon discs, but they stand abuse rather better. During the qualifying days there was not talk of steel for this years race, but then such was the case in 1985. At least though, in a race of less than 160 miles, the drivers would be able to use both eyes to concentrate on keeping away from the walls.
See FORIX for the full grid and all the stats from the 1986 Detroit Grand Prix
Race
After the perfect Saturday weather - brilliant sun and fresh breeze - race day brought disappointment. The heat was more of the Rio variety, cloudy and foully humid, which is exactly what the drivers didn't need when facing 63 laps of Motown. The place to be on Sunday afternoon was out on one of the countless powerboats plying around the Detroit River by the pit straight. Either there or in front of a TV with a soothing drink.
Mansell, however, anticipated the afternoon with confidence, the Williams man setting fastest time in the morning warm-up, followed by Arnoux, running with an experimental and appreciably narrower Pirelli rear tyre manufactured back in Italy since the Canadian Grand Prix. Patrese had tried them the day before, and again in the warm-up, finding that they considerably improved the Brabham's stability and, more surprisingly, traction. Unfortunately, though, there were only four such tyres in Detroit, which meant none for Warwick.
Clearly there had been no overnight miracle (such as have become commonplace over the years) at McLaren, although Prost and Rosberg set the fifth and sixth best times. Piquet was next up, followed by the Ferrari pair, Johansson again the quicker of the two.
As race time neared the mugginess increased. In the normal run of things little incentive is required to leave the Ren-Cen, but on this occasion it was a wrench to forgo the air-conditioning; and that was if you were wearing short sleeves, let alone multi-layered overalls.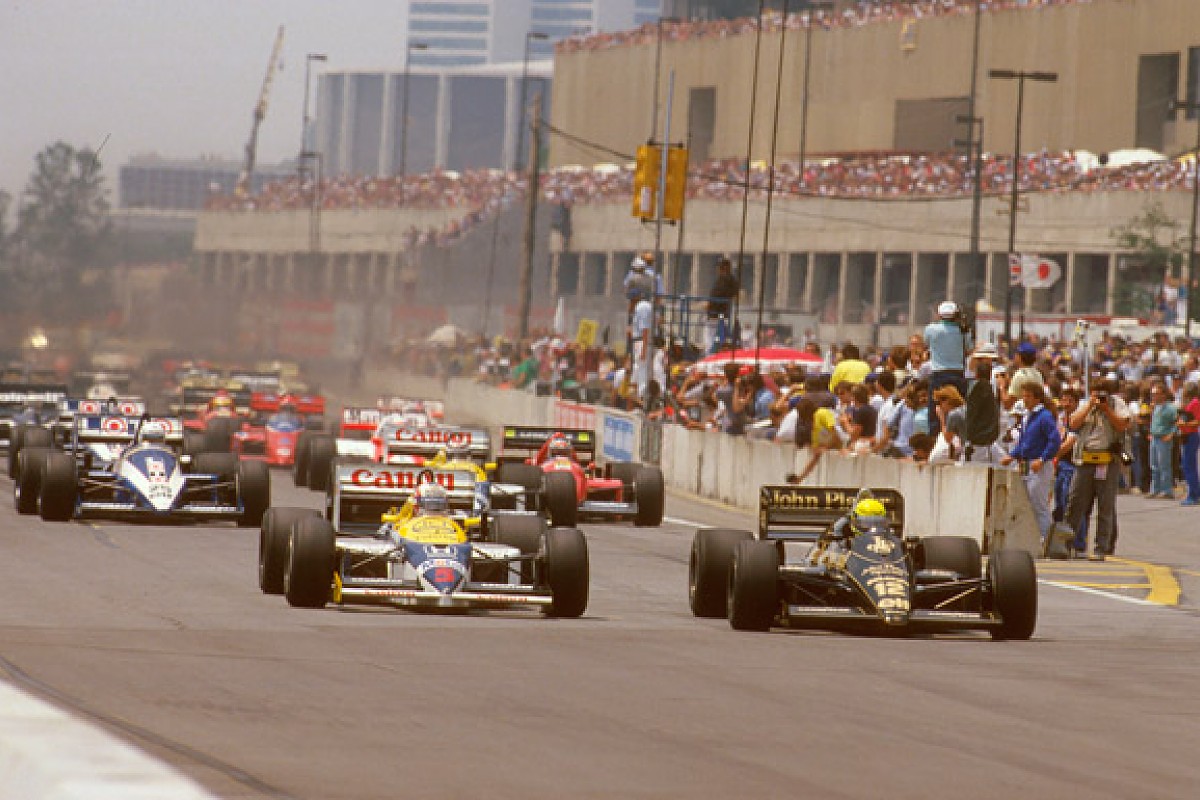 To the start then, but not for Rothengatter, whose Zakspeed expired with a flat battery on the warm-up lap.
At the green light Senna got everything right, leading Mansell, Arnoux, Piquet, Johansson, Prost and Alboreto into the first turn. The first few minutes at Detroit are always frenetic, but that order was virtually unchanged at the end of the first lap. Laffite, however, was already clear as a man on the move, and had passed Albroeto's Ferrari for seventh.
Right at the front though, more important changes were under way. Coming up to the completion of lap two Senna missed a gear, which let Mansell by into the lead and for a while it looked like Montreal all over again. In no time at all Mansell was away and clear, building his lead every time around. "It was so easy I couldn't believe it," he said. "The car felt perfect, tyres good, minimum boost, no problems whatever."
Mansell actually had a tyre advantage at this point, for Senna had opted to run Goodyear Bs on the Lotus, a choice made also by Rosberg for his McLaren. All the other leading Goodyear runners - including Mansell - had gone for Cs all round.
"I spent a lot of time trying both in practice," Senna said. "And there was no doubt that the Cs gave better grip for a few laps. After that though, they started to go off, and then we got a big understeer problem - which is our main problem with the Lotus anyway. I knew we would lose out on grip initially, but still I thought my car was better balanced on the Bs, that it would be the best compromise for the whole race."
In for tyres after only three laps was Warwick: "We'd decided to start on the tyres we used in the warm-up," he said. "And it was a mistake. I had no grip at all. After the stop, on the new tyres, I was impressed. But then I lost the clutch and then first gear - which meant that I was losing loads of time coming out of there before the engine came on song again, I got passed by a Minardi at one point!" Warwick persevered to the end, however, albeit in last place.
During the morning people had been trying to recall who last won three grands prix on the trot within the same season, and that came to mind again on lap five when Senna, Arnoux and Piquet were suddenly much closer to Mansell.
"At the end of the pit straight," Mansell reported, "I put the brakes on at the normal place - and the pedal went right to the floor. I had a big moment getting into the corner and round it, but they gained a hell of a lot of time on me. I'd really been taking it easy, quite honestly, and at first I thought I must have glazed the rear pads - by not using them hard enough. After that I sometimes had brakes, sometimes not, which is a bit nerve-wracking at a place like this with walls everywhere. But the team seem to think the problem was a seized caliper."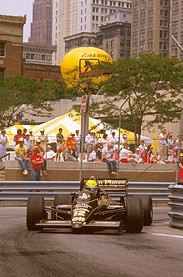 Senna was on a fightback after his early delay © LAT
For a couple more laps Mansell hung on in the lead, now under severe pressure from Senna, but the Brazilian slipped easily by into the first corner on lap eight, followed almost immediately by Arnoux. The hobbled Williams was soon displaced also by the second Ligier of Laffite.
The gang of five was down to a quartet after 12 laps, Rosberg retiring with a broken gearbox after pitting earlier to have it investigated. His disappearance went almost unnoticed, for at virtually the same moment the commentator was screaming Senna's arrival in the pits. It was a tyre change, nothing more, but it dropped Ayrton down to eighth.
"The car had been behaving strangely," he said. "I was going nearly sideways in a straight line sometimes. My left rear tyre had punctured." He stayed with his Bs all round, and hurtled back out.
Brundle was less lucky. After 15 laps his engine management system went on strike, so the Renault V6 would do nothing beyond ticking over. It was maddening, but all Brundle could do was park the Tyrrell at the entrance to the tunnel, wisely deciding against venturing into the darkness with no power.
He had been running a conservative 12th at the time, and was mighty disappointed: "I'd decided to take it easy in the first half of the race, then go for it in the second. Everything had been going perfectly." This particular North American tour is one Brundle - and his team - will very happily put from their minds.
At the front, meanwhile, it was a Ligier one-two! It is a very long time since one of Guy Ligier's cars led a race, so to have Arnoux heading Laffite was quite something - especially as the latter showed every sign of wanting to go by his colleague. Behind them the troubled Mansell still ran third, followed by Prost, Piquet - under pressure from Alboreto - and Johansson. And rapidly gaining already on the Swedish Ferrari driver was the black Lotus of Senna, a menace to all those ahead. By lap 16 Senna was past Johansson, and two laps later had dealt also with Alboreto.
Lap 17 brought a change at the front: Laffite! For the first time since Long Beach in 1983, Jacques was leading a grand prix, and a fine thing it was to see. And once past his team-mate, the old boy proceeded to pull away a little, while Arnoux fell back into the clutches of Mansell. And not far behind all the while was Prost, keeping up with what seemed like ominous ease.
By lap 25 we were starting to think in terms of pitstops. Laffite truly had the hammer down, now 4s and more clear of Arnoux, who was clearly holding up the rest. After Laffite had gone through alone, indeed, Arnoux, Mansell, Piquet and the remarkable Senna passed by in a single swarm, well away from Alboreto and Johansson.
Ninth and going superbly was Cheever, holding off Patrese without too much difficulty. Boutsen followed the Brabham driver, and next up was Dumfries, who had started cautiously but had now caught and passed the second Lola of Jones.
Both the Haas Lolas were shortly to retire however, and each for the same reason: broken rear wheel drive pegs. "I spun finally," Cheever said. "And I almost hit the wall, but not quite. It wa a shame it didn't last, because I really enjoyed the car, and the engine has exceptional response. At present, in fact, its power band is too wide for current Formula 1 - it's lovely to use, but that belt in the back never really arrives. It needs more at the top end." Team members were clearly impressed by Cheever, by his driving, attitude and feedback. He did himself a lot of good in Detroit.
Arnoux began the tyre stop blitz on lap 26, rejoining in seventh place, but he lost no time in moving back into the points at the expense of Alboreto. Johansson came in on lap 27, Prost on 29, and Laffite, finally surrendering the lead, on 30. The man to take over at the front was Piquet, with Senna now up to second, Mansell still fighting round in third.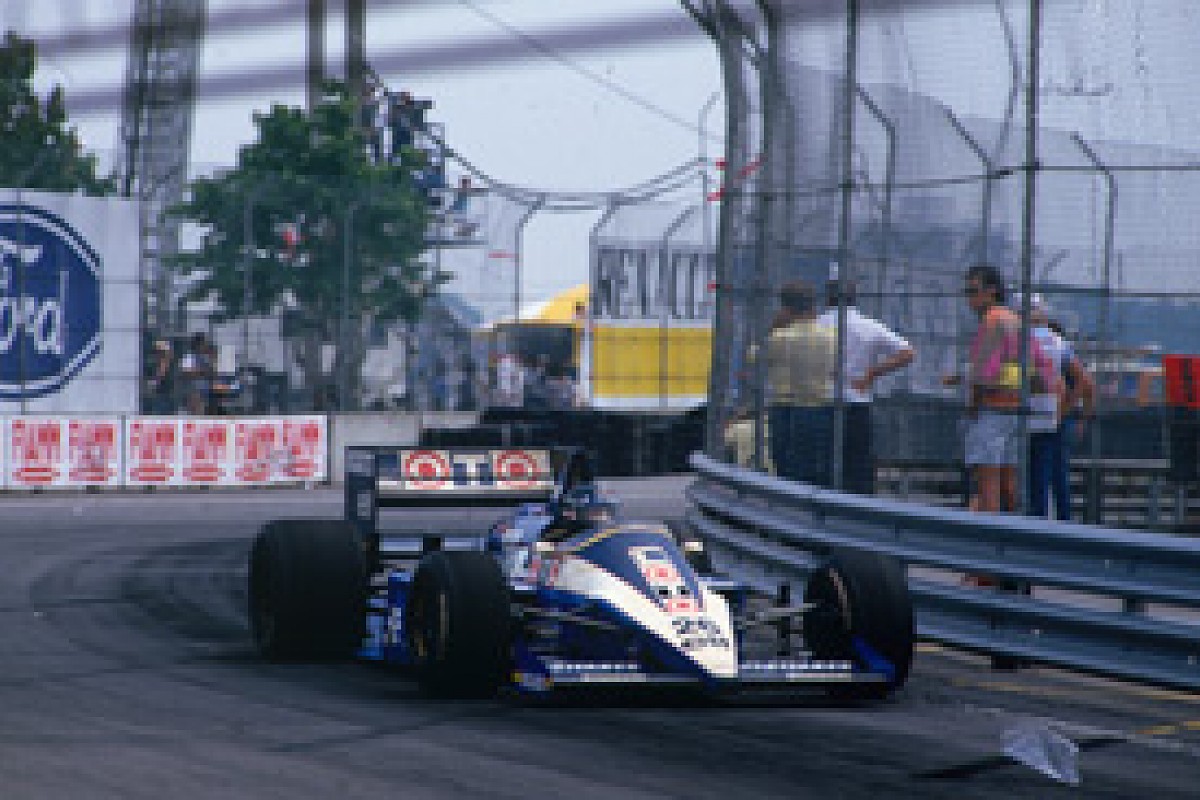 Laffite led a grand prix for the first time in over three years © LAT
For half a dozen laps the two Brazilians were into a race of their own, well clear of the fresh-tyred Prost, Arnoux, Laffite, Patrese - and Mansell, who made his stop on lap 32. It was not, by Williams standards, a very good one, a difficult right-front dragging it out to 12.8s, but it was considerably faster than Piquet's, which required 18.4s on lap 38. Again the right-front was the problem.
Nelson came back out with a vengeance, still in second place. In these days of electric tyre blankets for tyres, the drivers are back on the pace virtually as soon as they are out of the pits, and it was immediately evident that Piquet was flying. On lap 41 he went round in a shattering 1:41.233s, easily the fastest lap of the race, and on lap 42 he crashed. Heavily. Fortunately there was no injury to him.
At the left-hander preceding the final chicane Piquet tagged the wall going in, which took him offline and into the tyre barrier coming out. The car came to rest in a very dangerous place, and for some time yellow flags were energetically waved, although little was done about moving the Williams out of the way. The crane at the corner would not work at first.
"If they were not able to move it," Senna unhesitatingly said afterwards, "they should stop the race. That car was in a very dangerous position for many laps - and on some laps they didn't even show the flags. When you see the flags, then a wrecked car, okay, you know where is the problem. But when they stop the flag signals, you assume they have moved the car, and the track is clear. But no: the car was still in the same place. Was really very dangerous, and not necessary at all."
Fully five laps after the Piquet accident, Arnoux became involved in it for just the reason Senna mentioned. Still in a handy second place, Arnoux, noting the absence of flags, assumed that the track was now clear, the normal line available - and he hit the Williams a glancing blow and stopped.
After a second or two he decided that the damage was maybe not too bad, found first gear and set off once more - without troubling to look in his mirror, which was bad news for Boutsen, whom he had recently lapped. "He wasn't moving," a furious Boutsen related. "And then suddenly he starts again, right in front of me. There was no way I could avoid him." The Ligier and the Arrows were out on the spot.
Now that Piquet and Arnoux were gone, Senna faced no possible challenge. He had made his tyre stop on lap 40 (still continuing with Bs all round), and was now more than 30s clear of Prost. The real question, in fact, was whether or not the world champion would be caught by his pal Jack Lafferty.
In these closing laps there were few cars still out there. Fabi, whose oil and water temperatures had been high from the outset, had retired finally with the gear lever stuck in fifth - not ideal for Detroit. It was indeed a black weekend for Benetton, although team manager Peter Collins insisted that Montreal been worse: "On top of everything else, we lost a car there!" Berger had gone much earlier, completing only eight laps before the engine simply died on him.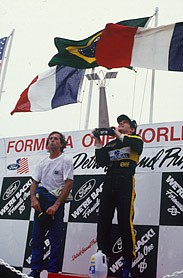 The top two celebrate on the podium © LAT
Out, too, was Johansson (engine failure), his efforts once again wasted by his team. Alboreto, still in some pain from his legs, was circulating steadily in fifth spot, but the Ferrari had been lapped by Senna - and the same fate apparently awaited Mansell.
What a curious business this F1 is. Seven days earlier in Canada, we had seen Mansell lap Senna with almost careless ease, and now we were about to witness the Lotus similarly humbling the Williams. And Mansell could do nothing whatsoever about it.
At the airport three hours later, he described the race as the most taxing of his life. "It may have got me only a couple of points, but I've never known a race so hard," he said. "This place tires you, anyway, because it is a street circuit, and you have to concentrate so hard to keep away from the walls. Add in my intermittent braking, and I was never so glad to see the flag in my life." Within a few seconds he was asleep.
After lapping Mansell and Alboreto, Senna eased back a lot during the closing laps, the Williams and Ferrari both re-passing him. But Mansell's brake calliper problem sent him down the chicane escape road, which allowed Senna to lap him once more, and more significantly, Alboreto to pass him for fourth place.
Mansell was not the only walking wounded in the closing laps, however. Prost's engine was cutting out with increasing frequency, rather as Rosberg's had at Montreal, and the Frenchman was being pressured by Laffite's surviving Ligier, which took over second place 30s from the end.
Danner, who had run consistently all weekend in the Arrows, was without his front wing, and pitted towards the end for a new spark box. It failed, preventing him from getting to the finish.
Senna though, was in no such bother. His victory was thoroughly deserved. He was the driver who ran consistently closer to the limit than anyone else, yet never made a mistake. Even rolling it off for the last eight laps, his winning margin was more than 30s.
"The biggest problem today," he said, in an excellent post-race conference, "was probably my foot. Here in Detroit, it is brake, brake, brake, very hard all race and after a few laps my foot really hurt. Otherwise, everything was good. The car was not perfect, no, but there were no serious problems. I had my slow puncture in the beginning, but my stop was quick, and I was able to fight them again. I enjoyed today very much, fuel consumption did not come into it; it was more of a fighting race. But, races like this on street circuits are stressing. Very stressing."
Just out of the points were Dumfries, who drove sensibly and well to take seventh, and Palmer, who brought the Zakspeed into eighth. The small German team had wanted, above all, a finish here, and Palmer drove an excellent race, getting the better of an on-off duel with Streiff's Tyrrell. The expressions on the faces of Herr Zakowski and his men told their own story as the car took the flag at the end of the race.
Mansell, without the brake problem, might well have made it two in a week. But this was a day which belonged to Senna.
See FORIX for the full results and all the stats from the 1986 Detroit Grand Prix