It was always going to be a tactical race, a matter of balancing 190 miles against 195 litres, that much we knew. Ideally, the winner's engine would die, starved of fuel, immediately after taking the flag. That would mean that he and his computer had done their job to perfection, sliced the San Marino Grand Prix as fine as possible.
Alain Prost is getting there. Last year he ran out of fuel a few hundred yards after the finish (but was disqualified at the post-race weight check). This year his McLaren began to run out a few hundred yards before the flag, but judicious flicking of the steering wheel fed the engine the lees in the tank, and they were enough to get the world champion to the line.
The other front runners used either too much (Rosberg's McLaren) or too little (Piquet's Williams). Imola 1986 came down to that.
Qualifying
Michele Alboreto rather upset the symmetry of 1986 last weekend, and it was appropriate, was it not? that he - the only Italian Ferrari driver in a generation - should do it at Imola. Even this unusually sanguine of Latins admits that racing at home is worth a couple of tenths a lap, but there was more to it than that.
Testing at the Autodromo Dino Ferrari the week before had gone rather better than expected: the balance of the F186 was decidedly improved, and the horsepower certainly seemed to be there.
"Of course we have to wait to see the straightline seeds of the others," Michele said before practice on Friday, "but I think we are competitive there. I think... I hope..."
The Longines speedtrap figures confirmed him in his optimism. The highest speed recorded over the finish line - 168.427mph - was set by Alboreto's car, and the best approach to Tosa - 201.405 - was registered by team-mate Johansson.
No, this is not the prelude to a fairy tale of Ferrari on the pole in Italy. Michele and Stefan actually qualified fifth and seventh, but they looked more genuinely competitive than at any time since last August. We should remember that in the final session at Kyalami last autumn numbers 27 and 28 were beaten through the speed trap by all save a Minardi and an Osella. So major engine redesign work over the winter has been well done.
Alboreto's fifth place on the grid broke up the Gang of Five. We have grown accustomed to Senna's Lotus on the pole, then the Williams Hondas, then the McLarens. The Italian's quickest lap, however, split up Prost and Rosberg, and the crowds responded as if it had been fastest of all.
Ayrton, though, was unchallenged, top in both sessions, and more than half a second clear. The Lotus 98T behaved like nothing else as it flicked through the quick chicane at the end of the lap, changing direction in a series of darts. It didn't look nice, rather recalling the rock-hard ground effect cars of 1982, but as a spectacle it was awesome. Senna was visibly quicker even than such as Piquet and Rosberg.
As in Jerez sparks cascaded from the car, and as in Jerez rival teams muttered and moaned. "I've been watching it," said A Designer. "It comes down the straight, and sparks fly from the sidepods - but only when it goes over a bump do you get sparks from the middle of the cars underside. Seems odd that, to me, from a flat-bottomed car..."
If that be the case, I asked, why has it not been officially protested? Time was, after all, when F1 team managers would protest a rival for blowing his nose on the Second Sunday in Epiphany. If you're all so sure, why don't you do something about it? "Difficult to prove," came the reply, "and it's not actually that simple: what exactly are we protesting - except that our understanding of the rules is that the car should not be in semi-permanent contact with the ground, and therefore shouldn't need rubbing strips? Thought we'd finished with all that nonsense three years ago..."
On Saturday afternoon, however, Senna's car was one of four to have its underside checked, and a FISA statement later confirmed that all had been found 'legal'. "If that's FISA's decision," said another designer, "OK, we know where we stand. But it's a pity because it means we'll all have to do it - create stupid bloody cars and give the drivers headaches and bruised backs and all the rest of it. Willy Dungl looks like having a busy summer..."
As in Spain Senna set his best time on the opening day. Nearly a second clear of anyone else, he nevertheless said that not all had been well, that he expected to improve in the final session, get into the 1m24s bracket. "I was not completely happy with the brakes, and we didn't get the tyres absolutely right. I didn't drive that well either, and everything should be better tomorrow."
Imola, however, was uncannily similar to Jerez: Ayrton was one of the very few drivers not to improve on the second day (although fastest again), and said afterwards that traffic had spoiled his best run.
Team-mate Johnny Dumfries had a different problem. Eleventh fastest on the opening day, the Scot blew up late in the Saturday morning session, and spent nearly the whole of the last session waiting for his car's engine change to be completed. Senna, of course, had need of the spare 98T, the qualifying car, and there was no question of Johnny's borrowing Ayrton's race car. Finally, at four minutes to two, he got out, and there was time for a flying lap. Not surprisingly, he failed to improve, and his Friday time was now only good for 17th place. It was not the happiest of birthdays for Dumfries: "There's not a lot to say about it..." was his stoic comment. Derek Warwick, watching at the chicane, will have reflected on it.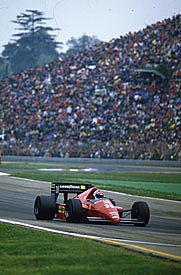 Stefan Johannson was genuinely quick in the Ferrari © LAT
For the third race on the trot the Williams duo, Piquet and Mansell, qualified second and third. For both, however, proceedings got away to a poor start, Nelson blowing an engine on Friday morning, and Nigel being hampered by a misfire. "I decided to run one set of soft race tyres and one set of qualifiers in the afternoon," Mansell said, "because I'd had so little running in the morning. I was pleased with the car generally, but my engine still wasn't very good - about 10k/mh down on Nelson's. I was only three-tenths slower on the Cs than on the qualifiers, though, so that makes me feel very good about the race."
On Saturday Nigel improved by six-tenths, moving up to third in the process, but not quite able to break into the twenty-fives. Only Nelson was able to join Senna in that select bracket, and his quick runs were spellbinding. On Saturday morning he had another engine failure, as well as gearbox problems, and for the final session used the T-car. The first run brought a 1m26 even, despite a missed gearchange out of the final chicane, and the second had him down to 1m25.6.
As in the Friday session the great Brazilian then came out for a third run on a mixed set, and once more this proved to be his best. With the tyres well past their Sell By date, his passage through the Variante Bassa - the quick chicane towards the end of the lap - beggared description. In correction he was hard on the left lock, the on right, and not a fraction did he lift. At 1m25.569s it was only a shade inside his previous best, but in the circumstances it was stunning.
How, though, could you discount McLaren - particularly in light of their notoriously - or perhaps admirably - restrained qualifying horsepower? Despite being only 14th fastest through the traps (appreciably slower than team-mate Rosberg), Alain Prost was nevertheless fourth on the grid, a couple of tenths in front of Keke.
As ever, the world champion's smoothness belied his pace. I watched the two McLarens at the Variante Bassa during the last session, and would have bet my house that Rosberg's lap was quicker. Not so. "No, no problems," Alain grinned confidently. "I am short of power for qualifying - but I've been telling you that every weekend for two years!
"Really, the only problem for us has been the same for everyone. Here it's impossible to get the qualifiers working well - by the time the fronts are up to temperature the rears are f... finished. Otherwise I'm pleased with the car. Balance is nice for the race, I think."
Sixth, sharing the third row with Alboreto, we had Rosberg, to whom an injustice was done at Jerez. To his team it seemed initially in Spain that Keke had badly miscalculated his fuel, running too long with too much boost. For that reason, 'The Rock' cruised for a long way to be sure of making it to the finish. Later it was discovered that a considerable amount remained in the tank: his cockpit computer read-out had played him wrong. Here, of all places, he did not want a repetition of that...
The Ferraris, as we said, were fifth and seventh, their every trip out of the pits greeted with ecstasy. But how would they be in the race? Certainly their straightline speed was impressive, but lurid slides through the quick chicane suggested little or no rear wing, and both Alboreto and Johansson admitted qualms about the brakes, Maranello's recent bugbear.
Following his accident in Spain (brought about by complete brake failure), Stefan was still feeling sore, but at least there was a specific and explicable reason for that shunt: a bleed nipple had been incorrectly machined. More worrying, both for Michele and himself, was a recurrence of the dreaded 'long pedal' during qualifying at Imola.
"Sometimes it's fine, next lap nothing - and you have to pump!" he explained. "It doesn't exactly give you confidence at somewhere like Tosa or Rivazza..."
Alboreto agreed: "I had the same problem on Saturday morning, but at least it was OK in the last session. Stefan had it all day."
He also had a slow puncture in his left rear on his final qualifying run, so seventh best time was a fine effort. It would be less than accurate to suggest the Ferrari drivers were wildly optimistic for the race, but at least the signs were that they would be a factor on home ground, and that, Michele said, was reason enough to smile.
As usual Rene Arnoux was Pirelli's fast man in qualifying, eighth best in his Ligier JS27. "The big problem for us here," he commented, "is that we can't make the qualifiers work very well with our chassis. They seem to suit the Benetton better than us." And Gerard Larrousse confirmed it: "We've had to make big set-up changes to the cars to suit the tyres, so qualifying has been rather a compromise."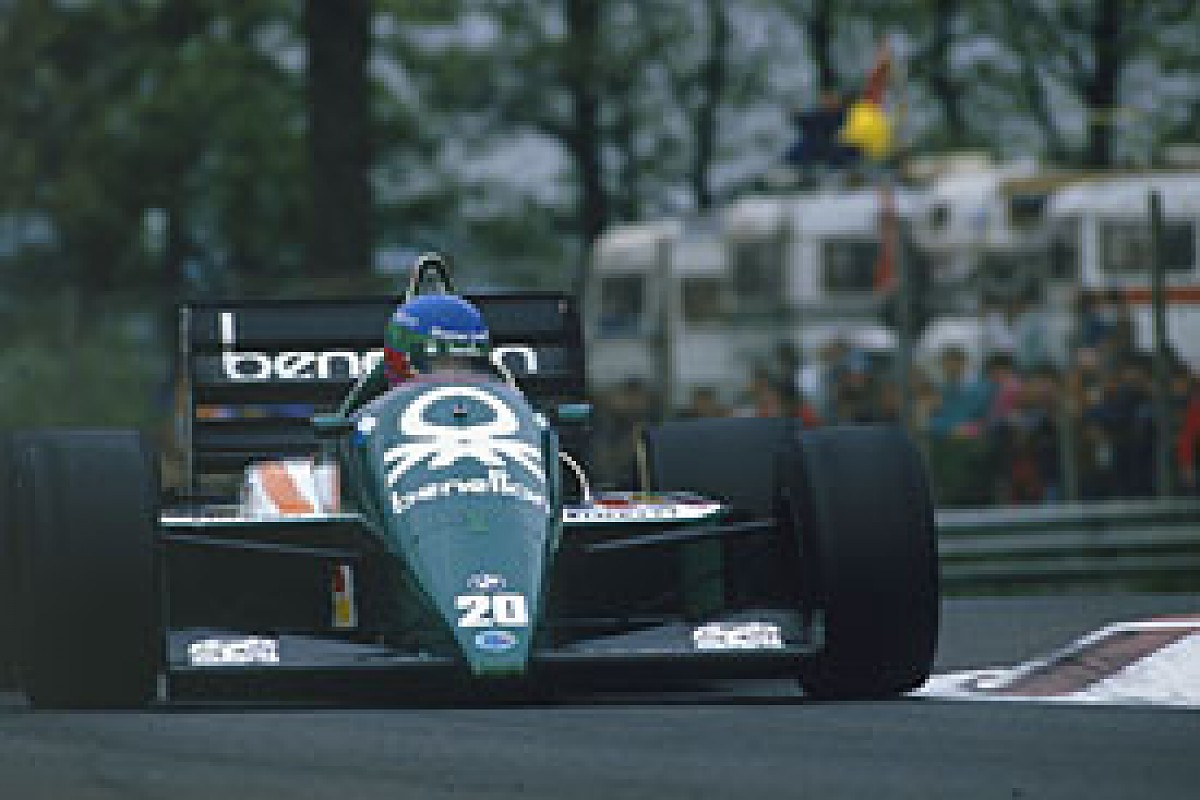 Gerhard Berger and Benetton were in points hunt again © LAT
Arnoux and Jacques Laffite, indeed, went completely separate ways, Rene running with very little wing in the search for straightline speed, Jacques preferring to go for downforce. Like all the other Renault customers, they had 'pneumatic' engines in qualifying, and for the first time both drivers had 'race' versions for Sunday, Renault's other three going to Lotus.
Berger and Fabi were ninth and 10th with their Benetton-BMWs, and a little disappointed with that. Gerhard, after all, had set the fastest time during testing a week earlier. But both drivers suffered with persistent engine problems through the qualifying days. Misfiring blighted their efforts on Friday, and each had a fresh engine for Saturday.
"We lost so much time yesterday that we had to spend the morning on different things," said Berger. "Teo ran all the time with full tanks, looking for a race set-up, and I concentrated on a qualifying set-up for the last session."
In the afternoon, though, both men had cutting out problems with their BMWs - and also ran throughout on soft Pirelli race tyres rather than qualifiers. Fabi said there was no point in doing otherwise: "We get good grip from the qualifiers, yes, but not for a whole lap..." In the circumstances, the team did well to take row five.
One of the standout performances of practice was Tambay, who placed 11th with Carl Haas's Lola-Hart. There is undeniably some needle in this team at present, Patrick feeling that he, rather than Alan Jones, should have had first crack with the new Ford V6 engine. He was very keen to out-qualify the Australian at Imola, and indeed it was always on the cards that he would do so, for Alan had to run the Ford on race boost throughout practice, and had himself commented favourably on the top end power of the Hart - which is what you need at Imola.
"I made some good progress with the chassis this morning," Tambay remarked on Saturday, "and the whole thing worked well this afternoon - except that I used slightly longer gears with the increased boost, and that perhaps disturbed the balance in some of the long corners."
Patrick was using an '86-spec Hart engine for the first time (at this, perhaps Brian's last race in F1), and found its response a lot better. Hart himself commented that this probably had something to do with a minor installation fault discovered in the Lola's fuel system since Jerez. It seemed rather a shame that this should have been found just as Brian's four cylinder is about to disappear from the scene...
Thierry Boutsen, second here last year, did well to qualify the ageing Arrows A8 in 12th spot. Neither he nor Marc Surer was at all impressed on Friday, each remarking that his car felt unstable and imprecise. For Saturday, therefore, it was decided to put the cars back to 1985-spec: off came the deflectors behind the front wheels and also the gearbox spacer, which shortened the wheelbase.
On the second day the Belgian was much happier - despite being held up by de Cesaris on his quickest lap. Both he and Marc improved by nearly a couple of seconds. They did, of course, have the advantage of BMW horsepower (from the conventional engines, anyway...) at this power track, but one of Surer's runs was spoiled by a misfire.
Right in the middle of the grid was Martin Brundle's new Tyrrell-Renault 015, which one might have expected to find a little higher. The car, which was shunted during practice at Jerez, is very short of testing, and frankly it showed. Through the last chicane it looked rather clumsy and unwilling to change direction quickly. In the first session Martin was slowed by a misfire, his 'pneumatic' Renault unwilling to rev above ten-six.
On Saturday the misfire was gone, but there was a new problem: "We got a leak in the water injection system in the nose of the car," Martin explained, "which meant, basically, that I got soaked! The thing was that the footwell got wet through, and my feet started slipping off the pedals. At the end of the session I came in to have the soles of my shoes dried, and to get a mixed set of used qualifiers. But I mistimed it a bit, and there wasn't time for me to have another run."
For all that Brundle was well over a second quicker than on Friday, but there was no real opportunity for the unfortunate Streiff to make any further progress in the old 014. At the Variante Bassa on Saturday morning Philippe spun at the exit of the right-hand half and hit the guardrail hard enough to tear off a rear wheel. The mechanics did a fine job to have the car repaired for the last session, the Frenchman choosing to go out first on a set of Goodyear Cs. A later run on qualifiers was ruined by traffic, and he was well slower than on Friday. That meant starting 22nd, but there was the consoling thought that a new 015 will be at Monte Carlo for him.
Brabham-BMW... ahem... were frankly a disaster at this race, a race in Italy attended by their sponsor, Olivetti. Patrese qualified 16th, de Angelis three places lower. In testing a week earlier the team had brought down one of last year's BT54s for comparison purposes. It proved quicker than the BT55 (with 'laydown' BMW motor), and Riccardo and Elio said they frankly preferred it - in nearly every respect.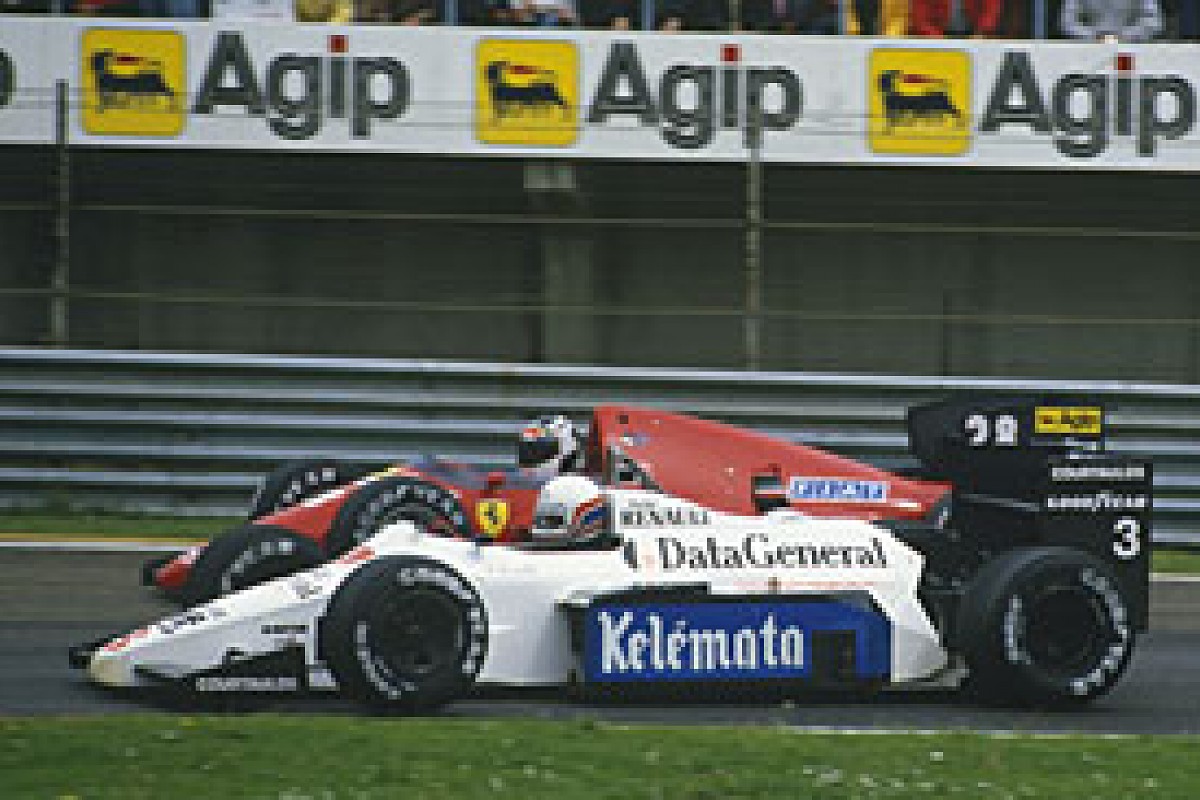 Martin Brundle ran the new Tyrrell 015 in practice © LAT
There was, however, never any intention of bringing the old cars back for the race, and this was very much to the drivers' regret. Its handling and gearbox problems apart, the BT55's abiding problem is low-down acceleration. Out of the last chicane Patrese and de Angelis were visibly slow, and by the finish line speed trap were beaten, for example, by the Minardis, let alone the 'conventional' BMW-powered Benettons and Arrows. Yet by the next trap, at the approach to Tosa, the cars extremely low frontal area was really coming into play, and by this point the BT55s were among the fastest of all.
Was the poor acceleration due to an oil scavenging problem? Was it related to the Weismann gearbox? Neither, perhaps. Over the course of the Imola weekend the BMW engineers thought they had maybe isolated the problem, but were unwilling to speak about it 'on the record' for the moment.
The Brabham pit, usually a paragon of orderliness, is anything but at present, rather recalling the early days of the BMW programme five years ago. This is one of those few teams absolutely central to Formula 1, and one doesn't like to see it in such straits.
The two Italian drivers both managed to improve in the last session, although neither emerged in the first half-hour. During the morning both cars had suffered with leaking clutches, which meant removing the gearboxes of each, and making a modification to the bellhousing. Patrese, in fact, got only one run. And yes, both had previously been in gearbox trouble, Riccardo spending most of Friday morning stranded out on the circuit.
Ahead of Elio on the grid was a Minardi - and not that of de Cesaris, either! Nannini looked really impressive each day, and spoke highly of his Motori Moderni V6 - "Much better than any other one I have used. I hope it lasts all the season!" There were, of course, the usual remarks about "2-litre engines in Italy" from some quarters, but this young Italian looked thoroughly at ease on this, a track he knows well, and was both quicker and tidier than his team-mate, who got in everyone's way as usual, and was nearly a second slower than Nannini.
Jonathan Palmer was tight-lipped and diplomatic about the arrival of Huub Rothengatter at Zakspeed, but it did seem rather a pity that, having made excellent progress with his two cars in Spain, the team should have come to Italy with two drivers and no spare car. That meant, for example, that when Jonathan's car went onto three cylinders on Friday morning he had to stand around for an hour and a quarter... Then, in the afternoon, he was baulked three times on his qualifying runs - once by Berger, twice by Rothengatter...
"We made quite a progress this morning," he reported on Saturday, "and on the first qualifying run we didn't run much boost, saving it for the second. It felt much quicker then, and I got quite a good tow from Prost for a bit. It was certainly going to be my best lap by a long way, but..." at the quick chicane, 300 yards from the end of the lap, the Zakspeed snapped into a sudden spin. There was nothing there to hit, but as Palmer slowly drove to the pits there was a nasty scraping noise from the car. It had looped because the left rear wishbone had broken.
There seems to be a feeling in America that, by attacking Libya, they have made Europe far too dangerous a place to visit. The Ford hierarchy was conspicuous by its absence at this, the debut race for the new Duckworth-designed V6, although Carl Haas, understated and anonymous as ever, was there to see how Alan Jones got on.
He qualified the Lola-Ford 21st, and if that sounds unimpressive we should first of all bear in mind that at no stage did the engine run anything other than 'race' boost. And I was pleased indeed to hear Mike Kranefuss, Ford Director of Special Vehicle Operations, stress that the company had no plans whatever to develop a special qualifying engine in the future. Sanity from a major manufacturer.
Alan himself was very complimentary about the new V6: "Its low down response is really excellent - smooth and progressive, which also helps the chassis because you don't get those sudden changes in attitude that you got with the Hart, where the power came in with more of a clout. Yes, it is a little down on top end power at present, but I feel already it is a good 'race' engine. I think I can finish well here..."
At the slow chicane it was very apparent that this is a young engine at the very beginning of its development. On half throttle between left and right, for instance, it fluffed rather, but these are very early days. Jones felt sure he would have gone quicker on the second day had not a cracked exhaust manifold slowed his second - unbaulked - run.
To no one's great surprise, the Osellas of Danner and Ghinzani were right at the back, Piercarlo losing any hope of improving in the last session when his engine quit after only half a lap. There was an incomplete version of the new Motori-Moderni engined Osella to be seen in the Italian team's pit, but its debut seems some way off...
See FORIX for the full grid and all the stats from the 1986 San Marino Grand Prix
Race
Is public interest in Formula 1 really beginning to wane? These days we are being accustomed to empty grandstands seats on race day, and in some places, like Estoril, Spa, the Nurburgring and, more recently, Jerez, spectators have been very easy to spot. From a traffic point of view, of course, it is pleasing, but otherwise rather worrying. I hear tell of US corporations involved in F1 who looked askance at the TV pictures from Spain - what is this we're supporting? A sport no one wants to go and see?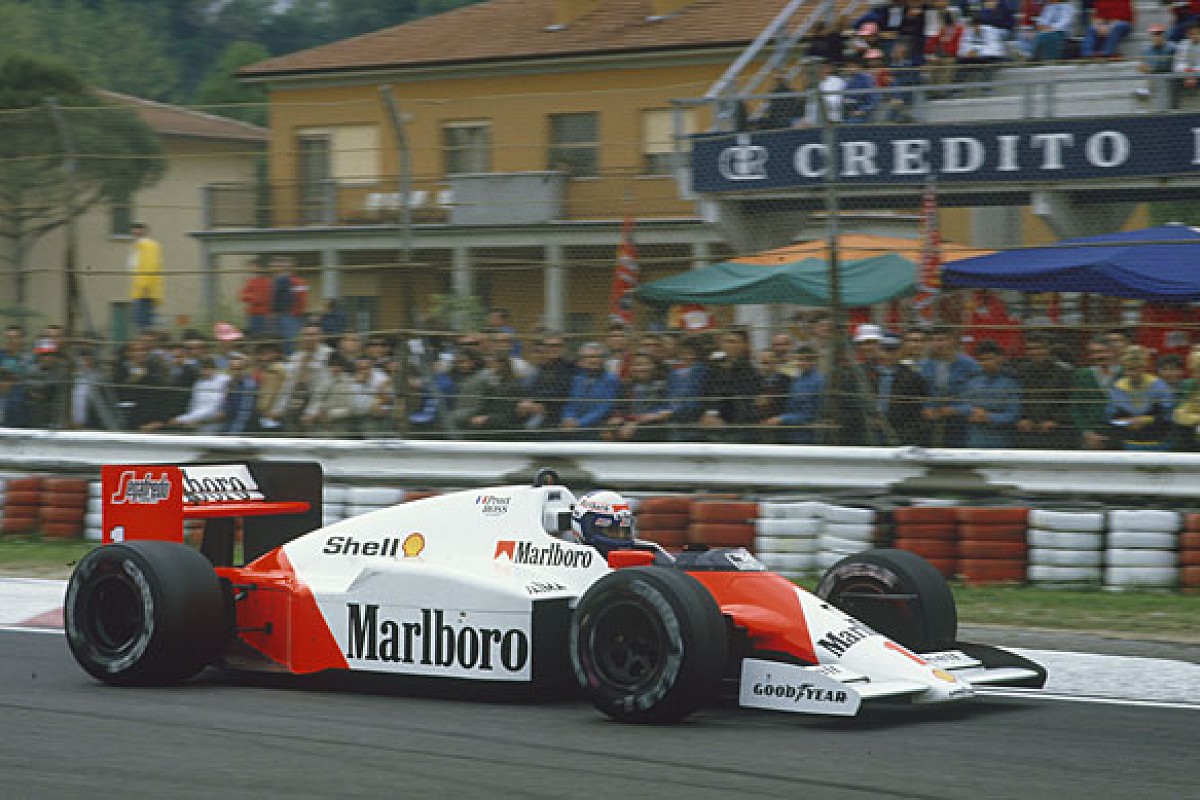 Part of it is the escalating cost of getting in. Loose change for a Monagaque is a week's pay for a Spanish farm worker, but such matters seem not to be considered - ah, but wait a minute. Of course! It's TV revenue that matters, not race fans who actually bother to come along. I know that. I was told by Someone Important.
It may seem like a curious time to mention this, for Imola has always been a money-spinner, and the hillsides were well populated again last weekend. By contemporary standards it was a huge crowd, but in Imola terms it was definitely down on past years - and this with Ferrari clearly in with a shout.
Maybe the weather played a part. Saturday evening's forecast was for rain, and the streets were indeed wet when we awoke. People may well have glanced at the sky, and decided on an afternoon in front of the tube.
As it turned out the promised downpour did not arrive until proceedings were completed for the day, but the track was still a little damp as the 26 drivers set out at mid-morning for the 30-minute warm-up session. It brought few surprises: Rosberg's McLaren quickest, then Senna and Prost. But Berger served notice of intent with fourth best time, and Tambay once more impressed with the Lola-Hart, eighth fastest.
Not so happy were the Ferrari men, Alboreto ninth and Johansson 12th. "It's like I thought," Michele grimaced. "OK in qualifying set-up, not so good on full tanks - the opposite of how we were in Spain..." And decidedly fed up was Laffite, who found his 'pneumatic' Renault V6 misfiring and down on power. The Ligier mechanics lost no time in beginning an engine change, but it meant Jacques would go to the line with a conventional 'valve spring' engine.
Unlike Jerez, Imola was very much a planned tyre stop race, and the Goodyear runners went unanimously for Cs all round. The Pirelli teams though in similar terms, opting for the equivalent, but Brabham, at this stage figuring there was little to lose, decided to put Patrese's BT55 on a harder compound in the hope he could go all the way on them. At two o'clock, as drops of rain spattered down, the cars came out once more for final warm-up laps, and this brought disaster for Brundle, whose new Tyrrell 015 crashed heavily at the ultra-fast Tamburello.
There was damage to the monocoque and to the left-hand corners of the car, and once more Martin had to go into another race in the old 014.
"Something happened at the back of the car - I don't know what," he said. "It swerved left, then right, didn't spin, then hit the guardrail..." Ken took the news ill.
So to the start, or rather the final parade lap. Neither Jones's Lola-Ford nor Palmer's Zakspeed would start as the field was waved away, but Alan eventually got going, caught up the pack and weaved through to take his original place - a move happily unnoticed by the officials.
Jonathan was worse off, however, and as Senna slowly led the field towards the startline the Zakspeed was hurriedly pushed off the road and back into the pit lane. There they got the engine fired up, and Palmer emerged after the rest had departed.
Ayrton as usual got away superbly, as Piquet did, but Mansell - his engine not completely clean - could not match them, and was beaten away by Prost.
Alboreto, indeed, had the Ferrari really stoked up and briefly considered a gap between the Williams and the McLaren: this swiftly diminished, however, and Michele decided against. It was the smart thing to do, but lifting cost a couple of places. Through Tamburello the opening lap had a familiar look, with Senna's Lotus heading a gaggle of Williams and McLarens, but this time the pattern was disturbed. As they headed through the lefthander named for Gilles Villenueve, Nelson simply powered by on the outside, and at Tosa Rosberg went past Mansell into fourth place.
After his good showing in practice, Nannini unhappily spoiled it all by going off at Tosa less than half a minute into the race.
Lap one: Piquet, a good way clear of Senna, Prost, Rosberg, Mansell, Alboreto, Arnoux, Johansson, Tambay, Fabi and Berger. In these early stages Nelson really had the hammer down, and after two laps was nearly four seconds clear.
Although running what was considered a 'safe' amount of boost, he was to regret it later.
The fourth lap brought changes. Into Tosa Prost passed Senna in a very assertive move, and on the exit of the corner Rosberg, too, went by the Lotus. Was this Ayrton boxing clever, remembering last year, conserving fuel? It seemed unlikely to be that simple, for the Brazilian is a man who likes to lead, and in fact he knew already that not all was well with his car.
Lap four also brought Mansell into the pits - no surprise for he had been passed by both Ferraris and Arnoux's Ligier. Something was awry in the electronics, and the misfire was worsening. Nigel went out again for a few laps, but was soon back for good, dense smoke heralding the demise of one Honda V6.
As Piquet continued to disappear over the horizon - six seconds ahead after four laps - Rosberg decided he wanted to be second, and accelerated past team-mate Prost through Tamburello and Villenueve. But for a while the two of them, running nose-to-tail, made no impression on the Williams-Honda.
The 1983 San Marino winner had a brief race on Sunday. After running as high as eighth with the Haas Lola-Hart, Tambay was into the pits after only five laps: a piston had failed, and the 415T engine's life ended where it had begun. It was here in 1981 that Henton and Warwick appeared for the first time with the Toleman-Harts.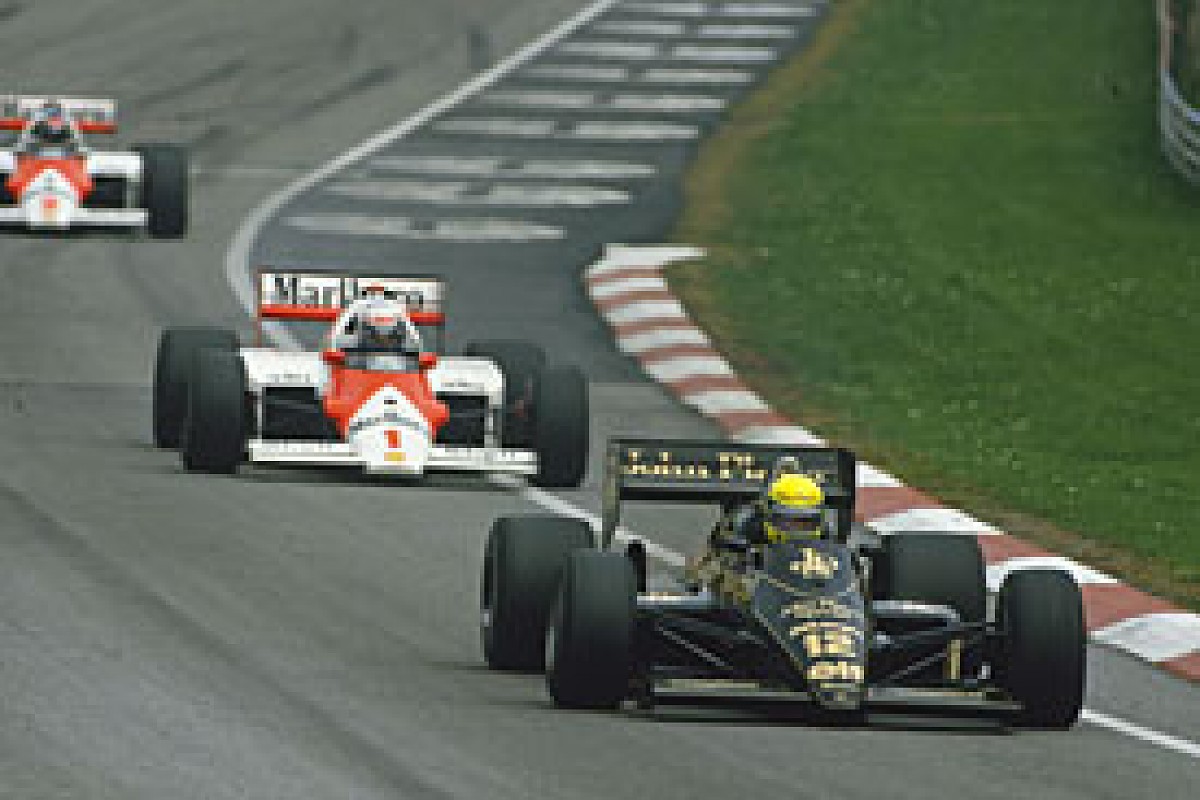 Senna held off Prost and Rosberg for second in the early laps © LAT
On lap eight, it was the turn of Dumfries to head for the pits. He had made a good start from his 18th position, gained four places, but now came in with what he first believed to be a brake problem. "The pedal had gone 'soft'," he said, "but in fact it was due to the failure of the right rear wheel bearing - the disc was knocking the pad."
Johnny resumed for one more slow lap, but when he arrived back at the pits this time he found a busy scene: there already was Senna, with exactly the same problem! Ayrton had done most of his last lap with smoke pouring from the errant bearing, at Tosa moving well out of the way to let Alboreto through. This was his first retirement of the season.
The crowd really liked this, of course, as they do any time a car in front of their Ferraris quits. Michele was now up to fourth, but in truth there looked to be nothing he could do to progress further.
His team-mate, in the mean time, was dropping back, and being passed by both Benettons and Laffite's Ligier. "Maybe he's thinking about last year," remarked Derek Warwick, spectating with us at Variante Bassa. "If you notice here, he's not really gunning the engine at all. Must be thinking about fuel..."
Johansson would willingly have settled for that explanation, logical as it was. As it was, he had a fundamental problem - one might say the Ferrari problem of 1986: "My brakes just about disappeared from the fourth lap onwards. Couldn't bloody believe it was happening again! For just about the whole of the race it was a matter of pumping the pedal hard before every corner, so I couldn't go quickly at all. The one certainty I had was that I wouldn't run out of fuel, believe me..."
Stefan was an early caller for fresh tyres, on lap 21, although Arnoux had already brought his Ligier in for fresh Pirellis half a dozen laps earlier. At the same time team-mate Laffite came in to retire, having made impressive progress from 14th on the grid up to seventh before his old-style Renault engine began to lose boost.
At this stage of the race Piquet, although still in the lead, knew he had a major fuel problem. "He'd done nothing wrong at all," commented Frank Dernie after the race. "In the first few laps - when he was pulling away - he was using the amount of boost we thought would be quite safe. Then, after 10 laps, he found he was using more fuel than he should have been, for some reason, and he knew that unless he rolled it off he wasn't going to make the finish." In fact, Nelson did not come back 'on schedule' with his fuel until eight laps from the end.
The McLarens, therefore, quickly began to close in, and soon we had a trio running at the head of the field. But Rosberg never managed to pass the Williams-Honda, and one had the impression that the canny world champion was sitting there very happily in third spot, content to benefit from the tow.
Behind the leading three Alboreto pressed on as hard as possible, unable to get on terms but some way clear of the Benetton pair, still running together. Michele came in for tyres at the end of lap 26, his mechanics getting him out again in 8.4 seconds, which kept him in fourth place.
Three laps later it was Piquet's turn, Nelson raising his hand to warn Rosberg, right on his tail. The Williams stop was not quite as quick as the Ferrari one, and Piquet himself was too slow to get on the move after the car came down from its jacks: he was stationery for 13.3s, rejoining in third spot.
Lap 30, halfway, and now it was Prost's turn to pit, Alain off, literally as the rear wheels hit the deck, in 8.6s - which meant he came out back ahead of Piquet. Not that getting past Piquet would have presented any problem, in actual fact, for the Williams-Honda was now in 'cruise' mode, its driver waiting for his computer to tell him he could go race. This is Formula 1?
Time was when a tyre stop meant more, when fresh rubber entailed tentative running for a lap or two until the temperatures came up. Not any more. These days they are preheated in electric blanket devices in the pits, enabling the driver to go hard in no time at all. Thus Prost almost immediately began setting new lap records, making his break with a clear road ahead of him. After 32 laps he was only 22 seconds behind Rosberg, who had still to stop.
This Keke did at the end of lap 33, but the stop was not a good one: 14.8s. One of the rear wheels took a long time, spinning as Rosberg apparently took his foot off the brake pedal. Afterwards, he said that the clutch had been dragging, that it had not been forgetfulness in the heat of the moment.
"After that," he said, "Alain was history, gone. I knew I couldn't try and go balls out after him because of the fuel situation, so I just concentrated on beating Nelson, and I thought I had that pretty well under control..."
Prost, in the meantime, was simply streaking away, and had it not been for his reputation as the thinking man's racing driver one might have thought he was pushing on unnecessarily hard. "No, no, there was no problem I could see. All the time I thought about minimum boost, saving fuel, using the car - particularly the brakes - to go quickly." His progress in this period of the race was something to see.
The position up front seemed settled now, apart from the question of which drivers, if any, would run dry before the flag. We had the world champion on a charge, his team-mate settling for second, Piquet still tooling around waiting for the right read-out message, Alboreto - to paroxysms of rapture from the crowd - closing in on him.
Behind them ran Arnoux, driving a fine, if easily overlooked, race for Ligier. He had taken fifth place from Berger on lap 33, and behind the two of them, remarkably, was Patrese's Brabham on its hard Pirellis. Riccardo's was undoubtedly one of the best drives of his life. He had the BT55 up into the top 10 within half a dozen laps of the start, despite being on hard tyres, and all afternoon he went hard, perhaps surprised that the car kept going (de Angelis's had blown up at the 20-lap mark). By this stage of the race, he was up to sixth and running in company with Arnoux. Berger, mindful of the fuel situation, was sitting back for a bit.
The Lola-Ford had an eventful debut, Jones predictably gaining lots of places in the early laps. By lap 14, in fact, he had been up to ninth and was enjoying himself, but then had come the first pitstop for attention to a broken gear linkage and a split water radiator.
Ordinarily the car would have been retired in these circumstances, but this was its first race, and the Haas team decided to make the repairs, use what remained of the race as a test session. After half an hour, therefore, Alan took to the track for another 14 laps before stopping for good with overheating caused by air trapped in the cooling system. It had been impossible to bleed it properly when the replacement radiator was fitted.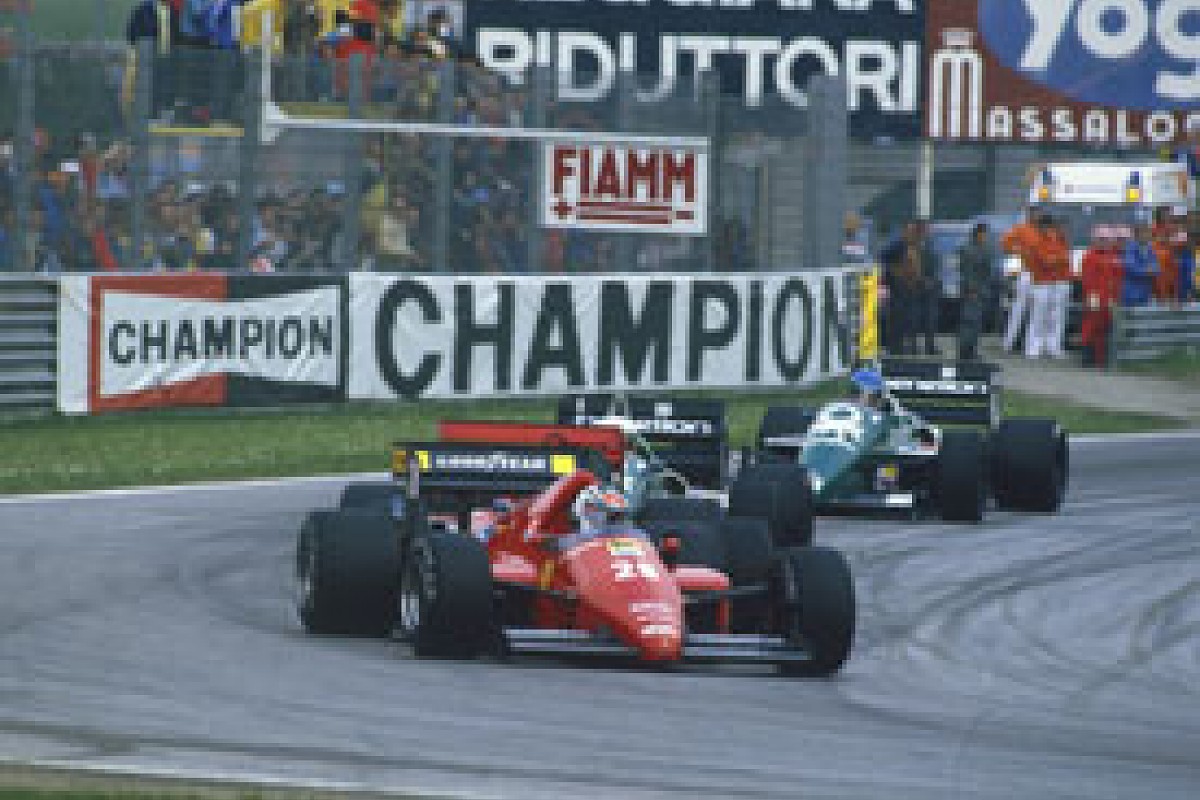 Johannson struggled with brake problems but still finished fourth © LAT
"It's a bit disappointing," he said later, "because the engine itself was still running perfectly. It's got fabulous response out of slow corners - I could leave most people on initial acceleration - but it's very lacking at the top end at present. I found myself getting swamped on the fast stretch down to Tosa. Still," he went on, cheering up, "I think the potential's definitely there. It's strong, and a lovely engine to use - I tell you, we should take it to Le Mans. Seriously!"
Palmer, who had a fine run in the Zakspeed after his startline problems, retired with no brakes after 38 laps, and Fabi, again running in convoy with team-mate Berger, went to the pits with a dropped valve in his Benetton-BMW.
Forty laps, two-thirds-distance: Prost, 11 seconds clear of Rosberg, then half a minute to Piquet, who was seven seconds down on the leader, was Arnoux, with Patrese still at his heels. Johansson and Berger were a lap down, and then we had the Arrows pair, running together, and the Tyrrells of Brundle and Streiff, also in convoy. At the back was poor Ghinzani, wasting another Sunday of his racing career in the Osella.
At the front Prost looked untouchable, but Piquet was now beginning to leave Alboreto behind (crowd lapses into sullen Italian silence) and to make inroads into Rosberg's advantage. By lap 50 Alain led Keke by 23 seconds, but Nelson was only 14s behind the number 2 McLaren, and at last beginning to get user friendly signals from his computer. With eight laps left he got the Japanese electronic equivalent of Go For It!
Now we got some sign of a racing car being raced again. With no apparent worries about making the finish Piquet began to fly, taking two or three seconds a lap from Rosberg. Even so the McLaren man believed all was under control.
"From my gauges I thought I had it worked out. It was going to read zero-zero as I crossed the line. I guess it must have looked as if I turned up the boost to hold him off, but I didn't. I'm not an idiot - I don't run out of fuel if I have information that tells me different. I couldn't believe it when the thing ran dry. I don't think I could have done a better job..."
The car coughed its last at Tosa on lap 59, so that Piquet, by then right with the McLaren, had no need to worry about getting by. Second place was his, immediately after he had set the fastest lap of the race, more than two seconds under the old lap record. Yessir, Mr Balestre, these fuel restrictions certainly slow the cars down...
Now we were into the same pantomime as last year. As the San Marino Grand Prix went into its final minutes, cars began to splutter. Already Alboreto, to a moan of despair from the hillsides, had pitted at the end of lap 57. Ferrari gave 'loss of boost pressure' as the reason for Michele's retirement, but one might have expected the Italian - even down on power - to drive to the finish.
Rosberg, as we know, stopped on lap 59, and at the same moment Patrese was cruelly robbed of fourth place when the Brabham coughed its last. Surer crept through the Variante Bassa with a dead engine - and the commentator became hysterical when it was seen that Prost, too, was almost at a standstill at Rivazza on his last lap! Mamma mia! Was there any way Johansson could still win this thing? That is what he was suggesting to the crowds anyway...
"I was amazed when it began to misfire," Alain related. "You know, we had some problems with the computer at Jerez, so for this race we set it up very conservatively - I thought I would have enough to do a slowing down lap, in fact. Suddenly it seems I will not make the finish! I tell you, after what happened to me here last year, I would have been very upset if this happen..."
All was well. Prost sloshed around what little Shell remained in his tank, and the engine picked up again enough to get him to the line, after which he immediately parked and gave a boxers salute to his mechanics. Only seven seconds later Piquet crossed the line, and was well able to complete another lap - even to rev the Honda hard in the scrutineering bay.
Nelson was not the only man to rocket through those closing laps, for Berger, too, had enough fuel to make a charge. He had passed the brakeless Johansson on lap 54, and when Alboreto retired and Patrese ran dry the Benetton man was up to third, the only man to finish in the points every time out this year.
It was a superb drive, this, without benefit of a clutch for the last 30 laps, and Gerhard showed remarkably swift presence of mind in the last few yards. As Prost stumbled towards the line Berger momentarily went to un-lap himself, then quickly thought better of it as he realised this would entail doing another lap - which he might not complete.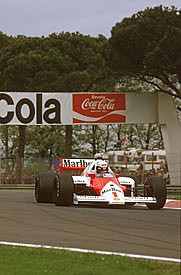 It was close on fuel, but Prost avenged his dramas from the year before to win © LAT
Johansson's joyless day was at least rewarded by three points, and Rosberg and Patrese (the Italian clutchless for all but the first five laps) took fifth and sixth 'on distance'. Each deserved better, as, for that matter, did Arnoux, who lost a front wheel in the closing stages.
It occurs to me now that maybe some of the Imola faithful stayed away because they witnessed the fiasco at the end of last year's race. If so, they can hardly be blamed. In 1985 the cars held 220 litres and ran dry: this year they were allowed 195, went faster than before, and ran dry. This is the way of Formula 1, push to the maximum. Otherwise you lose. But unless something is done to the rules shortly, the whole sport will lose. As the winner himself said: "No, this is not racing, of course not. But even when the race is like this, you still have to find a way to win, to do it better than the others."
In that context, Prost's performance on Sunday was as brilliant as any in his career.
See FORIX for the results and stats from the 1986 San Marino Grand Prix