Many pundits will tell you a change does you good. Meet the latest: Tony Kanaan. Mind you, the 2004 IndyCar Series champion wasn't looking for change. Comfortably ensconced at Andretti Autosport since 2003, Kanaan is one of the most popular and successful drivers in the IndyCar Series.
Then came TK's Winter of Despair. Just prior to the final race of the 2010 season, 7-Eleven Stores, Kanaan's primary sponsor for eight years, informed Michael Andretti it was cutting its support. With no sponsor and therefore no guarantee of a ride, Andretti offered Kanaan the opportunity to walk away and, to the surprise of many, TK chose to do that. His confidence seemed justified when, just before Christmas, he landed a deal to drive for De Ferran Dragon Racing. But unable to source sufficient sponsorship, that fell through. Just a month before the start of the 2011 season, Kanaan was still on the sidelines.

Again, not for long. Back in November, Kanaan had already had exploratory discussions with KV Racing Technology-Lotus co-owner Jimmy Vasser. Now those talks took on more substance and, just five days before the season opener at St. Petersburg, Kanaan was announced as the driver of KVRT's #82 car.
KVRT-Lotus had been undecided about running a third car alongside returning drivers Takuma Sato and EJ Viso. Kanaan's availability changed that.
"What was a game-changer for GEICO Insurance was not only the value of the sponsorship we were able to offer, but Tony Kanaan," Vasser says. "He swings a heavy stick in the marketplace and I think people were very surprised that he was available. With sponsorship he was able to drum up working in Brazil, added to what we had as a team, it really enabled GEICO to get a value package."
With a rapidly assembled crew and maybe half a day of testing, Kanaan qualified eighth at St Pete and, benefiting from a first-corner accident that eliminated several top competitors, finished third.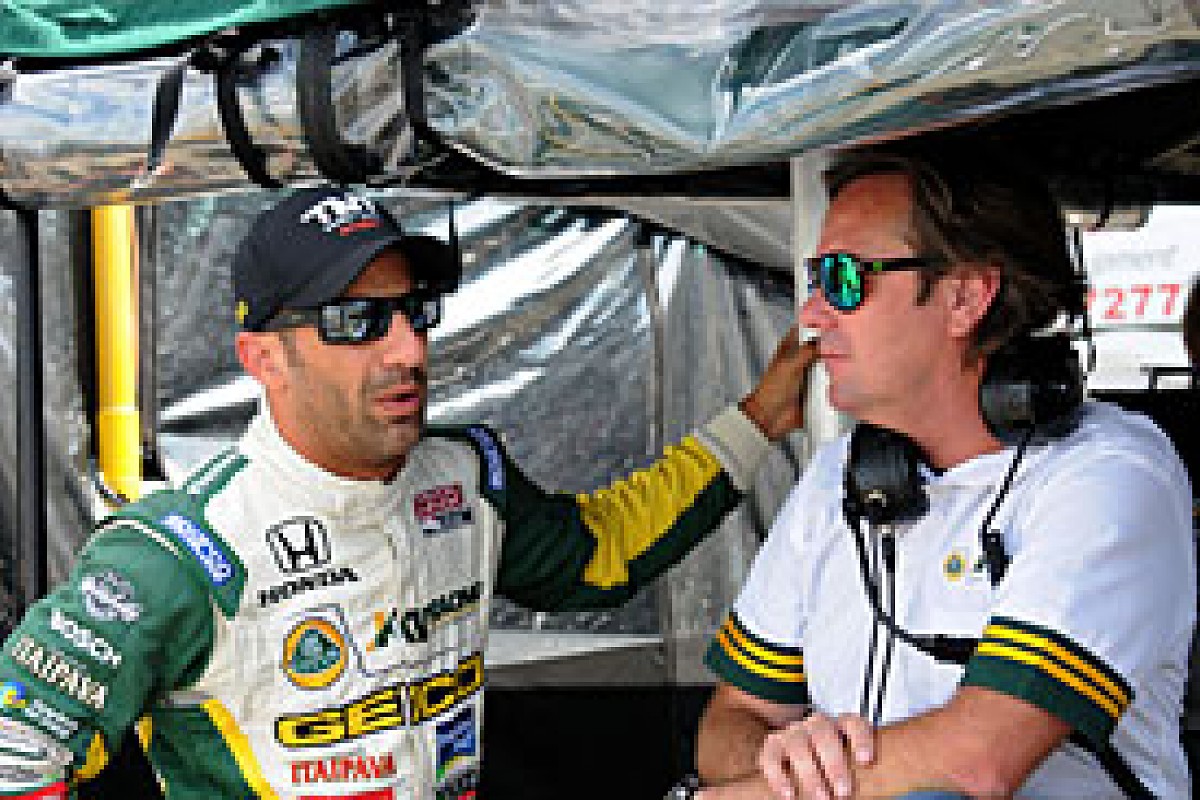 Jimmy Vasser: Kanaan swings a heavy bat in the marketplace © LAT
"It was awesome," Kanaan reflects. "It was good for my sponsors, because I told them to believe in me and if I got the chance, they would not be disappointed. It was amazing; you've got to be lucky sometimes as well to get that result but it was such a boost.
"It's not like I had to prove something to others," he says, "but I had to prove one thing to myself. In the off-season, I thought, 'Now we'll see how bad I really want this Do I really want to do this?' Because you get to a point where you win races and championships, you're making a lot of money and you just don't know what else to do. You get addicted to it, and it's not for the right reason.
"Having a punch in the face like that made me realise how bad I really wanted it. Then the result at St Pete made me ramp it up and gave me the joy to say, 'This is the way it's supposed to feel!'"
The KVRT/Kanaan partnership continued to grow in the early part of the season, with the Brazilian taking sixth place at Barber Motorsports Park (after some amazing restarts) and eighth at Long Beach. Another momentum-building result came at the Indianapolis 500, where Kanaan finished fourth. But the best was yet to come.
On paper, Kanaan came home 11th and fifth in the Texas Twin 275s, but that's where his leadership qualities that KVRT was banking on came into play. Last year, the team's wild-and-inexperienced driver line-up [Sato, Viso and Mario Moraes] racked up nearly 40 crashes; with Kanaan on board, KVRT came out of the hazardous Texas weekend with all three cars intact and six top-12 finishes.
Vasser believes Kanaan has made the biggest impact on the younger KVRT-Lotus drivers in terms of their racecraft, a sentiment echoed by engineer Michael Cannon, who switched from HVM Racing to KVRT-Lotus to work with Kanaan.
"Tony has responded well to joining this team," Cannon observes. "The nice thing is that he's been able to confirm the team had solid race cars and he's able to say to Takuma and EJ how the car should feel. Before they even go out, he's able to tell them, 'The car is going to feel terrible when you go out, but this is the level of terrible that is acceptable.' He knew what he was running with Andretti Autosport and he was willing to give the KV set-ups a try. It seems to be working out quite well for him. It's been a breath of fresh air for the guy."
KVRT-Lotus was especially strong in the short-oval races at Milwaukee and Iowa. Kanaan was in position to win at Milwaukee, only to crash with 30 laps to go. In Iowa, Sato earned his first IndyCar pole position and Kanaan drove a blistering race to second after extended dices with Dario Franchitti and Marco Andretti. Sato matched a career best with fifth place in the first Texas race and took eighth at Milwaukee.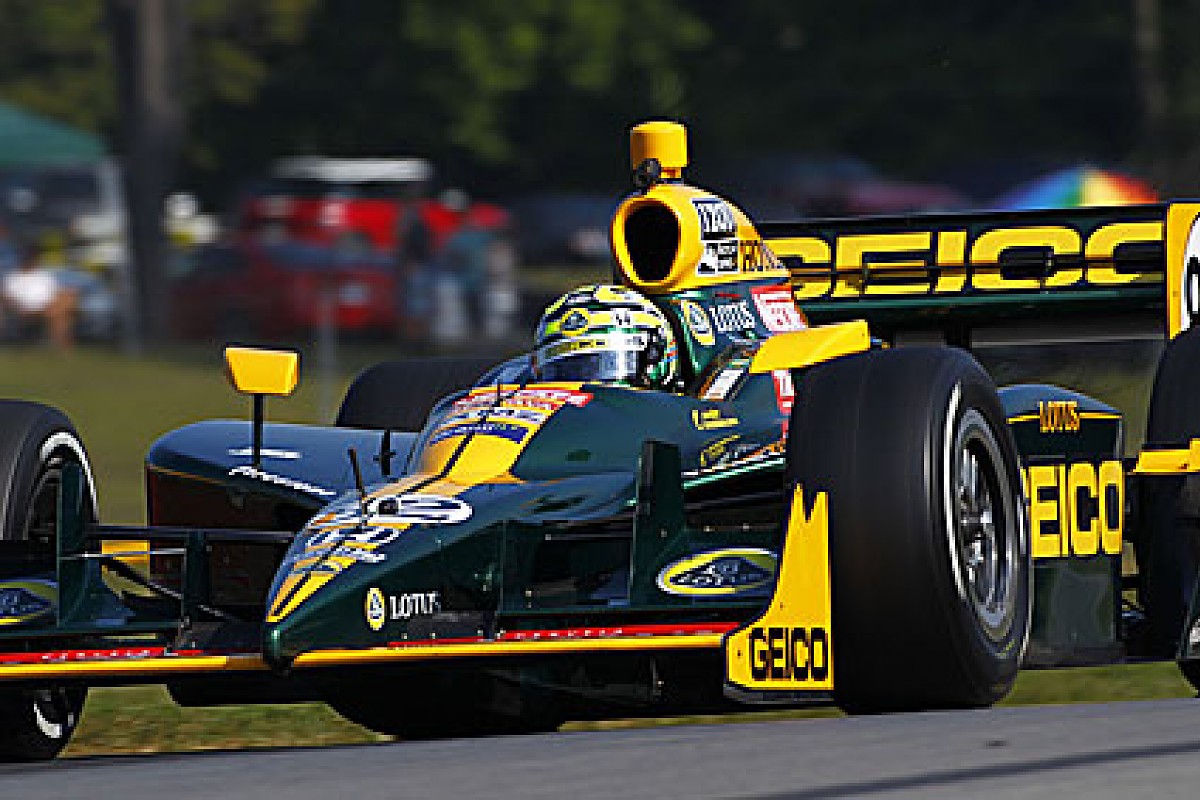 "From Texas to Iowa, we were probably the most consistent team out there," states Cannon. "The really fun thing was that we spent those races stealing each other's set-ups. EJ's car was very good at Iowa, so we all stole that. Same thing at Texas - Sato-san's car was very good, and that's what we qualified and raced. At Milwaukee, we thought Tony's car had just a little edge and we all went to that."
Kanaan refuses to take the credit for KVRT's improved form in 2011, pointing out that the team was the most consistently competitive 'transition' team in 2008, when Champ Car was absorbed by the Indy Racing League.
"People say, 'Man, you really turned this team around,'" he chuckles, "and I'll take some of the credit! But we have to remember how they did when they had Oriol Servia and Will Power as drivers [in 2008]. That team is still here - same car, same engineers, plus Cannon. I don't want to sound like I'm bashing on whoever was driving since then, but crashing every race didn't help. Also, you need a little bit of direction because an engineer can only go with what the driver says. You can steer an engineer any way you want because you're driving. He's got to trust you. And that's what they were lacking."
Vasser believes that Kanaan has delivered exactly what was expected from him, and the team is working hard to sign the Brazilian to a multi-year contract extension.
"We were looking for the sort of leadership he brought into our team," says the 1996 CART Indycar champion, who joined forces with Kalkhoven and Dan Pettit to form what was then PKV Racing in 2004. "Tony has got a great reputation around the paddock as being the sport's best team-mate, and he hasn't done anything to convince me that's not true. He's a champion and a professional. We've been working hard over the years to position ourselves with the likes of Ganassi and Penske, and certainly having TK on the team is a step forward for us. The next step for us is winning races."
Kanaan shares Vasser's belief that KVRT-Lotus is on the verge of breaking through for the team's first IndyCar Series race win. And after all of the trauma he went through in the past couple of years, it's an occasion that Kanaan looks forward to sharing with his long-time friend and former on-track rival-turned-team owner.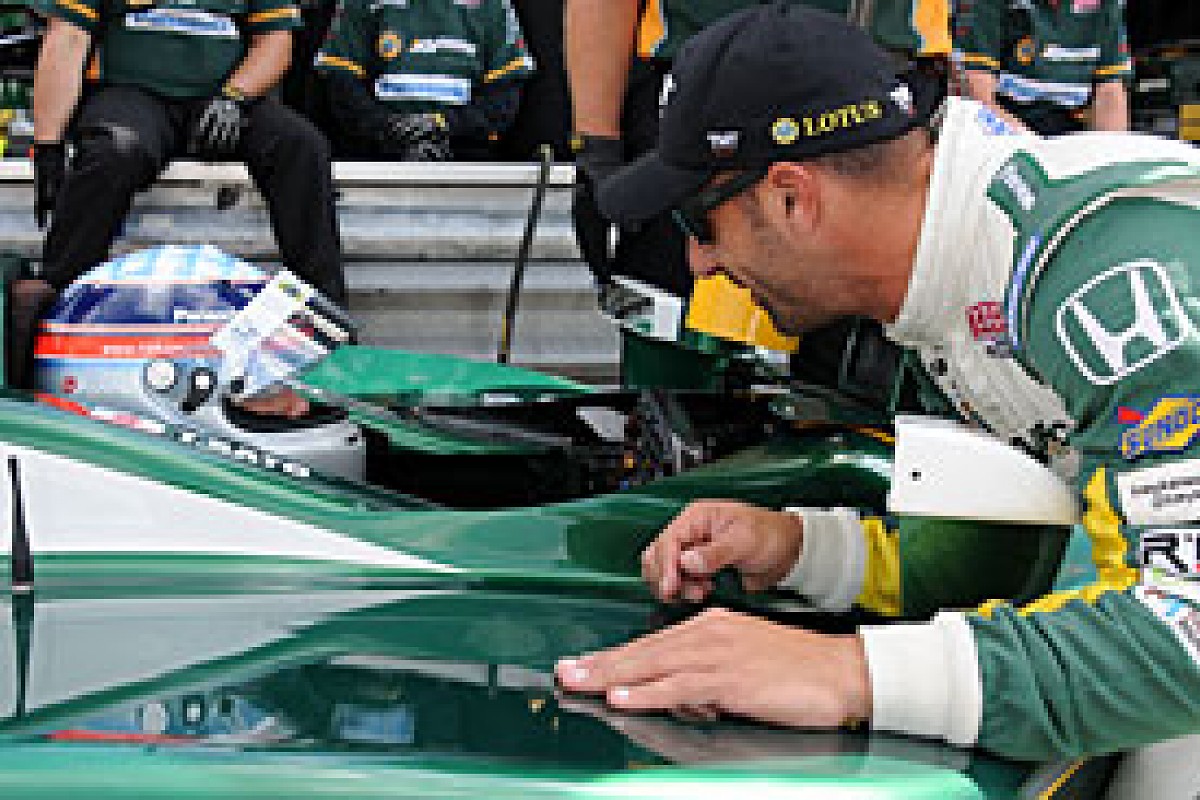 Takuma Sato and Tony Kanaan are benefitting from each other's wisdom © LAT
"The off-season was really rough for me, but it did me good," Kanaan relates. "Nobody wanted to see what happened to me - and to Michael [Andretti]. He lost a sponsor and almost didn't run a fourth car this year. But maybe it was a good thing. When you spend so much time in the same place, you need something new. It's like a marriage: you get fat and you don't care anymore. Then you get divorced and suddenly you start exercising, shaving and getting your hair cut...
"So now I realise it was probably time for a change, and for some reason I'm having more fun than I used to. I don't think I can get into details of why, but I think there's a different atmosphere here.
"It's been overwhelming for me; from what looked like a bad situation, things have turned out good."
Subscribe here to read Racer magazine online every month.
You can also keep up to date with US motorsports news by signing up to Racer's daily newsletter.