The news that Bernie Ecclestone has struck a deal with Rupert Murdoch's Sky empire to show live television coverage of grands prix next year has caused a furore among British fans.
AUTOSPORT has, unsurprisingly, devoted its lead news item space to the announcement, that came out of the blue - for most - at the end of last week.
F1 editor Edd Straw explains the implications of the deal, which will mean the BBC only shows half of the races live from 2012. What he also makes clear, however, is that without the deal there was a strong possibility the BBC may well have dropped F1 altogether, such were the demands on the corporation to cut costs. Plus, of course, pulling out early from its deal with Ecclestone would have led to a huge severance pay.
Mark Hughes column - To complement the news analysis of the BBC/Sky deal, our grand prix editor looks at the deal and concludes that business sense and actual sense are - in this case - mutually exclusive.
Hungarian GP report - Another wet/dry thriller in which Jenson Button yet again made the right calls on tyre strategy to emerge victorious, in what was his 200th grand prix start. Mark Hughes brings detailed analysis of qualifying and the race, with all the usual, behind-the-scenes technical appraisal and results.
Button's 200th GP - To celebrate Button's historic milestone, our four-page picture special charts the Brit's journey from 20-year-old Williams debutant in 2000, through struggles with Benetton/Renault, BAR and Honda, to world title glory with Brawn, as well as his successful first two seasons at McLaren.
GP2 Hungaroring - Romain Grosjean's fifth win of the year came after Swede Marcus Ericsson was handed a questionable drive-through penalty while leading. Glenn Freeman witnessed it all.
GP3 Hungaroring - After becoming the ninth and 10th different winners in as many races at the Nurburgring, Valtteri Bottas and Rio Haryanto both won again a week later in Hungary. Glenn Freeman had his F1 support series hat on again.
Spa 24 Hours - The Belgian endurance classic has adopted a GT3 format and it seems to have done the trick, attracting a bumper entry of top cars and ace drivers. Gary Watkins was there, as ever, and witnessed the WRT Audi R8 of Timo Scheider, Mattias Ekstrom and Greg Franchi emerge triumphant.
Rally Finland - The most famous world championship rally of them all, the one they all want to win. The '1000 Lakes' was again a flat-out blast of massive jumps and even bigger bravery as world champion Sebastien Loeb took his 66th career win, his second in the Finns' backyard. David Evans watched the flying Frenchman lead for 19 of the 22 special stages.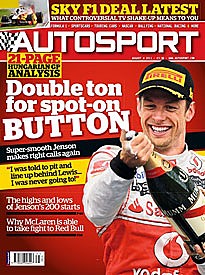 British F3 Spa - The seventh round of the British series was also the third round of the new-for-2011 FIA International F3 Trophy, so the best of Europe's young racers came together on one of the continent's best circuits. Ben Anderson watched Spaniard Roberto Merhi take two wins to increase his Trophy points lead.
WTCC Oschersleben - Sam Tremayne saw Chevrolet continue its dominance, at least in the opening race, as Yvan Muller led home team-mate Rob Huff. In the second race at the German venue, local veteran Franz Engstler broke his series duck for a popular win in his BMW.
From the archive - Frenchman Philippe Alliot recalls the time, aged 40, that he was called up to replace a banned Mika Hakkinen at McLaren in the 1994 Hungarian GP. And, as he admits, it wasn't a fruitful alliance.
Race of my Life - Nicola Larini tells Marcus Simmons that running fourth for Osella in the 1989 Canadian GP around a rain-soaked Montreal was his career highlight.