If Ayrton Senna loses the Formula 1 World Championship this year, we will say that he lost it in Monte Carlo; if he wins it, we will recall that he won it at Silverstone.
On a day when conditions were so awful as to cause Alain Prost simply to surrender to them, Senna was in absolute command virtually throughout. Had the day been dry, the tale might have been different, for at Silverstone McLaren's act was not as we have come to expect. The car's handling was never just so in qualifying or the race, and for the first time this year someone other than Senna or Prost started from pole.
Race day though, was Senna-made. He might not care for slippery or perilous conditions any more than anyone else, but they are manna to him, bringing out all his artistry.
From first to last on Sunday, he guided McLaren with sanded fingertips, never to make a mistake nor even look like it. Gerhard Berger threw his fuel worries to the winds and made a fight of it for a while, and Nigel Mansell stunningly came through for second. But the day belonged to one driver. If he takes the title, he took it here.
Scarlet to front
Silverstone then, round eight. And why should it have been any different from those that went before? Along with several other teams, McLaren had been testing here 10 days earlier and had left content. The fastest time, admittedly had gone to Berger's Ferrari, but weather conditions were freak over the two days, and there had been little doubt in anyone's mind that Prost or Senna could have gone quicker if pushed.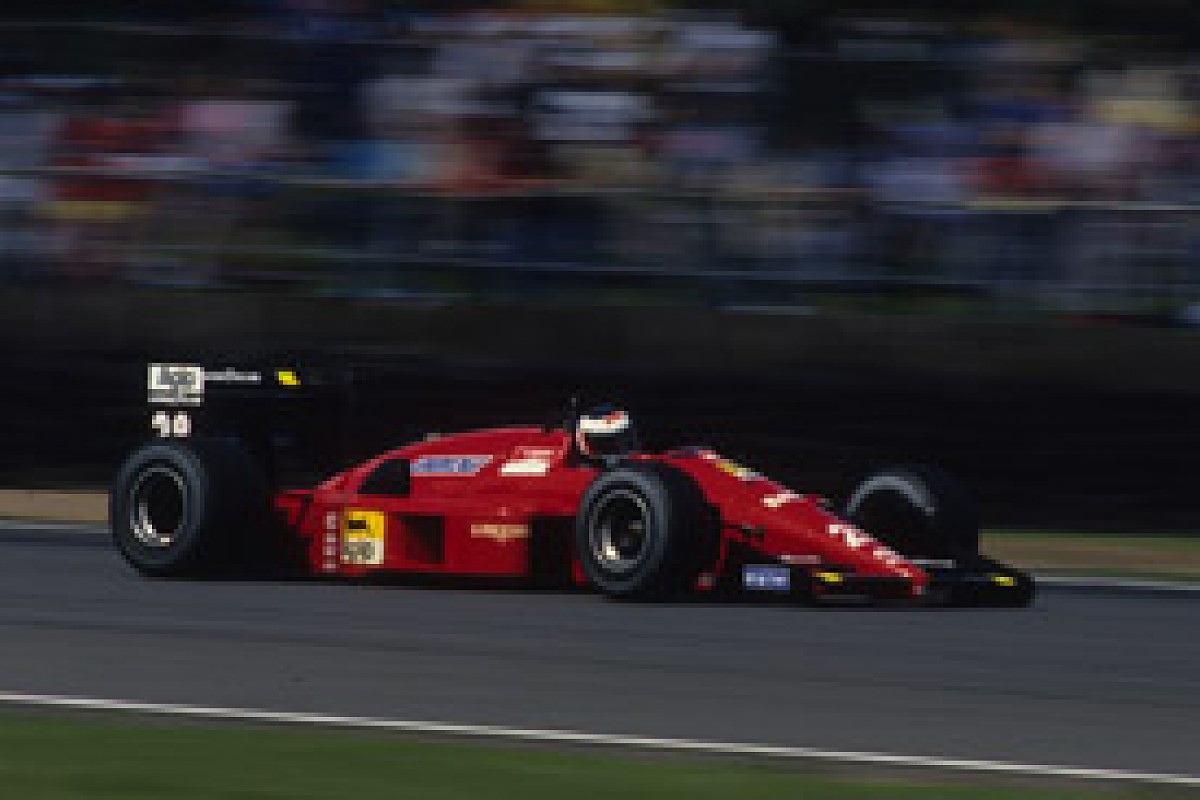 Berger powered to pole position in his Ferrari, ahead of Alboreto © LAT
"I did a 1m12.5s then," said Prost. "That was with 130 litres of fuel and low boost - doing a consumption run. It was easy! Now in that condition, it's difficult for me to get under 1m14s."
So during qualifying for the British Grand Prix, McLaren were - whisper it - in trouble. It was only relative, you understand, for Senna and Prost still made the second row, something of which most teams dream. But for the first time in 1988 we did not have a McLaren on pole, nor even row one. That was all Ferrari.
Part of the McLaren problem stemmed from 'fast circuit' revisions, introduced for Silverstone. These involved new turbo inlets (within the sidepods) and a revised intercooler configuration. It was an enormously expensive operation, its sole purpose to remove the turbo snorkels (which normally protrude from the top of the pods) from the air flow. "There's no engine gain from all the changes," team boss Ron Dennis said. "They're purely to improve the aerodynamics." And these changes, gentle house buyer, cost more than £150,000.
Moreover, they lasted but one day - for the moment anyway. By Saturday morning all three McLarens were back to original specification, the team deciding that more testing was needed for the new set-up.
And on Saturday both drivers agreed the cars felt better - although by no means good. Through the final hour they hassled the Ferraris, but always you had the feeling that it would be Berger or Michele Alboreto on pole, and that it was Senna or Prost doing the chasing - a unique experience for them thus far in 1988.
"The car just feels very light here," Prost remarked. "Unpredictable, with not a lot of downforce. And the problem is we just cannot set the car up - there are really only six corners here, and on three we have understeer, on the other three, over-steer."
Stowe - God Save Us! - came into the last category. In the last session Senna spun twice there, each time keeping the car on the road, each time emerging from the spin facing the way he wanted to go, and with the engine alive.
"All it was, was that the car wasn't handling well, and I was pressing too hard, said Senna." You're a brave man when you start looping at Stowe, then go out again with enough commitment to pitch in there with the same speed once more.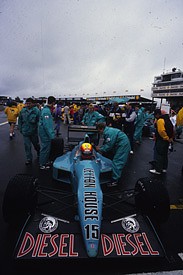 Gugelmin qualified a fantastic fifth © LAT
"Here, we just haven't got it right," Prost said. He might have added that what would have assuredly been his best lap was ruined by Piercarlo Ghinzani, who stubbornly refused to give way out of the Woodcote chicane, forcing the Frenchman to dive left and right before necessarily lifting off to avoid the tardy Zakspeed - immediately before the start/finish line. Prost agreed that the lap had been good, perhaps his fastest, but that it wouldn't have made pole. Maybe he would have scraped onto the front row, he said.
Ferrari horsepower - especially strong at the top end, which is what you need at Silverstone - certainly contributed to its qualifying rout of McLaren. Down the Hangar Straight Alboreto was fastest (196mph) followed by Berger (195), Prost (191) and Senna (190). And the cars were handling pretty well too.
For all that, the last qualifying session was no giveaway to them. On his first set of tyres, Berger spun luridly at Copse, and left no one in any doubt of his effort. Through most of practice the likely pole position man was Alboreto, his ambition perhaps raised a notch or two by the need to find gainful employment for 1989 and the desire to show Ferrari he should not have been shown the door. Whatever the explanation, the Italian looked like a born again race driver at Silverstone, set the fastest time on Friday, made no mistakes worth the name and topped the lists for most of Saturday afternoon.
"The car's quite well balanced here," he said, relaxing perhaps at the thought of escaping Maranello polemics next year. "And we're strong on the straights." He was optimistic, then... "No, no, not for the race. No way." Why was that? He pulled a face. "Fuel. Okay, we can beat McLaren over one lap here. But if I try to stay with them in the race, I'll run out before the finish. That's a fact."
The McLaren drivers agreed that here lay cause for optimism. Senna said: "Because of trying to get the handling right, we haven't done as much 'fuel running' as usual, so we don't really know what the position is with fuel consumption. But yes, I think we're in better shape than Ferrari there."
Prost agreed: "To be honest, I'm not concerned about Ferrari in the race. I'm worried about some of the atmospheric cars - especially the Marches."
As he left Paul Ricard the previous week, team manager Ian Phillips expressed high hopes of a March win in the normally-aspirated class at Silverstone, and right from the start, both Mauricio Gugelmin and Ivan Capelli were among the really quick times. Around the circuit the 881s looked better balanced and just plain faster than any others in the place, and the likes of Benetton and Williams - as well as the Lotus and Arrows turbos - were never on a par with them.
Gugelmin, in his element finally at a grand prix circuit he knows, raved about his car. "On my quickest lap I took Club flat - absolutely flat! That's how much confidence I had in the car," he grinned.
Later in the day this comment was relayed to Stefan Johansson, dejected and resigned after trying to qualifying his Ligier. "Flat?" he said, at first apparently unimpressed. Yes, flat. "What?" The truth began to dawn on him. "You mean in top?" Yes in top. Stefan rolled his eyes. It wasn't like that in the Ligier, he said.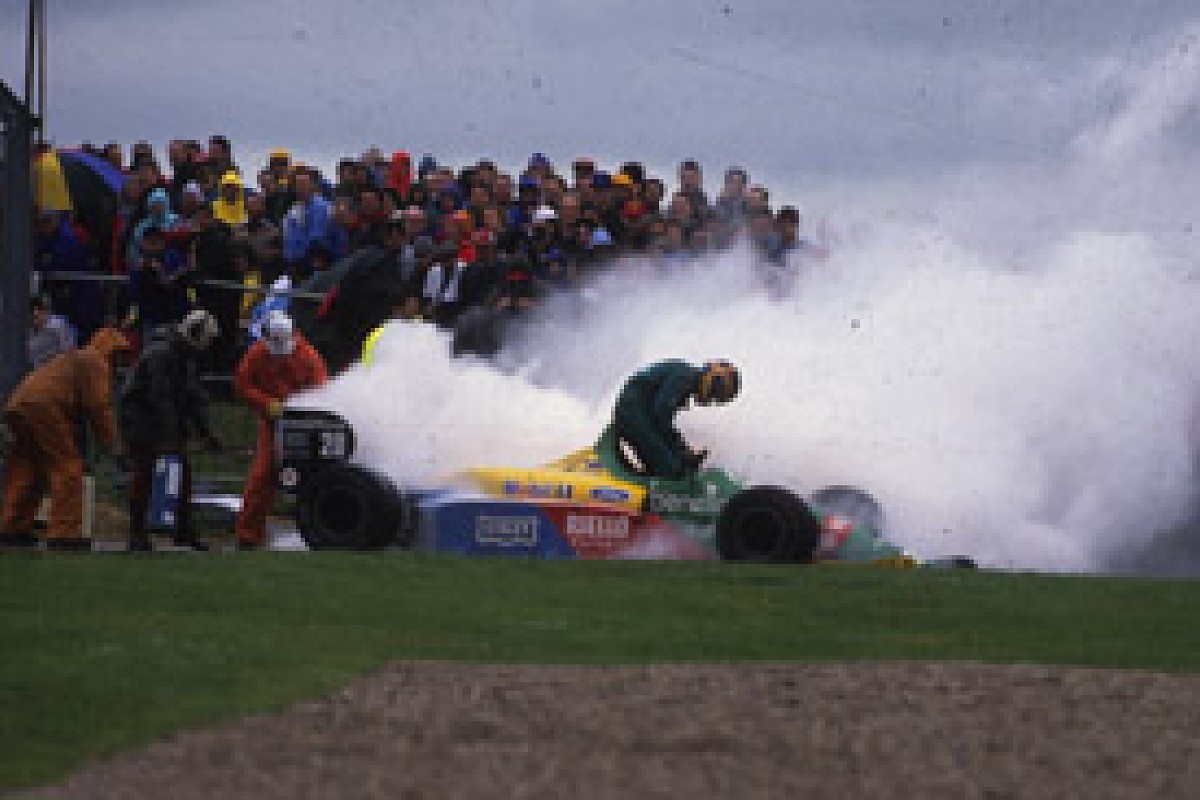 Boutsen was not without his problems © LAT
The revised front suspension introduced at Ricard had undergone further refinement in a Gugelmin test at Pembrey between races. And Mauricio and Ivan both confirmed the good work done. Fifth and eighth on the first day - despite using their Ricard race engines - became fifth and sixth in the final session. March had row three to itself, only behind the McLarens and Ferraris.
Gugelmin shook himself a little with a spin - Club again - on Saturday afternoon, and Capelli had a bad moment when a rear rocker bolt let go as he came out of Woodcote, but nothing was going to dent their enthusiasm. Suddenly everyone was talking about turquoise cars, even Prost.
The yellow ones by contrast, continue to mystify. True enough, Nelson Piquet was vaguely in the picture - seventh - and the gap between the Honda teams was less pronounced than we have sometimes seen. Even so, the world champion was 1.5s from the McLarens and was unable to match the atmospheric Marches at this, the fastest circuit of all. And he was less than 1s quicker than his team-mate Satoru Nakajima.
In qualifying, at least, the Benettons were disappointing, with Alessandro Nannini eighth and Thierry Boutsen only 12th. Engine problems put Nannini in the T-car for most of each qualifying session, and Boutsen was never happy with the car's straightline speed. Balance, they both said, was reasonable, nothing more. For once, the technicolour cars were not the class of atmospherics.
Derek Warwick was the fastest British qualifier for the British Grand Prix, despite persistent understeer from his Arrows: "I cannot get everything into Copse. I've tried everything: I've tried throwing it in like a rally car, tried sneaking up on Copse, hoping maybe it hasn't seen me yet, but nothing works. Overall, it's not bad, but I'm not happy with our fuel consumption."
One man definitely happier on Saturday though, was Mansell. No point in pretending - unless we had a wet day, when something extraordinarily might be expected - that this could be a repeat of last year, when he won gloriously. In normal conditions, a Williams-Judd couldn't look for speed at a March-Judd, let alone a McLaren-Honda or Ferrari. On Friday Mansell was very depressed.
"One flying lap - and the thing threw me off the road at Copse," he said. The car went off the rumble strips and onto the grass, giving it's driver his umpteenth fright this year.
The session finished at 2pm and 15 minutes later technical chief Patrick Head had reached a decision. Previously, when Mansell had asked for a 'normal' FW12 in place of the 'reactive' car, he had been told the request was unrealistic, that it would take a long time, be ready for only the last few races of the year. Now, up against the wall, it took less than 24 hours.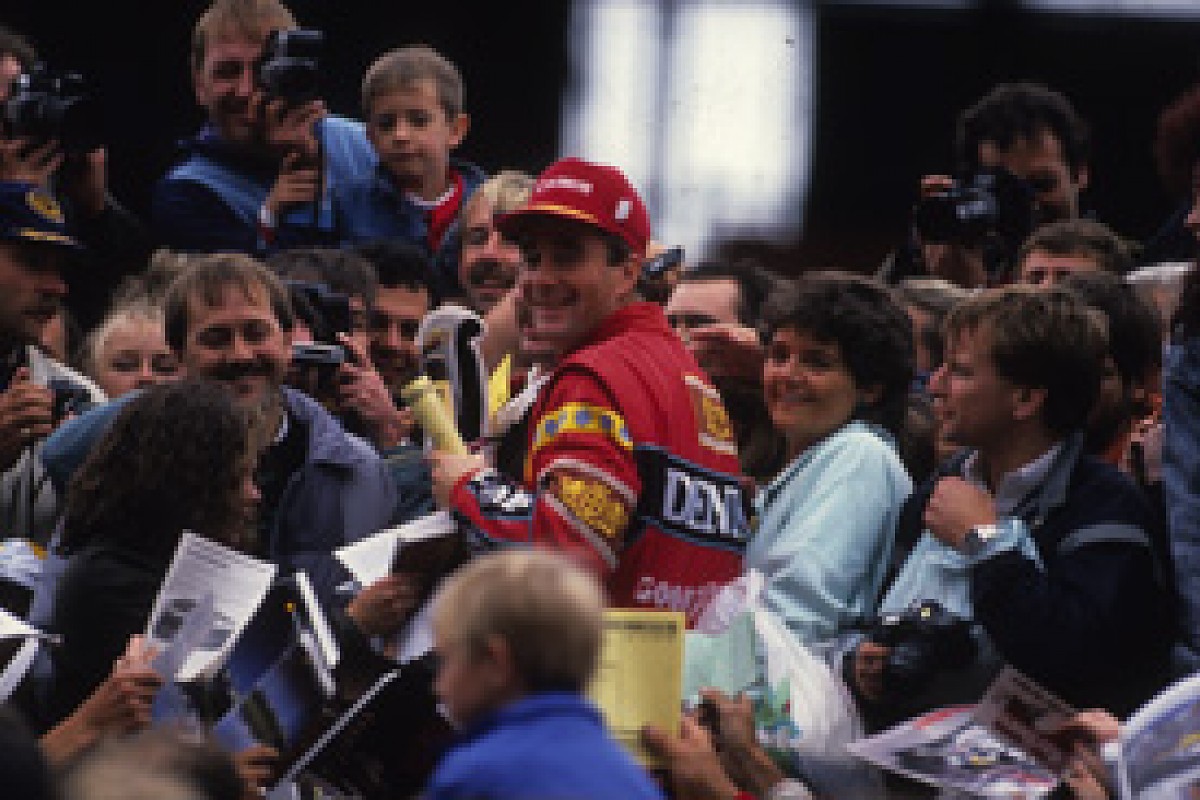 Mansell was the darling of the crowd, even before the race © LAT
"It's a bodge, frankly," Head said of the revised car driven by Nigel on Saturday. "We've put steel mechanical springs and dampers on. We changed the front struts into dampers, designed some new bits and pieces which we machined up overnight. We did some new pistons for the front struts. It's a bit of a bodge, as I said. I just decided I'd had enough: we've got a problem with the reactive system at the moment - we're getting air into the hydraulics, which means that it doesn't stay good for more than a lap or so at a time, we haven't found out why we have the problem, and we just can't carry on running like that. Form a handling point of view, it means we were chasing a different animal every lap, which just confuses everyone. So for the moment we're back to simple bits and pieces. We've had Mansell's car set-up like that today, and for tomorrow we'll probably have all three like that."
Mansell was predictably pleased: "The only problem is that I've got to learn to drive the car again - it's a long time since I've driven a passive car. I must thank the team, because they put in an all-nighter to get it ready for me today. The car is nowhere near the set-up for this circuit and yet we're eight tenths quicker than in a car we've been developing all year long. It needs a completely different technique to drive it, but it's amazing what a difference it makes - just trusting it. Now I can feel I can charge into corners and really lean on the car, whereas you couldn't with the reactive one. I'm much more confident looking forward to the race. It's a bit late frankly, but I've got to thank Williams for taking this action. Better late than never."
Presumably he'd be reluctant to go back to the reactive system in the future? "I won't. Period. We've changed now and if they want to bring a reactive car out again, then it's for [Riccardo] Patrese, not me. I don't want to know. And I think probably the whole team's had enough of it for the time being."
The race
Mansell, then, was one man positively hoping for rain on Sunday, and Michael Fish & co gave him hope. Most people didn't want it, however, not even March, which felt its cars would be too stiff for rainy conditions. Ferrari and McLaren drivers also hoped for a dry day, although they conceded that a wet race would at least take away their fuel consumption worries.
"It's been bad here," Prost said. "That's because it's been cool. When it's cool, the horsepower goes up and the fuel consumption does the same. We're not in the best shape, I must say. But even so I think it will be a McLaren win."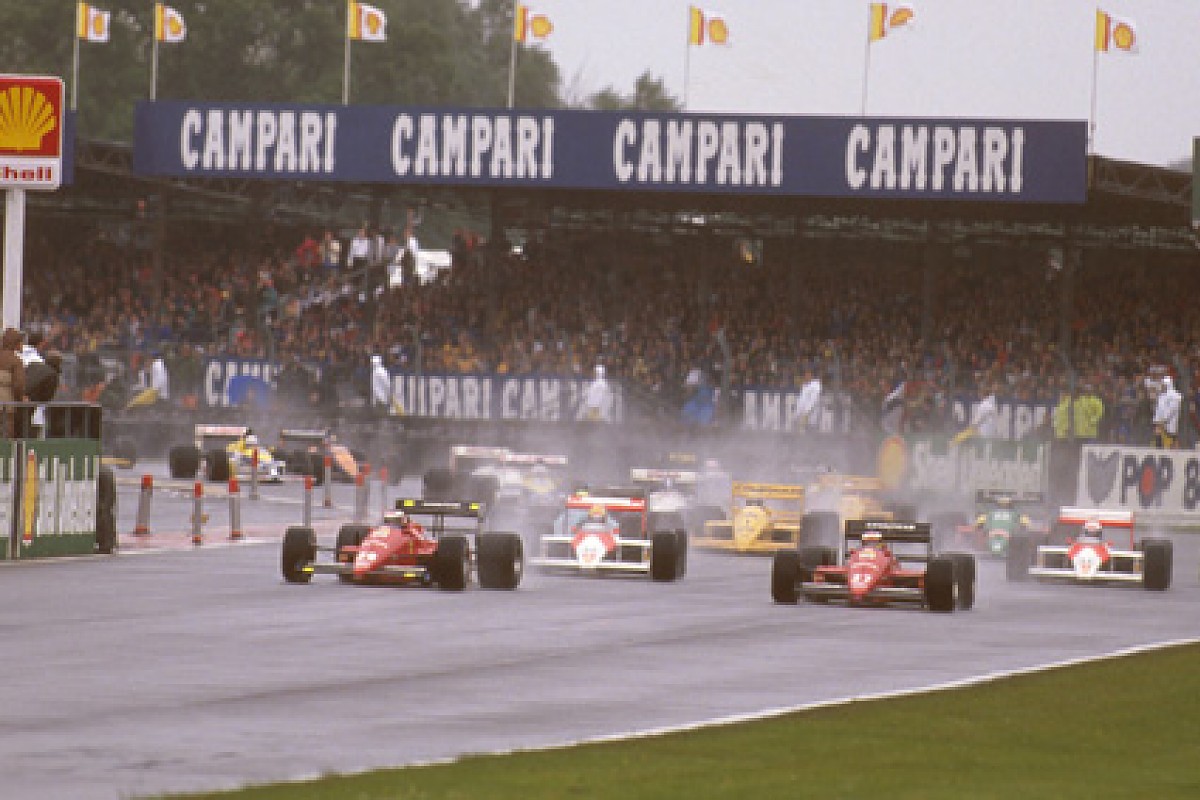 Mansell was hoping for rain, he said, and Sunday morning will have pleased him: grey and forbidding, the wet was clearly in for the day. Frank Williams however, said he doubted it would be to the atmospherics' advantage: "As soon as you have rain, the turbo guys' fuel worries disappear. They have a considerable power advantage, so they just crank on more wing than we can - and that helps them through the corners. I don't think the rain will help us at all."
The warm-up was a trifle inconclusive, for it was run in changing conditions. For the first 15 minutes the track surface was merely damp, allowing the inevitable Senna and the impressive Capelli to set quick-ish times, but the second half of the session was marred by the return of the rain, and perhaps it was the times of this period which were truly representative of the race to come. Again Senna was right there and so was Nannini, despite setting only 18th best time overall.
So to the start. Alboreto got the power down slightly better than Berger and looked slightly like snatching the lead into the first corner, but the Austrian held his line and his place, and within half a mile his team-mate had been passed by Senna, clearly not in the mood to hang around.
Prost, on the other hand, had got away hesitantly, and in the thick spray was swamped on all sides during the first lap. He completed it in 11th place and the Honda V6 sounded not quite clean. During the morning session it had cut out momentarily, then again during the final warm-up laps. But later Prost said he had simply, bogged down at the start, letting the revs drop.
Every succeeding lap dropped the World Championship leader further down the order. In time he was even overtaken by the likes of Stefano Modena and Alex Caffi. After 24 laps he came in and climbed out, explaining with remarkable candour his retirement.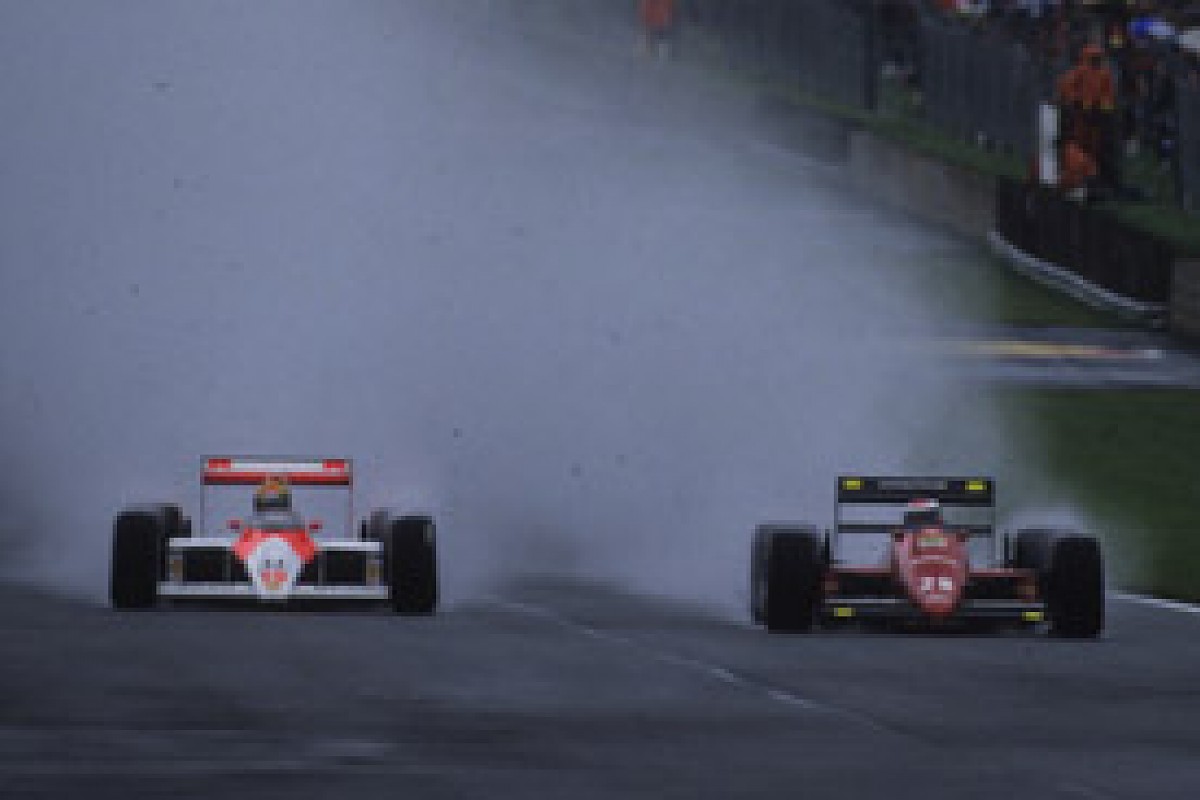 Senna didn't take long to overtake Berger for the lead © LAT
It was reminiscent of Niki Lauda's celebrated withdrawal at Fuji in 1976. Then, as now, the World Championship was at stake. "The handling of my car was terrible from the start," Prost said. "Understeer here, oversteer there... I was getting into huge slides and taking huge risks to run 15th. Why risk a big accident, maybe break a leg or something, and put yourself out for the rest of the year - so I can maybe be 12th or something? Everyone does what he wants in his own car and his own life. I know maybe I lost the championship today, but I decided to stop."
It was a dignified response of a brave man - one not afraid to admit fear - but still it left you feeling slightly uncomfortable for him. This, after all, was Alain Prost, the greatest of his time, the man who braved it out with Senna at Ricard just a week earlier.
So now the scene was set for Senna to make major inroads into Prost's points lead over him - 15 - going into this race. And during the first few laps he truly hounded Berger, sitting right on the Ferrari in what amounted to dead reckoning. If you were behind someone, you couldn't see much of anything.
On the first lap Senna tried to put a move on Berger at Stowe but the Ferrari chopped over to claim the line, and Berger - fuel worries or not - was clearly determined to stay put, at least for a while.
The two of them left the rest behind. After only five laps there were 16 seconds between Senna and the third man Alboreto, who was followed by a very confident Gugelmin, Nannini, a charging Mansell and an oversteering Capelli. Then we had Warwick and the Lotuses, Nakajima keeping embarrassingly close to Piquet.
For some time there was a relative stalemate, but as the rain ceased and a dry line of sorts began to emerge, new strengths and weaknesses came to light. Piquet, for example, gained in confidence, passed Warwick's Arrows and put space between himself and his number two. Gugelmin, Nannini and Mansell closed into a battling trio. At the front, quite divorced from the rest, Berger and Senna were suddenly much closer.
After his aggressive opening laps, why had Senna allowed the Ferrari to go clear for a while? "At the speed he was running, I knew that if I kept with him, I couldn't make the finish on fuel," the Brazilian explained. "I was pretty sure he couldn't either, but I thought I'd sit back for a bit. I couldn't see much when the rain was really bad, and I was getting water behind my visor, which made it mist up."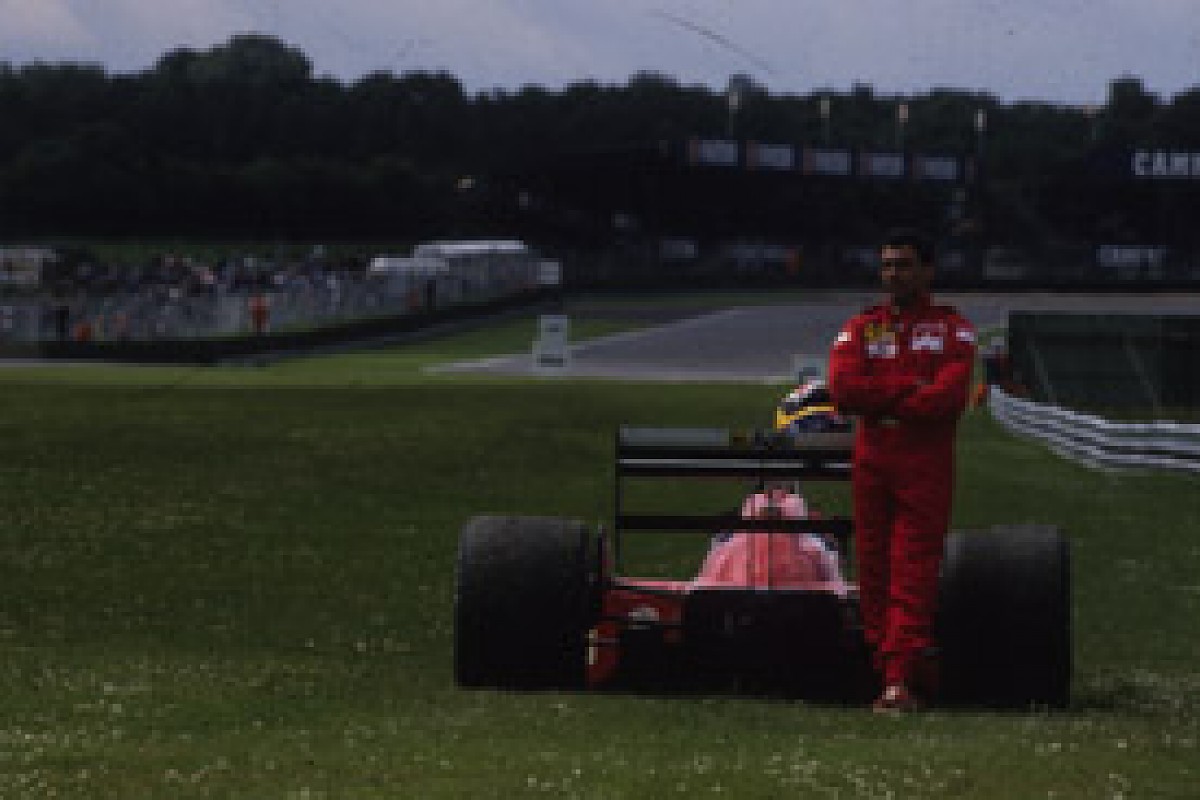 Alboreto ran out of fuel with three laps remaining © LAT
As conditions began slightly to dry though, Senna was swiftly filling Berger's mirrors again. On lap 15, as they prepared to lap Prost - yes, to lap Prost - on the run down to the Woodcote chicane, Senna went by the Ferrari. It was chancey, as his moves sometimes are, for it also meant ducking by his team-mate into the chicane - and, in the spray, his team mate hadn't seen him and turned in on his normal line. Fortunately, Prost is a charitable fellow most of the time, and he flicked his wheel right, giving his team mate room. The two McLarens might otherwise have been out of the spot.
At all events, Senna was through and gone, the result of the British Grand Prix now a foregone conclusion. The last wet grand prix was in Portugal three years ago, and he ran off with that one too. We remembered that. It was unlikely he would make another 'unforced error,' as at Monaco.
Berger could do nothing about him. "Problems?" he smiled afterwards. "Fuel. Nothing else. By half-distance, I was already five laps the wrong side! All I could do as the race went on was reduce the boost, reduce the revs and forget about racing."
Alboreto shared his predicament. Forty seconds behind his team-mate by the 20-lap mark, he was receiving the same dismal messages from his fuel read-out and had fallen prey to Nannini, Mansell and Gugelmin. The latter had lost places to the Benetton and Williams while trying to find his way around the Tyrells: "I went wide into the chicane, and Nannini got me there. Then, at Becketts, Mansell passed me.
For all that, Gugelmin's drive was fluent and mature, but he was not without problems: "We still had dry gear ratios in, which were too long for these conditions - I never used sixth gear all day. But worse was that we also had dry brake ducts, so the brakes were always cold when I first applied them and that made them grab unevenly. Without that, I think I could have stayed with Mansell and Nannini."
Nannini was certainly in extrovert form at Silverstone. On lap 20 though, he spun at Club, a legacy perhaps of his relative inexperience of racing at this level. Into the corner Mansell moved inside the Benetton and looked momentarily as if he would pass Alboreto at the same time. Nannini found himself pincered between the two, put the brakes on too hard and too late, wobbled, then spun. But he didn't lose a place and immediately set off in renewed pursuit of the Williams. These two gave us our best racing of the day.
Lap 22: Mansell got by Alboreto into Club, jinking so far to the right in his manoeuvre that the car was very nearly onto the grass. Now he was third, and under threat from the swiftly-recovering Nannini.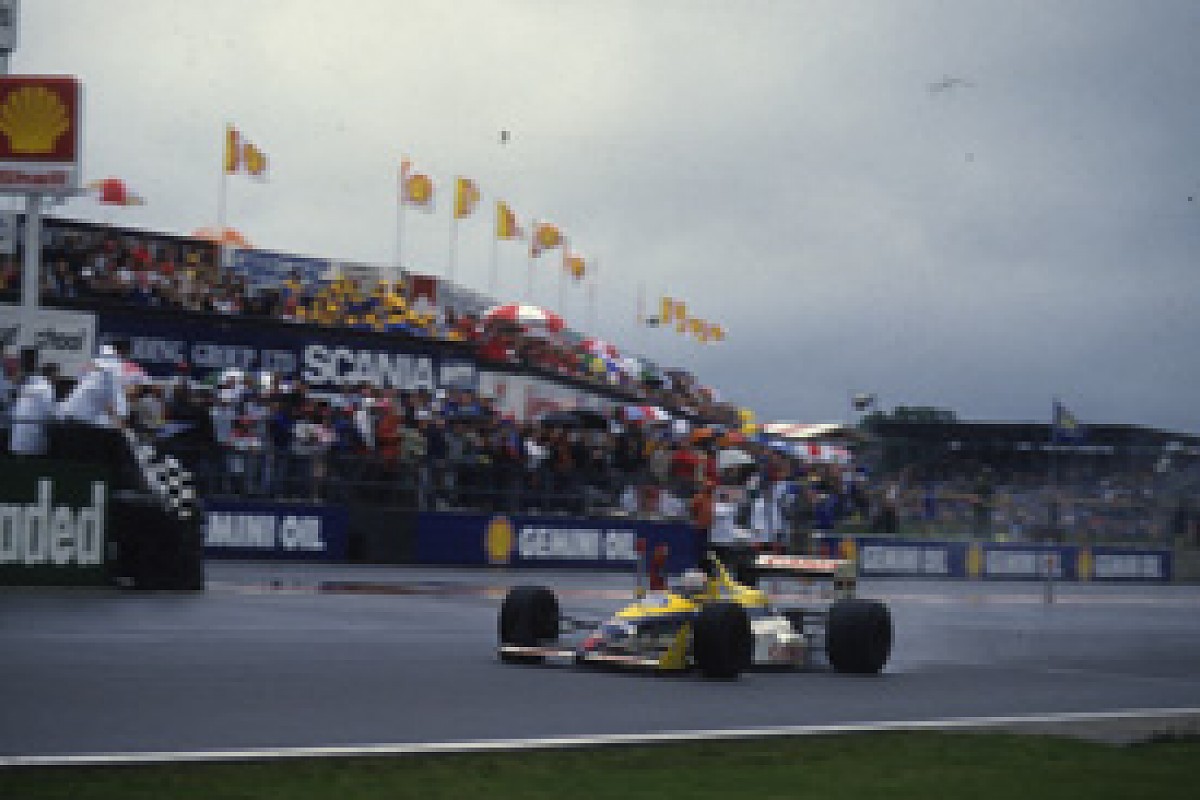 Mansell's second place was very well received by the crowd © LAT
Mansell drove a fantastic race on Sunday, perhaps one of his greatest ever. There had been virtually no time to set up the passive Williams properly, but his confidence was boosted massively by the thought that the car would at least handle predictably, lap for lap. Everything about his driving suggested he was enjoying a race car for the first time this year.
He drove intelligently, too. In the drying conditions he weaved his car all over the place, actively seeking wet road to keep his tyres alive. Soft-compound wet tyres last no time at all on a dry road. Inevitably, it cost him some time for it made his lap that much longer, but in the late stages of the race it might be crucial, who knew?
It was as a consequence of one of these meanderings that he lost third place - to the redoubtable Nannini - on lap 28. On the run down to the chicane Mansell went right-left-right, Nannini straight-straight-straight; and under braking the Benetton went by.
For a couple of laps it pulled away from the Williams, too, Nannini setting a new fastest lap on his 29th tour. But his 30th took rather longer for again he spun - this time at Woodcote. The car spun into the gravel trap, but its driver somehow got it out again, drove behind the guardrail and rejoined. In so doing, he by-passed the chicane altogether, and might have attracted a protest. Happily, though, no one saw fit to make it.
By half-distance most of the racing was done for the day. Senna had 14s over Berger and the Ferrari was 45s ahead of Mansell. Alboreto, cursing his fuel gauge, had been passed for fifth by Gugelmin and at this rate one couldn't hold out much hope for Berger's long-term prospects. Cruise was all the red car could do.
Capelli retired at this point. From the start his March had been oversteering, as had Gugelmin's during the final warm-up laps, but inspired guesswork on the grid - lowering the car a fraction, taking off a little front wing - had left the Brazilian's car perfectly balanced. Capelli's was not so, but he nevertheless ran well in the top eight until an alternator problem sent him to the pits with a steadily worsening misfire. March, like McLaren, were down to one.
On lap 39 so too were Benetton, for Boutsen pulled off with a broken gearbox. Although not on Nannini's pace, the Belgian had run for a long time on the tail of Piquet, the world champion looking something like his old self as conditions dried out, even unlapping himself from Senna.
As the race went into its last 20 laps, thoughts began to turn increasingly to tyres: would wets last on an increasingly dry surface? And again: who would chance a switch to slicks?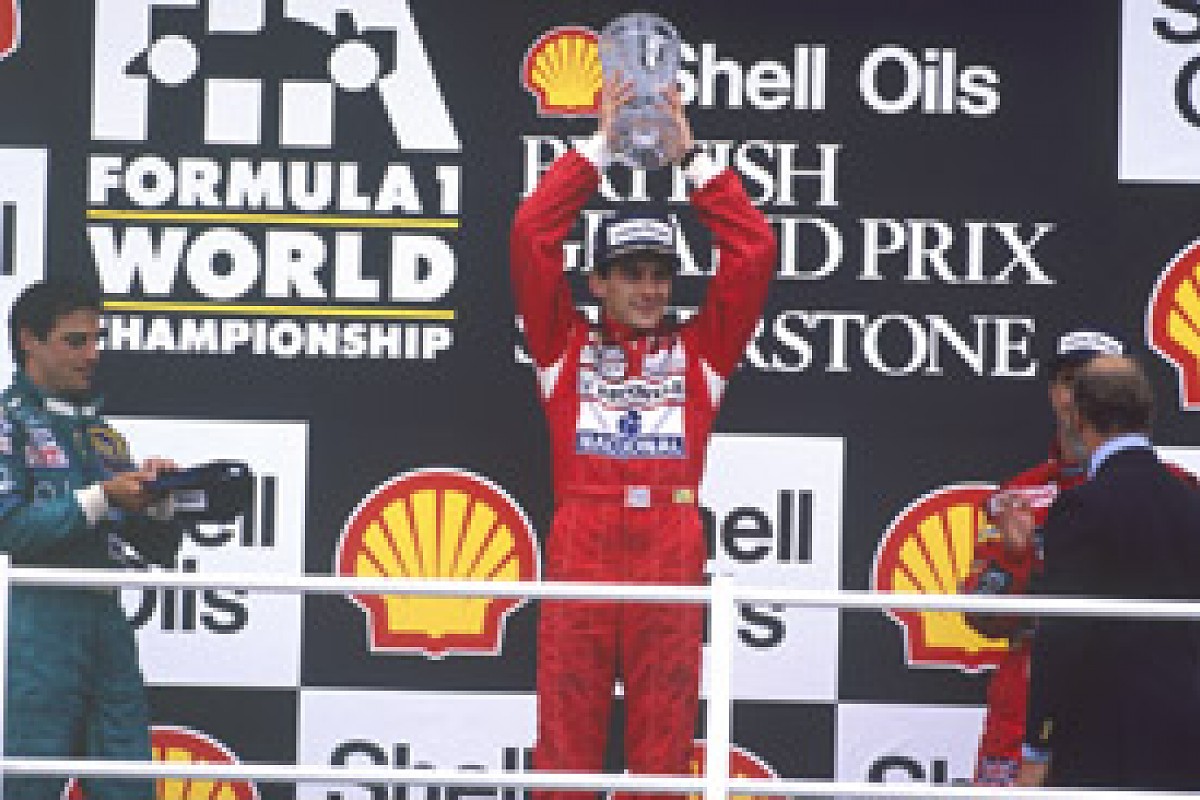 Senna celebrates on the podium with Nannini and Mansell © LAT
Alboreto did, and he was unlucky. On lap 46 he pitted for dry tyres and it could - just could - have been an inspired decision. As it was, the rain returned almost immediately, and within five laps he was back in for a new set of wets.
The extent of Ferrari's fuel problem became abundantly clear in the closing laps. Berger, at one stage, was as much as 50s up on Mansell, but was passed by the Williams on lap 50 to predictable and audible rapture from the stands. On lap 52 it was Nannini's turn to go by, then Gugelmin's. With 11 laps left the polesitter and early leader was an uneasy fifth, which became sixth when Piquet caught him.
Still, it seemed that he would at least gain a point for his days work. On the last lap though he had Warwick's Arrows closing in. What else could he do? As much as possible he gunned the Ferrari, exiting Club in a wild slide. But it seemed he'd done enough. Through the chicane Warwick was still behind, but on the final run up to the flag Berger's engine coughed, and before the line Warwick, Eddie Cheever and Patrese all got by. In a few yards sixth had become ninth.
All of this took place immediately behind Senna, who had slowed considerably to conserve fuel, but there was no risk to him, as he took the flag for his fourth win of the season.
"It was a satisfying win today," he said. "Because this weekend we never got the cars handling properly, and it's never easy to race on a day like this. Very dangerous today, but I'm glad to have won in England for the first time."
It was a magnificent drive by an artist with a light touch. Mansell, Nannini and Gugelmin all left their mark on the race, but Senna made it his own. And Prost, after all, had said a McLaren would win.