Last weekend's Sunday Times suggestion that the BBC will axe its Formula 1 coverage at the end of 2013 - with the budget freed up going towards saving BBC4 - has caught lots of attention.
There have been some doubts cast as to the veracity of the figures quoted in the story relative to what F1 actually costs the BBC, but, as ever, the bigger picture needs to be looked at.

The BBC resumed F1 broadcasting duties in 2009 and continues © sutton-images.com
Evidently, nothing has been decided yet, but the feeling seems to be that the Beeb could be about to pull the plug on its expensive sports, such as F1 and Tennis (Wimbledon), in favour of bolstering its arts and culture programming. If someone makes that decision then so be it, and there's probably not much any of us can do about it. But should the rights fee be so big that it stands out as the obvious target to scratch a red line through?
It's all part of another debate - the one about the necessity of having to accommodate a commercial rights holder sucking out 50 per cent of F1's revenues. In Dieter Rencken's column last week, former Toyota F1 boss John Howett explained why he thought a breakaway might happen this time around (at the end of 2012).
It all goes back to the sale of F1's commercial rights for 100 years for a little over US$300m a decade or so ago - one of the most unfathomable occurrences in the history of business. Well, no... Entirely fathomable in fact, just unbelievable.
Some have questioned the deal's legal validity but one must assume that if it could be overturned, it already would have been, hence the reluctance to fully set in motion a breakaway and ride out the legal consequences of breaking existing circuit and broadcasting contracts.
The point is, if the revenue being taken from the sport remained within it, the facility would exist to offer a free-to-air broadcaster in a country with a huge and expanding F1 fan base a deal which did not require the bloke signing it off to go haring off in search of the nearest air-raid shelter.
An F1 marketing man said at Monaco that he saw it as inevitable that live coverage of F1 would ultimately go to a subscription channel, as has most major sport in the USA.
That though, is contrary to a business model through which F1 derives considerable income from sponsorship that, in turn, is dependent on viewer numbers. As everyone knows, the figures for the likes of Sky are miniscule compared to those of the BBC.
Martin Whitmarsh supports free-to-air F1 © LAT
Formula One Teams Association (FOTA) chairman Martin Whitmarsh has expressed the view that it is vital for F1 to remain on free-to-air TV and, in response to the Sunday Times story, said: "It would be very sad, and most unwise, if the BBC were to disappoint so many millions of British sports fans by axing F1, and that's why I don't believe for a moment that they'd seriously consider doing such a thing."
It would be more than a shame if that happened. The BBC does a great job with F1, notwithstanding unforeseen two-hour Canadian GP delays when the luckless team was reduced to bird-watching and making observations about Rihanna's hair.
Sky has been with us now for 20 years plus. A lot of its sports coverage is excellent but, inescapably, it has to generate advertising revenue and this can make watching it a right royal pain in the backside.
Take the back end of last week. The US Open golf championship. A major. The sort of thing you used to be able to rely on the BBC for. Sky though, moved in on golf. The BBC will continue to have live coverage of The Open in the UK, but lost its exclusive rights to the US Masters last year after holding them since 1986. The US Open could be found on BBC Radio Five Live and Five Live Sports Extra, but not on terrestrial TV.
So I sat down with a couple of bottles of Old Speckled Hen and prepared for what was a great sporting story. Rory McIlroy won the hearts of the world's golf enthusiasts when he took a four-shot lead into the final round of The Masters at Augusta two months ago, then imploded.
At the US Open, he dominated the first three rounds and took an astonishing eight-shot lead into the final round. Either way, it was going to be a superb sporting story.
He would either become, at 22, the youngest winner of the US Open, or the wheels would come off agonisingly again. A young man from Northern Ireland trying to succeed his countryman Graeme MacDowell as winner of arguably the world's most important golf tournament. As they admitted, the chances of different back-to-back US Open winners from a place the size of Northern Ireland amounted to lottery numbers.
After 10 minutes of golf, there was a short Rolex ad, then a plug for Sky's new Wall of Fame programme - featuring Tamara Ecclestone incidentally. Then a Ford Kuga ad, followed by Titleist golf balls and Vodafone. A few minutes more golf, then Callaway drivers, Bombadier beer, William Hill, Samsung, Vodafone, another Sky plug, the same Kuga ad, etc.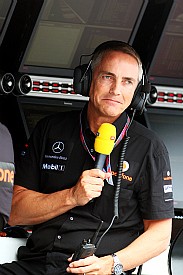 F1 races could feature ads for phones and oil if switched to Sky © LAT
I know people used to complain about ads in the middle of ITV's F1 coverage and while it is, in theory, much easier to schedule ad breaks during a round of golf without missing anything that doesn't suffer for being recorded, the frequency and length of the ad breaks did seem to be worse than anything I could remember.
McIlroy this time, was stunning, won his first major and rewrote the record books, carding the lowest score in US Open history. According to the golf experts, he even eclipsed Tiger Woods' performance when he won the same tournament at Pebble Beach by 15 shots a decade ago.
Great to watch but, in another way, unsatisfactory. If you watched every minute of the coverage, the ads drove you to distraction, as I discovered when I watched the third round last Saturday night. The only way to do it was to sit down a couple of hours behind 'live' and keep reaching for the remote to edit out the ads. Go too far. Rewind back. Try again. Not the most relaxing method of watching a sport or enjoying the informed commentary.
More and more people, you'd imagine, will do the same if, as predicted, pretty much all major sport eventually ends up on subscription or pay TV. What that will mean for advertising revenue, I don't know. The whole thing and the whole use of new media will become much more sophisticated.
I went to bed thinking that F1 needs to be doing everything in its power to keep it itself on the BBC, whatever that may be.