Sometime this week we can expect a release from Renault/Genii about an internal restructure that will see the team part company with sporting director Steve Nielsen, who has been in the paddock 20 plus years and with the team for more than 10.
I'm not quite sure how it will be dressed up but when I spoke to Steve in Montreal, he was quite keen that the correct chronology be understood. The fact is that he resigned over the weekend of the Spanish Grand Prix when he discovered that John Wickham, formerly the team manager of the Spirit Formula 2 team in the eighties, who took Honda into F1 for a season before they began an association with Williams, was in the paddock conducting what was effectively an efficiency study on the team.
Wickham and current Renault team principal Eric Boullier had mutual respect for each other based on their time in A1 GP. Nielsen, I gather, was told to work with Wickham, but as sporting director felt that if the team needed someone else, he should be involved in recruiting them.
Not a big deal, you might think, but there have been rumours of underlying discontent around the team for some time. Back in the mid-'90s - the Williams versus Benetton years - it had a reputation as possibly the sharpest race team in the paddock, with real strength in depth.
You would look at the pit wall and see people like Ross Brawn, Rory Byrne and Pat Symonds. Later, after Ross and Rory departed for Ferrari, there was Mike Gascoyne, then Bob Bell, still working with Pat. A good analogy was probably peeling an onion - take away one layer and there was another just as strong underneath.
Today there is James Allison and Alan Permane, both highly respected figures with lots of experience who know the game but, below that I'm told, the experience level is not what it was. Instead of men with 10-20 years F1 experience you are looking at people with three or four.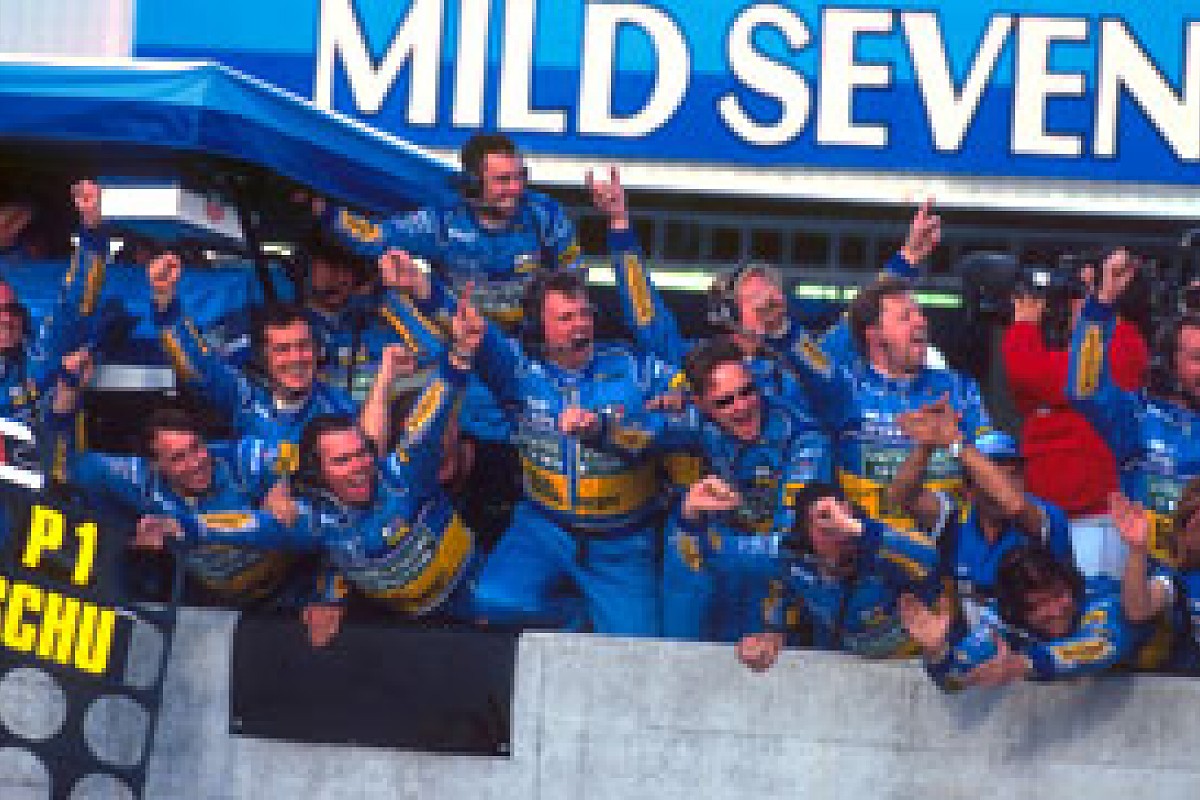 The Renault squad had strength in depth in the mid-90s © LAT
In Montreal I asked Boullier about the efficiency study. "You always do it," he said. "That's a principal of any competitor - to always look at yourself. We are still looking at finishing the restructuring of the team to be better."
Another reason companies 'restructure' is to cut cost. Bell would not have been cheap and Neilson too would have been reasonably well remunerated. There have also been rumours about the financial well-being and sustainability of the team since Renault effectively withdrew at the end of 2009 and Genii took the majority stake. I asked Boullier about that, too.
"My understanding is very clear: there is no issue at all," he said. "But, as we say, there is no smoke without fire. So it's clear there was some stress, let's say, on a couple of processes to be done financially, just because it's always three or four parties getting together and if one of them fails that causes a mess in the loop. That is why there was this rumour. But there is no issue at all and you will not hear these rumours again."
Bell, now at Mercedes, was a straight-talking sort and apparently didn't like the direction he thought things were headed. Ditto Nielsen. It hasn't helped the feelings of bonhomie and good will that Boullier was quoted in an interview in the French L'Equipe newspaper saying that the team lacked effective trackside management and that some of the English were arrogant.
"I don't know if something got a bit lost in translation there," one of the lads said at the weekend, "but, as you can imagine, it went down like a lead balloon..."
I don't want to paint the wrong picture here. There is not widespread discontent with Eric Boullier or anything of that sort. In fact, there is gratitude towards Genii for keeping the doors open, ensuring that people are paid and encouraging the sort of adventurous approach we have seen in the design of this year's car.
Genii's Gerard Lopez is a motor racing enthusiast, which is good, but what venture companies do is buy things, turn them around and flog them on at a profit. F1 though, is an expensive business and there is a concern that enthusiasm for writing the sort of cheques it requires will wane fast if cash is flowing out much quicker than it is coming in. With Group Lotus, the title sponsor, having such grandiose plans in so many spheres, it's fair to say that there is a degree of scepticism in certain corners of the paddock.
Robert Kubica's situation had obviously not helped. Boullier says that Vitaly Petrov has undoubtedly upped his game but, in his words "you cannot buy experience."
Those words will be seen as ironic by men like Bell and Nielsen in view of the amount of experience that appears to be disappearing through Enstone's revolving doors. Talk to some of the guys in the team and they will tell you that in the Flavio Briatore days even Flavio wouldn't claim to have run the place on a daily basis. He left men like Pat, Mike and Bob just to get on with it and the team operated as a very streamlined pyramid.
Today, I'm told, you get interference from people with plenty of company experience but not F1 experience. Sometimes people with strong views on things they don't fully understand. Trivial details that have nothing to do with the car going quicker being revisited five times and even conflicting instructions from someone else in the company tasked with doing the same thing. In short, a blurred process which can make it very difficult to do a proper professional job.
I've got to admit, I've seen that before in F1 and, normally, the bigger the corporate entity, the more it's prevalent.
While nobody is attacking Boullier, who is seen as a good guy, they do find it slightly odd that his first day of work in an F1 paddock was as team principal, even if he had a background elsewhere in the sport.
"He's done okay," one source told me, "but they seem to hold that up as a shining example of why you don't need real experience. The problem is, they don't see the down sides, the times that inexperienced people have to be saved from making errors. That goes unreported."
Times change. Of course they do. It's just that, like Frank Williams, I remember Enstone as a formidable race team and, for the group still there, you'd like to think that we'll see those days again.