Last year in Monaco, Peter Sauber made a profound statement. Asked what aspect of Formula 1 had changed most during his four-year absence from the pit wall after BMW acquired his eponymous outfit, the team principal named a handful before saying: "However, I'll tell you what hasn't changed: Formula 1's inability to take decisions until it's too late, and then either compromised decisions are taken or the matter is taken out of our hands..."
Exactly a year on, Formula 1 is the cusp of exactly that. On Friday FIA president Jean Todt's World Motor Sport Council faces its sternest test yet: a solution to the thorny 2011 Bahrain Grand Prix issue. Having twice ducked away from the matter - by way of expediently postponing a definitive decision - the matter can now be put off no longer.
The governing body could, nay should, have taken a stand back in February - with chaos reigning on the desert island and a state of emergency imposed across its sands, the FIA would have been totally justified in scrapping the 2011 race. In fact, sources suggest that was on the cards.
The move would ultimately have cost the sport around £40m (*) split 45/45/10 (commercial rights' holder/teams, with the balance being miscellaneous costs), but as this solution was considered, along came Japan's devastating earthquake. A tsunami and nuclear crisis followed within days - forcing MotoGP to hurriedly postpone its Motegi round - and in rapid succession F1 faced the prospect of two potential £40m losses and a trimming of the calendar to 18 rounds from a planned record 20.
According to those in the loop, the current Concorde Agreement expressly releases all parties from any obligations should an event not be held due to force majeur - which in this case specifically includes 'civil strife or acts of God', whether arising through 'natural causes, human agency or otherwise' - and thus the sport looked a loss £80m straight in the face.
Hence the decision taken during the WMSC meeting in Paris on 8 March, namely to grant the Bahrainis until 'May 1st at the latest if the Bahrain Grand Prix can be organised in 2011'. The day after the deadline, it was announced the FIA had "granted the Bahrain Motor Federation and the Bahrain International Circuit an extension until June 3rd, date of the FIA World Motor Sport Council in Barcelona. This decision was taken after consultation with the relevant Bahraini authorities and Formula One Management, the international promoter".
During this period, the opinions and assurances of the Kingdom's Crown Prince plus circuit officials were variously trotted out as justification for keeping the 2011 race on life support; not once were the voices of protesters been as much as recognised, suggesting money, not morality, talks loudest in F1.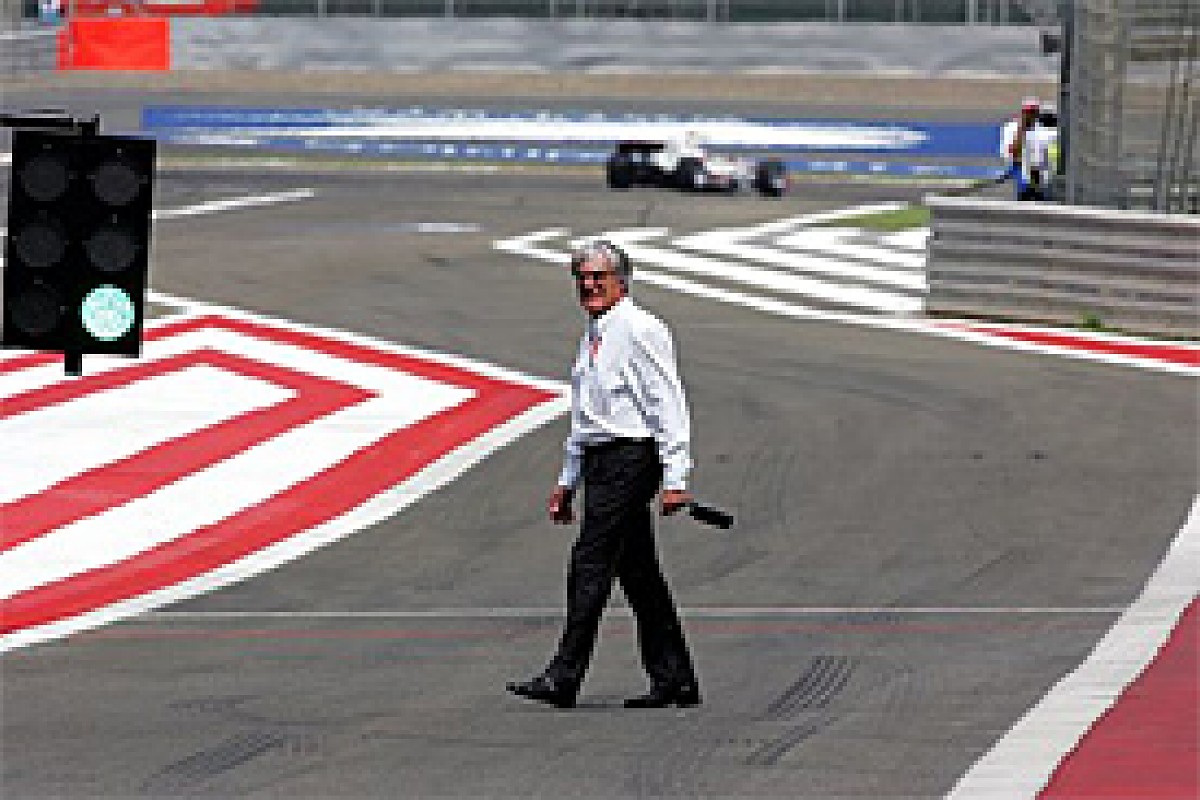 Ecclestone in the 2010 Bahrain GP © sutton-images.com
Here it must be said that Bernie Ecclestone, appointed CEO of F1's right's holding entity FOM by CVC Partners, majority owner of the rights to exploit F1, when the venture capital company acquired said lease from a consortium fronted by the octogenarian back in 2006, remains tasked with turning maximum profit from the property.
He is rather better acquainted with 'CP' - as Prince Salman bin Hamad bin Isa Al Khalifa, whose vanity projects the circuit and grand prix are, is known to friends - than with a bunch of protesters.
By the same token, Todt enjoys better access to the palace and motorsport officials desperate to host the race than he does to rioting crowds. Does this imply the Frenchman, successful in virtually every field of motorsport endeavour, permits family affairs to intervene? Not at all - but it suggests he is on better terms with powerful individuals than with the 'mob', logically.
Thus in the very F1 circles charged with deciding the future of the race, the chances are better than good that the pro-race faction continues to be heard more clearly than the opposition, particularly as the latter group can't compete with the £40m on offer, and money surely talks loudest.
The Bahraini government lifted its State of Emergency today, Wednesday - two days ahead of the crucial WMSC meeting - suggesting all is well in this oil-rich country made up of 33 islands. The protesters, though, vow the opposite, and have promised disruption of the race should it go ahead.
Their threats should be taken seriously for already too much blood has been spilt, and it all seems rather ironic when F1 offers its participants supreme safety standards - as attested to by the escapes of Nico Rosberg and Segio Perez without serious injury from two high-speed crashes in Monaco.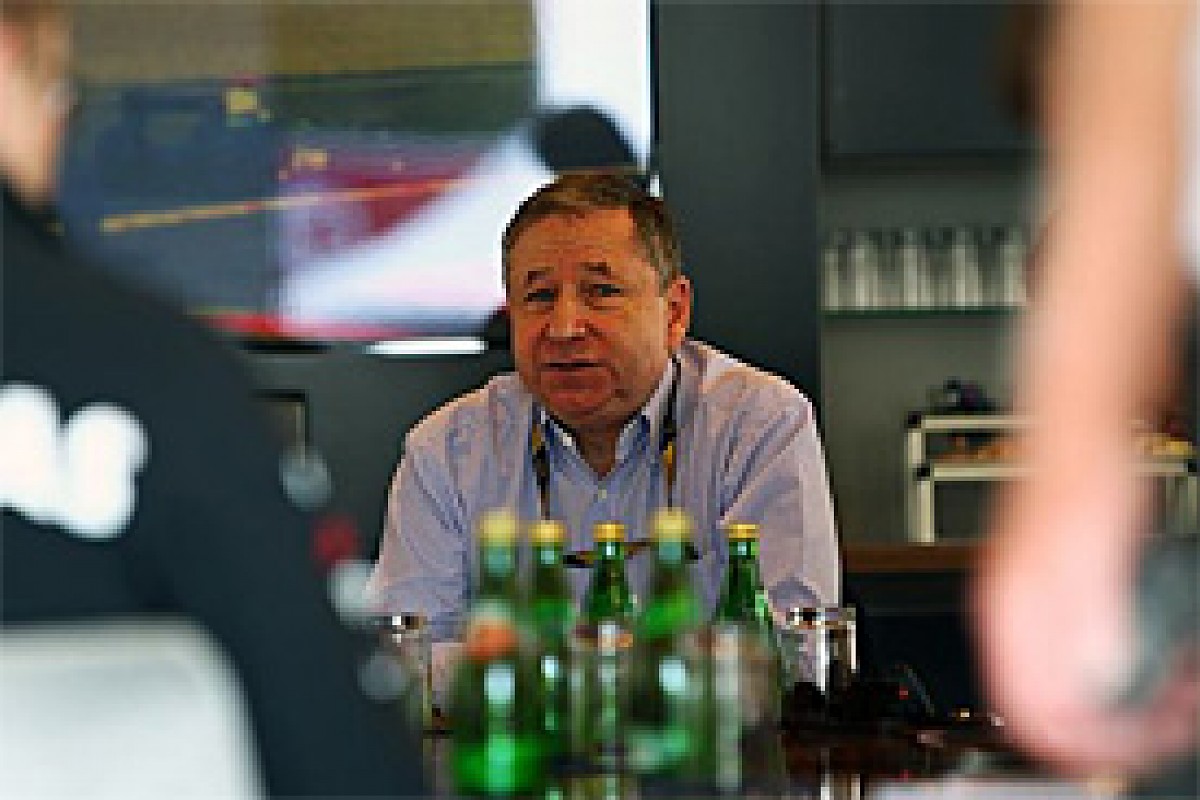 Jean Todt © sutton-images.com
There are, of course, three sides to every story - 'his', 'hers' and the truth - and while the first two groups have their reasons for spinning matters to their advantage, no reason exists to discount calls by humanitarian group Human Right Watch for the race to be postponed until Bahrain has returned to normal. Lifting of a State of Emergency hardly changes matters overnight, as proven by the fact that the monarchy on Tuesday said the nation would commence 'comprehensive, serious dialogue, without conditions' about national reconciliation.
In fact, last Friday HRW addressed a letter to the FIA and FOTA. The letter was received, said an FIA source, telling this column: "We confirm having received the (HRW) letter, and will be discussing this very important matter during our World Council meeting on Friday (3 June)."
It is all very well suggesting F1 'does not do politics or religion', but the fact of the matter is that it permits itself to be used for those ends, certainly the former. Thus, whether F1 goes to Bahrain or not, a political statement will be made: by staging the race this year F1 risks being globally viewed to be endorsing the ruling regime; a no-show by the sport would enable the protesters to claim victory: against folk who have direct or indirect influence over powerbrokers within FIA, FOM and FOTA.
Interestingly, teams and their partners/sponsors have been conspicuously low-key about Bahrain, certainly in public. Asked separately whether F1 should venture near the place this year, three team principals gave a resoundingly thumbs-down; asked to repeat same on the record, they refused.
Instead, they spoke of insurance difficulties, Home Office advice and the season stretching unacceptably into December - as first revealed by this column. However, to a man they refused to take a stand, moral or otherwise.
Ditto sponsors: the sponsorship director of multinational with operations in Bahrain admitted to encouraging its partner team to speak out against the race, yet will not insist upon removal of its livery should the race go ahead. Another questioned whether a 'are few protesters more important than a global audience for our product?', with a third not wishing to upset (Middle-Eastern) co-sponsors.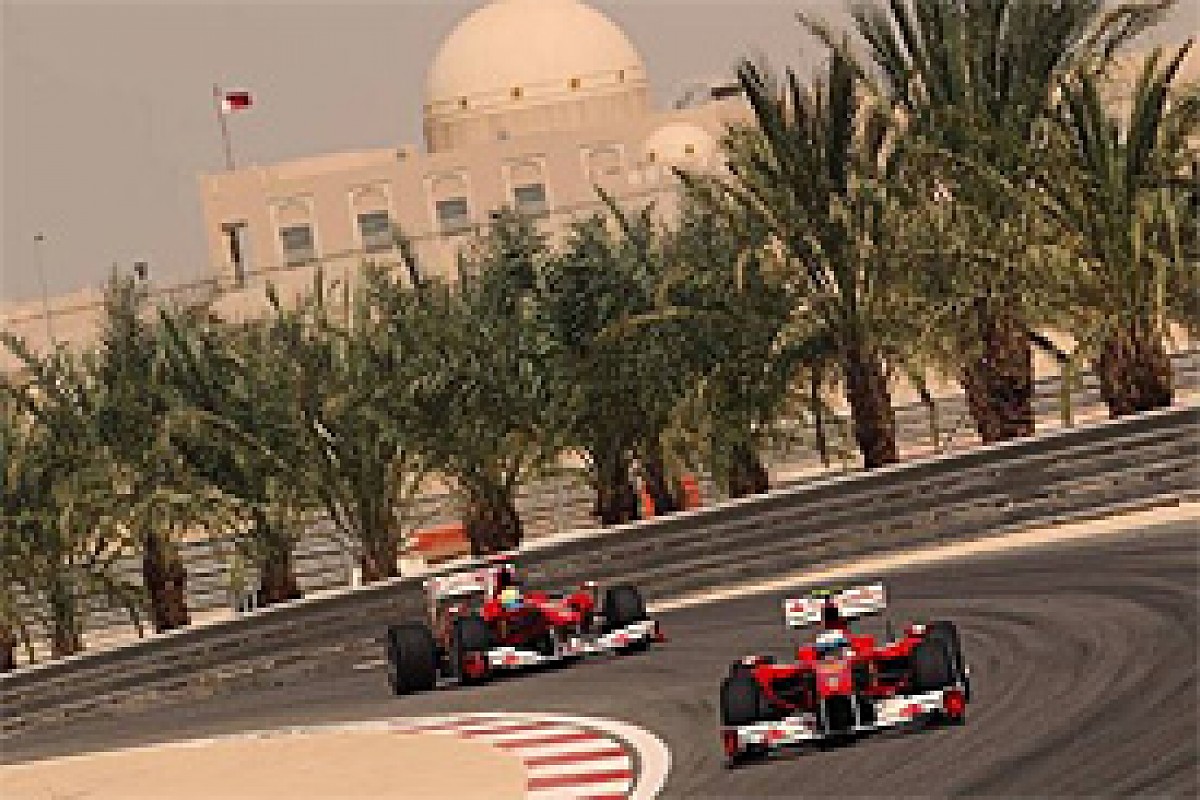 The FIA will decide this week in F1 action returns to Bahrain © sutton-images.com
Ah yes, the Arabian influence: Apart from Mumtalakat, the Abu Dhabi equivalent Aabar is a Mercedes Grand Prix shareholder which also owns Falcon Private Bank, the Swiss-based financial institution which announced a sponsorship deal with Toro Rosso in Monaco.
Add in Williams's Qatar connection, the 15% shareholding in McLaren held by Saudi magnate Mansour Ojjeh and Ferrari's long-standing relationship with Mubadala, another Abu Dhabi fund, plus the influence of Mohammed Ben Sulayem (UAE, WMSC Vice President) and Shaik Abdulla Bin Isa Al Khalifa (younger brother of the Crown Prince, Chairman of the FIA's CIK Karting Commission, Member of the WMSC, and President of the Automobile Federation of Bahrain) and is clear the region wields considerable power.
On Friday F1 thus faces the devil's alternative: damned if it does and damned if it doesn't. This predicament could so easily have been avoided had the parties taken (and stuck to)the only logical decision back in March, when Bahrain was patently unable to honour its contract. Instead, true to form, it wavered until too late, and whatever decision the FIA's WMSC hands down on Friday will have been compromised - or even forced up on itself by outside influences.
Exactly one year on Peter Sauber has again been proven totally correct.
* Made up of around £25m in hosting fees, £5m in Paddock Club and advertising fees, and £10m in potential penalties from TV broadcasters to cover advertising income through lost programmes and/or reduction in rights' fees.