It's a tough one, this. We complain that there aren't enough characters in sport, that the world has become too corporate and too politically correct, so I'm loathe to criticise racing drivers for speaking their mind. But Lewis Hamilton's post-Monaco comments to BBC's Lee McKenzie certainly caught the attention. Had I been Pastor Maldonado or Felipe Massa, I wouldn't have thought much of them...
You could understand Lewis's frustration. He's a racer, a competitor and in Monaco he knew he had a car capable of winning. Jenson Button proved as much. Fernando Alonso said later that the Ferrari didn't have the pace to take pole but if the grid had been representative, Hamilton and not Sebastian Vettel would have taken the top spot. Lewis's Q2 time had been a fraction quicker than the Red Bull, but we've all seen how fast the RB7 tends to be in Q3, so Alonso's opinion was open to debate. One thing for sure though is that Lewis would not have started ninth.
Qualifying was the root of Hamilton's problems. Despite early indications that Monaco was likely to feature relatively little tyre degradation, and hence reduce the benefit of tyre-saving, McLaren and Lewis decided to do just that and go for just a single Q3 run, leaving it relatively late.
It was risky and they paid the price. Just as Lewis started his hot lap, Massa emerged from the pits and cost him time in sector one, forcing him to abort the lap. Hamilton therefore had no banker time when Sergio Perez crashed his Sauber and brought out the red flags.
With only nine cars running when the session resumed, and just over two minutes remaining, the problem was not going to be finding a clear track but getting the tyres and brakes hot enough. Pirelli's Paul Hembery had already said that despite a track temperature of 42 degrees (celsius), the (option) super soft was taking two or three laps to get properly up to temperature. Clearly, with just over two minutes on the clock, Lewis was not going to get two laps; he was going to get an out lap and one flyer.
What then happened was that he was sent to the end of the pitlane early to guarantee a clear track. You could have understood it if there were 24 cars about to go out, or if there was the possibility of getting a second flying lap, but there wasn't.
All he effectively did was sit there with the tyre blankets off, losing tyre temperature. It was strange but it probably wasn't decisive in the end, as nobody went quicker.
As soon as you saw Lewis's sector one time you knew it wasn't going to happen for him and when he later jumped part of the chicane after the Swimming Pool, he had the time deleted. Instead of seventh he would be 10th, moving up to ninth into the grid slot vacated by the injured Perez.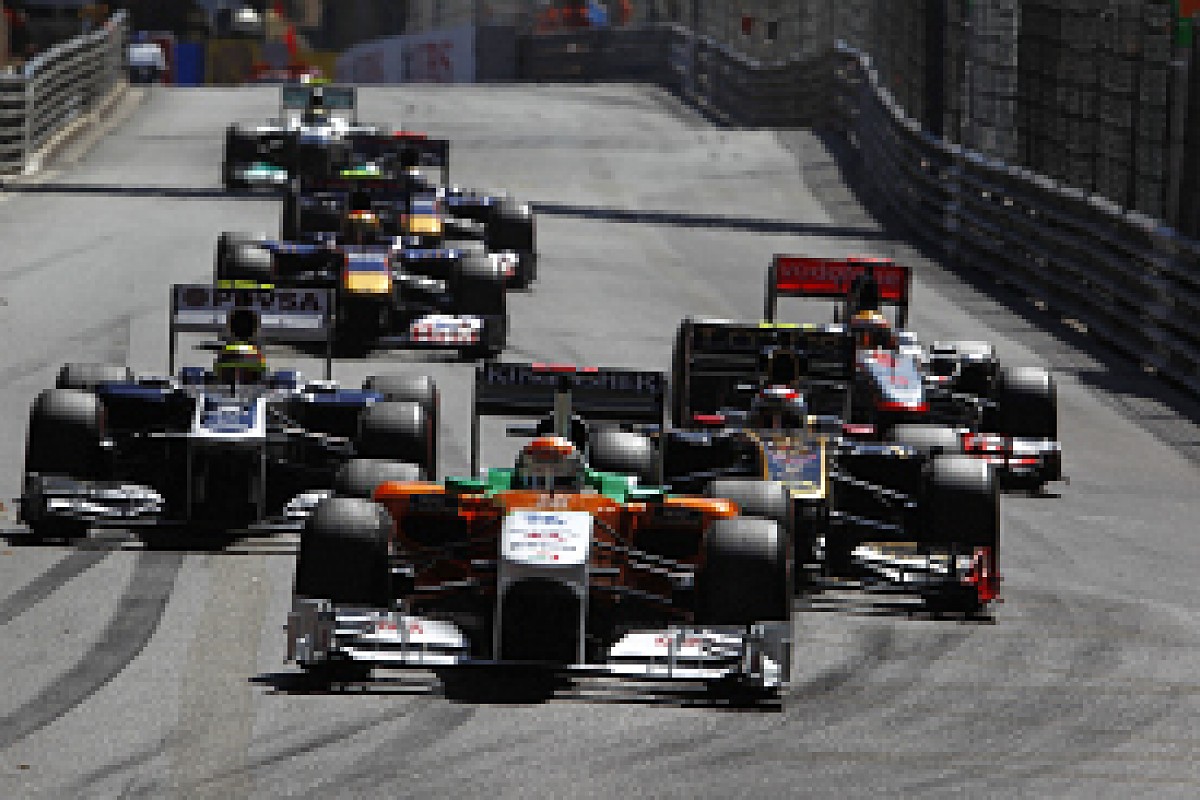 Ninth on the grid left Hamilton mired in the midfield all race © LAT
The better than expected longevity of both the soft and super soft Pirellis told you that this wasn't going to be a multi-stop extravaganza with tyre performance falling off the cliff, as some had predicted before the cars ran. Add in the fact that DRS was relatively meaningless in Monte Carlo and you were faced with what looked like being a relatively 'normal' Monaco. A procession, in other words. Which served only to multiply Lewis's frustration.
At the end of the first lap he was already almost 10s behind race leader Vettel and bottled up behind Michael Schumacher's Mercedes. There had been a bit of contact between the pair on the opening lap and Schumacher had a damaged wing endplate, which gave him understeer. By the end of lap nine, Michael had fallen 6.5s behind Vitaly Petrov's Renault and Lewis, right behind him, was now 27s behind Vettel and fretting. He'd lost an average of 3s a lap to the leader.
It was now that you thought your eyes were playing tricks. Passing anyone into Ste Devote is nigh on impossible, but passing Michael Schumacher at Ste Devote... Truth told, Lewis barged down the inside of the Mercedes and left Michael the option of either backing out of it or crashing. Just as surprising as the move itself perhaps, was that Michael chose the former. As soon as Lewis was by him, Schumacher stopped for a new nose.
Lewis immediately found 2s a lap and was rapidly onto Petrov's gearbox, where he got further stuck. Already, Vettel, Button and Alonso had all pitted but were still 10s plus up the road. When Lewis made his first stop on lap 22, there was a communication problem and no tyres ready. He lost another six seconds.
Now on super softs, Hamilton flew up to the delayed Mark Webber, now trapped behind Jaime Alguersuari, until Massa's Ferrari emerged from the pits just ahead of him - for the second time in 24 hours.
Together, they were sat on the back of a slow-moving train comprising Rubens Barrichello, Kamui Kobayashi, Adrian Sutil, Nick Heidfeld, Sebastian Buemi and Webber. With 32 laps accounted for, Lewis was 77s behind his race-leading team-mate, who was flying on super softs, trying to open a pitstop's advantage over Vettel, whom he'd jumped at the first stops. The Red Bull, on softs (the harder of the two compounds available), was 13s behind Jenson.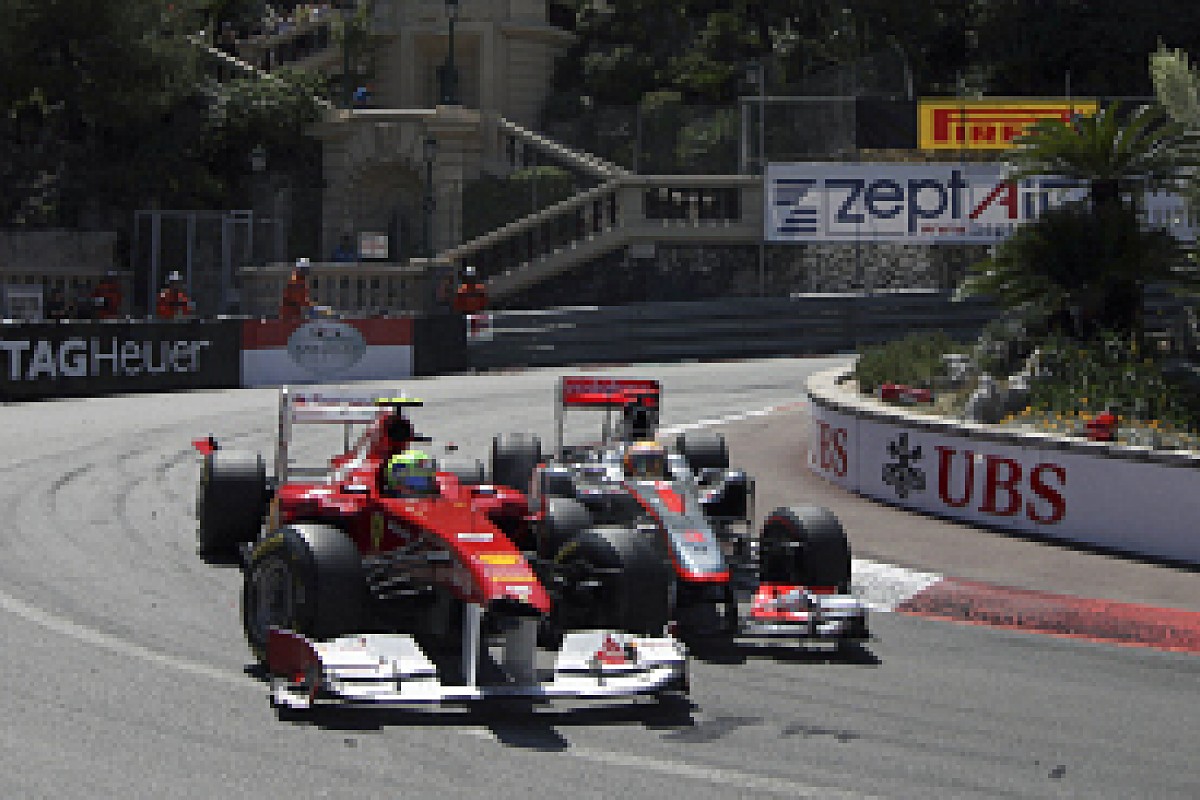 Hamilton banged wheels with Massa... © LAT
With Button lapping in the 1m19s and Hamilton, stuck, in the 1m22s, Lewis would imminently be receiving blue flags for the rapid arrival of Jenson, and be forced to pull over. Once you are a lap behind, your race cannot be rescued by a safety car and perhaps that's why Lewis launched his cack-handed attempt to barge down the inside of Massa's Ferrari at the Loews hairpin.
Felipe, to his credit, didn't just turn-in and take the McLaren's nose off, he actually moved a little wide to try to avoid contact, tweaking his own front wing on the left rear of Webber's Red Bull in the process.
"I was quite a lot quicker than Massa," Lewis claimed. "I went up the inside and the guy turned so early and just turned into me. So I tried to go over the kerb to avoid him and we were stuck together. And of course I get the penalty, which is usual. He held me up in qualifying and I got the penalty. He turned into me, and I got the penalty."
That's not quite how it looked from the outside, but no doubt it was frustration speaking. It doesn't usually mean very much even if you are quite a lot quicker than someone around Monaco.
Massa's damaged wing will not have assisted him in the tunnel. Whether it was that or the fact that Lewis was trying to go inside him is debatable, but the upshot was that Massa got on the dirt, shunted and brought out the safety car.
When the race resumed on lap 39, half-distance, Hamilton was seventh, just 16.5s off the lead, but with backmarkers in between and a seemingly impenetrable barrier of Sutil, Kobayashi and Webber ahead. It was then that he received notification of a drive-through penalty for the Massa incident. Aaaargh!
Having served it, he was now 43s behind again soon needed another stop to replace the used super softs that were now 27 laps old. Out he came again, now 72s behind Vettel, so Sebastian was about 7s behind him on the road. The McLaren though, started to lap around 1s per lap faster than Vettel, who knew he had another 28 laps to do on a set of softs that were already 34 laps old.
Lewis was 30s behind Petrov and Maldonado at this point. Maldonado's tyre usage had mirrored Vettel's but Williams obviously did not fancy asking Pastor to do 53 laps on a set of softs, could see Lewis gaining and so called Maldonado in for super softs while he still had a pitstop's window to Lewis. The Venezuelan was half a second ahead of the McLaren when they crossed the line at the end of lap 55, headed for the first points of his F1 career.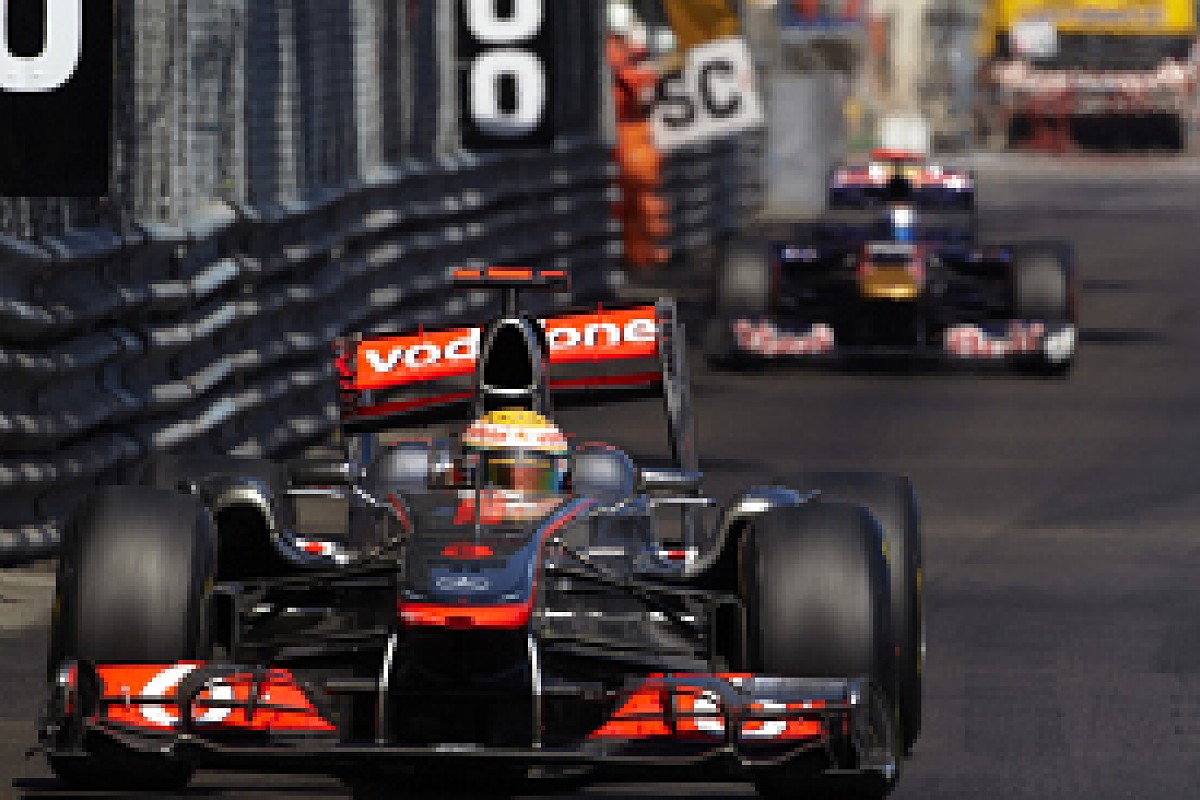 ...and then had his rear wing damaged in the Petrov/Alguersuari shunt © LAT
To put things into perspective, Maldonado had been excellent all weekend, quick and consistent. He kept Lewis behind him for 15 laps until the shunt at the Swimming Pool that brought out the red flag. When the field was released again with five laps to go, Hamilton on super softs and Maldonado on softs, Lewis wasted no time trying to repeat his Schumacher move on Pastor.
Hamilton's take was: "I went up the inside of Maldonado and you can see that he turned in a good car length too early to stop me overtaking him and he crashed into me. It's just ridiculous. These drivers are absolutely frickin' ridiculous. Just stupid."
Many people would call that defending and the way it looked to me, Maldonado had every right. Pastor's take was that Lewis had come from so far back that he wasn't even looking for him. Perhaps on a safety car restart and knowing who was there, he should have been, but so close to the end, after a difficult start to the season, you felt for him.
Lewis hammed it up well. He's a racer and he was putting on a show, he's being called to the stewards too often, etc, etc. Forget the irrelevant Ali G nonsense.
Yes, he's a superb driver and great to watch, but this was Monaco. He was frustrated. He would have arrived in the Principality thinking of nothing other than pole and 25 points. But when Saturday didn't happen for him, he shouldn't expect drivers to de-materialise. He could actually count himself amazingly fortunate that his race didn't end the moment he stuck his nose inside Schumacher at Ste Devote.
In the final analysis, a second drive-through for the move on Maldonado was a huge let-off. There were plenty figuring that Lewis was extremely fortunate to be keeping his eight points for sixth place or not to be starting five places further back in Montreal.