There were so many intriguing angles in Turkey it's hard to know where to start. The apparent ease with which people could pass in the DRS zone created a lot of comment, while the pressure of performing multiple pitstops is really beginning to tell on the top teams, as the inevitable mistakes creep in.
Perhaps the most intriguing story of the day was that nearly all the top runners made four stops, and thus used five sets of tyres to run the 58 laps. That wasn't expected before the start, and certainly not by Pirelli.
After the race, even the tyre maker's motorsport boss Paul Hembery was struggling to work it out. He wasn't comfortable with four stops being the majority choice, presumably because he felt it made Pirelli's wear rate look more excessive than perhaps it actually was, and that the number of stops created a little too much confusion, both factors creating a little bit of negative PR.

His initial feeling was that the relatively low pitlane time loss - and the fact that teams have quickly got into the habit of copying the first rival who stops - encouraged them to make four when they could have done it on three.
"Four stops is one too many for us," he said. "It was two to three we were looking at, but it's an exceptional case we believe, having the four. We knew that people were looking at three, and then after they started... I don't know whether they were following each other, that's another thing you often see with the strategy, one person dives in and then they all adapt the same strategy to try and even things out. I don't know whether it was Webber who led the charge on that one.
"We were seeing with some of the teams they were getting similar durability with the hard and the soft, there wasn't a great difference. It could be they decided that the loss in terms of pit stop was actually less than what they gained through having an extra set of tyres on the car."
That, of course, is fundamentally what strategy calls are all about. Hembery did concede that wear rates were higher than practice had suggested.
"That's certainly true, we were running 19-20 laps on the softs in practice, and yet in the race they were changing in 15. The wear on some of the cars was very aggressive, I have to say. It was extremely variable between the teams, that's something that we didn't really see in the free practice sessions either. It was exaggerated during the race."
What was more intriguing was that Turkey is all about front tyres, and specifically the right that takes so much loading through Turn 8. But in the race some teams found that the rears were the problem, as revealed for example by Lewis Hamilton's team radio.
"It was variable, we didn't really see that in practice, that was something that we saw in the race. It was front and rear in the end."
The fact that the highest placed three-stopper was Jenson Button in sixth suggests that four was the way to go, but there is one important rider. Sebastian Vettel could - and indeed should - have won the race by stopping only three times.
Tyre wear was again key © sutton-images.com
However, in the last stint he had such a big margin over Webber and Alonso after their fourth and final stops that instead of cruising to the flag with an 18-lap final stint (one less than Jenson Button had to do) he too jumped into the pits and picked up a fresh set of tyres.
"Vettel could have done a three-stop," said Hembery. "He had the luxury of being able to make an additional stop. Button did three stops, and Buemi. That was the key for them to get themselves into the top 10, which was a fantastic result for Toro Rosso."
Vettel's precautionary fourth stop was an interesting strategy twist. Although he was caught out in Shanghai when Lewis Hamilton reeled him in on fresher rubber, his lead was so big this time that there was never going to be a repeat in normal circumstances.
The main reason for stopping a fourth time was the risk of a late race safety car. If the field had closed up and he'd lost all that advantage then at the restart he would have been an easy target for Webber, Alonso and maybe others on newer tyres. Something to watch out for in the coming races...
Vettel: Making it look easy
Christian Horner acknowledged that, before the race, three stops was very much on the cards for both drivers, and that it was a question of adjusting to circumstances.
"It was a really interesting race because we really went into the race open minded about our strategy," he admitted. "During the race we were considering permutations from three stops to four stops, at one stage we were even considering five stops with Mark. With Sebastian we elected to cover the cars behind, and he took a really mature and commanding win at the end."
Indeed it was. As in Australia, he was safely clear of his most dangerous rivals from the very first corner. There he had Vitaly Petrov riding shotgun, and this time it was Nico Rosberg. He was well clear of any threat when DRS became active on the third lap, and thereafter he was able to work his tyres only as hard as needed to, driving smoothly and precisely while his pursuers were attacking, defending and generally sliding around. He pitted in response to those behind, always with plenty of margin should there be a mistake.
And he didn't have to constantly explore the limits of his KERS system. Clearly things are getting better with Red Bull's Achilles Heel, but Horner hinted that there could still be a weakness when the RB7 is really involved in a fight.
"We made a good step forward this weekend," he explained. "We had a trouble-free run with Seb today, and we had some small issue with Mark because he was pushing the system very hard when he was racing Fernando. Definitely the modification we've made as we've learned more about the technology has paid dividends this weekend."
In China, Webber moved superbly from 18th to third at the end. He had to work just as hard in Turkey to convert second on the grid into second at the flag.
He had the misfortune to start on the dirty side, and that obviously gave Rosberg a helping hand. In the past we've seen Webber convert a bad initial start into a total disaster later round the first lap, but this time he held his ground when Hamilton attacked. It then took him six laps to deal with the Mercedes ahead.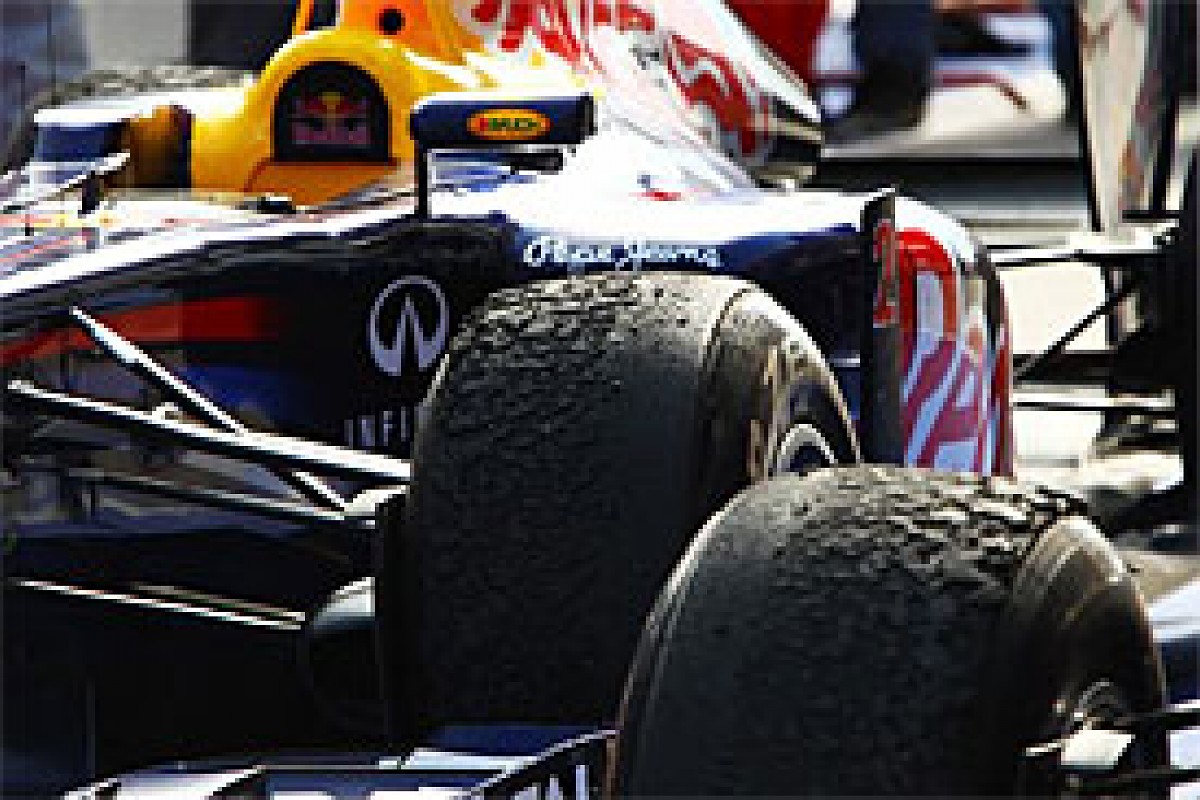 Vettel controlled the race from the start © sutton-images.com
"With Mark because he worked the tyres harder while he was racing with Rosberg it had an impact on the strategy choice for him. He did a great job to get past Nico."
Webber used up his tyres fighting with Rosberg, and that encouraged him to come in early on lap 10. Although Hembery suggested that Webber "led the charge," he was by no means the first.
All the teams have learned from China, where McLaren and Red Bull were busy eyeing each other and were caught out and didn't respond when Rosberg pitted. When they emerged from their stops, the Mercedes was in front, and it was a case of 'where did he come from?'
In Turkey Vitaly Petrov pitted on lap eight, and the cars that had been immediately in front of him - Hamilton and Massa - came in a lap later. The lap after that Webber was followed down the pitlane by Alonso and Rosberg, and then it was Vettel's turn.
So it was Petrov who led the charge. While some of those who stopped were already experiencing tyre issues, others could have stayed out longer, but were compelled to respond. And those first stops were so early that it moved them into the four stop zone.
"It's like a chess match," said Horner. "That first move can dictate what happens later on."
And later on is what counts. China proved beyond all doubt that in 2011 races are all about what happens in the final stint, and Turkey gave us a new twist on that. In effect Webber paced himself brilliantly, not panicking when passed by a flying Alonso at half distance. He knew he had an ace up his sleeve for that final stint.
While we've all been focussing on the efforts of the top teams to save new soft tyres for the race, it's equally handy to quietly set aside a set of new hards for that crucial final stint. And that's exactly what Webber had.
"We had the benefit of an extra set of primes for the end of the race, because we didn't use them yesterday, versus Alonso," said Horner. "Alonso was quick on the option, he managed to get past us on the option. The team stayed calm, they knew they had that last set of tyres to have a crack at him with, and he made it stick. It was a really impressive performance.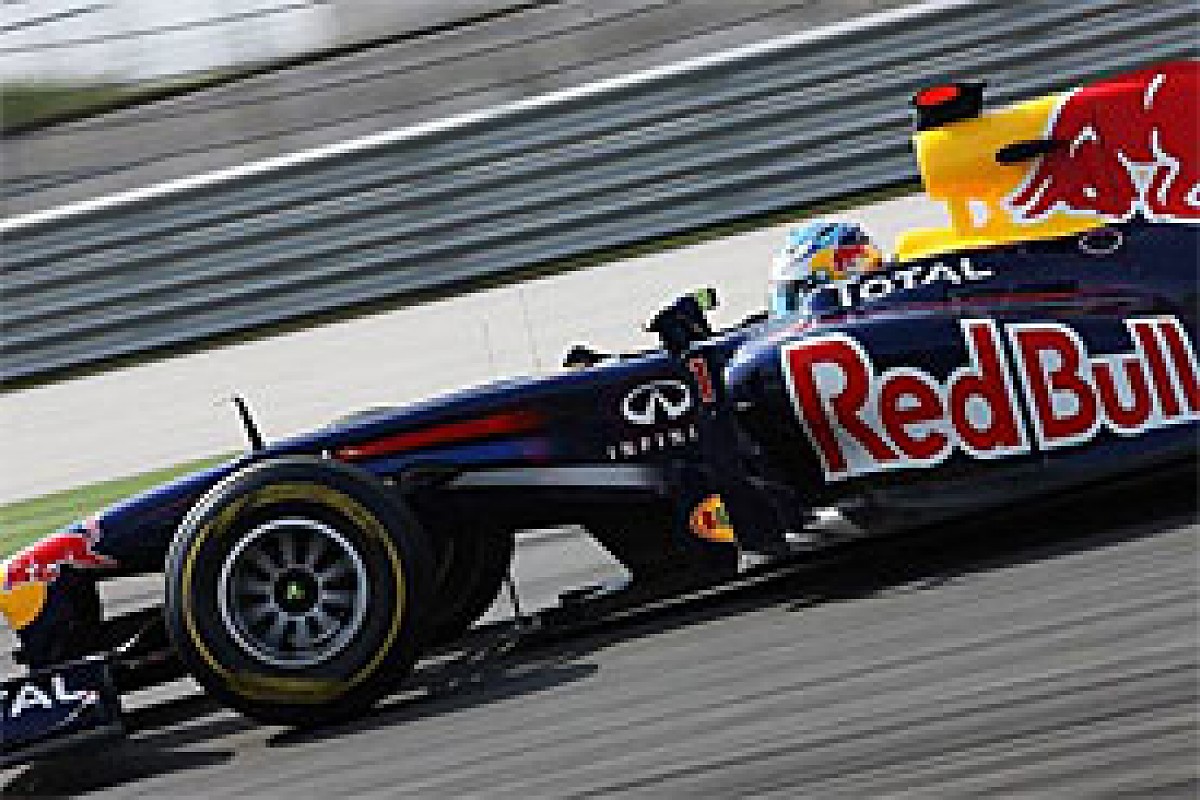 Webber worked hard for second place © sutton-images.com
"What was fascinating about today is that 12 months ago losing a place as Mark did to the Ferrari that would have been game over for him, he would have consolidated the third. With the way that the strategy now works, with the tools that the drivers now have, with the DRS and the KERS and the strategic element that you apply to races these days, it gave him a crack at getting that position back, which he made work for him.
"It's really changed the dimensions of the races. Obviously a lot of emphasis is put on grid position and pole position, but the return of the pole position or value of the pole position is much less now than it was in previous seasons."
Horner makes a good point in terms of qualifying in general being less important, but as Vettel has proved, pole itself is absolutely paramount - assuming you can break away in the opening laps.
Ferrari: close but no cigar
Although at first glance Alonso's run to the podium came out of the blue, the signs have been there all season. While the latest updates helped to ensure that he was closer to pole in terms of lap time, the red cars have shown good race pace since the first race in Australia, when given half a chance.
Remarkably, the Spaniard has matched Vettel's run of four poles with his own sequence of four fifth places, and given the race day speed of the car and the variables in play this year, he should have earned better results than he has.
But three times in the first three races he had a bad first lap, having been pushed wide in Australia and got away badly in both Malaysia and China. And all three times he ended up behind his team-mate. By the time he found some clear air and got going, the podium was out of reach, and the wing-breaking clash with Hamilton in Malaysia didn't help.
In Turkey not only did Alonso not lose a place, he gained one when Hamilton ran wide. He was then able to keep up with Webber, perhaps even to the surprise of his own team. Fourth became third when Rosberg slipped back and then on lap 29, Alonso passed Webber in a straight fight, so well was the car performing on the soft tyres.
"First of all we need to remember that during all the races the pace was not too bad, everywhere," said Stefano Domenicali. "Unfortunately when you start so far behind the real problem is you cannot show your race pace because you have to do a good start, try to get out of the traffic, destroying the tyres...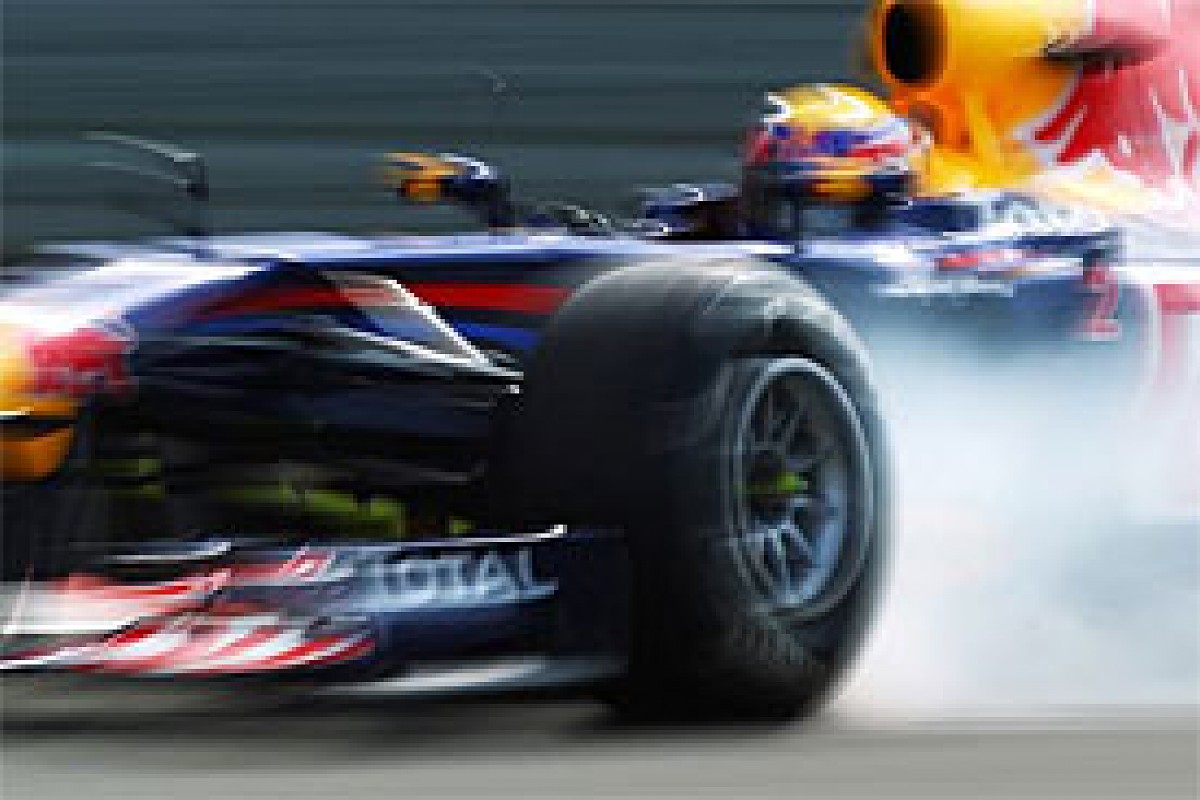 "That's the real issue. I would say generally that we have confirmed that the race pace has improved, because today honestly we were lapping on the same lap time or faster on the soft than Webber, and very close or the same lap time with Vettel."
As noted earlier, Webber bided his time and took full advantage of his new hard tyres to reclaim the position, Fernando having to run his final stint on tyres he'd used in qualifying.
There was an intriguing bit of soap opera just before the final stops when engineer Andrea Stella spoke to Alonso in Italian, something that is so unusual that the FOM TV guy who selects radio messages for broadcast decided to run it for everyone to hear.
You might assume that teams are obliged to speak in English, especially since the FIA has been formally recording and listening in to all conversations in order to check for any dodgy behaviour. In fact there is no rule or even an informal understanding, although FIA sources confirm that the use of Italian was completely unprecedented.
Apparently the message translated roughly as 'For now we'll cover what everyone else does.' One presumes that the multinational Red Bull team worked out pretty quickly what it meant and within a couple of laps, Webber came in.
He was obviously set to make a stop at some point, but did the message contribute to the timing? Bear in mind that Alonso was already running hards so in theory he didn't have to stop, and he could have run to the end, albeit with a massive 22-lap stint. Once Webber stopped, Alonso duly followed a lap later, and that in turn gave leader Vettel breathing space.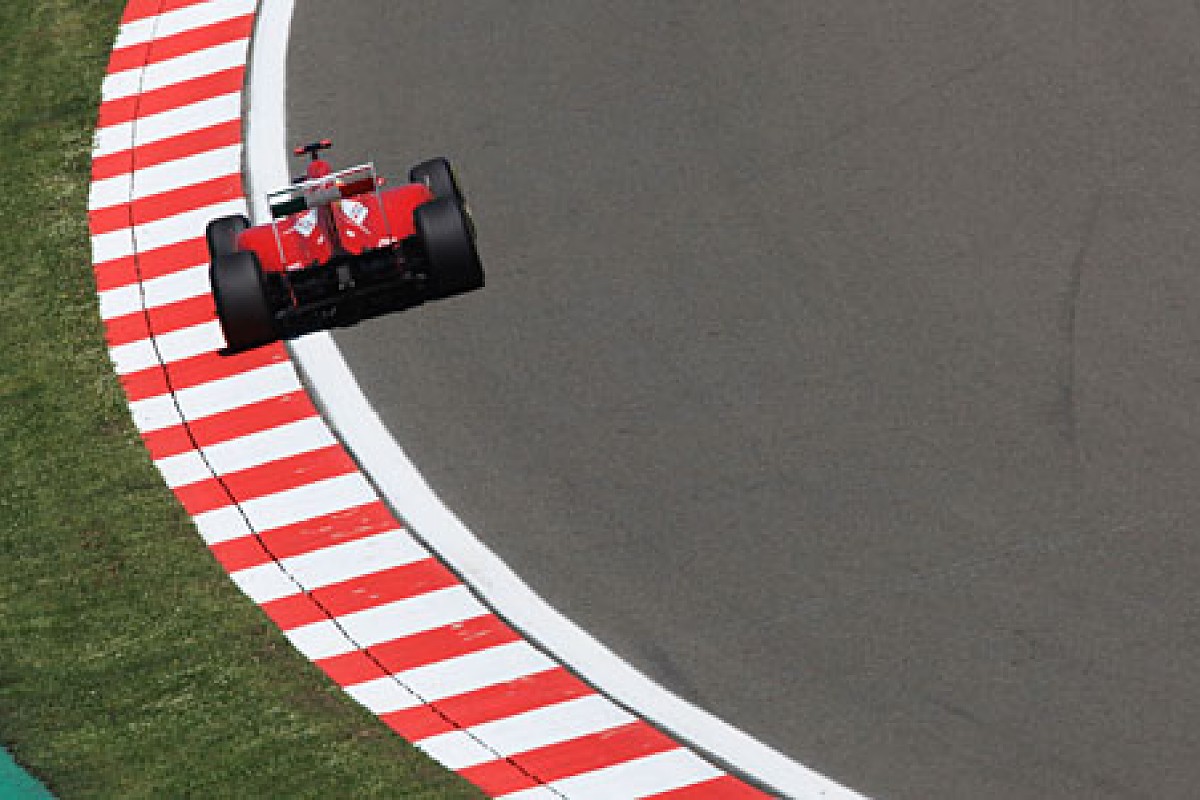 Alonso managed to push Webber hard in Turkey © sutton-images.com
While Alonso stayed safely in front of Webber initially, the car didn't have the performance on the prime that it had enjoyed on the softs, and the extra edge Webber had from his new set made his pass inevitable.
"On the hard the difference was the fact that Webber had one new set that he was able to use," said Domenicali. "And in the first couple of laps at its maximum usage, or behaviour. At the end of the day today we were really very, very competitive, I'm very pleased for that. At the beginning of the race if Fernando was not behind Rosberg... It took a little bit to overtake, I was expecting him to be really on the tow of the Red Bulls."
McLaren: Not a great day
McLaren lost out to Mercedes in qualifying and Ferrari in the race, and that was clearly not a situation that anyone in the camp was happy with, given the momentum it appeared to have after the superb China win.
The team went into the Turkey weekend with a built-in handicap when scheduled upgrades had to be postponed until Barcelona after a new part failed on the factory rig, so the car wasn't in the intended optimum spec. Nevertheless from his fourth grid spot Hamilton could have had a much better race than he did.
No one criticised Lewis for having a go at Webber on the first lap. It's easy to say that in the DRS era you don't have to take risks at the start like you used to, but he's an instinctive racer, and he saw an opportunity. The problem was not only did it fail to come off, it cost him places to Alonso and Button, and left him with a lot of work to do.
The interminable 14-second delay in the pits at his third stop was out of his hands and didn't help, and in the end he was relieved to have crossed the line in the same place that he started from.
"This weekend has been disappointing," Martin Whitmarsh admitted. "We didn't bring the performance package that we intended, that's disappointing, we didn't qualify quite as well, Lewis could have been on the front row. Obviously the start didn't quite go our way as well. Lewis got up there which is exactly what we want Lewis to do, attack, and sometimes that doesn't pay off. And thereafter undoubtedly racing each other makes it difficult."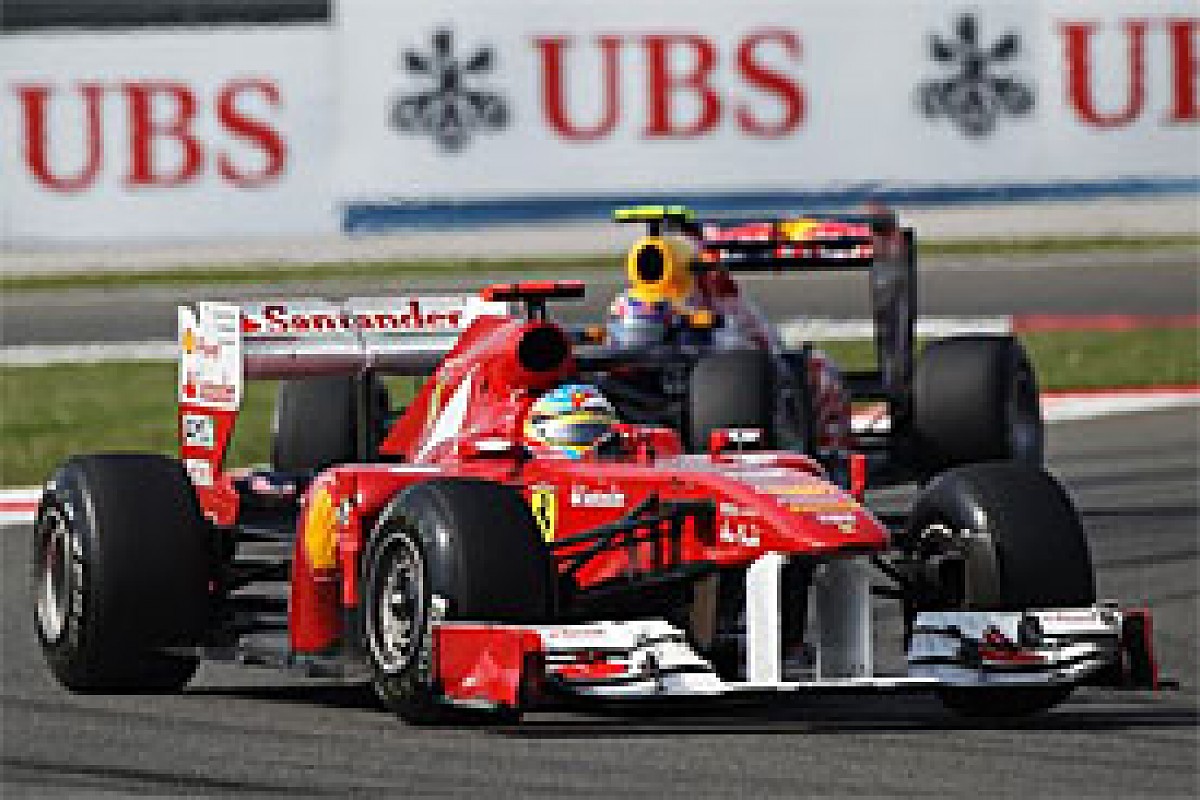 Hamilton lost out on the opening lap © LAT
Hamilton's all-out approach has paid dividends in the past, but the environment is different now. In China he trod a fine line between pushing to the max and protecting his tyres, but in Turkey he didn't always manage that. Whitmarsh hinted that Hamilton could have been a little more circumspect, while understanding that he was compelled to fight, especially when he saw Button in front.
Things are always complicated when team-mates are racing each other, and both McLaren guys deserve credit for how they dealt with each other last weekend. During that last stint Hamilton was told: "Jenson's tyres are seven laps older. There will be opportunities," which was like a red flag to a bull...
"I think if you look at Lewis's race pace it was OK later on in the race," rued Whitmarsh. "But the tyres are so delicate, and if you get yourself scrapping with other cars, including your team mate, then you're going to damage your tyres. In a race that's that critical, you can't do that. It's so much easier in clean air and much more difficult than it ordinarily is if you get into traffic and you scrap and you hurt those tyres."
In China Hamilton and McLaren showed that if you get everything right you can put pressure on and even beat Red Bull. In Turkey it all slipped away, as Whitmarsh admitted.
"I think this weekend we got lots of little things wrong. Our performance upgrades for various reasons weren't on the car, we didn't quite get qualifying right, which sets you back, we didn't quite get the start right or the first lap right and that sets you back, then you're fighting against the wear of the tyres and the damage you do when you're scrapping and racing. If you look at Lewis's clear air times towards the end then he had good race pace, but by then they were a long way ahead of us, frankly."
Button meanwhile finished sixth on a three-stop strategy. After the race he was clearly frustrated at losing places in the final stint, but that's how these things play out over the long haul, and at the end of the day he finished where he qualified.
"With Jenson we tried a strategy, if anyone could make it work Jenson could. He was the quickest of the three stoppers. I think we made it tough on him, to try a three-stop. But that's what we elected to do. We had two little problems in the stops, that was unfortunate, and again it's disappointing."
Horner meanwhile made an interesting comment: "We were quite surprised that they elected to three-stop with Jenson, but it worked out very well for us..."
Jenson himself was adamant that he was left with too long a final stint on the primes, and that a few extra laps before his last stop and thus a shorter run to the flag on the hard tyre would have helped.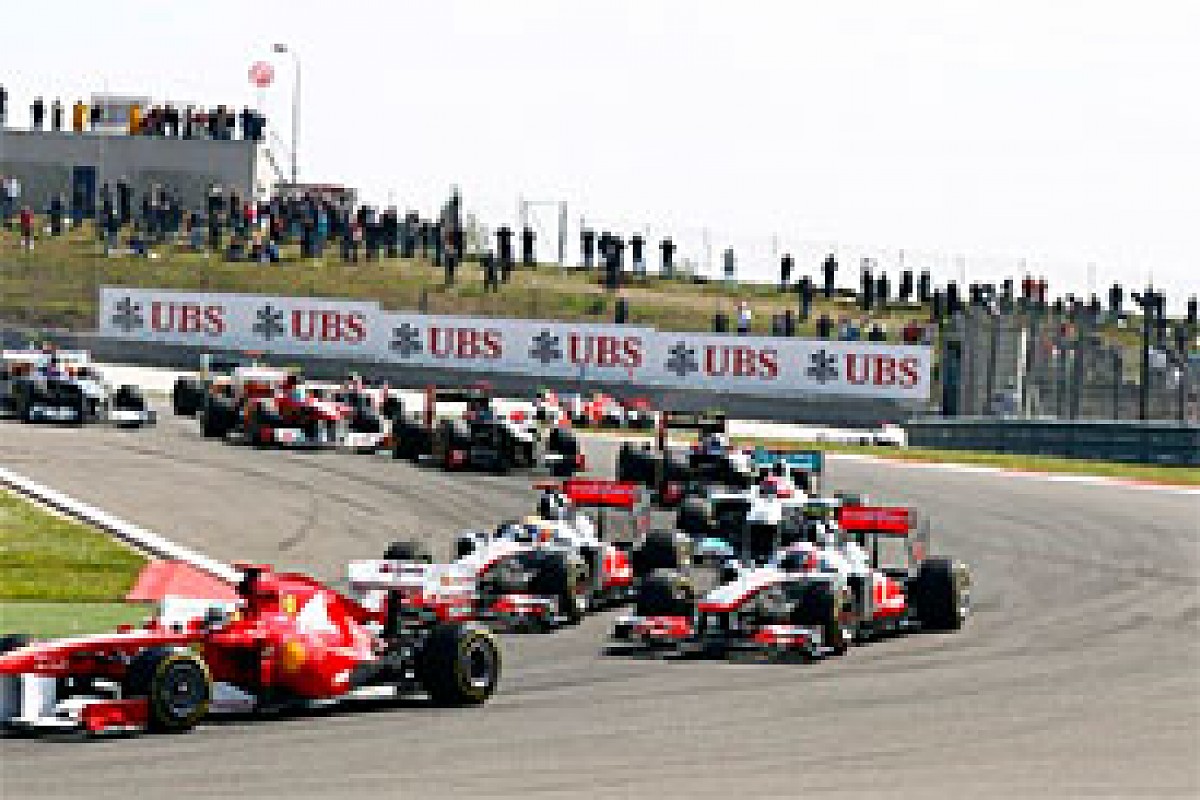 Button fought it out with his team-mate © LAT
Whitmarsh said that wouldn't have worked. Certainly stopping one lap later would have stranded him behind Petrov for a few laps: "I think at that point it would have put him behind two other cars, he could have run longer but I'm not sure it would have been better."
McLaren's afternoon really pinpointed how complicated things are now, and how hard it is for driver and team to be fully in synch with each other and understand what's going on in the heat of the moment.
Hamilton saw cars in front and did what he could to get past them, while the pit wall fretted about his tyre usage. Button felt helpless on his rapidly ageing tyres in the final stint as car appeared in his mirrors, while the team felt that they'd given him the optimum strategy - one that as we've seen should have won the race for Vettel.
When they first step out of the car drivers are often admitting that they didn't fully comprehend who they were racing in the middle of a race, or where they were likely to end up at the end. Some get pleasant surprises in the final stint as it all unfolds, and others nasty shocks. And isn't it fantastic to watch?