How many good motor racing-themed movies can you think of? Just the two: John Frankenheimer's 'Grand Prix' and Lee Katzin's 'Le Mans?'
You could argue that racing itself, rather than any great plot, is intrinsic to both films and that if the sport is not your thing, then you are not going to be riveted. It's particularly true of Le Mans, where there is actually no dialogue for the first half an hour. Which is partly the point. If you're into racing, you don't even realise.
The memorable line comes from Michael Delaney (Steve McQueen), who says: "When you're racing, it's life. Anything that happens before or after is just waiting."
The words were originally uttered by Maurice Trintignant, but for the truth of them you only need to look around a Formula 1 paddock now. How many ex-drivers do you see? Men who may not be as rich as Croesus, but are certainly comfortable enough not to need to jump on planes every fortnight. But they do it anyway, in whatever role - special advisor, journalist, broadcaster - and they still love it.
From the same start point it's been a good contest between the wait for another good racing flick and the wait for another decent England World Cup performance. The movie industry has won that one with the new Ayrton Senna movie, which I was fortunate enough to see in Brazil last year, and which is excellent.
Senna was such an enigmatic personality that he transcended the sport, and the movie is very different from Grand Prix or Le Mans. It's done in such a way that it will appeal to racing buffs and non-aficionados alike. And now, just like buses, it seems that we might just have two good movies along at once.
The British film writer Peter Morgan, who won a Golden Globe and Academy Award for 'The Queen,' and is also responsible for the 'The Deal,' the highly watchable 'Frost/Nixon' and 'The Special Relationship' is looking for a producer/director for a film focusing on the 1976 season, when Niki Lauda almost died at Nurburgring before returning six weeks later to defend his world title from James Hunt.
Niki Lauda is still a paddock regular in 2011 © LAT
Niki, still a paddock regular for German TV station RTL, is apparently assisting with the project and has been joking on Austrian radio about the type of actor who might portray him.
"Anyone mid-twenties with his right ear burnt off and dreaming of looking like me can start making plans!" said Lauda.
I'm told that creative types prefer not to revisit the same theme - such a big world, so little time - but if Senna producer and writer Manish Pandey and Asif Kapadia feel different, they could do a lot worse than turning their talents to that '76 season.
Jackie Stewart - long hair, shades and corduroy cap amid The Beatles era - did much to popularise F1, but the Lauda/Hunt title battle and the drama surrounding it truly took the sport from back pages to front 35 years ago. It's even claimed that it awoke Bernie Ecclestone to the global broadcasting potential of the show he was increasingly masterminding.
Hunt was the tall, blond, good-looking British public schoolboy, who liked a ciggy and a beer and wore 'sex: breakfast of champions' badges on his overalls. He was also the underdog - a talented, brave but nervy driver run by Lord Hesketh and his bunch of Hooray Henry establishment friends.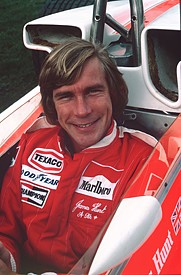 The 1976 McLaren drive was Hunt's big break © LAT
Hunt truly arrived when he won the 1975 Dutch Grand Prix at Zandvoort, beating Lauda's Ferrari into second place. When Emerson Fittipaldi unexpectedly left McLaren to start his own team, James suddenly had himself a top-line drive.
Lauda was the buck-toothed Austrian chancer from wealthy stock opposed to his career choice. He mortgaged himself to the hilt and beyond to get himself into the March and BRM teams in '72-73, even apparently contemplating suicide when assessing the scale of his debts and his chances of satisfying them. But along came Enzo Ferrari and sorted them out. By the end of '75 Lauda had won the world championship in a Ferrari.
At the start of '76 it looked like more of the same. Hunt was quick but things didn't go his way. Then Lauda rolled a tractor while building himself a house, cracking a rib. At Jarama he drove with a special corset and multiple pain-killing injections. He led, Hunt barged inside him, edged the Ferrari over a kerb, knocked the wind out of Niki and won. Then James was disqualified, the McLaren's rear track a couple of millimetres too wide.
James was down on his luck. On a weekend trip aboard team mate Jochen Mass's boat, Hunt had to knock girlfriend Hottie Birbeck out of the way when she was almost collected by an errant sail arm. "She nearly went for a burton and it would be careless of me to lose another one like that," joked James, whose wife Suzy had just run off with actor Richard Burton.
Heading to the south of France for the French GP at Paul Ricard, you wouldn't have given a fig for Hunt's championship chances. Lauda led with 55 points and five wins (9-6-4-3-2-1 for the top six in those days), while Hunt had no wins and eight points. But Niki's Ferrari blew up while leading, James won and also had his Spanish win reinstated. Lauda, 52; Hunt, 26.
Brands Hatch was next and Hunt's luck reverted to type. The Ferraris of Niki and Clay Regazzoni collided on the first lap and the McLaren was damaged in the ensuing debacle. Hunt won the restarted race, but was disqualified for failing to complete the first lap of the original event and therefore being ineligible for the restart. Niki won again.
Lauda, as champion, had taken on much of Stewart's safety crusading and arrived at Nurburgring to find 'chicken' banners, despite being the first man to lap the world's most challenging circuit in under seven minutes the previous year. This time, on a damp track after a tyre stop, the Ferrari crashed and burst into flames.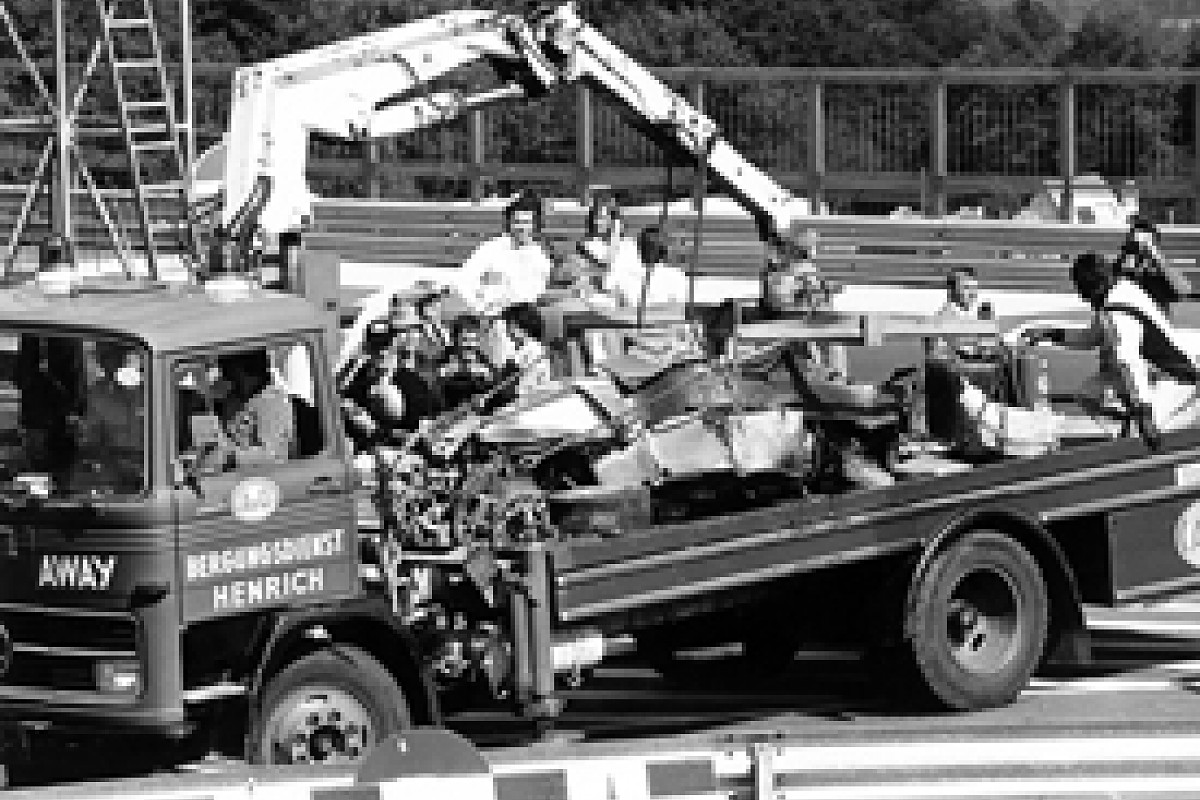 The wreckage of Lauda's Ferrari after his infamous Nurburgring crash © LAT
Niki, badly burned, was pulled from the car by four fellow drivers but for days his life hung in the balance as the oxygen count in his blood fell below that generally necessary to sustain life. A priest shocked Lauda into hanging on by administering the last rites and, amazingly, six weeks later, having missed just two races, a badly disfigured Lauda was back in the Ferrari cockpit at Monza. British sportscasting legend Harry Carpenter, whose main beat was boxing, called it the bravest sporting story he'd ever reported on.
Hunt, meanwhile, won the restarted race at the 'Ring and the Dutch GP that Niki missed. He was right back in the fight. The score was now Lauda, 61; Hunt, 47, with four races to go.
It was Monza next; Ferrari territory. Hunt was put to the back of the grid after a fuel octane infringement and Lauda finished fourth, the first of three Ferraris home as Enzo, believing that Niki would be damaged goods, romanced Carlos Reutemann.
The battle captured worldwide attention. In Germany, Bild ran headlines like "How can a man live without a face?" after snapping a bandaged, defenceless Lauda lying in a Mannheim hospital bed. Niki had recently married Marlene Knaus, formerly the partner of actor Curt Jurgens.
Hunt won in Canada as Lauda struggled home eighth in an ill- handling 312T2. Ferrari had signed a deal with Michelin for '77 and the Goodyear tyre development was now going in McLaren's direction.
Lauda got up early on race morning at Watkins Glen, knocked on Hunt's bedroom door and informed him, "Today I win the world championship." He didn't. Niki was third as James won again.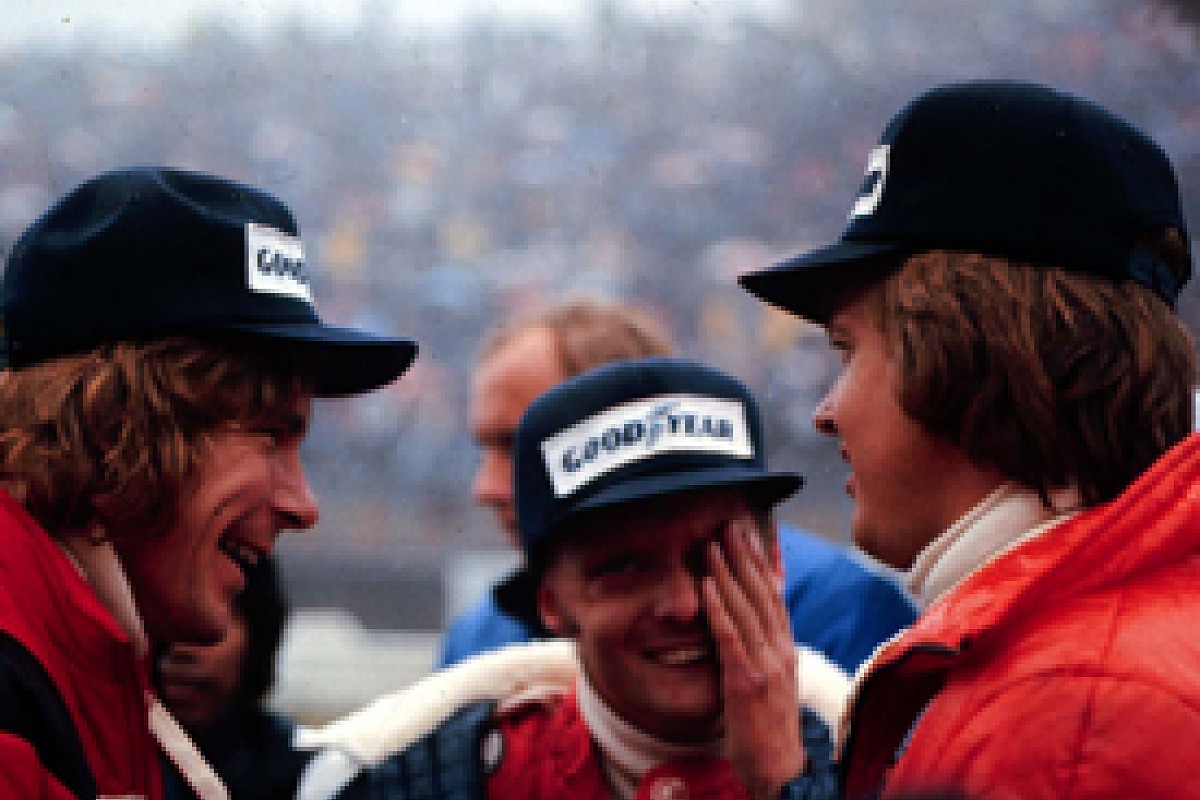 Hunt and Lauda chat with Ronnie Petersen before the final showdown © LAT
With the score Lauda, 68; Hunt, 65, it all came down to the last race at a rainsoaked Fuji in Japan. That was bad news for Niki. His eyelids and tear ducts had been burned in the accident and despite an operation he could no longer blink away water properly. He was okay in the dry but, in the rain and blinding spray, he admitted that he was struggling, and scared. Fittipaldi was among those protesting that conditions were too bad, but the race went ahead as TV scheduling won the day.
Lauda quit after the first two laps, along with the late Carlos Pace. "We'll say it was the engine," offered Ferrari's Mauro Forghieri. Lauda declined. "Life," he said, "is more important than the world championship." Good variation on Michael Delaney there.
Hunt needed third place to overhaul Niki and win the title. He led but had to make a tyre stop and rejoined fifth. He passed Regazzoni's Ferrari and then Alan Jones to do just enough. Amid the confusion, thinking they'd blown it, he berated McLaren's Teddy Mayer for not pitting him earlier. Then someone put a hand on his shoulder and told him he was world champion, 69 points to 68. Lauda was already on his way to the airport.
If ever there was a ready-made movie script amid a fast-moving, glamorous environment with compelling characters, there it is. Problem is, it's about as believable as England winning the World Cup.