You write off McLaren at your peril, as several of us have learned to our cost over time.
The first time I recall the technical direction of the team being seriously called into question was 2003 - the year of the McLaren that never was, MP4-18.
Everyone had been severely spanked by Ferrari the previous year (Michael Schumacher: 144 points; the first non-Ferrari driver Juan Pablo Montoya: 50) and so McLaren had decided it needed to go radical.
McLaren had recruited Mike Coughlan from Arrows although Adrian Newey was still there a year after the drama of his defection to Jaguar Racing being averted by Ron Dennis at the very last minute.
In early-season testing Alexander Wurz had a couple of big shunts with the MP4-18. There was also talk of problems with the FIA's side impact tests and cooling issues as the team sought aero gains by running narrow sidepods, and allegedly pushed things too far.
A programme with a much-developed MP4-17D was run in parallel and proved good enough for David Coulthard to win the Melbourne season-opener and Kimi Raikkonen to follow up with a win next time out in Malaysia. But now began the familiar question: "When will MP4-18 race?" The frequency must have ranked right up there with 'Is there a God?' and 'How many days before Santa comes?'
If DC and Kimi were waiting for a new toy though, it never came, the 17D proving handy enough for Raikkonen to finish the season just two points shy of Schumacher in the championship even if the 17D was not fleet enough for McLaren to win another race.
It was against that background that we headed into 2004, when McLaren ran MP4-19 having abandoned the 18 altogether. Ferrari's superiority was more crushing than ever (Schumacher scored 148 points this time and no fewer than 13 race wins!) and it was now that Daily Express F1 correspondent Bob McKenzie chose to utter: "If McLaren wins a race this year, I'll run naked around Silverstone..."
He should have been fairly safe. Not only did Ferrari steamroller everyone but McLaren dropped to fifth in the constructors' championship rankings that year, behind BAR, Renault and Ferrari as well, and Kimi and DC were seventh and 10th respectively in the drivers' competition. Sadly for McKenzie though, Kimi won at Spa.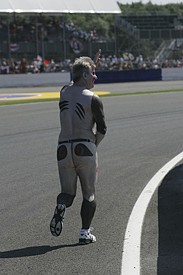 Bob McKenzie pays the price for doubting McLaren in 2004 © LAT
In the normal scheme of things Bob would probably have got away with a bit of gentle ribbing from the team. But no, Ron Dennis was involved and he was going to extract his pound of flesh. Or more accurately, quite a few pounds, in just a thong, as Bob completely his lap very publicly on the Sunday morning of the following year's British GP!
There was a lovely line from The Sun's popular Stan Piecha, who said, "'Ere, Bob, if you don't wear the thong and get them to write a big 'B' on each cheek, it'll spell your name and everyone'll know it's you!"
It was knowledge of that which no doubt prompted a bit of press restraint at the beginning of '09 when McLaren went, quite literally, from front to back. Lewis Hamilton, the 2008 world champion, was propping up the pre-season testing times.
The turnaround from there to a situation where the MP4-24 won three races, was extraordinary. And so it was that you perused the testing times again at the beginning of this year with a degree of caution. Despite what the times were telling you, you always have to consider the strength and depth of McLaren's resource and the ability of its people using it.
For a journalist there's always that hateful time at the start of the season when editors want to know your 'predictions.' It's the time when you can make yourself look daft. Just like reading the stock market, if you really knew, you'd be rich. In Malaysia this year, one of my colleagues was chuntering about how McLaren had made him look silly. He'd not put a McLaren driver in his top five.
I know how he felt. Your instinct tells you not to exclude them based on pre-season testing but, at the same time, it's getting harder and harder to turn around a bad start. Not only is the competition stronger than ever, with Red Bull adding to the ever-present Ferrari danger, but if something doesn't work, the lack of track time makes it harder to sort.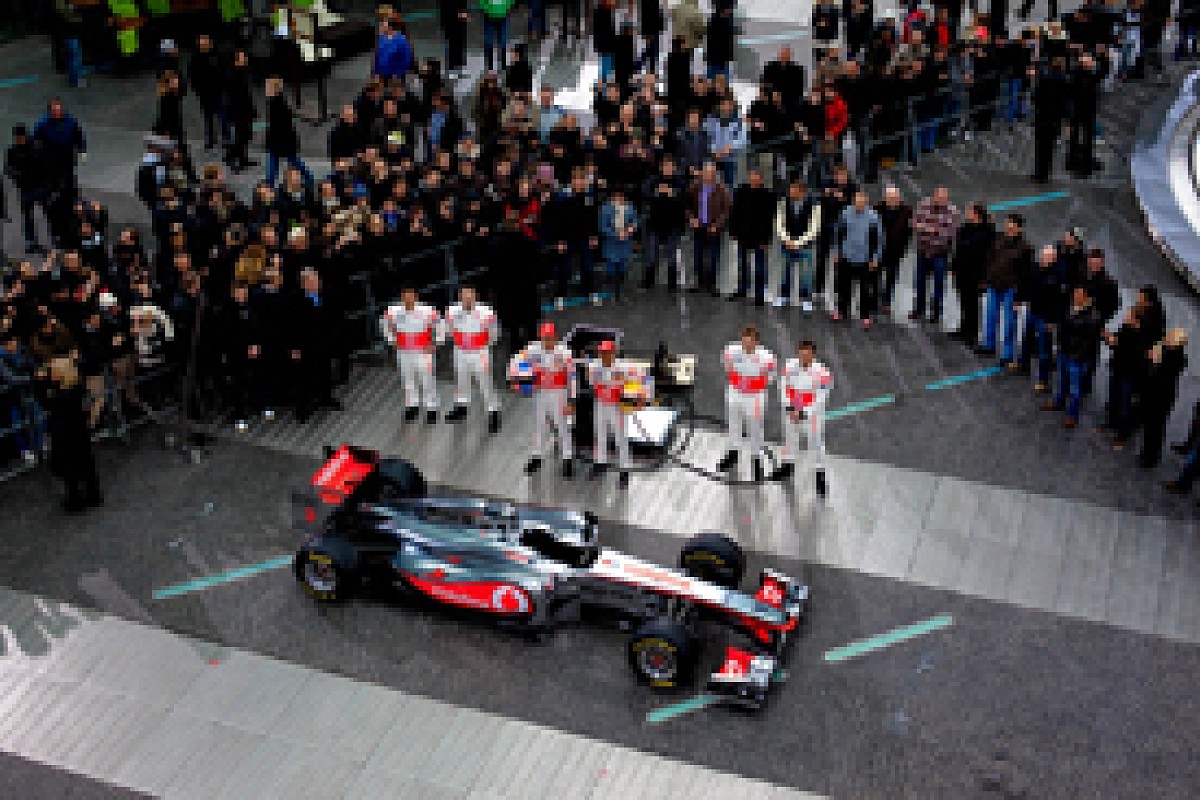 The original, radical version of the 2011 McLaren attracted plenty of curious glances at its launch © LAT
When you looked at a McLaren that didn't have any exhaust outlet that you could see, then heard the gossip about the intricate octopus/bagpipe/spaghetti solution that the team had developed, you did start to think that it could spell another MP4-18. Not only was there the risk of power losses if it didn't work, you also ran the risk of frying everything - with KERS thrown into the mix just to complicate things.
When McLaren cancelled its press lunch you feared the worst and subsequently technical director Paddy Lowe called it the worst pre-season he'd experienced. The reason for that was, not only was the car not performing, it was also unreliable.
Against that background, what were the chances of recovering things when you had to do your testing on a Friday morning at a grand prix?
But then again, McLaren's experience will have told them not to commit to something so trick that you couldn't simply take it off and do a Red Bull instead, front wings notwithstanding.
The first three races of the new season will have been a huge relief to Lowe, Tim Goss and their technical staff. McLaren is not admitting that 'the Octopus' is dead and, who knows, it may appear and wipe up in 2012, but I'd be surprised to see it doing so this time around. If anyone thought McLaren's testing pace to race win time in 2009 was impressive, they've done even better. Thankfully it looks like we'll have a decent championship and no naked hacks!