Formula 1, like life, is all about changes. Nothing lasts forever. One second you find yourself on top of the world, which, as a driver, means hitting that purple patch of form where no one can get anywhere near you. Sebastian Vettel knows exactly what that feels like.
But after being King of the World, suddenly you can find yourself hitting rock bottom. Nothing seems to click in life. As a driver, you find your performance has slumped, nothing goes your way and it seems as though the universe is against you.
Up and down it goes. Back and forth - it's the natural rhythm of life. It's the up and down cycles of form that teams and drivers have enjoyed and endured in F1 since the very first day that men entered into battle with cars.
Sometimes the peaks and troughs can last for months, years even - and sometimes the ups and down last for little more than 24 hours. Just ask Mark Webber.
The Australian is one of the few drivers in the paddock who fully understands the nature of sport and its bigger picture. He takes a keen interest in football, cricket, cycling - heck, even the Superbowl. Anything you have seen in F1, he has witnessed thousands of times before, played out on pitches, roads and tracks the whole world over.
A poor start in Malaysia left Webber on the back foot © sutton-images.com
Dominance in any category is as temporary as a slump in form. For just as Webber had come into the Chinese Grand Prix weekend facing questions about why he had not been a match for Vettel in the first two GPs of the season, he was well aware that things were certainly not as bad as his critics suggested.
Yes, Australia had been a disappointment - and although a wrong set-up direction in early running, and a damper problem in the race, accounted for some of his deficit to Vettel - it did not explain all of it. It was a weekend where Seb had quite simply done a better job.
Malaysia, for those not looking at the finer details, also appeared to have been a similar picture. While Sebastian Vettel took pole position and enjoyed a fairly straightforward run to victory, Webber never really got in the hunt. Qualifying fourth, he was swamped on the run to the first corner - thanks to no KERS - but recovered rather anonymously to fourth, helped in part by the Lewis Hamilton/Fernando Alonso collision.
Yet to say that Malaysia was as bad as Australia would be wrong. Practice and qualifying had been nip-and-tuck between him and Vettel, and on that final crucial run in Q3, the time lost after briefly hitting the rev-limiter and making a mistake late in the lap were all that separated him from Vettel - who is arguably the fastest man over a single lap in F1. Can anyone remember the German making an error when it mattered in Q3?
Losing KERS before the start of the race in Malaysia then sealed Webber's fate - leaving him with no chance of defending his starting position on the run to the first corner and in those early laps. All he could do was stay out of trouble, opt for a different strategy and try to recover lost ground. His drive there was every bit as good as Vettel would have managed in a similar situation.
The fact that the margin in Malaysia had in reality not been so big probably explains why Webber was so infuriated when a journalist ahead of the Chinese Grand Prix compared his situation to that of Eddie Irvine getting hit 'by a baseball bat' every time he tried to match Michael Schumacher.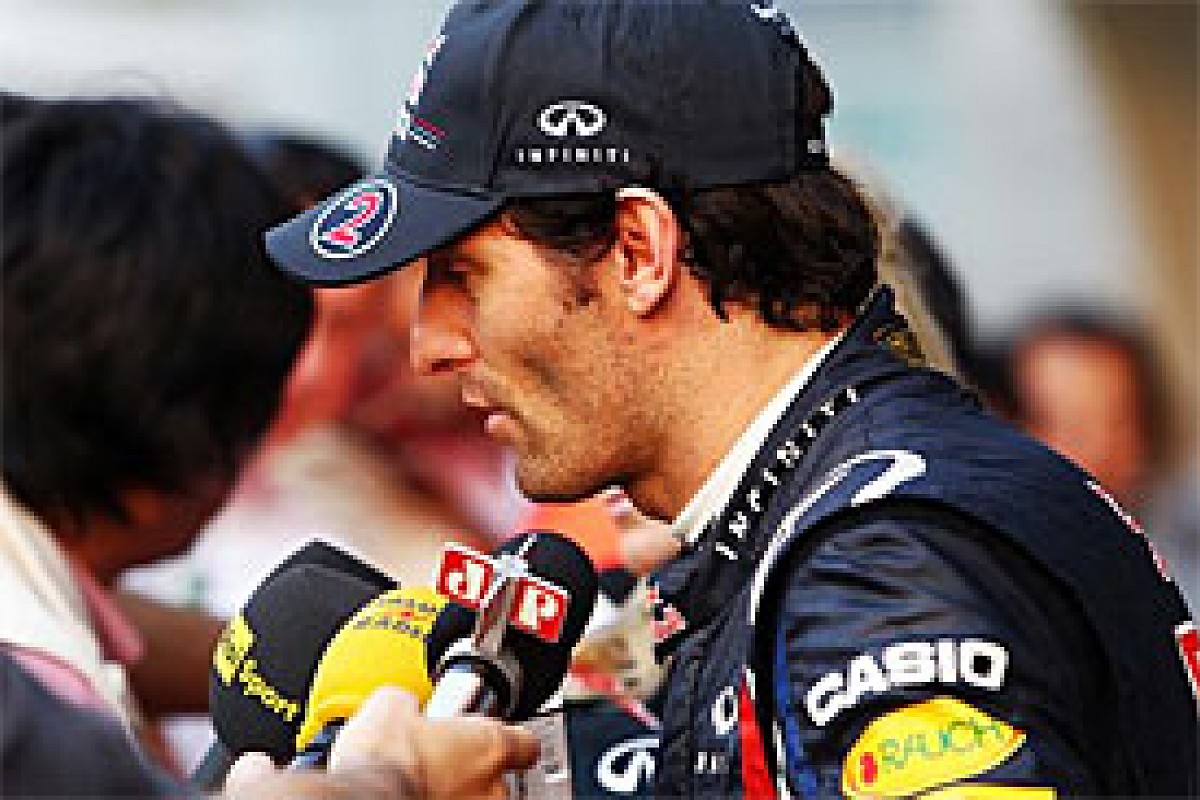 Webber faces the media © sutton-images.com
"Absolutely f****** ludicrous question mate!" blasted Webber to his questioner. "You've known me long enough, you've known me long enough. Five wins in a row? Yeah, but that doesn't mean... he's not just beaten me. He's beaten everyone. So no one will turn up then. We may as well all stay at home."
Yet on the back of those words, Webber may well have felt like he had been hit around the head with a baseball bat after qualifying.
Troubles through P3 with a wiring loom had left him with no feel for car/tyre performance in Q1, and his first run on hard tyres was short of what he needed. Ahead of his final run he was delayed by a weighbridge check, which meant there was not enough time for the two-lap run that the hard tyres needed - having been told by the team that he should stick to the prime because they felt the margin to the slower cars was still big enough to not need options.
But with his tyres having not been warmed in their blankets to their optimum temperature, Webber was well on the back foot for his run - and hit disaster as he got eliminated in Q1.
There was not one single factor to explain the drama - but the culmination of a lot of small incidents that helped spin it out of control. This was far from further evidence of a team conspiracy to screw Webber deliberately so he posed no threat to Red Bull's chosen one Vettel - it was just simply a miscalculation. It would be fair to say the Australian's cycle of form was still on its downward trajectory.
Come Sunday, though, and Webber was back on the upward path. A genius tyre strategy choice - to get rid of the hards early in the race - and some excellent driving throughout the race saw him scythe through the field.
This was Webber back to his best as he ended the afternoon just a few seconds adrift of race-winner Lewis Hamilton and Sebastian Vettel. And you could argue that if Webber had got rid of his hards a lap before he did - thereby not enduring that slow in-lap once their performance had gone, plus the extra seconds lost through running off the track - he would have won the race outright. That would have been something from 18th on the grid.
Webber's performance will have done wonders for his confidence - and it shows both him and the world that he is far from being the shadow of the man who took the fight to Vettel all the way through last season.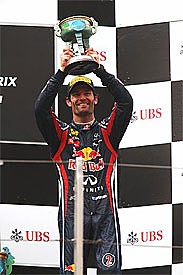 The Australian was a big star in China © sutton-images.com
He is now out of the dip in his form cycle, and he is heading to a run of races where he has historically been very strong. No one will forget how Webber's super-strong form in Turkey complicated matters for Red Bull Racing 12 months ago; then F1 returns to the scene of Webber's greatest glories of last year in Spain and Monaco.
Write Webber off at your peril right now. He knows he can produce race-winning form in his Red Bull; he knows too about how to attack with these tyres - and he will be keeping his fingers crossed that KERS issues do not keep inflicting him only. Webber is going to be better than he has shown so far this year - and that means Vettel coming under more internal pressure. The outcome of the title may well depend on whether one man hits the peak of his performance curve just as the other is at rock bottom.
After Webber's blast at the journalist in China, his sparring partner retorted about why he kept coming back for more.
"That's what a competitor does," said Webber. "Nothing lasts forever. That's the way it goes."
Spot on, mate.