Formula 1 is a sport where success and failure are defined by risk. For drivers, if you are not living on that outer zone of adhesion, the precipice where your car is on the very edge of its performance envelope, then there will be no success. Going to the extremes, though, is not without its obvious dangers.
Yet juggling the risk with the reward is something that is not just the domain of drivers. For team bosses, technical chiefs and engineers, there is a constant battle between ensuring that what you deliver for the men in the cockpit is not going to be a flop.
While the evaluation of risk takes place every day in F1 without much fanfare - be it the spending of resources on a radical new concept that could bring lap time, the introduction of a faster part that may not be as reliable or the ditching of better updates that are causing trouble - occasionally some really ballsy decisions have to be made.
There has been no better example this season that what has happened at McLaren, where the Woking-based outfit has effectively become the 'comeback kid' after turning a disastrous pre-season testing programme into becoming the thorn in Red Bull Racing's side.
The technical explanation for what McLaren did is simple - it ditched its faster but terribly unreliable 'octopus' exhaust system for a simpler but slower Red Bull Racing-type version.
While no-one inside McLaren would argue now that the team's path was not the right one - as Lewis Hamilton and Jenson Button have given Sebastian Vettel a pretty hard time so far this season - there was no certainty how things were going to pan out when the big decision had to be made.
So after its torrid time in testing, team boss Martin Whitmarsh faced one of the biggest calls of his time in charge. Stick with what was planned, or go down a totally different route?
Some within McLaren wanted to push-on with the 'faster' octopus configuration - feeling that the benefit in lap time would be worth it in the end, even if there were major questions about its reliability.
On the other hand, making the change would bring reliability, but the car would be slower. There would also be no track time with the updated exhaust - meaning the team would be arriving in Australia with a car it had effectively not run before.
Whitmarsh had to make the call and, shortly after the final Barcelona test, he decided the team would change plans: ditch the octopus for now and chase a different concept as the 'safer' option. Albeit one that could handicap the team in pace terms.
For Whitmarsh it was indeed a big risk. As team principal, and answerable to the McLaren board at a time when the company is launching its new road car, there is tremendous pressure to succeed. Getting it wrong and delivering a poor season for the team would not have come at a worse time.
With the buck stopping at Whitmarsh, the move was a big personal risk. It says much for the conviction of the man himself, and the drive within McLaren to win, that it was not afraid to take such a bold decision. Better to try, and then fail - than fail to try.
McLaren is dominated by a desire to succeed, whereas you could argue that long-time rival Ferrari - because of its iconic historical status - is sometimes driven to win by a fear of failure. The qualities of those on board are the same: but it is the balancing of risks to achieve it that are markedly different.
Ferrari may be every bit as good a racing team as McLaren, but would Stefano Domenicali - with all the pressures on him, the team and Luca di Montezemolo breathing down his neck - have been as ready and willing as Whitmarsh to take that leap into the unknown and ditch a concept that had been worked on over the winter? Maybe. Maybe not.
Perhaps this mindset also explains why Ferrari has, in recent years, not been the most innovative of teams in the pit lane. If you think of the great technological innovations of the past few years - F-ducts, blown diffusers, double diffusers, mass dampers, forward facing exhausts - how many of those appeared on a Ferrari first?
Mercedes GP team principal Ross Brawn has already talked about McLaren's turnaround this year giving his team some inspiration - and maybe the lessons of McLaren's risk-taking have been taken on board by Ferrari too.
Technical director Aldo Costa talked last week of the need to be more aggressive with its development - which ultimately means taking more risks. For such risks to be judged, however - they have to be approached from a positive push for success and not with negative thoughts of being too scared to flop.
Whitmarsh says that the juggling of risks for a team has to be imposed from the top down.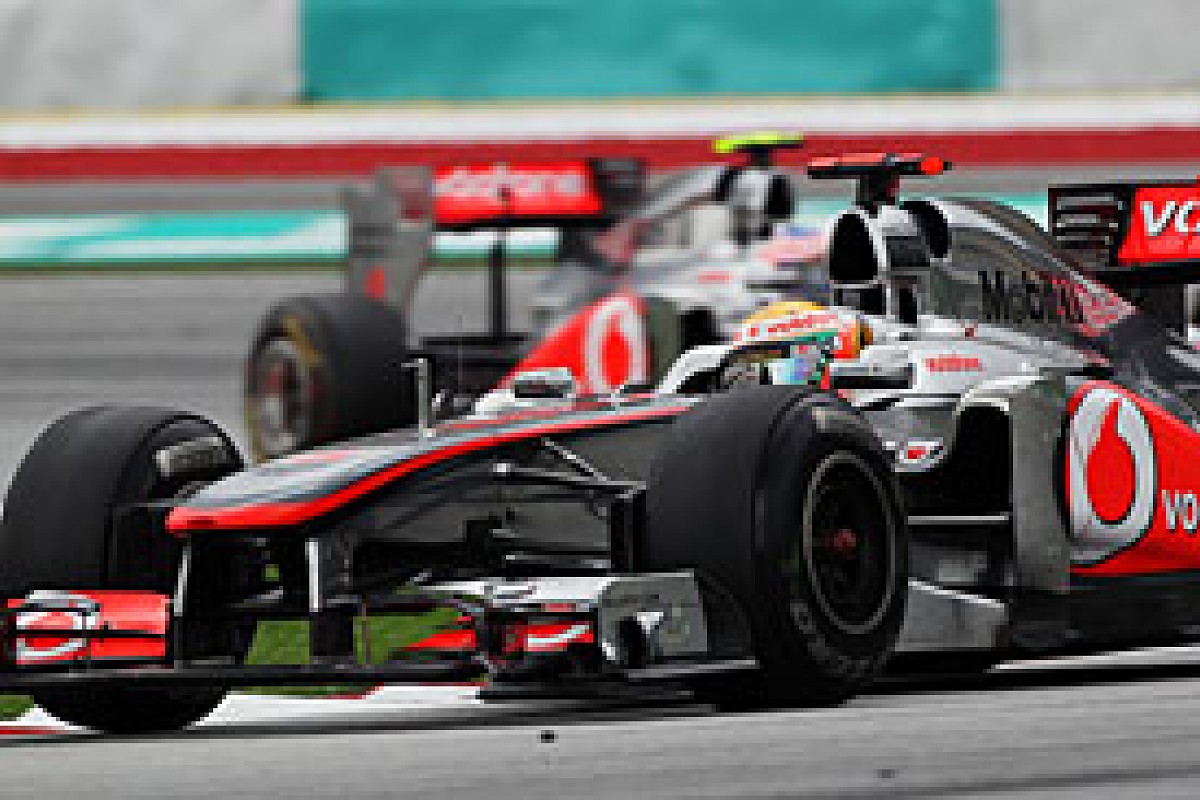 Lewis Hamilton and Jenson Button have provided Red Bull with its sternest opposition © sutton-images.com
"I was probably prepared to take more of a gamble than others, because I didn't want to be here thinking we could just score a few points," he told AUTOSPORT.
"I don't like going racing like that. In fairness to everyone, I suppose one of the few prerogatives I do have is that I have the prerogative to determine the amount of risk that ordinarily the engineers would not be comfortable with. It could easily have gone wrong
"I am not at all critical of the creative aerodynamicists who work in that area of the car, as that is their job, but I think it is the job of management ultimately to weigh up what the risks are, what is the practicality, and what is the feasibility. That is not the job of the aerodynamicist."
When Lewis Hamilton looked over at Whitmarsh during a media briefing in Malaysia, and remarked: "Without Martin we wouldn't be here at the front..." he knew exactly how much his boss had put himself on the line before the campaign started.
It is said that everything in life is sweetened by risk - but how much sweeter must F1 be for McLaren right now knowing all that was risked before the start of the year?