Post-Melbourne the Emirates flight departed in the small hours and the passage to Kuala Lumpur was eased considerably by several excellent glasses of chilled Cloudy Bay. In KL I bade farewell to my travelling buddies who were heading to Blighty before schlepping back out to Malaysia.
Bleary-eyed at the luggage carousel early morning I bumped into John Button, perusing the information screen for his onward hop to Langkawi.
"The lad going too?" I asked.
"No," said John, "Jense and his gang are off to Hawaii. He's doing a triathlon next weekend."
Blimey, I thought, serious preparation for the demands of Sepang a few days later...
"Surprised you're not joining in!" I joked, well aware that, far from a 1500m swim, a 40km cycle and a 10k run, John's idea of a triathlon was more likely to be a day in the sun, some good red and a 20-yard stagger to bed.
We talked about how Jenson had gotten into a sport he now takes very seriously. John explained that one year at Club La Santa, the sports and activity resort in Lanzarote, they'd met some athletes training for an Iron Man (a consecutive without-break 2.4-mile swim, 112-mile bike ride and marathon!). Jenson was inspired to take up triathlon and they gave him some training tips.
A few days later I couldn't resist logging into the results of the Lavaman Triathlon in Hawaii to see how Button had fared. Sorry Jenson, I know you guys appreciate doing a few things away from the glare of constant publicity, but it made for highly impressive reading.
You get a huge spread of ages and abilities in these events. The winner was 25-year-old German Erich Wegscheider, a professional triathlete making his debut in the elite ranks this year, who completed the event in 1hr53m31s with a three minute winning margin despite only taking the lead midway through the run from a competitor, John Flanagan, who seemed to possess Ian Thorpe-like swimming ability and only just came up short at the US Olympic open water swimming trials. Wegscheider averaged 5:34 mile pace for the 6.25 miles and his benchmark 10k time was 34:25!
Of the 1039 competitors to post finishing times, a 57-year-old was 20th overall (2:07.11), which is extraordinary, a 63-year-old was 68th (2:22.35) and a 69-year-old woman was 529th (3:08.59).
Button finished 191st (2:39.18), which might not sound that remarkable, but hang on a minute. What you need to know is that Jenson suffered a puncture on the cycling leg and sat by the roadside awaiting a replacement wheel for half an hour.
Wegscheider took 20m23s for his open water near-mile swim; Button's time was 23m03s - which ranked Jenson 51st at that discipline. Remarkably though, Jenson's 10k time of 37:34 (which translates to 6:04 mile pace) was beaten by only eight athletes, which in that company is seriously impressive.
The fastest cycling leg was Wegscheider again, in 57m18s, with Jenson's puncture resulting in a totally unrepresentative 1h36m16s. If you average out 51st and ninth from the other two disciplines and give Jenson a top 30 bike time instead, you arrive at an event time of 2:05.42, which would have placed him 18th overall!
Button is apparently keen to tackle the full Iron Man extreme distance but McLaren, understandably, is less enthusiastic. It can apparently take a couple of months to recover properly from one of those, so it may well have to wait.
The heat and humidity of Malaysia makes the race one of the toughest on the calendar. At Sepang I spoke to Jenson's physio Mike Collier about both Button's conditioning and the approach to a race like Sepang.
"Imagine fitness from an endurance perspective as a triangle," he says. "The base is low intensity exercising, the next stage up is your aerobic capacity, so that's a little bit more like race pace, then the next bit is your maximum anaerobic capacity, the sort of thing you can probably hold for about five or 10 minutes.
"When you are doing a triathlon you're aiming to be at the top end of your aerobic capacity just before you dip into your maximal. What we do, very much for the start of the year, is work on base endurance - the reason being that it's the stuff that really brings drivers' weights down. You want them to be as lean as they possibly can be.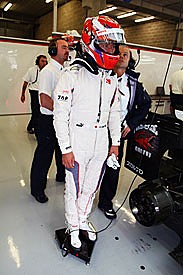 Driver weight has become ever more important since the re-introduction of KERS © sutton-images.com
"Once you know their racing weight you can then play around a bit. We are aiming to compete in the London Triathlon in August and so between now and then we will work a little bit more on the aerobic stuff and towards anaerobic higher end training. That's why we were really pleased to see that 10k time now. What they do say is that the wider your base, the higher the peak, so doing lots of base training can result in faster times without even working at those faster tempos. That's probably what we're seeing now from those results."
If you're the sort that does a few crunches on the sitting room floor in front of the box and wonders why you never see a six-pack, it's because you don't shift enough body fat. Depending on your genes, it's reckoned that you need to be down somewhere around 8-11% body fat percentage to see six pack abdominals. The modern racing driver, through training and diet, sets out to eliminate every last ounce of unnecessary weight.
"Obviously with the reintroduction of KERS, it was important to be able to reduce overall weight without compromising strength," Collier says, "so what we did December time was go through some nutritional assessments and take in some body fat composition -- so from the glutes, quads, back of the arms, etc. You can effectively get a map of overall fat percentages and where they are on the body. Then you can map that to some types of foods. If you've got excessive fat around the back, for example, that's related to taking on too much carbohydrate, so we tweaked a few things in relation to the type of things he was eating and went from about 12-13% body fat over the winter to about 8% and we're probably a bit less than that now. He's never been fitter or leaner.
"At the hot and humid places, if you start going below that, you run the risk of going too far. Fernando (Alonso) a couple of years ago when we had KERS, started the year looking really gaunt, I thought, and he fainted here, so I think it's about playing around to get into the optimum range. Obviously hydration and nutrition are important."
To put that into some sort of context, the models you see on the cover of something like Men's Health, or being used to sell some wonder diet programme, have a body fat percentage around 5-6%.
"Yes," Collier says, "and those guys will also dehydrate themselves for the photo shoots in order to get that look."
In one Malaysian GP, Button had his drinks bottle fail. He found his concentration and vision deteriorating before the end of the race.
"That was a combination of dehydration and the inability to dissipate heat," Collier explains. "The point of hydration is 1) restore the nutrients lost, be it from energy or sweat, and 2) to increase the plasma volume, the amount that's circulating. If that drops, what then happens is that your heart rate bangs away more than normal, the heat and humidity makes you sweat more and heart rate increases even more, so your ability to concentrate is altered. The ability to react and visually see or pick things out is slowed, which is a bad situation in a racing car."
The approach to it varies depending upon the race.
"We have two or three different types of hydration strategies," Collier says, "one for a standard European race, one for a hot European race and one for a race like here -- hot and humid. The amount you drink and the composition of that fluid are also slightly different.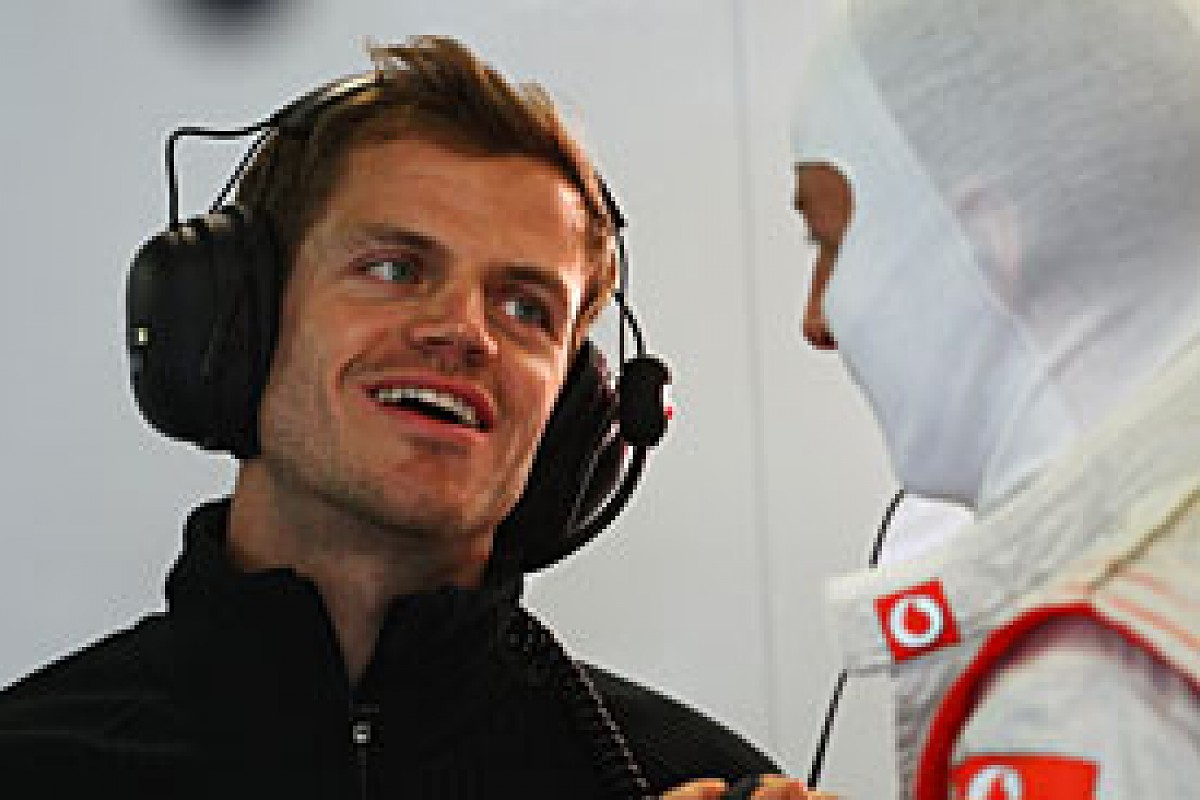 Jenson Button's trainer Mike Collier © sutton-images.com
"Generally speaking, for the hot Europeans they tend to be electrolyte based with some carbohydrates. For the warmer more humid races you have protein and what that will do is increase your blood plasma volume, so help to absorb all the hydration strategies that you are taking on board, which will increase your blood volume.
"What we do, and we do this for every race but particularly here, is monitor his weight pre practice one, post practice one, pre practice two and post practice two, all the way through the weekend, so we see how much fluid is being lost over the course of an hour and a half or the hour. We then identify and work out what we'll lose over the race and then almost over-hydrate so our finishing weight matches what it would normally be. In Malaysia you lose somewhere in the region of 4-5kgs, so 4-5 litres of fluid. What we did find with the plasma volume hydration strategy was that we tended to lose a bit less, more in the region of 3.5 litres."
The days of gentlemen drivers having a couple of glasses of red before they hop in are long gone... Anyone thinking that modern day F1 drivers are anything less than properly trained athletes, think again. Given his regime, 56 laps of Sepang held few fears for JB.