After a relatively peaceful 2010 politically, at least on the surface, we were suddenly jolted awake in Melbourne when Bernie Ecclestone labelled the FIA a joke and Jean Todt 'a poor man's Max Mosley.'
"What's Bernie up to?" someone mused in the press room, a question that must have been pondered a zillion times over the past four decades or so. People tell you that Max is still deeply involved in the background. You can be sure that whatever Bernie is doing, it will be connected with the control of Formula 1's revenue streams ahead of the fast-approaching time when the existing commercial agreement with the teams runs out at the end of 2012.
That much we know, but as to the specifics of his modus operandi or the end-game behind each proclamation, experience tells you it's probably best not to bother guessing. You'll be wrong more than 50 per cent of the time.
"The way he can manage to control a lot of very intelligent people and still keep them dancing to his tune is extraordinary," says Damon Hill on the back of Tom Bower's recently published book - No Angel: The Secret Life of Bernie Ecclestone.
Damon's quote is probably the most accurate thing in the book. It was a book I was greatly looking forward to. "Bestselling author of Branson, Maxwell and Fayed" the new tome states on its cover.
Branson had already sued Bower for libel over a comment made in an article in the Evening Standard back in '99 and the entrepreneur's comment on Bower's biography was: "What I have read offended me on every single level... It is a foul, foul, piece of work from the first words to the last - really rotten, nasty stuff." Which was, no doubt, the best sales promotion Bower could have had!
When Bower's sights encircled Ecclestone, you could imagine Bernie thinking, "Uh, oh..." Having been deeply impressed by the depth of research in Terry Lovell's book, Bernie's Game, published in 2003, I was intrigued by what a man with Bower's reputation might turn up.
Post-Melbourne I had the time to find out, and was appalled. Okay, Bower obviously knows nothing about Formula 1, and probably cares even less, but he might have run it by someone who does. There are so many factual inaccuracies, often hilarious, that you couldn't resist making a note of them while you read. We all make mistakes, but...
I quote: "To help Rindt win, Herbie Blash, the Brabham engineer, resorted to 'every trick in the book' by adjusting the car's weight and imperceptibly twisting the wings to improve the aerodynamics."
Bloody hell, Herb! I'm surprised you weren't a billionaire before Bernie. I've heard stories that Herbie sometimes struggled to lift the front wings that had to go on Bernie's Brabhams for the weight check and might have given Jochen Rindt's Brands Hatch 1970 rear wing a surreptitious thump to lower it when the Lotus failed post-race scrutineering, but that's about it.
As Max Mosley is introduced to the story we are told that in 1969 March cars were "the fastest around the tracks." Allowing for the fact that he's a year out, I'm sure a certain John Young Stewart would beg to differ.
A few pages on we discover that Carlos Reutemann was a world champion - something that I'm sure not even dyed in the wool Reutemann fans like Peter Windsor or McLaren's Matt Bishop would claim!
Bower relates how, in 1982 at Monza, Ecclestone met the 23-year-old six foot tall Croatian model, Slavica Malic. Thirteen pages further on he records their marriage at the Chelsea and Kensington register office on the King's Rd on 17 July 1985, and how the 32-year-old bride wanted to go and have lunch to celebrate. By my maths she was 24 when they met and had just turned 27 when they married, but using Bower's rate of ageing she overtook Bernie around 2000, will have received her telegram from the Queen last year and must be fast running out of time to get through the biggest divorce settlement in British history.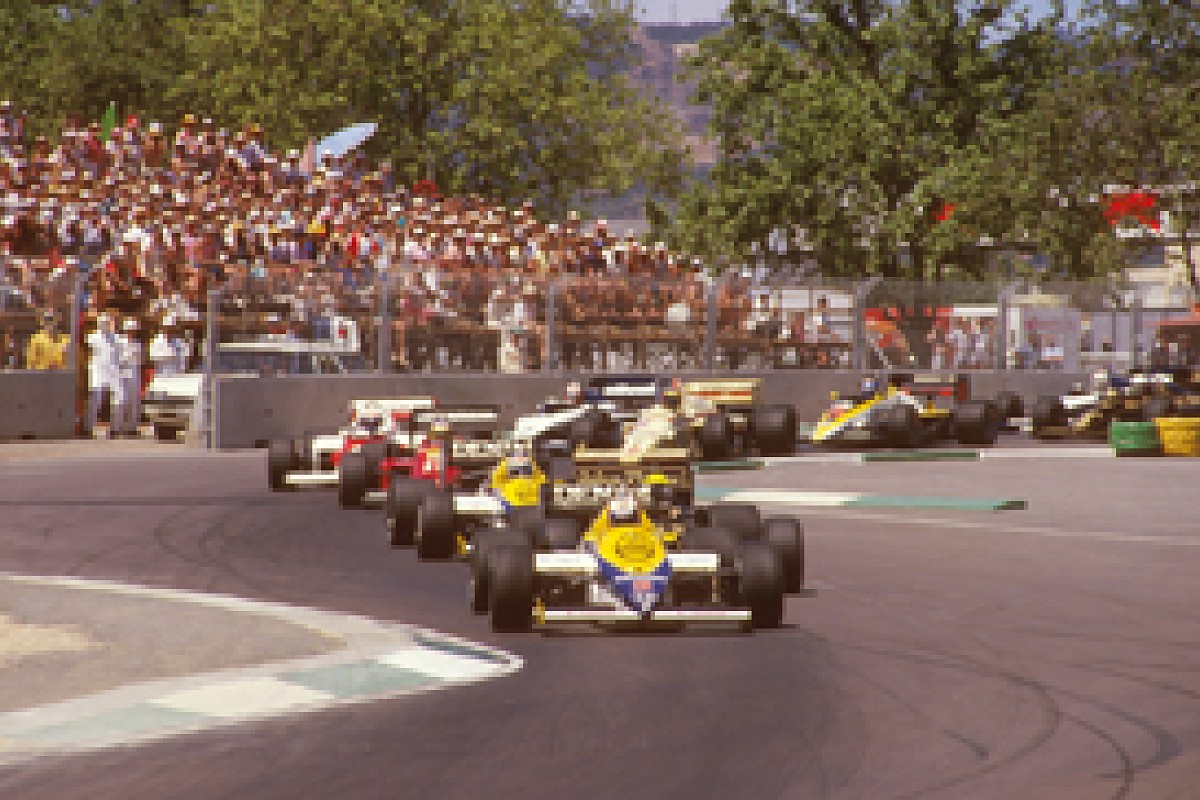 The 1985 finale in Adelaide © LAT
The last race of the 1985 season, we are told, took place in Austria. Close, but missing a couple of letters - try Australia.
Niki Lauda, we learn, retired for the third time after winning his third world title in 1984. Having nailed McLaren team-mate Prost by half a point in '84 and unlikely to do so again, Niki probably should have done, but presumably needed Marlboro's bucks, so kept going another year. And it was his second retirement, but I guess I'm nit-picking now.
In 1988 apparently, Jean Marie Balestre refused to penalise Ayton Senna for deliberately crashing into Alain Prost in Japan. He's a couple of years out there.
When he gets to Singapore '08, Bower says: "Not suspicious of any wrongdoing, television viewers across the globe, including Ecclestone in his office, watched as Piquet miraculously emerged unscathed." From a spin out of a second gear corner...
During GPs I provide an extra pair of eyes for FOM's TV studio crew and, having noticed that Fernando Alonso had stopped unnaturally early, as soon as I saw Nelson Piquet shunt and the safety car emerge, I pressed my button and said to the producer, "I reckon that was deliberate..."
"You cynic!" they laughed, but if it occurred to my mind it will sure as hell have occurred to Bernie's!
Perhaps the most amusing though, is Bower's account of Anderstorp 1978 and the Brabham fan car episode.
As a 17-year-old Lauda fan, I was hugely excited about the fan car and its potential to blow away, literally and figuratively, Mario Andretti and his blasted Lotus 79. The problem was, I was running in a county 5000m race for Durham in Cumbria, the start of which coincided exactly with the start of the Swedish GP, being shown on ITV.
To my consternation there were only six of us in the race, and the other five were very fast. That and my anxiety to get back to the car to watch the black-and-white portable no doubt helped me to a PB (I was still last) and I recall sprinting back to the car all sweaty and losing patience with my Dad, who was struggling to get a signal. When he got one I was delighted to find Niki in front and ecstatic when he went on to win. Little did I realise that Bernie's concern about the commercial implications of upsetting Colin Chapman and the brethren would lead him to tell Gordon Murray to take it straight off...
Despite a 17-year-old journeyman schoolboy athlete in Cumbria being acutely aware of the fan car's potential (it had already lapped the Brands Indy circuit indecently quickly, when AUTOSPORT got a scoop picture), according to Bower: "On the track Lauda was unaware of Murray's ruse." Well, fancy that...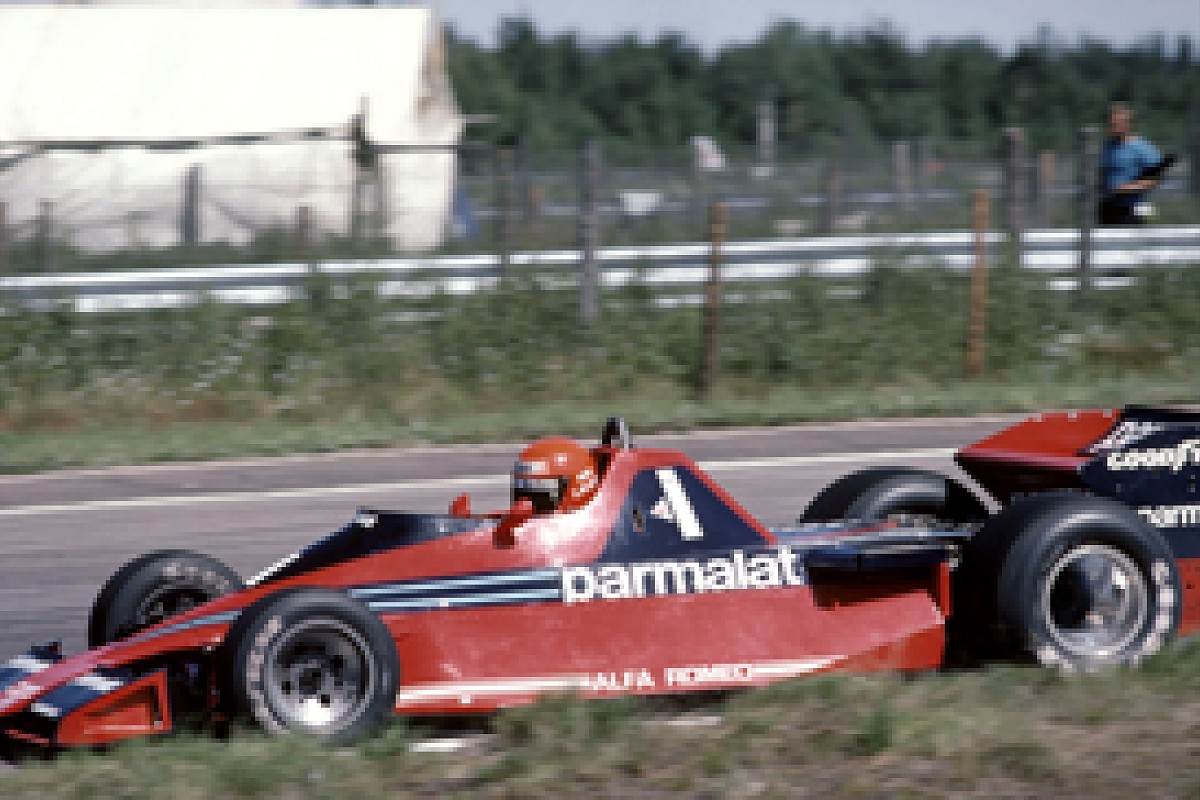 Brabham's famous 'fan car' © LAT
"Indignantly he (Lauda) heard Ecclestone order the fuel tanks to be full for the qualifying sessions. 'I want to win pole,' Lauda protested. 'The car will be too heavy.' 'Shut up and do as I say,' snapped Ecclestone, conscious that he needed his rivals to remain unaware of the plot. Lauda qualified a poor tenth. Just before the actual race the following day, Ecclestone ordered 'Push the accelerator down when you see the others in trouble. You'll be OK.' Realising that something special had been added to the car, Lauda obeyed..." Etcetera.
Hilarious, isn't it? Those same rivals that Bernie supposedly wanted to remain unaware of the plot had been bitching like hell for the best part of two days that the fan car was showering them with stones, dust and all sorts of crap as they tried to follow it. The Brabhams probably did sandbag in qualifying so as not to upset Andretti and Chapman too much, but Niki didn't qualify 10th, he qualified third. And John Watson qualified the other BT46B second. And Niki, I'm sure, had learned about pushing the throttle down on the way to his two previous world championships with Ferrari...
Fair enough, so motor racing is just the medium and perhaps the details don't matter too much. Bernie's life could just as easily have been about politics, or tiddlywinks. It's just that when detail about that which you understand is so lamentably wrong, it makes you question how much of that which you don't know is likewise.
For example, you might expect that an author who has scripted biographies on the heavy-hitters Bower has, to know that the European competition commissioner who caused Ecclestone and Max Mosley such aggravation, was Karel van Miert who, incidentally, died in 2009 aged 67 after falling from a garden ladder. In Bower's account though, his name appears to be 'Karl.'
There has been newspaper serialisation of the book that, predictably perhaps, focused on tittle-tattle from Ecclestone's marriage to Slavica. You gather Bernie may not have been best pleased but there is nothing particularly revelatory in there and certainly nothing that warrants buying the book. I'm not going to repeat them here - Sepang is an awfully sweaty place to be stuck outside the gate with a non-working pass...
If you can forgive the errors, you may find the chronicling of F1's multiple sales interesting as Bernie amassed his billions. I'd forgotten all about Hellmann & Friedman - thought that was mayonnaise. But, if accuracy is your thing, stick with Jackanory and The Beano.