I was interested to see the reaction - largely negative - to Bernie Ecclestone's idea, given credence by Pirelli, of track sprinklers creating 'artificial rain' to spice up Formula 1 races.
Perhaps the first consideration after the 2010 season we're coming off should be that old adage, if it ain't broke, don't fix it. Do we actually need to be doing anything? The great thing about last season was that you could go to just about any race without knowing who was going to win it.
I saw a comment from Bernie in support of the Williams flotation last week, supporting it and suggesting that more teams might follow suit because F1 is probably the best global marketing platform there is. That's pretty much true and the viewing figures the sport attracts are impressive. If it was a poor show that wouldn't be the case. Which is not to say that it can't be better.
Bernie was pretty much lambasted for his shortcut idea last year, which I thought actually had some mileage. Perhaps it was just the expression 'shortcut.' It conjured images of people missing out half a mile of a school cross-country course by nipping through some woods. But in fact, faced with evenly-matched, aerodynamically-sensitive cars' inability to pass each other, it would have been a relatively easily implemented solution that would also have introduced an interesting twist to the elements of race strategy.
Instead, we've got a moveable rear wing which people now worry that, in association with KERS, brake bias and everything else, is too taxing for anyone south of Einstein. On top of that, Mark Hughes points out in his AUTOSPORT column this week that the construction and wear characteristics of the Pirelli tyre are such that there's going to be so much junk and marbles on the track that nobody's going to be able to go off-line to pass anyway. These things often turn out not to be as big an issue as predicted, but let's see.
Looking ahead though, perhaps we shouldn't take seasons like 2010 for granted. Adrian Newey has managed to avoid seriously hurting himself in a race car, has not involved himself in any scandals carrying a paddock ban and, probably much to the consternation of his rivals, still seems to get a great buzz from coming up with world-beating race cars. Ferrari seems to be keeping pace with him pretty well but over F1 history, years like 2010 tend to be the exception and not the rule.
So, would squirting a bit of water on the track do us a favour? And, if so, is it horribly artificial?
It's amazing what people will watch and there's probably no better example of that than 'It's a Knockout,' which ran on the BBC from 1966 to 1988 before being taken on by other channels. It basically involved representatives of towns competing against each other in absurd games while dressed in foam rubber suits. Things like trying to clamber over greasy soaking logs while the opposition pelted you with custard pies and commentator Stuart Hall fell about incoherent with laughter.
Winners went forward to the international 'Jeux Sans Frontieres', when Hall would lose himself in the excitement of a close contest and yell, "and the Belgians are playing their joker! (double points for that!)." For many it became a Friday evening staple and it got some pretty spectacular viewing figures.
Fernando Alonso tests in the wet at Catalunya © LAT
We don't want to turn F1 into that, with Ferrari fingers poised ready to hit the rain button just as Sebastian Vettel passes the pit entrance. I read something last week suggesting that the sprinkler idea risked dumbing down F1 to the level of wrestling, losing it all credibility.
But, are people missing the point? I went round to a friend's for dinner on Saturday night, someone who has played international sport, and he thought it was a fantastic idea. "Wet races are always interesting, aren't they?" he said, "you always feel a bit sorry for the poor sods sat there in the grandstands but with this you'd have everyone there on a lovely day and still a wet track - everyone's a winner!"
Mark Webber obviously doesn't agree and normally Mark's a voice of sanity, but to question a concern of some others - why, exactly, would it be any more artificial than it already is? Putting 24 guys in differing projectiles on a closed circuit for a race is artificial in itself - it's not an even contest.
If you accept that as part of the team element, fair enough, but all you would effectively be doing is making the challenge of a race that much greater and providing an outlet for a wider range of skills. One thing I can guarantee you is that pretty much every time there's a wet race, with all the variation and interesting nuances they inevitably throw up, pretty much everyone gets back to the press room with a smile on their face and says, "wasn't that a fantastic race!"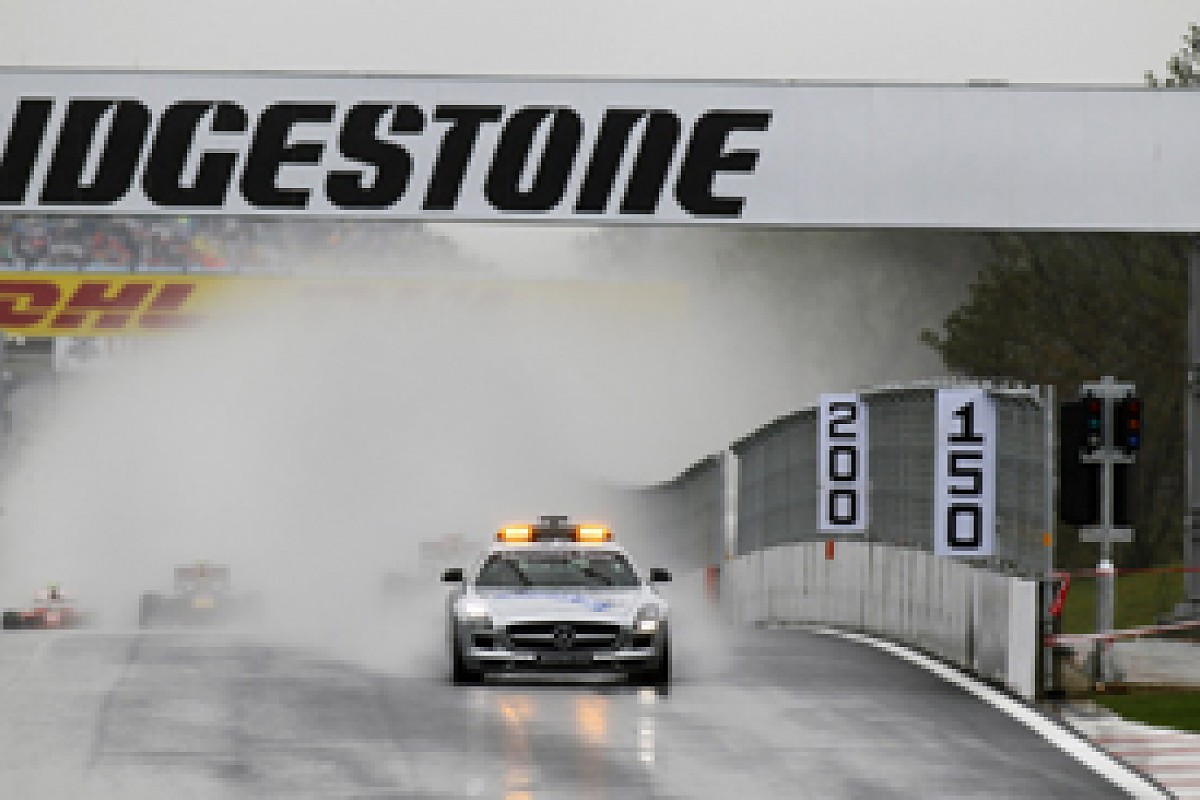 Most drivers did not enjoy conditions in Korea last year © LAT
No, the real problem would be from a driver's point of view. Few people have any conception of what's involved in driving blind into a ball of spray at 200mph.
When drivers say they can't see a thing, that hearing becomes a heightened sense because you need to react to engine noise to tell you where the car in front is, they're not making it up. When they say that lifting is just as dangerous as keeping your boot in because you get clobbered by the bloke behind, they're not making it up.
In fact, every time you see guys climb into an F1 car on a murky day and race off into the spray, you think, my Lord you're certainly going to earn your money today... Many of them, privately, would tell you they'd rather not. They do it because there's a TV slot to fill and it's expected of them.
Some of them - and not all - are certainly paid huge sums of money. But you can't take it with you in a wooden casket. They accept, bravely, that they are going to have to contend with what the elements throw at them every so often and they get on with it. But, particularly in these health and safety days, it really is all a bit gladiatorial.
Deliberately introducing those elements on a regular basis? Okay, the visibility would be better but it would only really be viable if you could work with surfaces that eliminated 90 per cent of the spray. The big problem would come when someone badly hurt themselves, or worse, as a result of artificial rain. It would only need to happen once. As a concept, you can see why most drivers would give it two solid fingers. You don't want to roll those particular dice any more than you have to...