Virgin Racing openly admits that it endured something of a baptism of fire during its debut campaign in 2010.
Having vowed to go about things differently through its choice of a CFD-only car design, the team did little to quieten the sceptics on the back of a front wing failure in testing, endless hydraulic dramas and then the famous fuel tank issue.
Despite its trials, however, Virgin kept its head down and focused on not only doing its best on track, but in making big progress off it, too.
By the end of the campaign, although it finished at the bottom of the constructors' championship, Virgin had secured a title-sponsorship deal with Russian car maker Marussia and laid down solid foundations to move forward.
One of the central figures in Virgin Racing's progress was its president, Graeme Lowdon, who earned great respect in the paddock for his level-headed approach to the business of racing - as well as a balanced view of F1's politics.
AUTOSPORT caught up with Lowdon to talk about Virgin's trials in 2010, why he thinks its second season will be better, and his views on Formula 1's political landscape.
Q. Team principal John Booth said recently that one of the things he has realised, looking back on Virgin Racing's first season, was that perhaps you had been naive about the challenges of Formula 1. Would you agree?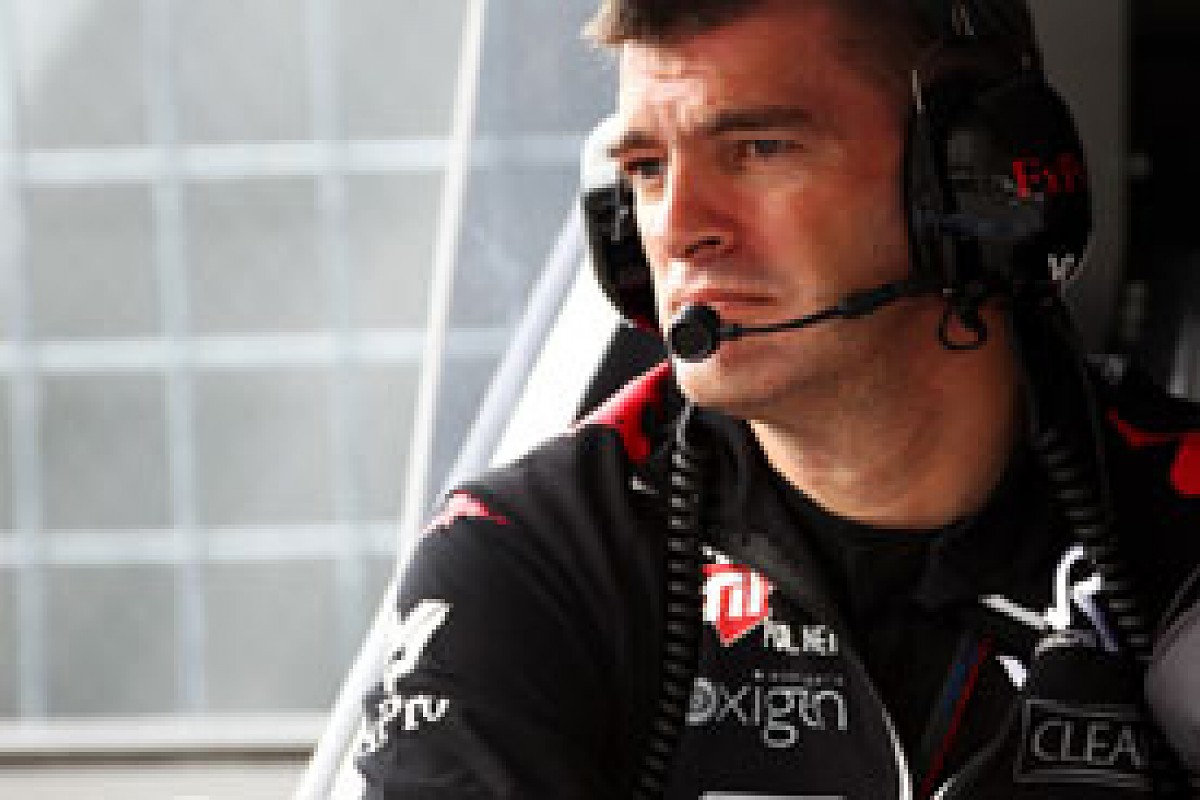 Graeme Lowdon © sutton-images.com
Graeme Lowdon: John and I are on absolutely the same page, but I know when I came in I assumed that everything was going to be phenomenally difficult. And, if not that, them impossible. Of course, you cannot then be let down in your own approach.
John has been much more at the sharp end, in terms of the areas that were incredibly difficult because of the short timescale. Putting the team together, building the factory, all that sort of stuff - they were right slap-bang on his plate. Whereas I was there, building the commercial model and things on that side that were a little bit more straightforward.
Somebody asked me recently if I had any regrets, and I've got absolutely none. I don't regret a single bit of it, because it is the pinnacle of the sport. If you look at the heart of this team, everybody is in it because they love the business - so if you get the opportunity to do it then you have to grab it, and that is what we did.
Q. Were there times at the start of last season when you were left wondering what else could go wrong? You had the front wing issue in testing, poor reliability and then the fuel tank issue...
GL: Yep! Especially the fuel tank thing - that was one of those moments where you think, 'what else? What else?' You just have to put it in perspective, look at the big picture and then get on. But there definitely were times like that.
But that is the same throughout all of motorsport. It is not limited to F1. You see that adversity in a lot of areas and you think the world is against you at certain times - but then you realise it isn't.
There is a lot of support out there and there is such a strong spirit in this team. I think somebody like Timo [Glock] saw that when he first signed for the team in 2009.
At the time we didn't have a car, we didn't have a factory, we didn't have any transporters and we didn't have any mechanics. We had a screwdriver and that was about it. But we did have passion, dedication and application. And he could see that there was some serious effort being put into this.
So yes, it was difficult - but it is F1, it is meant to be difficult. We are just so keen to prove that we can do it.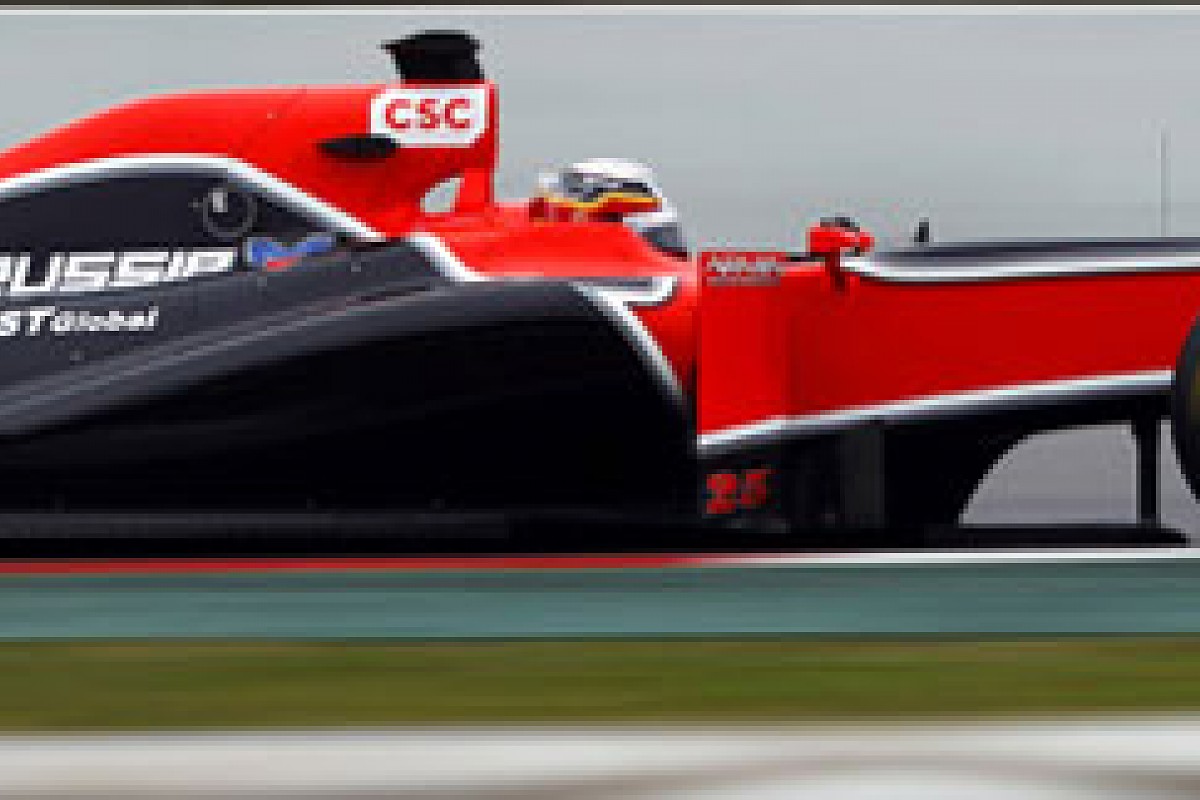 Q. How were you able to turn the situation around? After Australia it looked pretty bleak, but by Valencia in June things appeared to be much better.
GL: Again, it comes down to some basic things. The flyaways were unbelievably difficult to do as a new team, and we really only had the technical rules set when the Concorde Agreement was signed in August. So we are talking four or five months to pull that whole thing together.
The first thing you do is then bundle it all up and ship it off for four races, where you don't come home. Although you could argue that that shouldn't make a difference as we didn't have a home at that point, as the factory wasn't finished at that point, you are on the road with a brand new team of people. There was a lot of F1 experience there - but it takes more than just experience to build a team. You don't have any of the support systems, you have no knowledge base or anything.
If you are really lucky, you get through it without too many hitches. If things go to plan, it is tough. And if you are unlucky, then it is a nightmare. And we had a proper nightmare. But every so often, you would have a little high.
In Malaysia, for qualifying for example, we qualified on merit ahead of Ferrari and McLaren. Our car was not as quick as theirs, but as a team we read the situation better. And I will have that argument with anybody. There is no question that we did that.
We knew we could not beat them in the race, absolutely not, but in the job we had to do on that Saturday, we as a team did a better job. So you can look at that and say, 'okay, these are the small bits that lift the team'.

Then you have problems and setbacks, and the hydraulic things - and someone will write a book about them one day and that chapter will be called 'Do not shift.' You would get to a stage of the race where you think everything is going great, then you would hear over the radio, 'do not shift'. And you would think, 'oh well, there we go again'.
Q. How important was it to get Timo Glock remotivated about his plight, because mid-season last year he did not seem too happy at the struggles he was facing?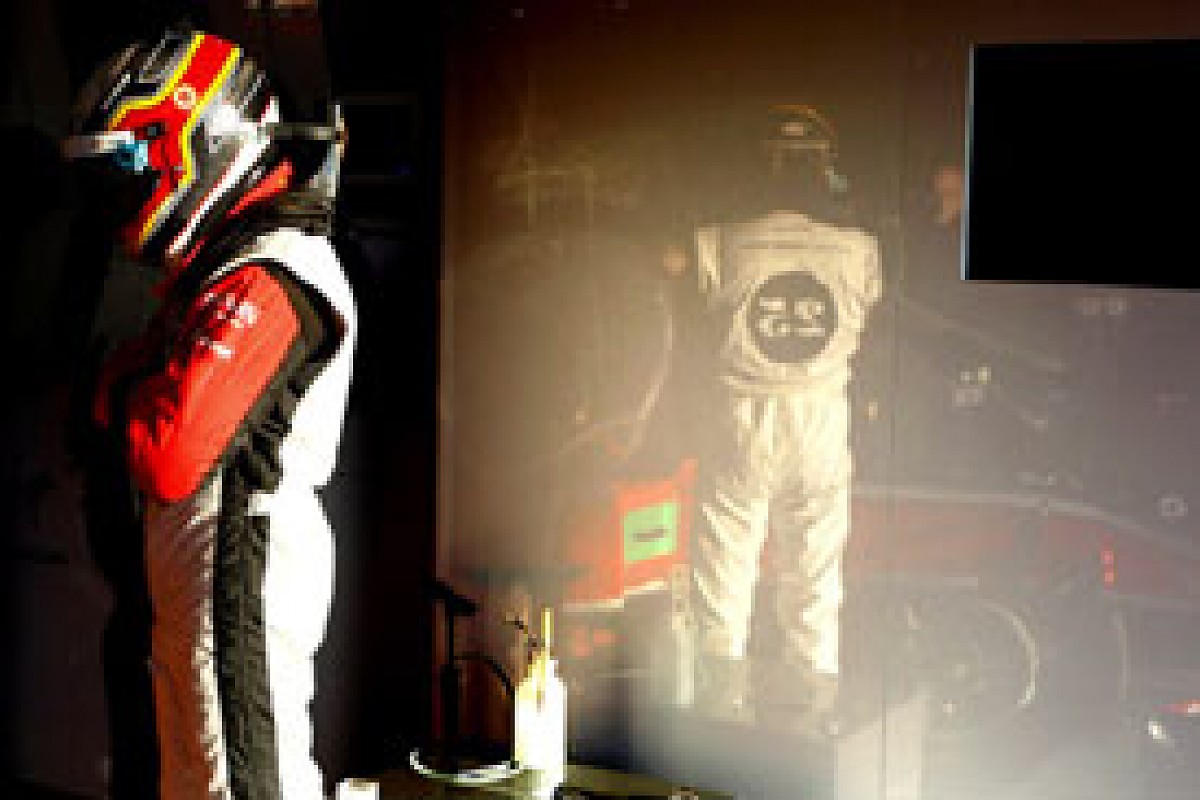 Timo Glock © LAT
GL: To be honest, we didn't need to do that. Timo got himself out of that. I have such admiration for him as a driver. The guy is fast, he is so quick. And, therefore, I can understand his frustrations at the time.
But he didn't throw his weight around, or whatever. He constructively tried to help things. So there were some ups and down and everything - but we as a team took a bit of a conscious decision not to put any pressure on him, including where he wanted to race. You cannot force somebody to drive your car.
He is professional enough to motivate himself and that is what he has done. And now, I have not seen him this motivated since the day we signed him. It took a lot of commitment for him to sign for a team that didn't have anything to show, apart from our ideas. He put his faith in us, and it is up to us to repay that.
It is the same for every mechanic, and every marketing person. Everyone who has joined the team - because we have had a really low staff turnover - they put their faith in the idea and bought into it.
One of the things that I am really happy about is that we haven't had to motivate Timo. He knows that if we do our bit, and provide him with a decent car, and he does his bit - then everything else will follow.
Q. How important, heading into the winter, was it getting the sponsorship deal with Marussia on board?
GL: It was funny at the time. It wasn't that we were searching for a deal, or anything else like that. We knew the Marussia guys, Nikolay [Fomenko, founder] and Andrei Tscheglakov [co-investor] - and Andrei in particular has a fantastic outlook on life and business that is actually quite rare to see these days.
The image of Russia that he portrays is one of entrepreneurial spirit and people making a way for themselves, not from the land, but from technology and areas like that. So that struck a bit of a chord with us.
I look at the challenge of setting up a global sportscar business - and wow, F1 suddenly looks easy! So to have their financial backing and also to have their business backing is great.
We have integrated people from Marussia's management team, not because they have been forced on us or anything like that, but because we've managed to put together the best management team out of what we have got. From that point of view, it is good.
People say that every F1 team is looking for a car manufacturer. Well, now we have got one. I guess the only trend that we have bucked is that it is not Lotus!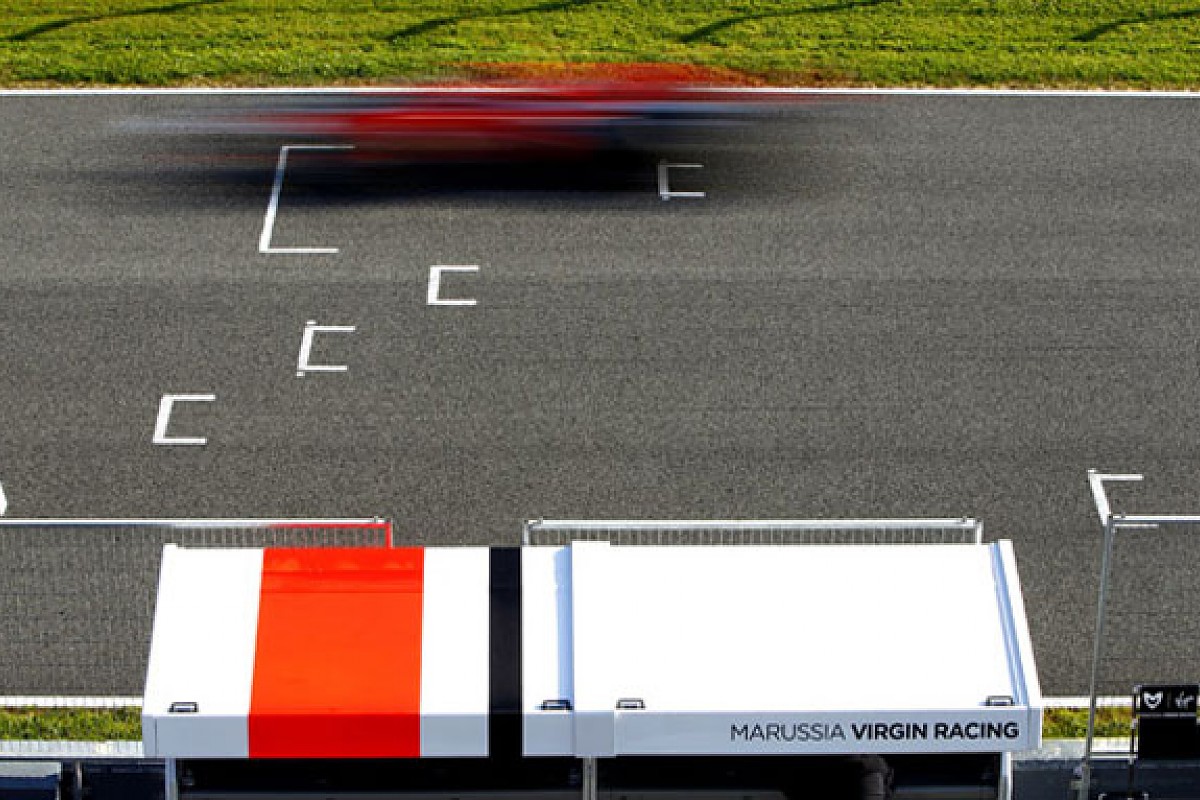 Q. The other development over the winter was in February when you announced the big management restructure - with some job titles changing and Ian Phillips coming on board. Was that move motivated by divisions of responsibility - because a cynic could say that it seems a bit top-heavy in terms of bosses?
GL: I know what you mean. From a business point of view, I've done a number of start-ups, and to all extents and purposes from a business perspective this was a start-up. When you do a start-up, it makes sense to have a small very tight-knit management team. You have to live and breathe it - it is 24/7. And it is very difficult to try and manage a larger organisation, if you like.
It helps if you all know how each other thinks. But that is no way to move the business into the next phase, where we are much more established and more grown-up. The car looks grown up and the management structure had to grow up as well. If we had tried to continue at the rate we were going, even from a personal point of view, we would not be running efficiently. It would be like running on the limiter all the time.
What we have done now is put more cogs in the gearbox. We are all focused on exactly what we need to be doing. And that is what we need to be, now that we are no longer a new team.
Q. Will being the best of the newest teams be good enough for you, or do you think it is vital to mix it with more established opposition this year?
GL: Everyone is in the same pot now. All 12 teams are in the same pot. We have all had the same rules for the same amount of time. We could argue that our factory has not been built for very long, we could argue that we haven't had the data for long - but it is new tyres, new everything - so everyone is fair game as far as I am concerned now.
It will be difficult to do absolute targets until after the first four or five races. I read the stuff that the other teams are saying, and they clearly must have some magic crystal ball that tells them what everyone else is doing. Because, in all honesty, you know how good your car is going to be, but relatively speaking you don't know anybody else is going to be.
You know in your heart where you want to be. But in terms of an absolute projection, you have to try and see what everyone else is doing.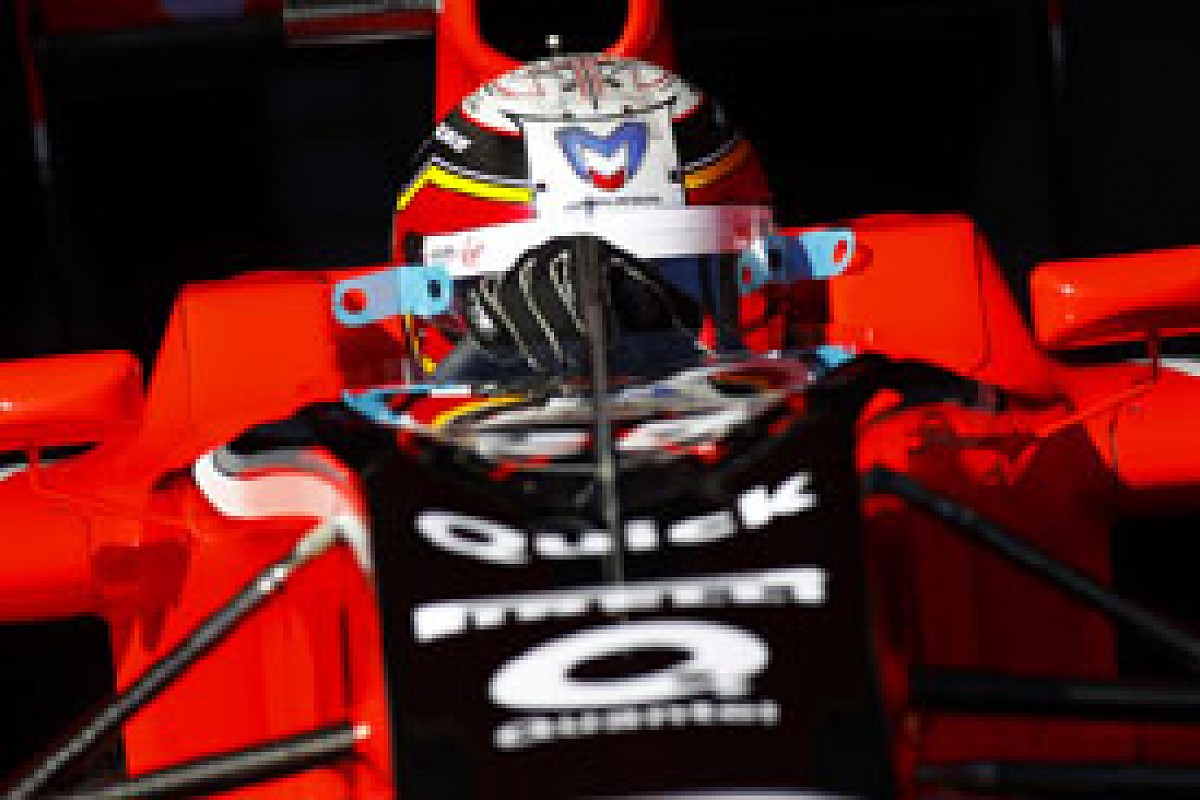 Timo Glock © LAT
Q. When you signed up for F1, it was under the budget cap rules. But that was taken away and it changed to the Resource Restriction Agreement - which is still being discussed. Is cut restriction in F1 a vital part to Virgin's F1 future?
GL: I think it is a vital part of the sport's future. I would not limit it to any one team. We have the benefit of an incredibly low cost base, so I would argue that we could survive very turbulent times, and that is not the case of all the other teams. Some of them have incredibly robust revenues and some of them don't. And I think we owe it to the sport itself to make sure that there is a commercial environment where sustainability is one of the cornerstones.
The fans don't want to watch a runaway championship. The fans don't want to watch a spending competition either.
F1 has to be the pinnacle of the sport, no question. It has to be the pinnacle of technology and engineering. It is a team game but the drivers are the heroes. I absolutely subscribe to that, but if the sport gets into a situation where it is unsustainable for everybody on the grid, then the sport will suffer and the fans will switch off. There is no question in my mind about that.
So there is a balance, I think, and we are not a million miles away from where everyone can compete. They know they will be there and they can plan. And wouldn't it be great if, after having five drivers fighting for the championship in 2010, we had that at every race. But not just four or five, but nine or ten, because the teams are so competitive in everything. You won't get that if there is a spend-a-thon. You can see that in other sports.
Q. Is there a level of frustration that there is a dispute about the Resource Restriction Agreement going forward, and the limits being talked about are only really affecting four or five teams?
GL: It just comes with the territory. That is the way I look at that. I think that as long as the overall agenda is focused on this idea of sustainability then that is the most important thing. I think that transcends everything else.
Sometimes you sit in some of these meetings and discuss things like KERS and what have you - and you think, does the family of whoever wants to come to Silverstone or Sepang, are they really that bothered about this? Is the sponsor that concerned about this level of detail? I am convinced that they are not, and if we could just clear some of that out of the way that would be great.
The absolute acid test in all of this has to be, how exciting is that for the fans? I think that is the way to produce the best racing.
Q. HRT is no longer a part of FOTA, although the exact circumstances of its departure are open to debate. One of Colin Kolles' frustrations was that the body was not doing enough to help teams outside of the top 10. You finished 12th last year and will earn zero prize money this year, whereas Lotus will earn around $10 million this year and could be up to $35 million if they finish in the top 10 again this year. Do you feel FOTA is doing enough for you?
John Booth and Graeme Lowdon © sutton-images.com
GL: I think it is, but I think it is in danger. There are some simple things, and irrelevant of how HRT came outside of FOTA, whether it was jumped or pushed, that is one less small team in there. And the voting historically tends to follow a bit of a pattern, so that is one area of concern.
And there are two or three areas where, I think, decisions in the next three months will show to me whether FOTA is for all teams or just big teams. At the minute, it is certainly for everyone, and I really hope it stays that way. But it is in danger of defaulting to the larger teams.
I think the right people are in place to make sure that that doesn't happen - but we have to be very, very careful because the new teams are not the new teams any more. They are the same as everybody else now, and FOTA has an obligation to all the teams.
Q. What about in terms of the extra money for the 11th and 12th placed teams that FOTA is seeking from Bernie Ecclestone when the new Concorde Agreement comes about? Is that enough?
GL: I don't know. I can't really comment on the figures at all, but going back to this concept of sustainability, if you look at the value of the top 50 sports entities in the world, I would say that over 80 per cent of them come from commercial bodies which are built around sustainability for every single team. So, whether that is NBA, NFL, NHL - I would say those models are incredibly successful for the end product, and it is reflected in the value of the teams themselves.
I would hope that there is a win-win scenario for everybody in F1 - the commercial rights holder, the teams, and in particular the fans. There is a model, and it is not identical to those other models, but in that top 50 list there are only two racing teams. So you have to say that there must be an imbalance if what we are looking for here is value creation for everybody involved.
I am convinced that there is a solution that is good for us, improves the commercial rights holder's position, improves the teams' position and improves the fans' experience. I am convinced that formula is there, and I hope the teams can play their part in finding it.
Q. Is it important that the teams are unified within FOTA as we come up to the discussions on the new Concorde Agreement?
GL: It is important. But where there is a mistake in people's perceptions sometimes is that they think that it is important for people to stick together so they can gang up, or whatever. And to me that is wrong. It is more a case that there is a model, there is a correct balance and commercial model for our sport that has an outcome that is good for everybody. And that should be done in a co-ordinated way.
FOTA provides that co-ordination and to view it from there, it is important that FOTA remains as strong as it is.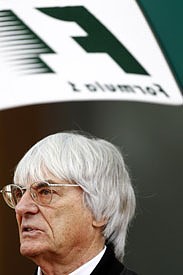 Bernie Ecclestone © LAT
Q. Do you think the negotiations between Bernie and the teams will be less troublesome than last time?
GL: To be honest, I don't know. I had the benefit of not being involved last time, and it was almost a case of, 'there is your Concorde, what do you want to do?' We were very much on the outside of that process last time, and some of the teams were very public in their opinion of not allowing new teams to come in. That is an opinion that I don't share - but I would say that we can contribute to FOTA from the point of view that, although we were not involved in those discussions, we understand what went on.
We are not idiots and you do not put stuff like this together without understanding commercial models and the like, but I like to think that we have got a fresh viewpoint because we were not involved in the cut-and-thrust of the negotiations.
And it doesn't matter what anybody says - that experience will always leave some last effects on those involved. And we don't have that. So I don't think we are not naïve going into these discussions, but we are not unduly encumbered with pre-conceptions, if you like. I am optimistic that there is a good solution that benefits the sport.
The worst solution is one or two teams go and get the ability to burn more money and the show doesn't look very good. If that is the outcome then we all deserve a big kicking. It would be wrong, because the opportunity is there. It is a fabulous sport, fantastic heritage, and all of that can be rewarded in many ways. It has everything going for it.
There is a bright future for this sport and it would be a crying shame if we don't take advantage of that.