It has been a good topic for dinner debate over the years - what was the key mistake Williams made that turned it from a championship dominating force in the mid-1990s to a team that is currently going through its longest ever victory drought?
One strong theory is that it should have bent over backwards to give a shareholding in the outfit to design genius Adrian Newey when he was onboard and helping pen the mighty machines that made the outfit a regular McLaren and Ferrari beater.
To have done so may well have been enough to lock down Newey's future alongside Frank Williams and Patrick Head - ensuring that it was Williams and not McLaren, and more recently Red Bull Racing, that had continued to build title-winning cars beyond Jacques Villeneuve's triumph in 1997.
Instead Newey left to join McLaren during the winter of 1996 and Williams has spent the last few years battling to rediscover its historic form - despite a brief return to glory with BMW that delivered its last world title challenge in 2003 and its last race victory with Juan Pablo Montoya, in Brazil, in 2004.
Back when Newey was on board, though, Williams and Head were steadfast in their belief that having success on track meant running a good business off it - and doing so meant them having total control over the company. So not only was a Newey shareholding out of the question - so too did an offer from BMW to buy in get rebuffed the following decade.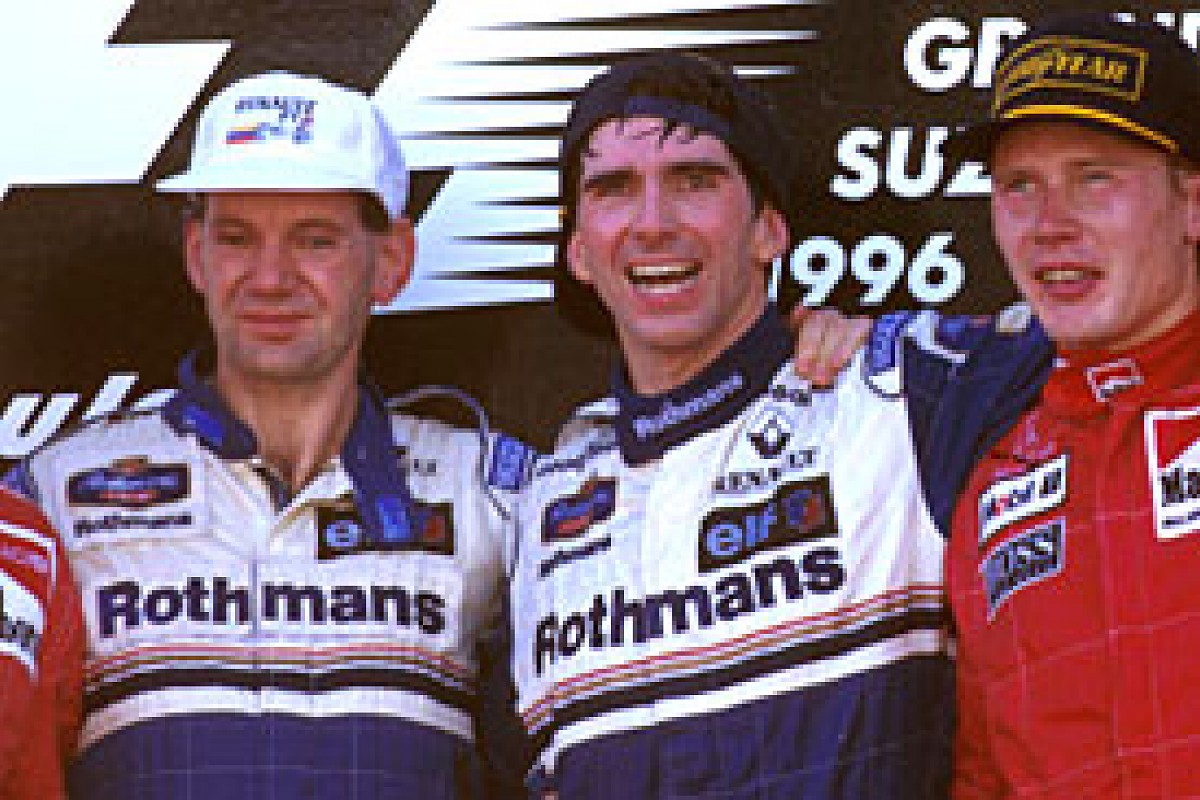 Adrian Newey celebrating success with Williams in 1996 © LAT
Times have changed though. At the end of 2009, Williams and Head sold a 10 per cent stake in the company to Austrian entrepreneur Christian 'Toto' Wolff.
Now, ahead of the 2011 campaign, a stake of somewhere between 24 per cent and 27.4 per cent in the outfit is going to be floated on the Frankfurt Stock Exchange.
Williams's decision to sell shares to the public raised plenty of eyebrows in F1 - and prompted fresh concern about the state of the team's finances. After all, with a number of sponsors having left at the end of 2010, and the team needing to drop the highly-rated Nico Hulkenberg in favour of GP2 Series champion Pastor Maldonado so it could secure a lucrative deal with Venezuelan oil company PDVSA, Williams has not appeared to be in the rudest of financial health.
For the cynical, the stock market flotation seemed to be a last roll of the dice - to help raise vital capital that would help keep the team afloat while it tried to find replacement sponsors.
Yet this is far from the last-chance saloon for Williams. Rather than being an 11th hour effort to get money, the company has been eyeing a flotation for more than a year now - and the action itself will not actually raise any immediate cash for the team.
Head readily admits that the push for the flotation came from Wolff, who revealed to AUTOSPORT that the plans have been in the offing since he first signed up as an investor in the team.
"We actually fixed it in our contract when he did a deal a few years ago, because I believed that the next step for the team must be to enlarge its shareholder base and provide a liquid investment for all of us," he said.
"That was the idea from the beginning - and Patrick said to me this morning when he showed up: 'This is all your fault...'"
In terms of finances, the biggest benefactor of the share sale will be Head himself - who is selling a 17.69 per cent stake in the Williams company. With share prices expected to be around 26.5 Euros each, that nets him a whopping 46.8 million Euros - a pretty nice retirement fund all told.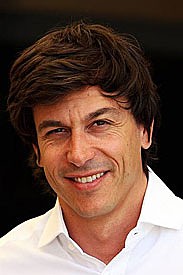 Toto Wolff © LAT
Further shares will be sold by Frank Williams, who is releasing a 6.4 per cent stake but will retain overall control - with 50.3 per cent ownership.
With profits from the shareholding going to Head and Williams, the reality is that there will be no financial gain from the offering - and therefore no immediate upswing in the team's performances because of it.
Williams CEO Adam Parr said: "There has been some confusion on this. We are not selling new shares, we are selling existing shares. This IPO will not raise any money for Williams as a company, and nor do we have any intentional plans in the future to raise money in the markets. That is not the rational for this transaction. Much as we would love it to affect our performance, that is not how we will achieve that."
So why do it?
Wolff sees many reasons - and even cites the earlier 'Newey' theory as a factor in why the public shareholding is a good thing for the team.
"Normally you do it [a public flotation] for raising capital, but we don't need the cash. We have enough cash and we generate enough cash," he explains. "But obviously being listed gives you access to capital markets, and that means that if we needed the cash one day, because let's say that we had a big project, then we could do it immediately.
"The second reason is, and it's the main thing for me, is that we can give shares away, to staff and management, and we can attract the public.
"Today, we cannot pay Adrian Newey and we possibly could not pay the next Adrian Newey. But we can have a unique proposition. We can offer shares and he can own part of the business. Obviously it is not realistic for that person [Newey] - but that is the kind of unique offer we can give. It could help us attract the best people in the future, and retain the ones we judge as being the best ones now."
Although the Williams announcement has excited fans who are intrigued about the prospect of becoming a shareholder in a team, Wolff thinks that the majority of the possible 27.4 per cent shareholding will be snapped up by serious investors.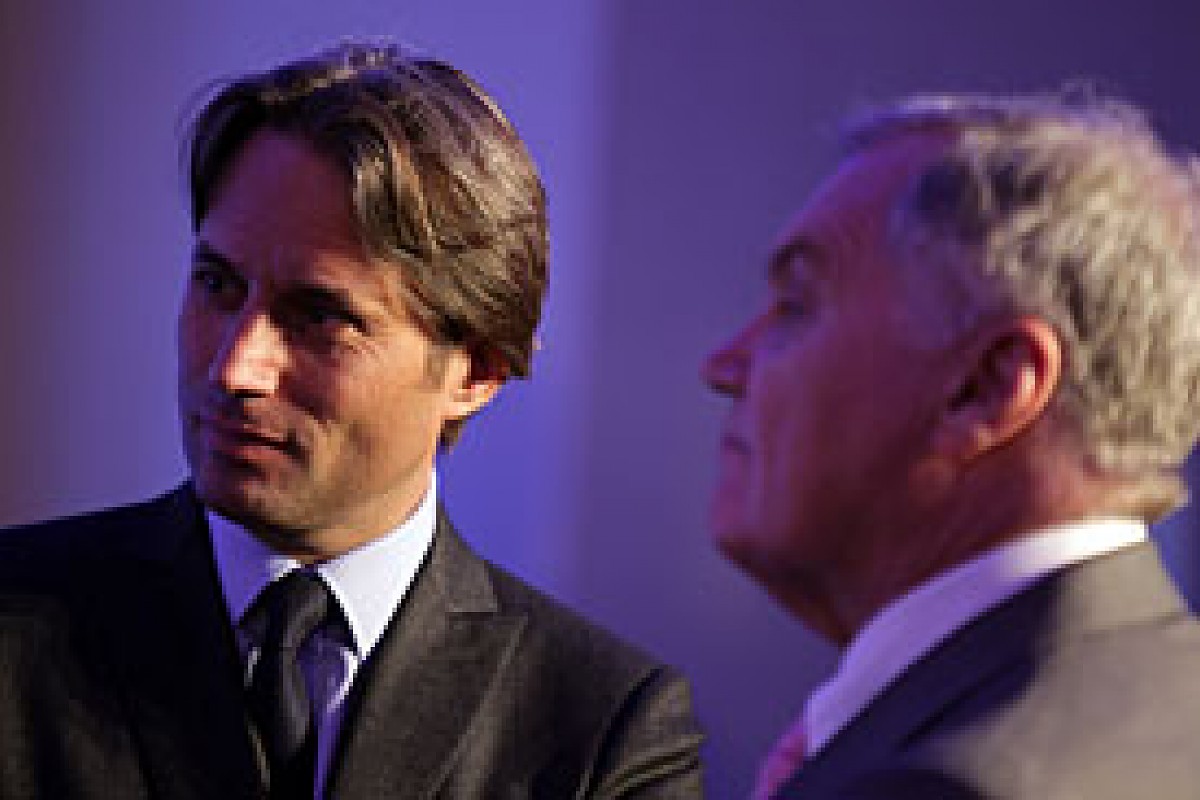 Adam Parr and Patrick Head at Williams' flotation launch © LAT
"I obviously hope that fans buy shares, but this is not the main offer," he said. "If we were only looking for fans, and not professional investors, this would be a wrong offer. I think this is a unique opportunity, also for professional investors and I think 80 per cent of people buying into this will be institutional investors -banks, insurance companies..."
But beyond the kudos of being a shareholder in an F1 team, and the promise of joining a Williams club for access to the pits and paddock if you buy more than a one per cent stake, what are the main attractions of buying shares?
The cynics will point out that the team has not won a race for six years. And recent decisions to put money before talent in driver choice - remember the team took Kazuki Nakajima for commercial reasons - has left the team open to suggestions that the days of it having two mega-stars on board to gun for a title are long gone.
But if you look a bit deeper at the financial situation, the Williams operation is actually in a much better position that the doom mongers would have you believe.
It has been in the black for the past three years - with profits of £9.2 million in 2008, and £8.9 million in 2009. The land and buildings it owns are worth in excess of £20 million - and a £83.5 million trading loss that appears on the books is being carried forward for tax purposes.
All in all, it means the team's funds currently stand at £24.8 million. The team also claims its full sponsorship budget for 2011 is in place, and a majority of its 2012 backing is also secure. It's not the best on the grid, but it is certainly not the disaster that some would suggest.
Yet, of course, going down the flotation route is not without its risks. Investors are always warned that share prices can go down as well as up. And ahead of what could be a turbulent spell in F1, as discussions to frame a new Concorde Agreement get sorted, would it not have been better to have got the future of the sport secure first?
"This is sport - and everything is turbulent," explains Wolff. "Turbulence happens all the time. My personal judgement on the situation is that the revenue share from the Concorde will get better rather than worse. So, it doesn't change a lot.
"I think the markets are exuberant at the moment and there is a good environment for smaller mid-caps, and it is just a proper fit. We have secured our budgets, the car seems to be good. For us it is the right moment."
And what about a poor season on-track hitting share prices - and accentuating the financial difficulties any team faces when it comes to persuading sponsors to part with cash when the results are not there on track?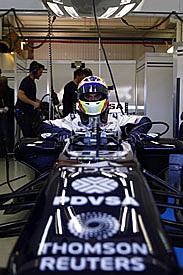 Pastor Maldonado brings valuable sponsorship to Williams © LAT
"The point is that if there is a direction where the team is performing well, for example if the team isn't going to finish sixth but is going to finish third, then that can help the share price, because it helps the profitability. If we are dreadful then it can have the same consequence on the share price, but there will not be a big fluctuation."
Since getting involved at Williams, Wolff has been happy to stay in the shadows - working on his investment in a quiet way and not pushing himself about to seek the limelight.
Yet even he cannot hide his excitement about the path that Williams has set - as the decision for Frank and Patrick to relinquish some control, allied to the direction F1 is heading in, opens up great possibilities for the future.
"The environment of F1 and Williams is changing now. There is the RRA [Resource Restriction Agreement]. Whether it has really worked or not in the last year is on another piece of paper, but it is going to work.
"We have to reduce from 350 to 280 employees, we have to reduce external spending, and the big teams like McLaren and Ferrari - they have to think how can one guy do a job of three guys. That helps Williams a lot.
"The team has secured sponsors, they have always been profitable and the outlook for 2011 is really great, against all the things that have been written in all types of media, which is all rubbish.
"You have seen the cash position, we have £24 million cash in our accounts, we have no debts, and we have 33 hectares of ground. It will help us - even if Red Bull Racing still blows millions, and McLaren and Ferrari have more budget, they have to come down with their spending.
"It will not be like the $350 million that Toyota had a few years ago - it will come down to $150 million, or $140 million, and maybe we can do well with $100 million or $110 million.
"I don't say that we are going to be world champion in one year or two years, I think this is completely unrealistic, but my target is 2015. In 2015, we should be generating a stable and good profit and we should be able to win races and be one of the top brands and top teams in F1 again.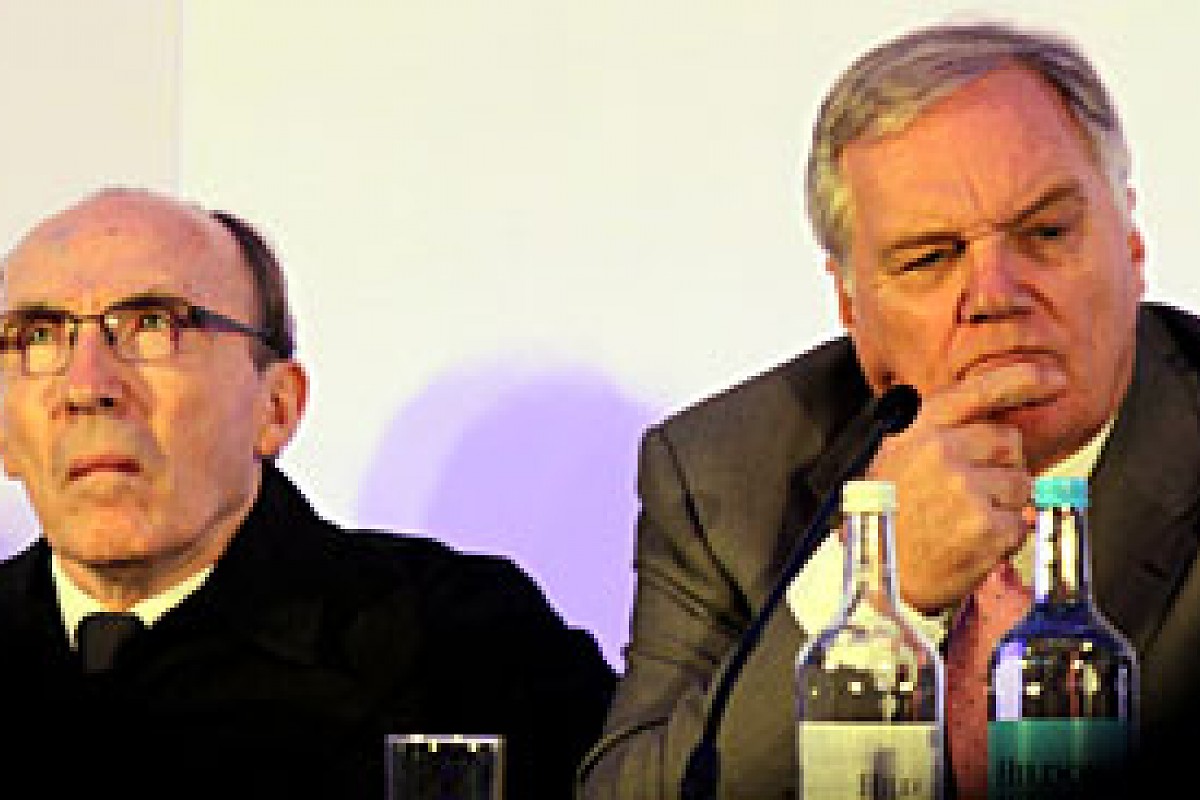 "I think with all of the things we are doing now, slowly and surely we are improving. If you see the car, it is a revolution, the back end is amazing.
"I have the feeling that the team has found some courage and is trying things, and internally things have been restructured. It is my second season now, I saw the first season as a passenger, now in the second year I am still the passenger in the back seat but I have the experience of the first year, so let's see where we are at the end of the year."
While that 2015 dream remains a long way off, the real judge of success will be next month - when the public will decide if the Williams shares are attractive enough.
Wolff is in no doubt, however, that not only will it work - but that Williams's flotation will start a trend for F1.
"I think other teams will consider it," he said. "Some of them are in need of cash so this might be a reason, others have great brands. I think we are going to see some of these teams following this."
But for all that Williams may have missed by not giving Newey some shares all those years ago, one thing is clear going forward - it will not be offering any equity in a bid to lure a big name in the cockpit.
Patrick Head smiles when asked about the possibility of drivers being signed up to the team on the promise of a few shares.
"The drivers are only interested in the competitiveness of the car," he says. "I think that drivers historically have all been incredibly mean, and getting them to buy the mechanics a beer has been a problem. So I think the likelihood of the drivers investing in an F1 team is very low..."