"Every now and again you hear a story that brings you up short. You shake your head and think, there but for the grace of God, go I."
That was the reaction of one paddock luminary in Valencia last year to the absence of JJ Lehto, who had been working for Finnish TV at grands prix but was absent following a serious boating accident in which a friend was killed. JJ has not been back in the paddock since.
Four days after Canada last year, a friend of JJ's - married with kids - was visiting Finland from America. In the early hours of Thursday, June 17, a 20ft speedboat occupied by just the pair of them collided with a concrete bridge piling on a narrow canal.
The friend, Simo, died at the scene, while JJ was thrown from the boat into the canal, unconscious. With a head injury, broken ribs and multiple other fractures, he came to on the bank, narrowly avoided drowning and managed to summon help at a nearby house.
From blood tests taken when Lehto was in hospital, Finnish police said his blood alcohol was at an impaired level. Speed is also believed to have been a factor, with estimates gauging impact speed at 40mph plus.
Like Felipe Massa, who remembers nothing of the day in 2009 when he was knocked unconscious by a rogue spring from Rubens Barrichello's Brawn GP car, Lehto says he has no recollection of the accident.
Media reports in Finland, however, say police have concluded that it was JJ at the controls. If so, he faces potential manslaughter charges and, say some, potential claims from the Simo's family.
It is not my place to make judgements or to condone irresponsible behaviour. Whoever was driving the boat and whatever did or didn't happen, children have been left without a father, a wife without a husband and Lehto without a close friend - not for the first time.
"JJ is a family man himself and he's taken it hard," said one of his close colleagues when we talked about the accident last year, shortly after it happened.
Lehto is now 44. His eldest daughter was born on the day he raced in the 1994 Italian GP, standing in for Michael Schumacher as the German served a two-race ban for ignoring the black flag at the British GP. JJ had lost his Benetton seat earlier in the year to Jos Verstappen, and thinking back to that time brought home to me just how much bad fortune has visited itself upon him.
Laid back and affable like most Finns, I first met Lehto when I was doing some PR work for Marlboro and he came to England to race in FF2000 with backing from the tobacco company. From there, he went on to be British F3 champion in 1988 and arrived in F1 with Onyx in 1989.
An old Pacific Racing F3 team-mate was Evan Demoulas, son of one of the family founders of the Greek-American Demoulas supermarket empire. Evan's father, George, died from a heart attack on holiday in 1971 and subsequently his heirs brought an action against their uncle Mike, claiming he had defrauded them out of most of their stock by moving it to shell companies. Demoulas versus Demoulas became one of the most expensive cases in American legal history and threatened to require the sale of the chain. In 1994 a judge ruled Evan's father's family had been defrauded out of nearly $500m.
By that stage Evan Demoulas was dead. Loving his racing but realising he was never going to be world champion, he took to supporting JJ and was delighted when he made it to F1. On June 13, 1993, Lehto drove his Sauber to seventh place in the Canadian GP. Shortly after the race, the two friends left the Ile Notre-Dame circuit in convoy to head back into downtown Montreal, where Evan's pregnant wife was at the hotel. En route, someone ran a red light and smashed into the side of the vehicle Demoulas was driving. He died at the scene and it was left to JJ to go on to the hotel with the news...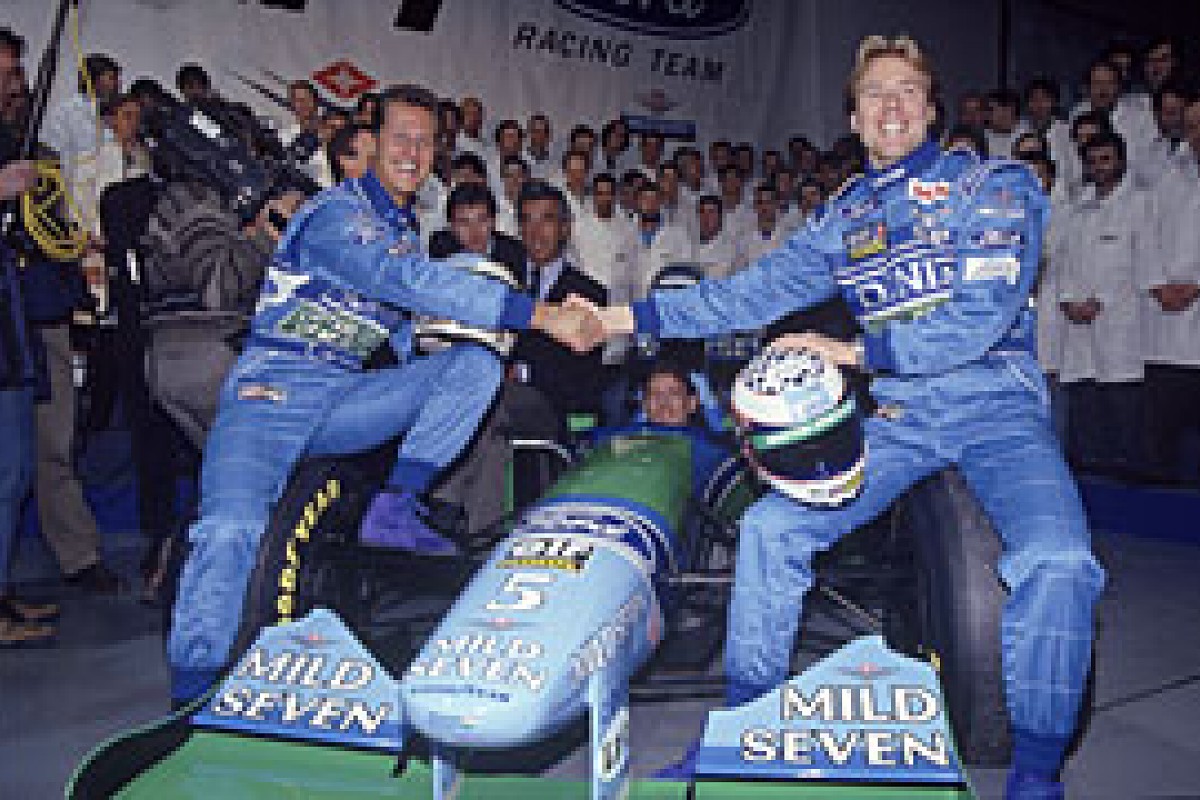 Benetton 1994 should have been Lehto's big break © LAT
Seven months later, JJ got the break that would have delighted his friend, a 1994 seat with the Benetton team for whom Michael Schumacher had won races in 1992 and '93, and would do rather better in '94.
"I'm thrilled," he said. "Benetton is the first chance I've had to race for a top team. It was tough coming through the pre-season Christmas Barcelona test; there were a lot of other contenders and it was a bit like a horse race."
A few days later, having his first test for the team in the new B194, Lehto went off at Silverstone's Stowe corner on a damp track, backed into the tyres at 140mph and knocked himself out. At Northampton General and later the London Clinic, it was discovered that JJ had also broken his neck. He underwent an operation that involved grafting hip bone to a badly damaged fifth vertebra. Doctors said he was fortunate not to have been paralysed.
"They could have left it as it was," JJ said at the time, "but it would never have been good and I'd have needed to worry about it. You don't need an aching neck all your life. I think they were a bit amazed because I finished a five and a half hour operation one day and the next day I was wanting to walk about, take a shower, put the jeans on and go for it. You know what? I got a fax from Senna! Get well soon, it said."
With hindsight, the thought of trying to rush back and take on Schumacher with a broken neck was doomed to failure, but an injured racing driver knows he needs to get back in the cockpit as soon as possible. As it happened, JJ didn't make it in time for the Interlagos season opener 10 weeks later and Jos Verstappen drove instead.
Lehto missed Aida too but, 13 weeks after breaking his neck, he climbed aboard the Benetton on the Friday morning of the horrendous Imola weekend that claimed the lives of Roland Ratzenberger and Ayrton Senna. Ratzenberger died in qualifying on Saturday and then, as Sunday's race began, JJ - presumably without many practice starts - stalled his B194 from grid slot five, where he'd qualified 0.83s down on Schumacher's sister car on the front row. Just as it looked as though everyone would miss him, Pedro Lamy's Lotus cannoned into his rear.
JJ's recovering neck was dealt another heavy impact. Then came Senna's accident. Understandably, JJ went home more than a little spooked. At Monaco a fortnight later he qualified 17th, fully 4s and more behind Schumacher's pole with the other B194. Barcelona was better but Canada, another heavy braking, neck straining track, once again saw JJ qualify almost 3s shy of Schumacher. Benetton took the decision to go back to Verstappen and, although JJ subbed for Schumacher in Italy and Portugal and then returned to Sauber for Japan and Australia, that was to be it for his F1 career.
Whenever something like that boat accident happens, it is perhaps inevitable that people think about Lehto's association with speed and the risks that racing drivers take, day in and day out. In the aftermath of the accident before the friend was named, there were attempts to confirm Simo's identity.
One internet poster wrote: "It was Simo and if you know Simo you know that the account of the crash sounds about right. I'm not really surprised as Simo lived every minute wide open but with him, he almost seemed bigger than life. Everyone miss him."
I have no idea whether that is fair or representative, but it is there. I quote it only to suggest that, very possibly, there were two kindred spirits on that boat last June. That doesn't make it any better or more acceptable, but JJ has been through more than his fair share of misfortune and all I can say is, I hope, for his sake, that this will be an end to it.