When Pastor Maldonado takes up his place on the grid for the Formula 1 season-opener in Bahrain, he will become the first Venezuelan to take part in a grand prix since Johnny Cecotto raced for Toleman in 1984.
Cecotto is member of an exclusive club, having competed with considerable success at the top levels of bike racing with Yamaha before swapping over to single-seaters.
After finishing second on a countback to team-mate Corrado Fabi in the battle for the 1982 Formula 2 title, he stepped up to F1 the following year with Theodore. He scored points in just his second race by finishing sixth at Long Beach, but on the whole his potential was masked by an ongoing lack of funding.
He switched to Toleman alongside Ayrton Senna in 1984, but a heavy crash during qualifying for the British GP at Brands Hatch left him with broken legs and closed the curtain on his F1 career.
Having raced on for many years in touring and sportscars, Cecotto's energies are now devoted to supporting his son, GP2 driver Johnny Jr. Just a few days short of his 55th birthday, Cecotto spoke to AUTOSPORT about what Maldonado's arrival into F1 will mean in Venezuela, and how the Williams driver was able to find the level of backing needed to get himself onto the grid.
Q. What does it mean to Venezuela to have another driver in Formula 1?
Johnny Cecotto: For sure for Venezuela it's a very good thing, a very big thing. In the last few years there has been a lot of interest in motor racing, and especially things like GP2 and Formula 1, with all the support the government is giving out to a lot of the drivers there. Especially in this case to Pastor Maldonado; it's unbelievable.
Q. Why has the Venezuelan government backed so many drivers in the last few years?
JC: In the last few years the government has supported a lot of sport in the country. They never did this before, not in this way. And with Maldonado, the family has good contacts within the government so this is one of the major reasons.
Q. Will the fact that Maldonado is so closely associated with the government affect this popularity with Venezuelans?
JC: Well, the people ... it's let's say half and half. Some people like [the government], some don't. There are, unfortunately, a lot of problems in the country. It's a beautiful country, it always was, and it's a pity that there are so many problems at the moment. Security is the main one. But otherwise the country is fantastic, and I love it very much.
Q. You've seen Maldonado race when you've visited the GP2 paddock to support your son, Johnny Jr. Do you think he is ready for F1?
JC: Well ... yes, he could be ready. Many of the guys in GP2 could be in Formula 1. OK, he had a lot of ups and downs. He is a quick driver and last year he did a fantastic season, but I think it was also his fourth season in GP2, and that experience helps a lot in that category because there is no chance to test or develop the car and the way you drive it. So the first season for a rookie is very, very difficult.
After four seasons, you develop so much experience that you have an advantage. And the previous year, when he was with ART, he didn't have a good season. So it's hard to say. Many times there are problems in the team that you don't know about; you don't know if both drivers are getting the same treatment; you don't know if the drivers feel comfortable with the team and the engineers. It's difficult to judge.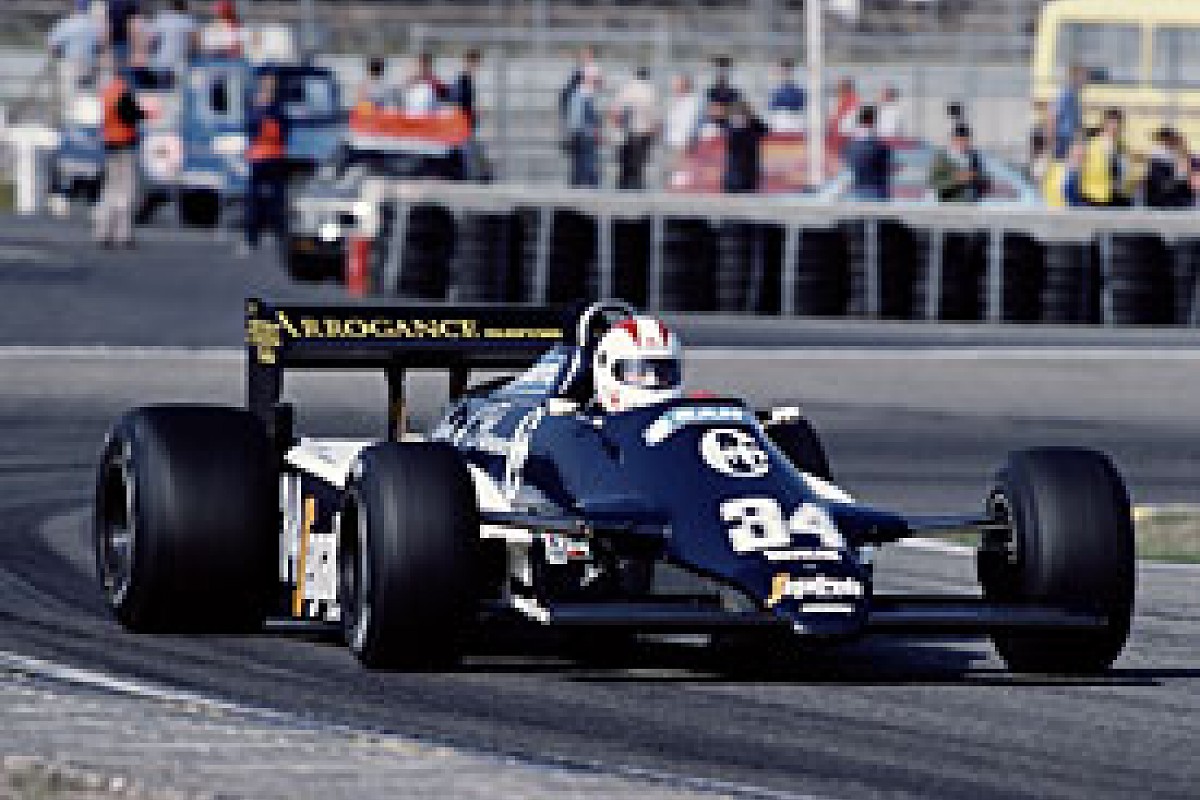 Cecotto in the Theodore © LAT
Q. What was the reaction like at home when you got into Formula 1?
JC: It was fantastic. At that stage I also needed the support from PDVSA. I went there with Mo Nunn and we met people, and it seemed possible to get the support. But in the end we didn't get it. This was a problem, because the team was very small and the budget was very small, and in the end they couldn't even finish the season. With the extra support from PDVSA it could have been much better, but unfortunately it didn't work out.
Q. Will having Maldonado in F1 make it easier for young drivers on the way up like Johnny Jr to secure backing?
JC: Hopefully! It's difficult to say at the moment. There are a few other drivers, like [Rodolfo] Gonzalez, [Ernesto] Viso, they get the support. Also Milka Duno. But I don't know. I hope that we can also get some. I'm going to Venezuela next week, so let's see what happens.
Q. You mentioned earlier that there is a growing interest in F1 in Venezuela. Do you think that there could be potential for a Venezuelan Grand Prix in the future?
JC: Well, yes. They've been talking about building a new circuit for a few years. It's possible. The country is rich, and there are a lot of good places. They were talking about building a circuit on Margarita, the big island there, but this was a few years ago and I don't think they even started on it. But of course the possibilities are there. It could happen. Hopefully things are getting better with the people and the security, because that's what they have to try to improve.