The BBC has recently confirmed a badly kept secret, that Martin Brundle will perform the main F1 commentary role in 2011, with his mucker David Coulthard alongside him in the expert analyst role.
At AUTOSPORT's annual awards six weeks ago I had a conversation with a broadcasting man about the wisdom or otherwise of having two ex-drivers in the box rather than a 'trained' broadcaster/journalist main commentator with the driver as his foil. That, of course, was the format initiated so successfully between Murray Walker and James Hunt.
Martin Brundle, David Coulthard © LAT
A quick glance at sports forums shows just how much comment and opinion commentary teams incite and I must admit to being somewhat shocked by some of the criticism and vitriol leveled at Jonathan Legard on the AUTOSPORT forums.
Like any relationship, sometimes there's a natural chemistry to a partnership and it works, and sometimes there isn't. When you attend grands prix you tend not to go home and watch it again, so I'm in a poor position to comment, but when I was forced to watch one from home last year, the only thing that struck me was how tremendous the overall BBC package was.
I've known Jonathan since he arrived in the paddock first time around as Radio Five Live's main commentator. As well as being a lovely guy he was always supremely focused, dedicated and diligent, not to mention talented, as anyone who heard his off-the-cuff speech at his 'leaving ceremony' first time around will attest. I think he's had a rough ride and wish him well.
Some have expressed surprise that Brundle is up for the high pressure lead commentator role but I'm not among them. He reminds me of Jody Scheckter who, as an organic farmer, is now making a tremendous success of his third vocation where most people would be deliriously happy to make such a good go of just the one.
Brundle was a much better racing driver than the F1 stats tell you, never in the right car at the right time, and also a successful businessman who has that Scheckter focus. He probably finds it insulting that mere journalists regard him as 'untrained' after 14 years on the job...
It is, undoubtedly, a different role though. And one that demands the ability to see something and instantly open your mouth and say something both intelligent and astute. The really memorable commentators, in whatever field, have generally been quick-thinking and quick-witted.
One of the best examples came from legendary cricket man, Brian Johnston ('Jonners'). Working on the BBC's "In Town Tonight" programme, he was confronted by an obnoxious American who declared, loudly, "London is the asshole of the world." To which he responded instantly, "Oh, so you're just passing through..." These days, on a satellite channel, it would have been widely enjoyed but with the Corporation, obviously, it was cut.
Johnston it was too, commentating on Australia versus England at Headingley in 1961, who came out with the immortal line, "There's Neil Harvey, standing at leg slip with his legs apart, waiting for a tickle..." Which surely must have been deliberate!
Much of the acerbic comment you see on bulletin boards will inevitably be from younger people. Generally they are more impressionable, less tolerant, and without more pressing things to do than sound off on a forum about a sports commentator.
That said, I'm neither denigrating passion for sport nor denying how much pleasure and enjoyment skilled commentary adds. Thinking back to my own child and young adulthood, it was a privilege to listen to professional broadcasters. I don't think its rose-tinted specs, I really do think that in certain areas we've gone backwards.
In these more enlightened days you have to 'engage' with your audience and so, instead of the plummy queen's English-delivering ex-Eton, Oxbridge public schoolboys that proliferated on the BBC from the middle of the last century, you now have a good cross-section of attractive women, ethnicity and regional dialect.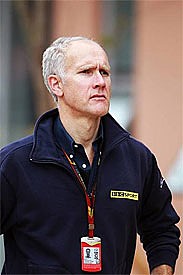 Jonathan Legard © LAT
Nothing wrong there, but one particular ex-footballer, originally introduced by ITV, couldn't string three words together, was particularly immature and made you feel like kicking the screen in every time he appeared. He tended to fall out with all and sundry and left his Match of the Day role criticising the programme for using him as a 'court jester' when he finally worked out that his fellow pundits, along with anyone in possession of a three figure IQ, were laughing at him rather than with him. If anyone personified dumbing down of standards, it was he.
With many of the major sports less complex than F1, one commentator was sufficient and as most people's only conduit to the sport, they almost became the sport. One thinks of Barrie Davies, as versatile as they come but remembered most for football. Boxing meant Harry Carpenter and, a bit unfairly, Reg Gutteridge was the 'other fella.' Dan Maskell was tennis, cricket was Richie Benaud, Peter West, John Arlott and Jim Laker, golf was Peter Alliss and athletics was David Coleman and Ron Pickering.
Their aphorisms became folklore. And, just as much of note attributed to Oscar Wilde was not him, so it is that many of the sporting gaffes that prompted Private Eye to launch its 'Colemanballs' were not actually down to Coleman.
The line that actually spawned Colemanballs dates back to the '76 Montreal Olympics when Cuban athlete Alberto Jauantorena took off down the back straight by "opening his legs and showing his class..." In fact, it was actually Pickering who said it, but it took Coleman three weeks to deny it, by which time it was too late!
Barrie Davies did not fawn over professional footballers and could sometimes have an entertaining, ever so slightly supercilious tone. When the #9 put it in row Z from eight yards, you'd get a tut and low "oh dear, oh dear..."
Like Kenneth Wolstenholme's immortal "the fans are on the pitch, they think it's all over... it is now!" from England's greatest footballing day in '66, there are lines that grow old with you.
Davies, for example, uttered, "Interesting...." as Francis Lee picked up the ball for Derby against Man City in '74, cut inside and let fly. Then "...Ve-e-ery interesting!" as Franny's thunderbolt billowed the net. Lee was patently chuffed with himself and Davies shouted, "Look at his face! Just look at his face!!"
Last year, 36 years on, there was comedy at the local pub when one slightly stroppy, impatient and very large drinker was ignored, probably deliberately, for some considerable time. He finally got his pint, whereupon the little bloke standing next to him picked it up, plonked it on a tray with his shipping order and walked off. For a trice it all looked like turning a bit ugly until the peeved fellow's mate, who along with most others had seen what happened, defused the situation by yelling, in his best mock Davies, "Just look at his face...!" Anyone over a certain age knew exactly where he was coming from.
When you first see a commentator as a youngster you often don't appreciate their own sporting achievements. Many, now, see Gary Lineker as the Match of the Day presenter and not an England footballer. As a kid I didn't realise that the fine, upstanding Maskell was actually 16 times British tennis champion, I just knew him as the voice of Wimbledon until 1991.
Coleman reached 200 words a minute commentating on David Hemery's 1968 Olympic 400 hurdles victory and then, focused on the first two, uttered, "Who cares who's third!" It was John Sherwood, another Brit... Out of respect for Sherwood, future showings had the line dubbed out.
Maskell by contrast, was a man of much fewer words, but those he did utter were all worth listening to. Everyone, even the most professional, drops the ball now and again though. Dan came out with, "And here's Zivojinovic, six foot six inches tall and fourteen pounds 10 ounces." Eat your heart out Webber and Kubica! And, one of my favourites, "The Gullikson twins here. An interesting pair, both from Wisconsin..."
Memorably Carpenter, one of the most seamless of all, suddenly forgot himself in the middle of commentating on Bruno versus Tyson. Frank himself was probably more surprised than Iron Mike when he managed to last long enough to land a decent punch and Harry, that bastion of professionalism and impartiality, yelled, "Go on, get in there Frank!"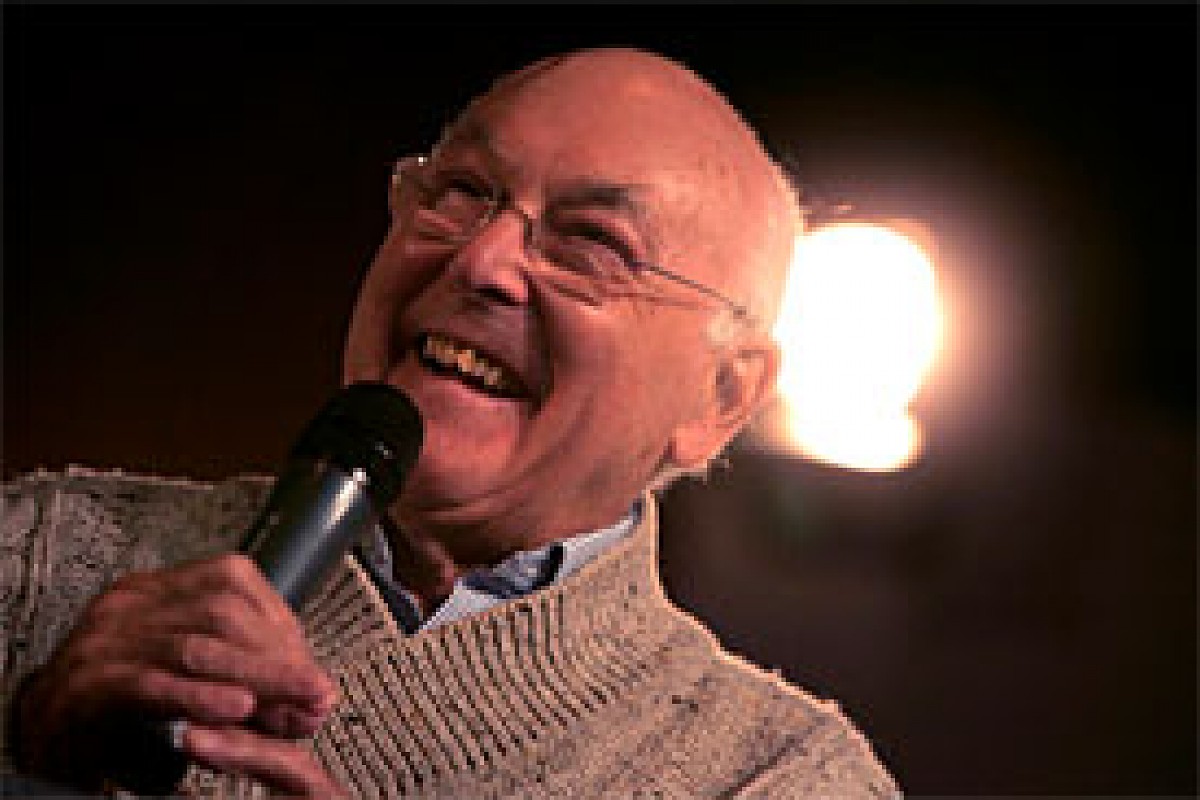 Murray Walker © LAT
You could, of course, fill many columns with Murray Walker anecdotes. At first he was sceptical about Hunt but they blossomed into one of the most memorable sports commentating partnerships of all. Formula 1 needs that double act, as much as anything because it's more technical than most sports which, as Pat Symonds said at AUTOSPORT International last weekend, is a hugely interesting facet that needs to be explored and explained to people. But that's tough in the framework of a broadcast that has to appeal to the casual spectator.
I've read speculation that Brundle's move may, in part, have been prompted by Anthony Davidson, David Croft's foil and expert analyst on Five Live, being both very good and only a year or so out of an F1 cockpit. Having reached an age when he could be the father of most of the current grid, has Martin perhaps reached the decision that the main role is the best bet for however long he sees his broadcasting career?
More likely, he's performed the same role long enough and wants a new challenge. That's how these guys tend to think. He will have noticed how important partnerships are to the overall effect. DC - a man he knows inside out and whose company he enjoys - will, I think, be excellent. It will be different. Martin won't be holding himself up for DC to knock down, like Walker and Hunt, but for incisive, informative and above all, informative commentary, it's got enormous potential.
People might do well to remember, however, that in his early days even Walker's errors made him unpopular among the petrol heads but he went on to be loved by all and reach a point where he received a bigger book advance than Sir Alex Ferguson! Give the guys a chance, I say, and you may find that in 20 years time you are looking back on a commentary team to rival those I've mentioned.