The World's Fastest Indian is a charming, watchable 2005 flick starring Anthony Hopkins in the role of Kiwi Burt Munro, who spent years building a 1920 Indian motorcycle with the dream of running it to speed records at the Bonneville Salt Flats, which he eventually did.
It's also the sobriquet Narain Karthikeyan gives himself on his personal website which, strangely perhaps, is not yet trumpeting his return to Formula 1 with HRT after a six-year absence. Karun Chandhok might contest both Munro's and Narain's speed claims, if not the latter's desire to drive the HRT...
Both Karthikeyan and Vitaly Petrov's recent deals have, rightly or wrongly, brought up the subject of pay drivers once again. You always had to have reservations about the pure manufacturer F1 era simply because experience told you that manufacturers were in F1 to sell cars, not for their love of the sport - even if, in some cases, it is there.
But one undeniable positive of the car makers' presence was a proliferation of young driver programmes that almost guaranteed talent would out.
The pay driver in my humble opinion, had always been a regrettable inevitability of a Formula 1 in which certain teams did not have the proper wherewithal to compete. But, as the sport grew, and its profile with it, they became more and more of an anachronism.
The more cutting edge and scientific F1 became in the 1980s and the more you heard people say it was the sport's innovation and technical excellence that interested them, the more difficult it became to rationalise the pay driver. What was the point in all that expense, all that effort, if one of the guys couldn't drive his way out of a paper bag and everyone knew it?
What always really hooked you was the idea of a new young hot shoe, with obvious talent, coming into F1 in the same car as an established ace. There was this feeling that no matter how good the new talent was, he couldn't blow away the experienced guy in year one, and you waited and waited for someone to disprove that, or at least to go very close.
Gilles Villeneuve was a good example. Despite reading and being told that Carlos Reutemann had extraordinary talent and was the fastest man in F1 on his day, I was never that convinced, particularly when he failed to impose himself on a recovering, out of favour Niki Lauda at Ferrari in 1977. I reckoned Villeneuve would have Reutemann at Ferrari the following season.
He didn't. Reutemann outqualified Villeneuve 13-3 during 1978 (on average there was 0.21s in it) and scored 30 points more. It's the reason I can't put Villeneuve on the same plane as Senna when discussions get around to the best/fastest of them all. Although there may have been a question over Ayrton's stamina in his first season of F1, I still reckon if he'd had that first year in a McLaren and not a Toleman, he'd have given whoever was in the other car (Prost or Lauda) a very serious run for the title. I couldn't see it having been 13-3.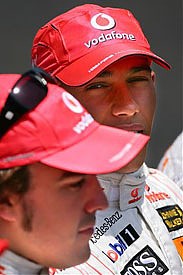 Lewis Hamilton and Fernando Alonso © LAT
I had to wait another 30 years but Lewis Hamilton eventually proved me right. It could be done. In 2007, first-year Lewis got the upper hand over the established ace. And not just over anyone, we're talking Fernando Alonso.
But it doesn't count, I'm sometimes told - it was all about unprecedented pre-season testing for Lewis and Fernando having no prior experience on Bridgestones. I don't know if I buy that. I reckon Ayrton would have done it and perhaps you've got to start thinking about Lewis being on a similar plane.
But the point is, we're talking about degrees of excellence. Which is what sport at the highest level should be about. You can't buy yourself a spot in the Wimbledon final or the Open. A sport which has developed a global audience of 600 million plus would be better off with a contingency budget to keep plonkers out of F1 cars.
CVC Capital Partners may not agree, but I don't see why it couldn't work. Let's say, for the sake of argument, there's a back of the grid team $10 million short on budget. Instead of taking a fat wedge from the National Holding Company of Timbuktu, which wants a local in the first Timbuktu GP, why doesn't F1 itself sponsor, promote, call it what you will, the penniless young Johnny Ace, who is in danger of missing the boat due to the sudden lack of manufacturer participation?
Ace gets a ride in exchange for 10-15 per cent of future earnings over the next 10 years, say. The team knows the money is secure and off they go. Even if they are tail-enders, like Minardi when Alonso was there, Ace makes a name for himself by blowing away the other guy, ultimately gets signed by a top team on a decent retainer and F1 gets its money back, and more to boot.
Why would F1/CVC want to do that? Well, it maintains the sport's credibility and interest, and provided there's a selection panel with a modicum of nous, it can turn a decent profit too. It's nothing more nor less than driver managers such as Willi Weber and David Robertson have done, very lucratively, with the likes of the Schumacher brothers, Kimi Raikkonen and Jenson Button.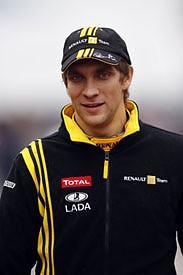 Vitaly Petrov © LAT
I'm not having a go at either Petrov or Karthikeyan by the way. Petrov is a GP2 race winner and not a pay driver of the Taki Inoue, Giovanni Lavaggi ilk. Vitaly was just over half a second away from a topliner like Kubica throughout 2010 and, while he is never going to win the world championship, he can race solidly - as Alonso discovered at Istanbul and Abu Dhabi.
And Narain is an interesting, charming guy who - like compatriot Chandhok - has a deep knowledge and interest in the sport's history. Mention of his name always sparks memories of a riotous British press evening at Jordan when a curry was made to Narain's specification, and 'team ambassador' Johnny Herbert and Ian Phillips recounted tales that had everyone wide-eyed - the Karthikeyans included. Especially the one about the ex-driver's wife who returned home unexpectedly during the middle of the night to find 'guests' and her path to the wardrobe lit by a luminous sex aid...

Karthikeyan actually has fourth place in the USGP to his credit - sadly the '05 one in which there were only six starters, two of which were Minardis. That was the race at which a clutch of photographers, without much to snap, made substantial amounts of money by wagering on Saturday that Tiago Monteiro or Karthikeyan would finish on the podium at stratospheric odds as soon as they knew there was an insurmountable tyre problem. Dim journalists, of course, door-stepped Michelin's poor Nick Shorrock instead of William Hill...

Karthikeyan is also excellent in the wet - fastest of all for much of wet practice at that memorable Suzuka '05 race. Still though, you couldn't help but feel that Narain's F1 boat had long since sailed. He tested for Williams alongside Alex Wurz in 2006 and then got very little cockpit time in '07 as Tata pulled its Williams support and the team turned its attentions to Kazuki Nakajima. There was an A1GP win at Zhuhai in '07, pole for the Brands race in '08 and then a Kolles sportscar ride in an Audi R10 in '09. But the NASCAR Truck Series does seem a rather odd route back to the F1 grid, to say the least.
On second thoughts, a four-speed, pushrod V8, 700bhp, 1565kg truck is probably ideal preparation for the HRT that will start the 2011 testing season, but you'd have to expect a Geoff Willis creation with a Williams drivetrain mated to its Cosworth engine should be a good step forward, money permitting.
If so, you have to ask whether Narain, 34 next week, is the right man to be in it when there are drivers like Hulkenberg and Di Resta/Liuzzi still looking for a ride.
It didn't surprise me to see that Karthikeyan was voted most popular truckie of the year by the NASCAR fans in 2010, despite doing only nine of the 25 rounds. He didn't, however, win Rookie of the Year. That fell to the 20-year-old Austin Dillon. Further investigation reveals the lad to be Richard Childress's grandson though, so I suppose we'll let Narain off. Welcome back. Food for thought, though.