So, the end of another year of hectic travel. Apart that is, from a festive trip to Scotland to visit friends and take the kids onto the ice in Edinburgh while supping mulled wine (me, not them). Quite why the other half decided to book three days in Peebles with Scotland under two foot of snow, I've no idea...
Resource restriction (commonly known as being skint) is just as pertinent to freelance F1 journalists as to F1 teams. Consequently, pretty much as soon as the calendar comes out and certainly well before Christmas, you're trawling through sites - Easyjet, Ryanair, Jet2.com, etc, looking for cheapies to places like Barcelona, Nice, Valencia, Istanbul, Budapest, Milan etc.
This year's short-haul planning went pretty well and I'd booked everything before the season started. Seven, eight months down the line when it's time to go for the plane, you can't remember a thing and so you dig in the file to see whether it's the delights of Easyjet or Ryanair. You hope it's Easyjet. Both use a lot of 737s but for some reason there's a 10 kilo hand luggage restriction on Ryanair whereas Easyjet is limitless, within reason. There's no way you're going to check a bag in and have to wait for luggage.
Yet another plane Dodgins is not on... © LAT
If it's Ryanair you head into Adrian Newey-style weight-saving mode. You've already bought the lightest cabin bag in existence, a laptop that can't weigh more than a kilo, a lightweight computer case that fits neatly inside (one bag only, sir...) and now it's the bare minimum of clothing - five sets socks/pants/shirts for European races. A pullover is out.
Then it's off to the bathroom and selection of tiny shampoo bottles (made easier by the migration of hair), deodorants, etc. Plonk it on the scales and hold your breath. Nine point eight—Hallelujah!
Everything worked fine this year apart from Budapest. Open file, no paperwork. Damn. In the back of my mind I'd booked Manchester-Budapest with Jet2. Log onto website, call up itineraries, nothing there. Manchester, in fact, was not ideal. The Monday after Budapest had been earmarked for the annual fantasy football auction which a group of ageing blokes who should have grown up, still indulge in. I think when we started, my colleague Simon Arron's son was six. Now he's at University and top of the league, damn him.
Blokes are notoriously bad at keeping in touch and it's actually a good way to catch up once a year, have a curry and a couple of beers and remind someone that about 10 years ago they spunked £6m of a £40m squad budget on Rory Delap! When Mike Gascoyne joined Toyota and his salary became the subject of much discussion I well remember it being generally agreed that he'd gone to Cologne 'on a Rory.'
The problem is, this auction was scheduled for Haymarket's Teddington premises, near London, on Monday afternoon, so Budapest-Manchester wasn't good. There was still a good deal to be had from, wait for it... Bristol, coming back late Sunday night. Not ideal but workable, so I booked it.
Laptops take a bit of a pounding in our business and there's no guarantee you'll have the same one seven months down the line, so I still go with filed paper confirmations rather than saving web pages. That Jet2 flight was nagging though - I distinctly remembered pressing the 'pay' button. It bugged me enough to check old credit card statements and sure enough, there it was. Log back in, call up itineraries again, and there it was. That part of the site, apparently, had been 'down' earlier.
So now I've got two Thursday flights to Budapest - one from Manchester with Jet2, one from Bristol with Ryanair. What to do? Take a punt on the date of the 2011 Hungarian GP (I was right!) and amend the Jet 2 one for a small fee. No worries.
Enter, my newly acquired Fiat Ducato minibus. Having sold the beloved 6.8-litre V10-engined Born Free American motorhome due to ever more inconvenient F1 locations - such as Seoul and Dehli! - not to mention resource restriction. The better half had suggested something much more basic that we could chuck muddy mountain bikes and things in without me getting all anal retentive about looking after it.
She had been bemused by my behaviour in the motorhome. Having earned a slap or two for telling her that we had two dishwashers, one called Siemens and the other called Angela, she couldn't understand why, in the motorhome, I'd pick up, wash and put away a dirty plate before it even touched the counter top.
And I'd even clean the thing! Something to do with it being a vehicle, I told her, and not wanting shattered crockery every time we encountered a roundabout...
We'd gone from the sublime to the ridiculous though. Ex-Scottish motivational school minibus on eBay, part camper conversion, six seats, bed, low mileage, 2.8 turbodiesel, every trip logged, full history and paperwork, new MOT, £1200, What more could a man want? Chuck in anything you want - kids, bikes, garden rubbish! Great weekend vehicle. There, I'm almost convinced. And what, indeed, could have been better for a Southport-Bristol-Teddington-Southport trip with a couple of nights on the fly?

Now, it's always been a bit of a failing of mine that if something is going to take 60 minutes without a hitch, I'll mentally allocate it 61. I hate hanging around. Determined to be sensible though, I'd given myself a whole half-hour leeway over and above the time Tom-Tom told me it was going to take to get the 5.20pm Ryanair from Bristol.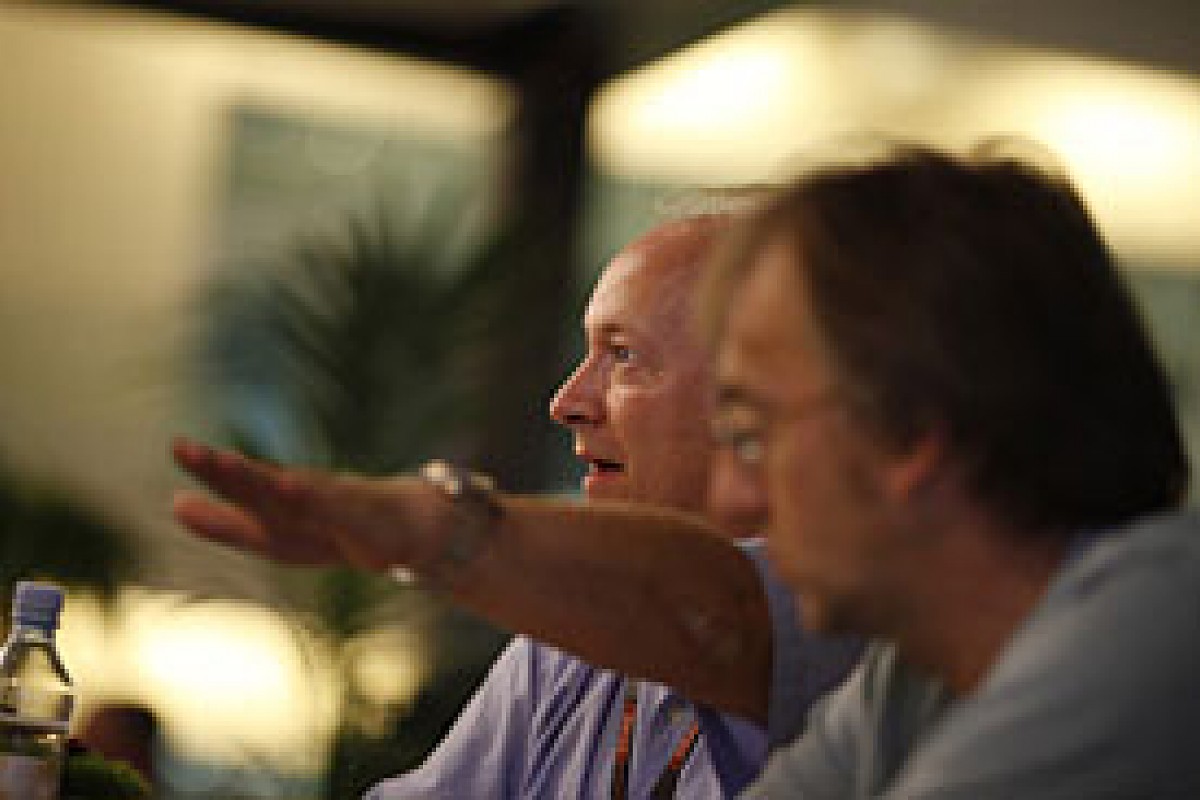 Tony Dodgins explains; what we're not quite sure © LAT
Trundle down the A570, onto the M58 to the M6 and... bugger. Total gridlock. Someone had been thoughtless enough to shunt on the M6 slip road and we didn't go anywhere for two hours. So that was Bristol out of the window.
Plan C: computer out on front seat, insert dongle, begin searching. There's one option and one option only. Wizzair, via Luton, 8.20pm. By the time we're moving properly again even that's marginal. If anyone spotted a Fiat Ducato minibus doing 400mph through the lanes near Luton in late July, sorry, that was me.

Make it with five minutes to spare, stabilise heart rate during flight, jump in cab and stroll into apartment booked by the lads (Arron and Mark Hughes) as if nothing's happened.
Arron, of course, is aware of the Monday auction arrangements and says, "Ducato at Bristol is it?"
"Yes," I lied, and went to bed. The problem is, he regularly does an F1 diary/travelogue for the Daily Telegraph. Any slight personal/organisational hiccup suffered by myself or Mr Hughes is immediately snitched upon with glee. Any protestation is met with, "don't worry, I'm turning you into a cult figure!" At least that's what it sounds like.
As an example, I'd started one race weekend a bit jaded as a result of being up at 3am walking the streets searching for our beloved cat, which emerged sleepily from the airing cupboard about three hours later. Back home next week having a beer with a mate, I was laughing about it when he said, "I know, I read it on the Telegraph website...."
He'd have had a field day with my multi-flight Budapest extravaganza, so no way was he finding out! Sunday night was going to present the problem of a Ryanair flight to Bristol and a Fiat Ducato at Luton. So, between untimed sessions on Friday, there I am surreptitiously logged into Booking.com looking for a hotel in Bristol on Sunday night and then The Trainline to see if there's a service at a sensible time that gets me from Temple Meads to London to Luton in time to drive to Teddington for the early afternoon. There is - just - so I book it.
Later, we're having dinner with another journalist, Matt, who is freelancing for the Evening Standard among others and, guess where he lives? Bristol. He kindly offers to drive me over to the long term to pick up the non-existent Ducato when we get back to Bristol on Sunday night, then put me up at home.
"Errr, very kind of you," I say, but I've already booked a cheap room."
"Cancel it," he says. "Prepaid..." I reply.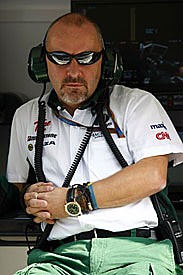 Mike Gascoyne © LAT
I expect the Sunday night Ryanair Budapest-Bristol to be bereft of paddock representation, Matt and I apart, but I'm wrong. Behind us in the queue, Christian Horner's father Gary and photographer Keith Sutton are en route to summer places in the west country. The Cornwall property market crops up and I resist the temptation to pitch in with the latest Glass's Guide valuations for missing nine-year-old Fiat Ducato minibuses...
Jump in cab with Matt to centre of Bristol (I'll pick the van up in the morning, I say), quick kip, up to finish some work and catch the 9.15 from Temple Meads. Onto a London tube, shuttle up to Luton, across to long term, there she is, starts on the first turn of the key. Out onto the M25 bound for Teddington, mission almost accomplished.
Phone rings, it's one of my auction rivals already ensconced in the Angler's beer garden in Teddington having lunch and the first pint. "What's your ETA, where are you?" he says.
Relaxed now, I'm off guard. "Junction 21, M25, I'll be there within the hour."
He repeats, junction 21, M25. Arron is sat beside him, I can hear him in the background and he's onto it like a shot: "What the hell's he doing on the M25?"
"What you doing on the M25?"
"Sorry, brain fade, I mean the M4."
"What you doing at junction 21?"
"Oh, tell him to mind his own effing business, might have got that wrong." He never did find out...