Did you watch NASCAR's Talladega 500 last Sunday? Dull as dishwater as a race, but what stood out is NASCAR's straightforward way of dealing with team orders: they're an accepted way of life.
In a restrictor plate race run on the high banking of Talladega, where top speed is controlled by carburetor plates, it is like Monza in the 1960s and '70s where slipstreaming the car ahead is the way forward. In NASCAR, they draft their team-mates to improve each others' positions throughout the race. More surprising - but logical - even drivers from different teams co-operate with each other to advance the interests of common engine manufacturers Toyota, Ford and Chevrolet.
In Formula 1, if the Ferrari-engined Toro Rosso and Ferrari works team, the Mercedes-engined McLaren, Force India and Mercedes teams, the Renault-powered Red Bull and Renault team and the Cosworth-powered teams worked together, we would call that scandalous collusion. NASCAR just gets on with it.
In F1, are team orders in or out? That question was left hanging by the FIA when Ferrari was in the dock in September over its antics at Hockenheim. That was the time to clarify/modernise/update/eliminate the legislation, but the FIA decided things are fine as they are - leaving everyone in the dark as to what will fly from now on.
The team orders rule will likely come back into play either this weekend or next, though any action shouldn't have to be as painfully disguised as "Felipe, Fernando is faster than you".
Was there ever a better-phrased and sadly pathetic summary of the crazy situation than poor Rob Smedley's coded message to his driver and friend? Alonso, in his typically aggressive fashion, was forcing the issue - "this is ridiculous" - as team-mate Massa led the German Grand Prix.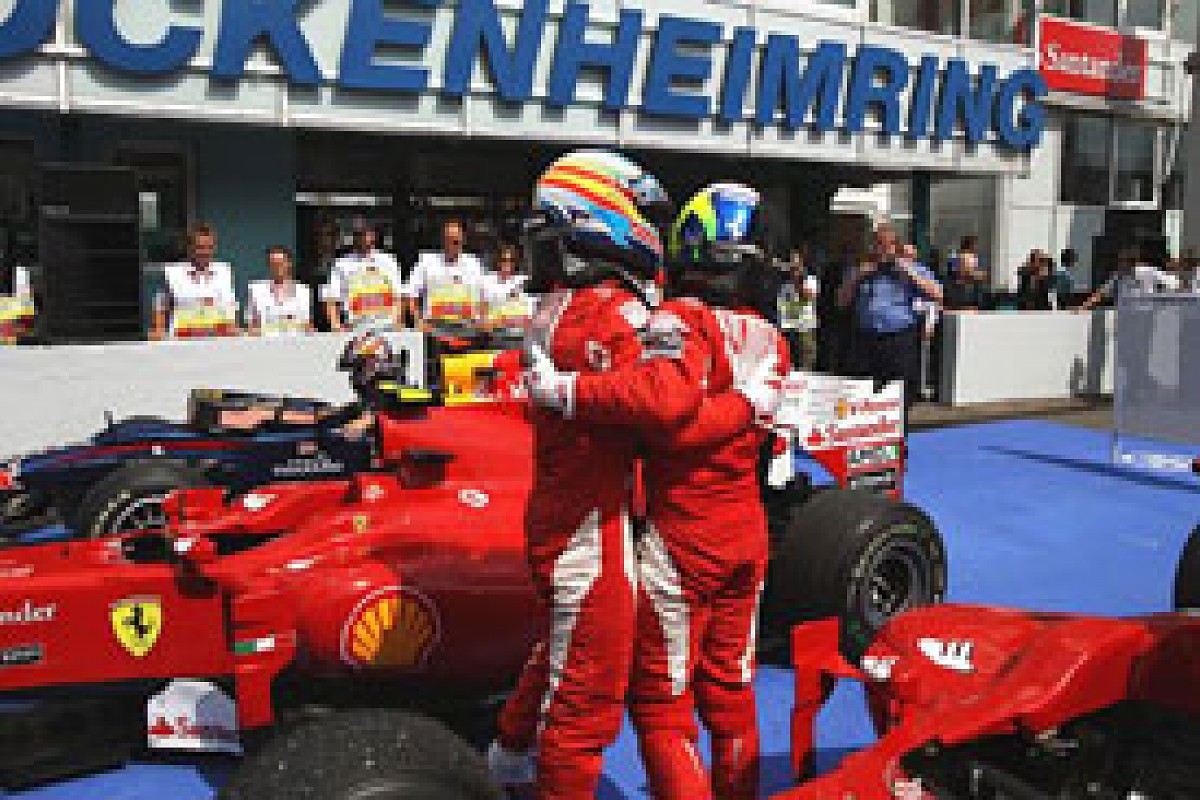 Fernando Alonso and Felipe Massa © Sutton
Alonso's actions at that stage of the race and season - lap 22 of 49 in race 11 of 19 - were presumptuous and a clear violation of the doctrine, which began with the 1997 championship decider at Jerez and was later confirmed following Australia 1998 and Austria 2002.
But that was then and this is now. Team orders should be expected in the final two races and, with the titles to be decided, should be boldly used by all three teams at some point.
So what are the ground rules? How do the teams make sure they don't run the risk of winning a championship on the track, then losing it to the World Motor Sport Council?
The black letter law is still Section 39.1 of the FIA's Sporting Regulations: Team orders which interfere with a race result are prohibited.
But that formulation tells the team principals nothing when it comes to moving their pieces around the chess boards of Interlagos and Yas Marina. For the real rules, you have to look at the statements the FIA has handed down in the application of the those 10 words of Section 39.1 to specific race situations.
First, there is no prohibition of team orders as such. Secondly, it is perfectly legitimate for a team to decide that one of its drivers is its championship contender and that the other will support him (July 27, 1998 WMSC). And thirdly, it is the long-standing and traditional right of a team to decree the finishing order of its drivers in what it believes to be the best interest of its attempt to win both world championships (June 26, 2002 WMSC).
So the FIA's positions says that, at this stage of the season, they are all free to choose a title contender and a supporter. Then you just have to convince the drivers to play ball.
Ferrari has the easiest job, since Alonso is leading the championship and Massa is already supporting. Its only discomfort will come from Massa's popularity and usually-strong form at his home grand prix. But Massa took 2008's heartbreaking title loss at home like the sportsman he is, and will take another one for the Tifosi if needs be.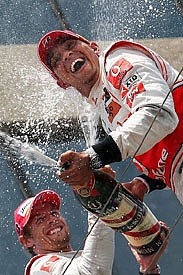 Lewis Hamilton and Jenson Button © Sutton
It will be slightly more complicated for McLaren, with both drivers mathematically still in contention but Jenson Button almost certain to reach the point where all he can do is attempt to aid Lewis Hamilton's cause.
Red Bull's position, with both drivers still fighting for the title, depends on the others. If Hamilton and Button have a miraculous qualifying and race, Red Bull can live with it. It's when the Brazilian Grand Prix begins to go Ferrari's way that Christian Horner will have to make a call.
For Red Bull, 15 pole positions this year point to a likely front row sweep. And with Sebastian Vettel holding the edge over Mark Webber, there is a very good chance he will be leading away at the start even though Webber is 14 points closer to Alonso. It's worth noting that Webber already has a history of being collision-prone in the Brazilian Grand Prix, sometimes even with team-mates...
So Horner has the trickiest situation on his hands when it comes to applying orders to his drivers, whose relationship with one another is no secret - especially since Webber's comments yesterday. They barely tolerate each other, and totally lack the sense of mutual respect you can see between Hamilton and Button, or even the grudging but respectful acceptance of the pecking order at Ferrari.
Webber has a chip on his shoulder and although he has performed well in most races, few believe he is as good as Vettel - a feeling the Australian has revealed he believes exists within the team as well as out of it. And this is where team-mate relationships play a pivotal role - obviously not Red Bull's strongest card.
There are some stirring examples throughout grand prix history of team orders, some heroic, some sordid. Perhaps the most edifying example is the 1956 Italian Grand Prix, when Peter Collins - himself lying third in the points - voluntarily turned over his Lancia-Ferrari to team-mate Juan Manuel Fangio. Then, in 1958, Ferrari asked Phil Hill to move over for Mike Hawthorn at Casablanca, to allow the latter to edge out Stirling Moss for the title.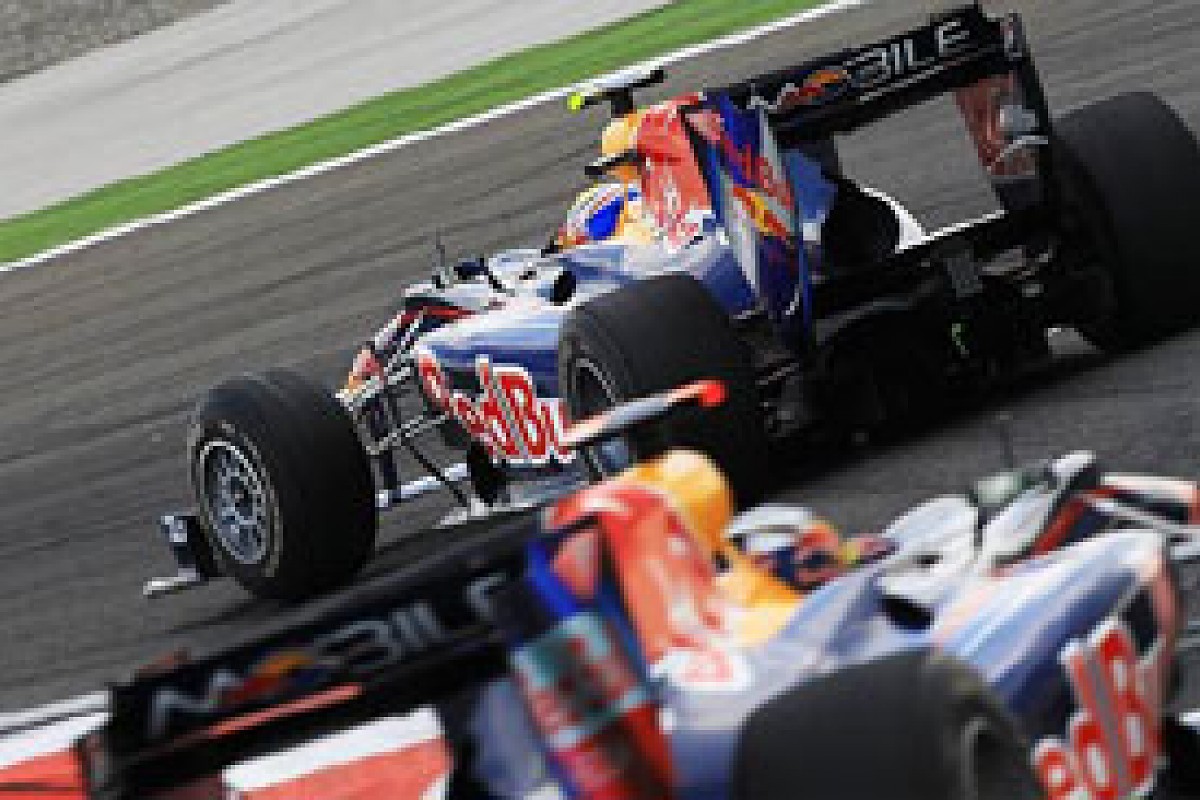 Mark Webber and Sebastian Vettel © Sutton
We know Massa would do that for Alonso. You can see Button doing that for Hamilton. But is Vettel prepared to step aside for Webber?
If Vettel wins on Sunday, however many points Alonso scores will be his advantage over the German at Abu Dhabi. If Webber finishes second and Alonso third, the gap between the pair will be down to eight points. But if Webber wins with Alonso third, it's one.
How high up does Alonso need to run before Vettel's radio crackles "Mark... faster than you..."? And if it does, will he hear it?