Cometh the hour, cometh the man they say. So now we have a world title fight that is going to be decided over seven days in Brazil and Abu Dhabi - and who would want to be making the decisions that Christian Horner has to sign-off right now?
His team has had the quickest car all season, yet a mixture of driver errors, poor reliability and incidents outside his control have helped ensure that it is Ferrari that has the edge heading into the final two races of the season.
But if he thought the season so far had been a bit difficult, his biggest headache is going to come in the next few days as he tries to work out exactly how he is going to ensure that his team not only wins the final two races of the season but doesn't then blow the world title in doing so.
Sebastian Vettel's late-race engine failure in Korea has left him a full race win adrift of Fernando Alonso in the championship, but the gap is still not big enough for his world championship title to be over. And that is the root cause of Horner's woes. For while the championship situation has led to numerous calls for Horner to throw the entire team's weight behind Mark Webber's assault on the world title, the mathematics of the table are not that simple yet.
And that is why Horner is in such a difficult situation - because it is easy to see that when it comes to the big question of whether he makes Webber Red Bull's main man - he could be damned if he does and damned if he does not.
The ideal situation for Horner now would be for Webber to do what he did in Barcelona and Monaco this year - outpace his team-mate and deliver back-to-back one-two finishes that help secure him and Red Bull Racing both championships.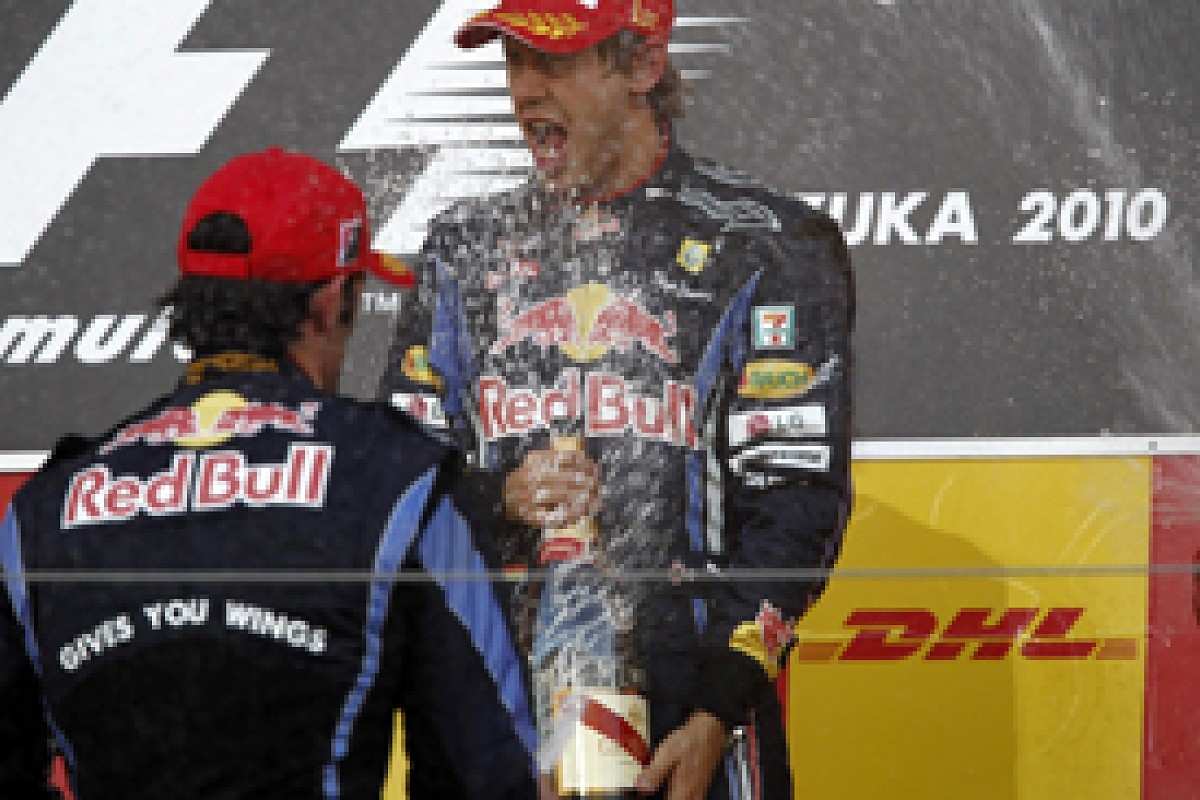 Vettel led Webber home at Suzuka © LAT
But the chances of that happening look fairly slim at the moment, because it is Vettel who appears to be the man on form. Ever since Singapore, it is Vettel who has had the edge in terms of speed - albeit by just a few hundredths of a second in qualifying in the past two races.
And that means, with the RB6 still the quickest car on the grid, that it could well be Vettel who wins the final two grands prix from Webber. Should that happen, and Alonso take third place in both those races, then the title goes to the Spaniard. That would be a disaster for Red Bull.
So does that mean Red Bull Racing should decide immediately that in Brazil, if its drivers are running with each other on track, that Vettel should concede the place to Webber to give the Australian a points boost? On face value that would make sense - but the problem is that still does not stop Red Bull Racing gifting the championship to Ferrari.
As an example, if Vettel sacrifices his race lead in Brazil to Webber, with Alonso finishing third, then the championship table will look like this: Alonso 246; Webber 245, Vettel 224. That is all well and good if Webber is then the man who delivers it on track in Abu Dhabi, but what happens if, having swapped places in Brazil, Webber has a nightmare and fails to finish at the Yas Marina?
Imagine then that Vettel wins the season finale, pushing himself up to 249 points, but Alonso also doesn't go well and limps home in eighth - earning himself the three points he would need to win the crown (title won on race win countback).
In this most amazing of championship battles such a scenario is not impossible to see happening - and then Red Bull Racing would have effectively blown the championship through its own meddling in Brazil, where Vettel would have lost the points he needed for the crown.
There is another nightmare scenario that could unfold for Red Bull Racing too. Should Vettel win in Brazil from Webber, with Alonso third, then the points situation would be like this: Alonso 246; Webber; 238; Vettel; 231.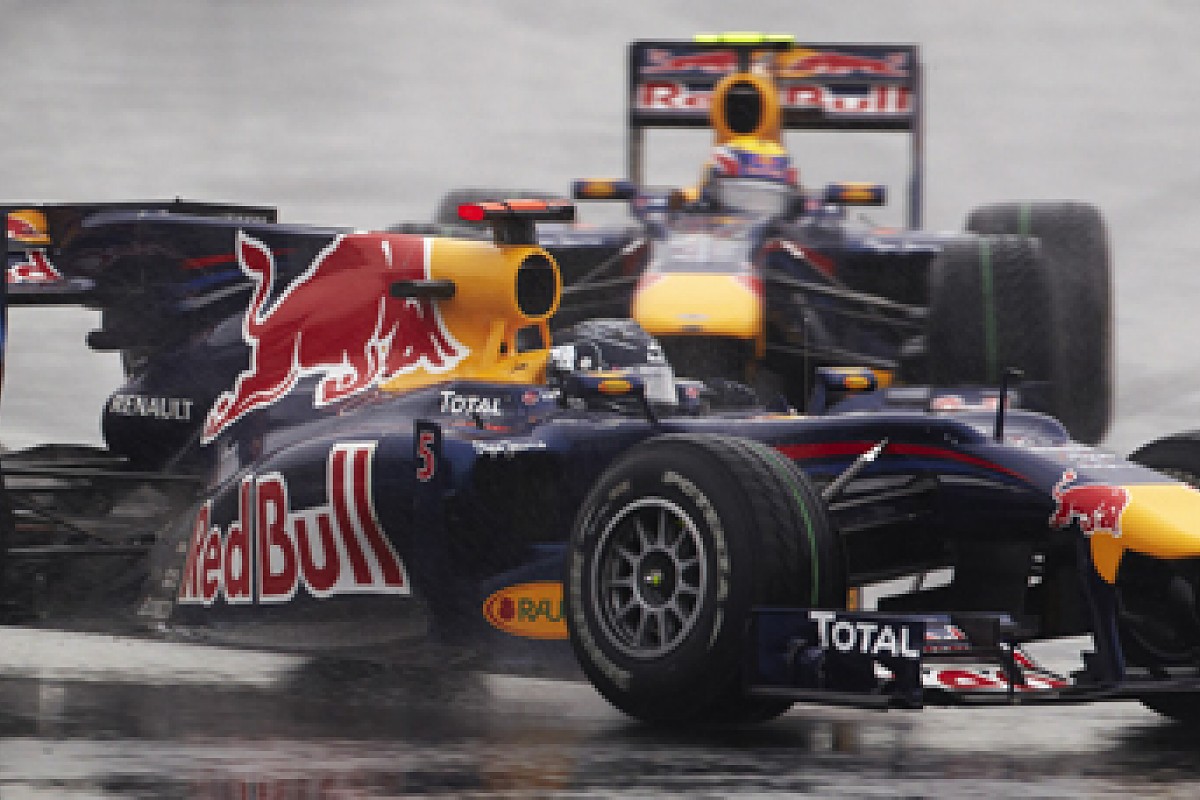 As has already been mentioned, a repeat result in Brazil would not be enough for Vettel to win the crown - so you could imagine that in the closing stages of the race Vettel would be asked to sacrifice the lead to Webber so his Australian team-mate can win the title.
Yet, what if we had a repeat of Brazil 2008 where race positions are changing place on the final lap of the race? What would happen if Vettel is ordered to move over for Webber on the last lap and only after they cross the line does Alonso suffer late race heartache and retire from the race.
That would mean Vettel would have effectively sacrificed the championship to his team-mate by being ordered to move over for him. If you thought things were difficult for Red Bull Racing after Turkey and Silverstone this year, then having a title decided like that would be a totally different world.
Horner talked after Korea of needing to sit down at Red Bull Racing's Milton Keynes factory before Brazil to go through the mathematics - and all these nightmare scenarios will no doubt be played out and debated.
The right course of action for Red Bull Racing will only become clear on the Sunday night in Abu Dhabi - and Horner has spoken a few times in recent weeks of bracing himself for the hindsight specialists who will no doubt emerge post-season if his team fails to win the crown.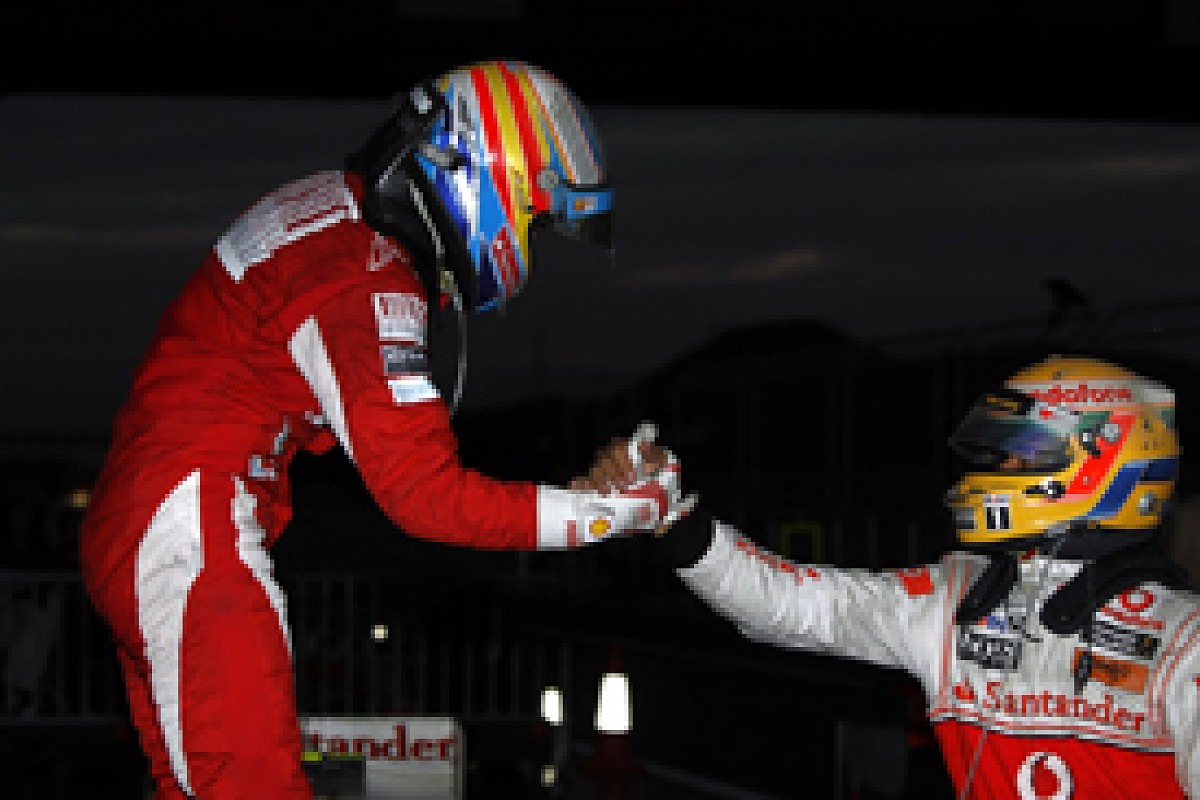 Alonso and Hamilton complicate Red Bull's maths © LAT
Circumstances on track could well require Red Bull Racing not to get involved in such dramas - perhaps Alonso will retire from Brazil, Webber will be unstoppable, or Lewis Hamilton will start getting involved in the mix. But after what we've seen happen to Red Bull this year - when if things can go wrong invariably they will - then team chiefs had better start preparing themselves for the worst.
Right now, despite all the expert opinion reckoning Webber should be the man it supports, Red Bull may be better off sticking to the principles it has played all season: that of treating both men equally and let fate deciding what happens.
If it wanted to back Webber, it should have done so earlier in the campaign - when there were more races to play with, more opportunities for Vettel to deliver vital points that would swing the title towards the Australian. Had it done that, then Webber could have had an extra 10 points on the board now from switching places with Vettel in Singapore and Japan.
There is an argument that suggests going back now on the beliefs of equality that it has stuck to up to this point is to risk playing with fire - and give the hindsight specialists all the ammunition they need at the end of the campaign.
Ultimately there is no right thing Red Bull can do on this front to guarantee the title - because whether Red Bulls back Webber or not, there is still a risk of it being the wrong choice.
All we can say for certain is that there is going to be a fair bit of foot shaking going on at the Red Bull Racing factory over the next few days...