Just had a text from Mark Hughes which I've got to share with you. It's been pointed out more than once that my esteemed AUTOSPORT colleague bears more than a passing resemblance to John Lennon. I'm sure he can't sing or strum, it's the stringy build and round bins that do it.
For some years now Liverpool John Lennon Airport has been 'your gaffe' as far as Mark's concerned. As in, "Where are we flying from, Manchester or your gaffe?" Well, he was there this morning and reports that on the Lennon statue, on which is quoted a line from 'Imagine' saying "above us only sky," someone has added: "and below us only West Ham..." If you're not familiar with the current plight of Liverpool FC, I apologise, but if you're an Evertonian I'll gratefully accept payment!
Vettel could have used a shortcut in Singapore © Sutton
While on with the levity, the past couple of grands prix started me thinking back to Bernie Ecclestone's shortcut suggestion at the start of the year and the general mirth which greeted it.
In Singapore, Fernando Alonso won one against the head, no doubt about that. By rights that was going to be Sebastian Vettel's pole and Seb's race. Then, at Suzuka, Vettel did take pole and duly went on to score the 25 points. And as Webber said, the seven hundredths between them in qualifying decided it. There was no way you were going to actually pass a car of similar performance on the track.
Back in January, Ecclestone said, "Imagine a shortcut that each driver could use four or five times a race..."
He was laughed at. Most people thought it was so preposterous he couldn't possibly be serious. I never really understood that. To my mind it's an interesting potential answer to a problem F1 perennially chucks millions at but never solves.
There is a view that we should leave well alone, that F1 is interesting enough as it is not to need cars passing one another all the time. It's a view Adrian Newey holds and broadly I agree with him. The nuances of performance differentiation circuit to circuit and the constant development are certainly interesting. But it could be even better.
Attempts to solve the overtaking conundrum with rule changes seem doomed to failure, even when conducted responsibly as was the case with the FIA's OWG (Overtaking Working Group). A couple of years ago, remember, a huge reduction in downforce allied to a moveable front wing was supposed to do the trick. But then before we even got started, along came the double diffuser and we were back to square one.
Recently, I was talking to a technical director and we recalled how bleak the picture looked after Bahrain this year. "God yes," he said, "but in actual fact we've had a great year. And ironically much of what we're busy with for 2011, like moveable rear wings, was in response to that race! I don't reckon it's going to make any difference..."
I'm sure he'll be right. In recent history, three things have prompted a car to overtake: a) it's got a different fuel load, b) it's got different tyre performance, c) it's got Lewis Hamilton inside it.
Today though, with refuelling banned, no tyre war and even Lewis hitting things when he tries to overtake, about the only time we get any real overtaking is if it rains or Kamui Kobayashi runs long on a set of primes and then gets stuck in for a few laps with his options on low fuel.
I reckon Bernie's shortcut idea would open up a whole raft of facets currently being denied us. As things stand, qualifying is absolutely critical. Then, once you've qualified ahead, it's all about the stop. Generally, unless a tyre is tricky to 'bring in,' to the extent that a lap on fresh rubber is going to be slower than a lap on used tyres - which is rare, but something Button experienced at Monza as well as having a slower stop - then it's an advantage to pit first.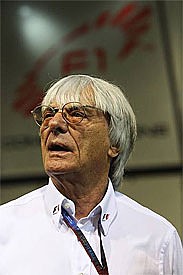 Ecclestone, not that wrong © Sutton
The pole man apart, hardly anyone ever gets to run in clean air. And so, all the way down the grid, we seldom discover anyone's true race pace. Who's to say that the guy who's a gnat's whisker faster on Saturday afternoon is going to be the same over 60-odd laps if everyone was able to run at their pace. The shortcut idea could facilitate that.
The major objection to Bernie's idea seemed to be that this is the pinnacle of the sport, by God. You can't have such artificiality! I seem to remember the same sentiments when it was first mooted that F1 should have Safety Cars. I can tell you honestly that the most commonly held paddock opinion was that Safety cars were something that should be left in America, where they don't have proper racing anyway.
They go round and round for two hours at full throttle, only use the brakes when they come into the pits, turn left a few times and make a hell of a mess when they crash at 220mph so, yes, they need yellows and Safety Cars. But this is Formula 1! Who wants to have his afternoon's work wiped out by a Safety Car?
I'm exaggerating a tad, but not much. And yet Safety Cars are now as acceptable a part of F1 culture as they are in the States. I reckon shortcuts would be just as rapidly assimilated, particularly when people came to appreciate the tactical element and the new facets they would introduce.
Take Suzuka. You're Red Bull, you're running 1-2 and you have the fastest car. You therefore don't want anyone in front of you and so you use the shortcut on laps one through five and you're away and gone, home free. But then there's a Safety Car on lap six. Suddenly you've got Fernando Alonso back on your gearbox and he hasn't used the shortcut once. You've now got to go like hell for the rest of the race to overcome the deficit.
The reality, of course, is that you wouldn't use up all your shortcut opportunities immediately because of that very risk. What they would all do, is load every Safety Car occurrence into a computer, do a statistical analysis and come up with a probability model for optimising use of the shortcut. But no way could it be definitive.
At the moment, teams are all quite capable of keeping tabs on the time screen during a race and trying to find a gap to drop their guy into after a stop. But try keeping on top of that when track position is changing all the time. You might also get genuine team strategy rather than the current situation where team car tend to pit one lap apart from each other.
I'd argue that it would be less artificial than what we have now. More random maybe, but certainly not artificial. It would be the same for everyone, just requiring a bit of thought. There would be more instances of people getting tripped up by safety cars but that's about the only downside I can see, unless of course you happen to be a commentator.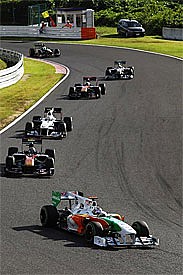 Shortcuts could spice up boring F1 races © Sutton
Again though, it probably wouldn't be insurmountable. As things stand you have a column on the timing screen which tells you if someone has stopped. The gaps are all there in front of you and you know roughly how long a pit stop takes, so you don't need to be Einstein. It would be the same with shortcuts. You could have a column telling you how many cuts someone had used, you'd know how much time it saves and so you wouldn't need to be a genius, just a bit handy with your mental maths under pressure. Welcome to the new BBC partnership of Carol Vorderman and Martin Brundle!
I reckon it would transform races. Fifteen or 20 years ago you couldn't race an F1 car flat out from lights to flag because it would break. Teams used to have unwritten rules that its drivers could race each other as far as the final stop and then they'd turn down the wick. But it's not like that now. Cars can be raced flat out from A-Z. Provided they're not trapped behind another one...
A good race strategy would be all about finding as much clear road as possible and that would involve reacting as quickly as possible to what everyone was doing around you, with those calls having to come from the pits. The intensity and the required mental dexterity would increase tenfold. Drivers with the focus, fitness and ability to race relentlessly all afternoon would be rewarded whereas currently they sit behind the car in front all afternoon.
Okay, it might be hard to follow but it would play out in the end and strategy would be endlessly variable. What's more, with the onus on F1 and not the circuit owners to pay for the shortcut asphalt once, instead of endlessly and pointlessly tinkering with the cars, it would be relatively cheap.
It won't happen, of course, but I reckon it should. Other than political correctness now and again, Bernie doesn't get a lot wrong.