If Lewis Hamilton had not lost third gear on lap 38 of the 53-lap Japanese Grand Prix, the closing 15 laps might have been very interesting indeed.
Christian Horner, for one, believes that McLaren may well have been using Button as the sacrificial lamb to try to back the Red Bulls and Alonso into Hamilton as the race neared its end. Which is not to say that was the intended strategy when Button, alone, opted to run hard Bridgestone in Q3. Maybe it was just the way things turned out and, certainly, when you look at it, it seems the only logical explanation for the race strategy on Button's car.
Trying something different was certainly worth a punt. Despite amended front wing load tests, tea tray stiffness tests and so forth, Adrian Newey's Red Bull RB6 still appeared to be running very low to the ground and was still phenomenally fast, half a second quicker than anything through Suzuka's flat-out sector one sweepers which, as Vettel said more than once, "could have been drawn for our car."
All things being equal the Red Bulls were always going to qualify 1-2. The weather could certainly have thrown a spanner in the works and looked set to do so. Red Bull must have been delighted when the rain continued to hammer down all day Saturday. Fair enough, a car with that much inherent downforce would have been a plus in a wet session and they may well have taken the front row in the rain too, but it was by no means a given. A dry session on Sunday morning was much more agreeable to Red Bull than a wet one on Saturday.
So, with that window of opportunity closed, and Hamilton with a five place grid penalty for a gearbox change, the strategy 'gamble' with Button was surely worth a go. At the time the decision was made, nobody quite knew how long the option tyres were going to last at the start of the race. Especially with a newly 'green' surface following all the Saturday rain, there was every chance that the front-runners were going to be in for primes within the first 10 or a dozen laps.
Button, in fact, got within two hundredths of Alonso's qualifying time despite using the harder tyre for a three lap qualifying run. And, he reckoned, he could have gone a couple of tenths quicker still. He fuelled for that three lap run because he thought the primes would take time to come in, but what he actually found was that his first lap was the quickest!
Suzuka, at 3.6 miles, has a high fuel weight effect and while it would have been hugely risky, if Jenson had fuelled for just that one lap he would probably have been quicker than everything bar the Red Bulls. A more conventional two lap run would have allowed him to start ahead of Alonso.
The fact that the primes worked on the first lap also told you that Button's strategy might just work because the factors that facilitated it should also have spelled an early struggle for those starting the race on the options.
The reason that didn't happen was partially explained by the high track temperature by the time of the 3pm race start, which allowed the track to rubber in quickly, allowing the options to run much further in a decent condition. As things turned out, Hamilton, the first of the front-runners to pit, took them as far as lap 22.
A six lap Safety Car period at the start didn't do Jenson any favours. When Lewis pitted, Jenson had been running just in front of him, the pair about 4s down on Alonso's Ferrari, and it was obvious then that Button's strategy wasn't going to work out. To optimise Button's race at that point, the thing to do would have been to pit Jenson, possibly even a lap before Lewis, and put him on the options. A 30-odd lap run on options with the track rubbered in would have been feasible and he might have undercut Alonso. In fact though, the team kept Jenson out for another 16 laps, as far as lap 38.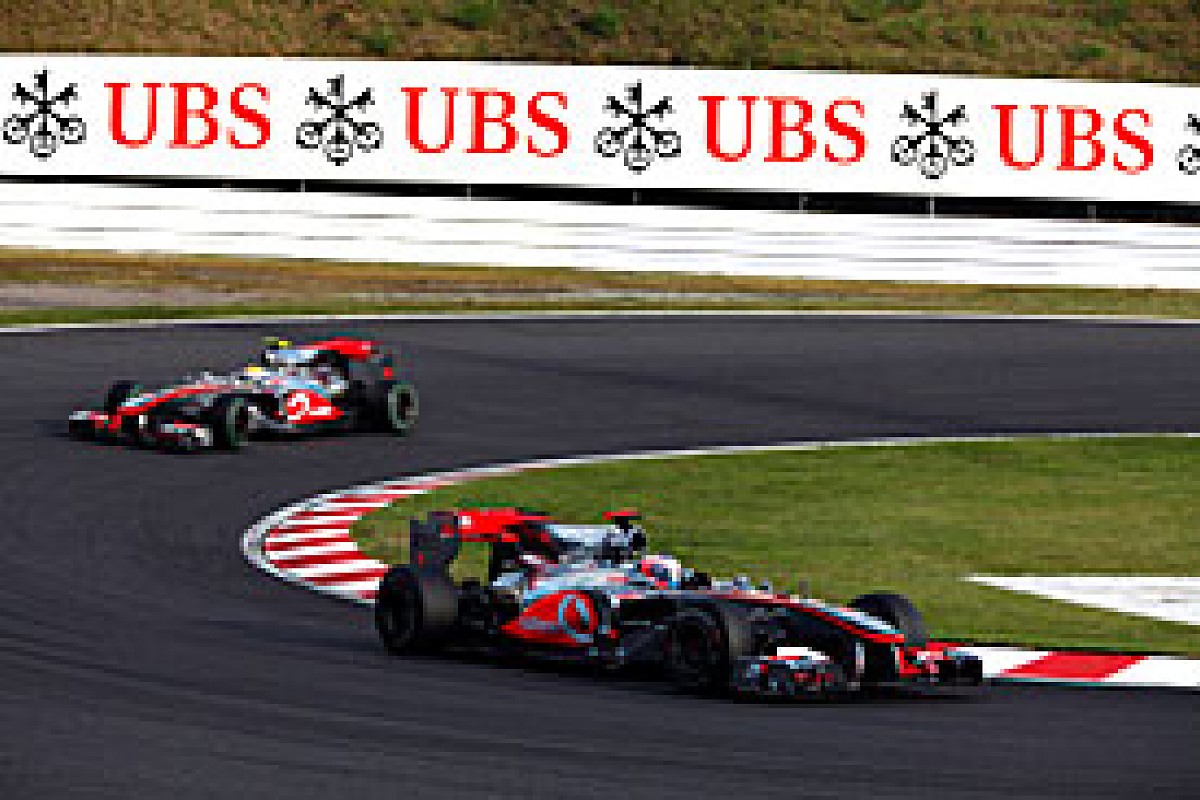 Jenson Button leads Lewis Hamilton during the Japanese GP © LAT
From the time that Hamilton pitted on lap 22 for the next 15 laps, Button never lapped quicker than 1m36.28s and was more often in the high 1m36s. Lewis's best time on his new primes during the same period was 1m35.18s and he regularly turned laps in the mid 1m35s. How much quicker would Button have been on a new set of options?
So, if McLaren wasn't using Button to back everyone into Hamilton, what were they doing? Within five laps of the Red Bull stops they were back in touch with Button and had to sit there while their margins over Alonso and Lewis were eroded. When Jenson finally stopped, Lewis was just 8s behind the Red Bulls and closing.
Interestingly, the very same lap that Hamilton lost third gear and two seconds, was the same lap that the team called in Button. How much longer would they have left him out if Lewis hadn't had his problem? We'll never know. And while it's hard to imagine Button playing ball, it was rather odd that the lap before he stopped, Jenson suddenly dipped into the 1m35s for the first time all race on a 37-lap old set of primes, suggesting that he may well have been able to run quicker...

"We were a bit concerned by Jenson's race strategy," Red Bull's Christian Horner admitted. "We knew we would come out behind him and then he started to back everybody up towards Hamilton. It was sort of like being in a McLaren sandwich. But then it looked like Hamilton developed a problem and they aborted that strategy for Jenson. It looked a little bit like he was a sacrificial lamb. I don't know. It just seemed strange."
It could have become very uncomfortable for the Red Bulls and Alonso to have been stuck behind Button with Hamilton charging through 130R and diving around under braking for the chicane.
Martin Whitmarsh straight-batted the questions. "We also had to consider Jenson," he said. "We wanted to give him enough time on the option tyre to have a go. If we had left him out there longer... it's not how we play our game. Maybe others would but that is not how we go motor racing."
I'm afraid I can't tell you exactly who decided on which aspects of McLaren's strategy, or when, but you can bet that Button doubts he had enough time on the options to have a go.
The last couple of laps were interesting. Vettel set the fastest lap of the race, 1m33.653s, on lap 51. Apparently Seb often has a wager on himself to set fastest lap and this was his attempt to collect. Earlier in the season, with some brake concerns, he radioed the team to ask what the fastest lap was and was sternly told, "Don't even think about it!"
Webber, you can imagine, might enjoy causing Seb to lose his money. He reckoned the seven hundredths between them in qualifying was what cost him the race in Japan because, as we all know, passing an equal car in F1 is impossible unless, like Kamui Kobayashi, you happen to be on options at the end. Webber, therefore, stormed round the last lap at Suzuka in 1m33.474s to have his fun and make his point.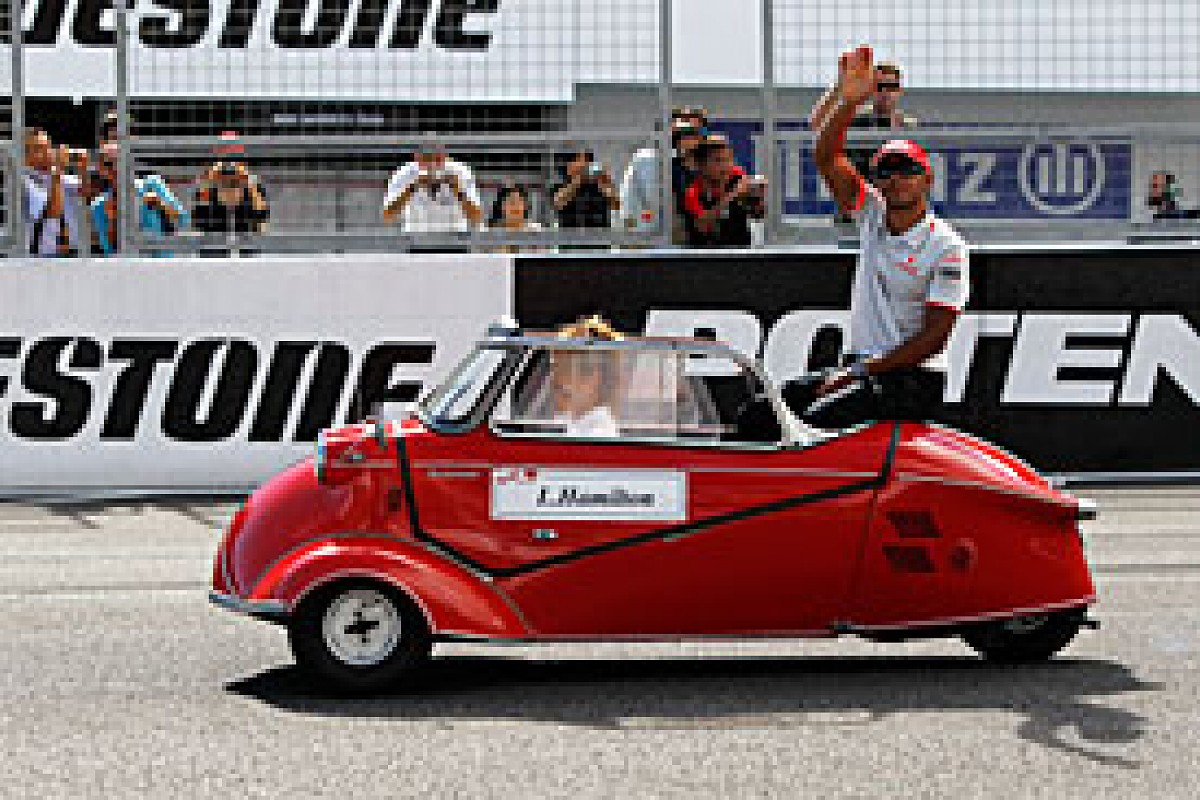 Hamilton's Messerschmitt bubble ride © LAT
Button, on his 15 lap old options also set his best time on the last lap, a 1m33.529s. With an optimised race, you figure, he'd have certainly been able to have a pop at Alonso.
McLaren certainly didn't get the rub of the green at Suzuka. Hamilton dropping the car at Degner first thing Friday morning didn't get them off to a good start and then the elements helped Red Bull avoid any potential banana skins along with Lewis's untimely gearbox problem.
Button will probably figure he could have been third and Hamilton will just want to forget about it completely. They even had the audacity to put the poor lad in a bubble car for the drivers' parade. The Red Bull men looked vaguely cool in a pair of open top Rollers, Alonso likewise in his classic Ferrari, but you couldn't help laugh at the sight of Hamilton. If they must have a Messerschmitt in the drivers' parade the least they could have done was stick a German in it. You kind of knew things weren't going to get any better for Lewis.