It's 30 years last week (September 28) since Alan Jones won Australia's last world drivers' championship. The big question is: with four races to go, maybe three, can Mark Webber protect his 11-point championship lead and emulate him?
At this stage of the world championship every race is a big one, but Suzuka could well be the defining moment in Webber's campaign.
With five drivers still in the title fight the permutations are endless but that doesn't stop you trying to make a few educated guesses. For simplicity's sake, I'm going to write the McLarens out of the equation. Risky, I know. It may teem with rain at Suzuka and Interlagos and either Lewis or Jenson could easily win both.
But, looking at Singapore and the tracks left, I fancy that the McLaren MP4-25 may not quite have the pace to trouble the Red Bull or Ferrari in the dry. Christian Horner said in Singapore that Alonso was the big threat for the reminder of the year and there's no reason to suspect he was playing mind games.
It's Webber who has been having to repeatedly fend off the championship leader 'pressure' questions and, as he points out, all you can do is take it a race at a time and not start to look at cruise-and-collect strategies. It's too tight for that.
Webber would no doubt love to see Korea scratched from the schedule and let's just say that happened, he would then be faced with trying to fend off Vettel and Alonso in Japan, Brazil and Abu Dhabi.
Vettel was a dominant winner at Suzuka '09 and of the circuits left, you'd expect the fast, flowing Japanese track to be a Red Bull banker. It's almost three months now since Webber drove that no prisoners first lap at Silverstone and blew everyone away. He did the same at Barcelona back in May and Suzuka is that same sort of place.
Webber will be defending his lead in Japan © Sutton
Adrian Newey was impressed when Red Bull managed to take Copse flat at Silverstone in 2009, and this time around he had a warm feeling when the Red Bulls managed a similar feat at Barcelona's Turn 9. Compared with Vettel, Webber seems to be relatively stronger on circuits like this, rather than the more technical, reactive tracks like Singapore or Abu Dhabi.
Last year in Japan Mark dropped it at Degner on Saturday morning and what was a relatively minor impact actually rooted the chassis and meant that he missed qualifying. He was gutted, feeling it was a race he could have won. He did manage to set the race's fastest lap while Vettel was busy winning. Much in it? No, of course not, just the hundredth of a second...
Let's suppose that Vettel did it again this coming Sunday, the Red Bulls were the class of the field and that Webber finished second with Alonso third. You'd then be looking at Webber 220 points, Vettel and Alonso, 206 each.
At Interlagos the Ferraris are strong again, Felipe Massa is a nuisance in front of the faithful but Vettel manages to pip Alonso and win again, while Webber - who won here last year - just gets the better of Massa. It's now Webber, 235; Vettel, 231, Alonso, 224.
It would now be looking very shaky for Webber. He would not relish going to Abu Dhabi knowing that he couldn't afford to finish second to his team-mate on a track where he is almost certain to get interference from Alonso and maybe Hamilton as well.
And, if Interlagos had gone the other way between his rivals, neither would he want a season finale in which he started the race with less than an eight point cushion over Alonso. As the man said, he can't really afford to drive for points - at least not everywhere. Somewhere, he needs to go out and seize one, with Suzuka this weekend looking by far the best option.
If he could manage to turn in a fabulous Barcelona-type drive in Japan, Webber would be very firmly in control. To do it, though, you sense that there would be a potential flashpoint with Vettel somewhere along the way and a Turkey-style incident would be an absolute disaster for Red Bull. If it happened, they could easily come away with the score Alonso, 216, Webber, 202, Vettel, 181. Sebastian would be all but out of it and you wouldn't fancy taking 15 points off Alonso at Interlagos and Abu Dhabi.
After a slow start in Bahrain and Melbourne, Webber has done a great job of maximising his opportunities. He has only non-scored once this year, when he had his scary accident at Valencia. By contrast, Alonso, Hamilton and Vettel all have three DNFs on their score card. In fact, Button has also been a beacon of dependability. He has DNFs at Monaco and Spa but neither had anything to do with him. That consistency has put Webber in a position where he could attack 100% in Japan knowing that 25 points would hammer nails into a few coffins.
Wind back those 30 years plus and you find quite a few similarities. Alan Jones had won his first grand prix over the age of 30 when, driving a Shadow, he upset the Austrians by beating Niki Lauda into second place in a wet/dry race at Osterreichring. It led to a contract with Williams which, at the time, hadn't won a grand prix but soon would.
As Williams emerged, Jones had a team-mate (Clay Regazzoni) who was in the twilight of his career and not seen as a particular threat, despite Clay taking the team's first ever win at Silverstone when Alan broke down. For 1980 though, Frank signed Carlos Reutemann, who many suspected would wipe the floor with Jones. Nobody though, had told Alan.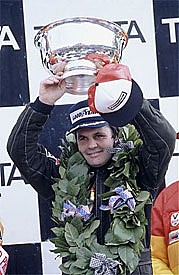 Alan Jones celebrates his title © LAT
In the Webber scenario, David Coulthard is Mark's Clay Regazzoni (sorry, DC...) and Vettel a much more feisty, threatening Carlos Reutemann. Carlos wasn't a factor in the 1980 title showdown but there was, nevertheless, a Latin who was - one Nelson Piquet.
Piquet and Brabham looked to have the pace and momentum heading to Montreal and Nelson confirmed it in first practice. Bernie, then the Brabham team boss, wound everyone up by having serious chats with Didier Pironi and telling everyone he was trying to fix the price for Didier to take Jones off...
So how did it play out? Christian Horner look away now...
Jones and Piquet collided at the first corner, bringing out the red flag! Don't worry Christian, it improves... Nelson took the spare Brabham for the restart, but the engine blew. Pironi, the only threat, was penalised a minute for a jump start and Jones, who needed to win the race to seal the crown, did. Ligier appealed the penalty but the result stood. The Aussie, approaching his 34th birthday, had done it.
"I couldn't believe luck like that while going for a championship," Jones said. Webber, so often unfortunate during his F1 career, had a taste of it when he made the finish in Singapore, but I'm sure he'd take a slice more right now!