Bernie Ecclestone can often be a bit hard to read - which is probably why he has been such an ultra-successful businessman. One of his traits, for example, is that whenever he talks about an idea, you can rarely tell whether he is being deadly serious or is simply up to a little bit of mischief.
It was exactly like that on the Thursday of the Singapore Grand Prix when he resurrected his idea of abandoning Formula 1's current points structure and replacing it with his medal system - whereby the championship is handed to the driver who secures the most wins.

Ecclestone reckoned that the new-for-2010 points structure had been a failure as it had done nothing to improve the show - and that the fight for the world championship would have been just as close under the old version.

He was adamant that the current season would have had some spice added to it by having the medal system in place - and that F1's teams and chiefs would quickly realise the errors of their ways in shunning the concept. His comments drew a wave of criticism from both within and outside the paddock.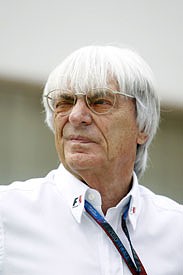 Bernie Ecclestone © LAT
On the one hand I totally disagree with Ecclestone. The medal system would be a retrograde step for F1 and the facts of this season bear out why imposing a winner-takes-all system would not have worked.
At the moment we have a world championship battle that is so finely poised that even the teams at the centre of it concede it is almost certainly going all the way to the season finale in Abu Dhabi.
The up-and-down nature of everyone's campaign and has seen the fortunes of the men at the centre of it twist and turn with the wind. Red Bull Racing, McLaren and Ferrari all having moments of the campaign when it appeared they had wrested control of the title chase - only for them to lose ground and see their rivals overtake them.
With the medal system, however, things would not look so exciting. For although we would have a tie at the head of the championship standings - with Mark Webber and Fernando Alonso on four victories apiece - there would also be a risk of the five-way fight soon becoming a three-way one.
For if Jenson Button or Sebastian Vettel failed to win at Suzuka their title chances would probably be finished. If they lost another win to Webber or Alonso, then there would not be enough ground for them to recover the missing gold medals - ending their campaigns much earlier than the points structure is telling us.
Even Ecclestone, who is a big fan of Vettel, would concede that perhaps he would prefer his favourite German to remain a contender to the end rather than getting knocked out early.
But while Ecclestone may be wrong on the medals front, he may be on to something in suggesting that the 2010 points structure has not worked.
For while the current standings may be brilliantly close between the five protagonists, what has happened with the greater number of points on offer this season is that there has been more of a distort in terms of the fluctuating form.
Lose ground over one race this year and it is easy to fall 10 or 20 points behind your rivals. And being that far behind rivals, prompts talk of a crisis - and a faltering campaign.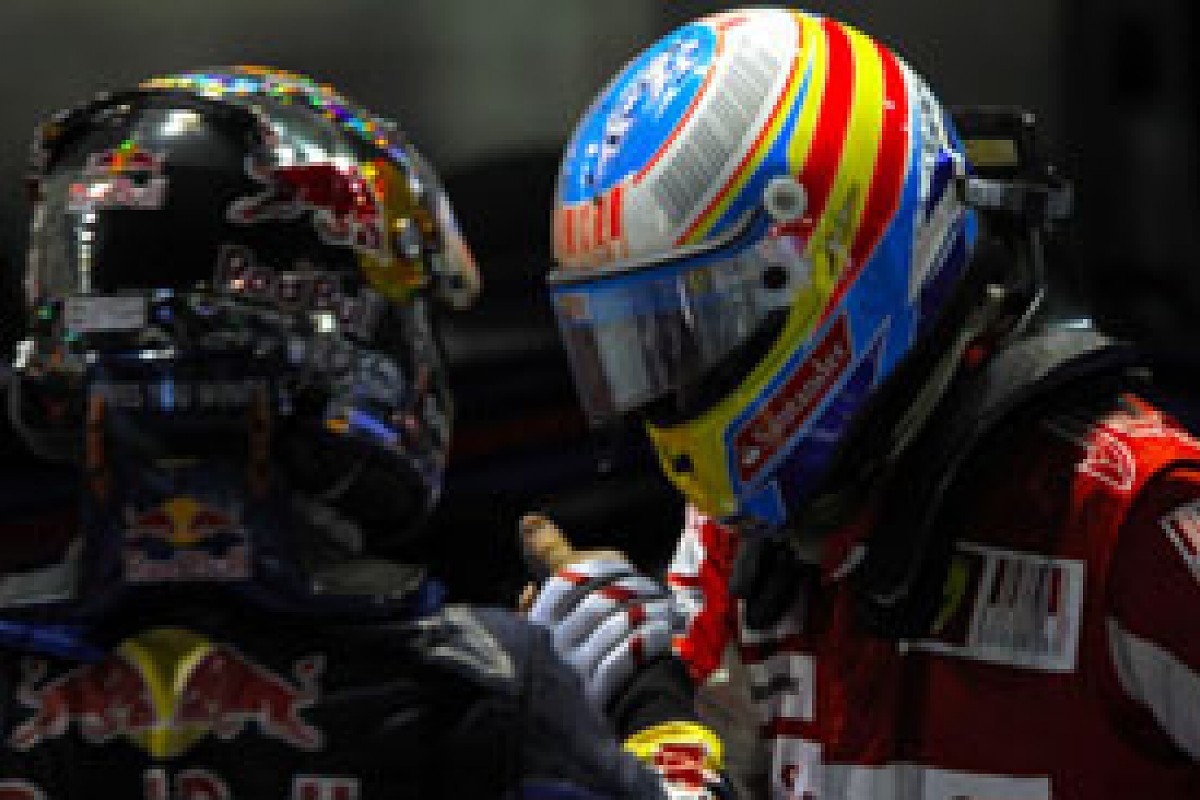 Sebastian Vettel and Fernando Alonso © LAT
Just look at how Fernando Alonso was written off after Germany, how Sebastian Vettel had blown it after the Belgian Grand Prix, or now how Lewis Hamilton's title campaign is faltering after the back-to-back crashes in Italy and Singapore.

Yet taking Hamilton's current situation as an example - he is just 20 points adrift of Mark Webber. That sounds like a lot of ground to make up, but with just one second place - as long as Webber slips up - then he is right back in the thick of things. So it is a far from crisis scenario that is being portrayed.

What the new points structure has done is create an illusion that the championship is not really as close as it - that those drivers who lose ground are falling out of contention when in reality they are still very much in it. Having bigger points margins between positions has therefore done a bit of disservice to what is a really, really fantastic season.

Imagine FIFA awarding 25 points for a goal in a World Cup match. If you saw a half-time score of a big match as 50-25 you would think there is little point in watching that - even though there was clearly still everything to play for.

Under the old structure which, bar a few tweaks here and there, had served us very well for decades, every F1 fan knew where things stood. It was easy to work out quickly how many points were awarded for various positions, easy to judge just how close things were at the head of the field - and the smaller gap between positions meant championships were hard-earned.

If, as is likely, we head to the season finale with four or five drivers still in the hunt for the championship, the huge amount of points on offer will make it very, very difficult for the casual fan at home - the very audience that F1 needs to embrace to widen its appeal - to work out what is going on without consulting a spreadsheet. That cannot be good.

As a test of how bad the points structure is - can you tell instantly off the top of your head how many points you get these days for fourth place, or seventh? I certainly cannot without consulting a book.

So maybe Ecclestone was being serious when he said the new points structure hasn't worked. It was just his medals idea that was the joke.