The Lotus position. As well as something impossible for ageing, overweight, inflexible men, trying to explain same in F1 terms has become just about as difficult. If large swathes of the media are confused then you have to have sympathy for motor racing's fans, especially its more casual ones.
As for the ins and outs, Adam Cooper has made a valiant attempt at enlightening you elsewhere, so I don't need to go there - thank goodness. But what's interesting, and may change a few perceptions, is how it came to pass that a media posse was herded into a small room on the second floor of the Pan Pacific Hotel in Singapore last Friday to witness Tony Fernandes, his shareholding Malaysians, the Lotus drivers and David Hunt sitting under a projection of the famous Team Lotus logo complete with its 'ACBC' (Anthony Colin Bruce Chapman) initials.
Lotus Racing (the current F1 team) motorhome © Sutton
Heikki Kovalainen arrived early and grabbed the mike. "I want to announce that we've just bought Ferrari," he joked. It would probably have been easier to explain if they had...
This was all a couple of days after Group Lotus has issued a statement revealing a link-up with the crack Nicolas Todt/Frederick Vasseur ART team in GP2 and GP3 with the cars to be branded Lotuses in 2011. Nothing to do with Lotus Racing, whose boss, Fernandes, has his own Air Asia GP2 team.
This year, Lotus Racing has raced in F1 under licence from the Malaysian Proton-owned Group Lotus. Proton bought Group Lotus in 1996. Fernandes, however, has apparently fallen out with the relatively new CEO Dany Bahar (ex Red Bull and Ferrari) and had been told that his licence will not be renewed. Hence he was looking at Fernandes Racing.
With Todt Jr, son of FIA president Jean, lodging and then withdrawing an ART F1 entry earlier this year, you can understand mild paranoia breaking out chez Fernandes. There is Toyota's still useable bespoke F1 production facility sitting there in Cologne, as Dieter Rencken explored a couple of weeks ago, and not only is Fernandes well-connected in Malaysia, but so is the Todt family.
All this appears to have added up to some good news for David Hunt, brother of 1976 world champion James. He has finally been able to make some money out of his ownership (disputed) of the Team Lotus trademark, acquired under less than straightforward circumstances in the mid nineties.
Some might question why Hunt should be making money out of Colin Chapman's legacy. If you don't know him you might just regard him as a chancer striking lucky but it's a bit more complex than that.
David was 16 when James won his epic title battle with Niki Lauda. He tried to follow in his footsteps. Almost 30 years ago I watched some of his early Formula Ford races, then covered F3 for AUTOSPORT at the same time Hunt was competing. Our paths crossed in Formula 3000 too, most memorably at Pau one year, when the rest of the field braked for the hairpin on the first lap and David didn't. He went through the tall, solid wooden circuit retaining gates leaving a rather comedic Tom & Jerry- style silhouette of an F3000 car. He was fortunate to climb groggily out.
As a driver he was competent if not in his brother's league, and soon faced facts and concentrated on business. He got a rude awakening there, too. Lotus was struggling to stay afloat by the end of 1994 and he takes up the story:
"I had been helping with the sponsorship, consulting to the Peter Collins - led management and was asked to help try and rescue the team from the administrator. Kenny Wapshot and I had gone to set up Team Lotus Japan and bring in Japanese money. We were asked to represent a consortium who wanted to buy it but didn't want their names known.
"I was asked to front it and they didn't have the money ready. Kenny and I were prevailed upon to put the funds up, which we did. We were told that if we bought it certain things would happen and we'd be alright. We did, and we weren't. We were left holding a rather large and expensive baby.
"There was certainly no plan to own a Formula 1 team, and certainly not one in trouble. We literally woke up one day and realised we'd been had over. We owned a Formula 1 team that had all its contracts breached, we had no sponsorship, no drivers and 96 staff, most of which had been there a long time, some of them 25 years plus, since Chunky (Chapman) himself.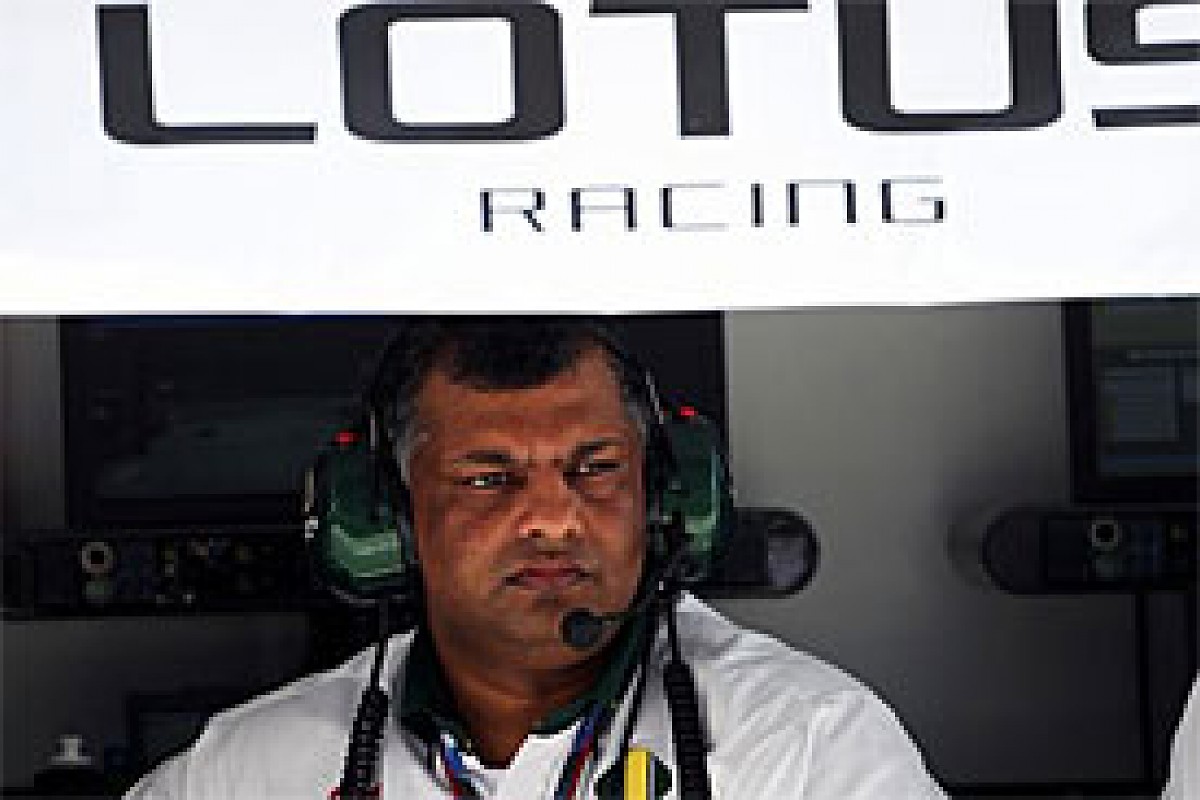 Tony Fernandes © Sutton
"We had weeks to somehow find a solution. We did our damndest and in the end the only option to keep the brand in F1 was the Pacific deal, which we did. Then Tyrrell signed our driver, Mika Salo, who was contracted, with budget. We were forced to go to the Contract Recognition Board, which was a very odd place. We went in with everything on our side and came out with nothing.
"I had to make staff redundant and when I did so I made a little speech and said that, putting emotion before common sense, we will bring Team Lotus back to F1 - don't know how, don't know when, but we'll do it. At that time everyone was supporting us and supposedly wanting it to happen but it very quickly turned into a hell of a lot of people getting in our way."
There is no doubting the value that the Ferrari F1 programme brings to its road car business and there was a time when Lotus was the strongest brand in F1 behind the prancing horse. You don't need to be a genius to spot the marketing and merchandising potential, something obviously grasped by Bahar, originally one of Dietrich Mateschitz's bright young Red Bull marketing things.
Hunt, however, says: "We deliberately didn't want to exploit the brand in any other arena outside F1. It would have been very easy to launch a merchandising range and tart it around. And I'm sure we would have made money. I was offered opportunities - the chance to brand a bottle of water and various things like that. But the aim was always to bring Team Lotus back into F1 in proper order, properly funded. And clearly Tony Fernandes is here for the long haul and wants to make it a competitive team."
Hunt faced legal challenges from Group Lotus over the Team Lotus trademark well before Bahar got involved. It has been said that when Proton bought Group Lotus 14 years ago they actually believed they had bought an F1 team and were somewhat surprised to find they had not! Again, they will dispute that, and are, claiming they own all branding rights to Lotus in a 'clarification' issued today.
Some, though, will suggest that they hadn't done their due diligence properly and didn't get the rights to Team Lotus. The loss of face involved in that meant the absence of an offer to Hunt, which he would have responded to and, instead, trademark battles in law courts.
"The route they took each time was to say that we hadn't been using our registered trademarks and therefore they were void for lack of use," Hunt explains. "Under trademark law you have to be either using the trademark or making genuine efforts to use it, for the proper purpose. When we had been using it within five years our defence was that we'd used it, and when we hadn't our defence was that we were making genuine and proper efforts to do so.
"It's just that getting into F1 is not the same as saying I want to open a corner shop! We did have backing if over £100m at one stage but sometimes that's not sufficient. There are other hurdles to jump over. Hunt also got a call when Harvey Postlethwaite died suddenly while heading a Honda project, but that ultimately fell flat too."
Bahar obviously knows Nicolas Todt from his Ferrari days, when Todt Jr was managing Felipe Massa, and you could guess that the ART link-up is an attempt to prove Group Lotus's attempt to exploit the racing heritage in an bid to stop Fernandes doing so.
The way I heard it at the weekend was that Todt had told Lotus Racing that he doesn't want a war but when someone comes along and offers you a rumoured €5m to sponsor your teams, what is a man to do?
Lotus Racing looks well set to make some progress in 2011 after starting with an empty factory and four people last September. Mike Gascoyne said at the weekend that they have no argument with Cosworth, which has done a good job for them this year, but was swayed towards a Renault engine and drive train to solve the Xtrac hydraulic issues which have been a recurrent theme of the season.
But with a nucleus of the old Toyota race team now in place, all who have strong working relationships with Gascoyne, reliability all but guaranteed and a couple of drivers who have won a grand prix, you can expect a quantum leap.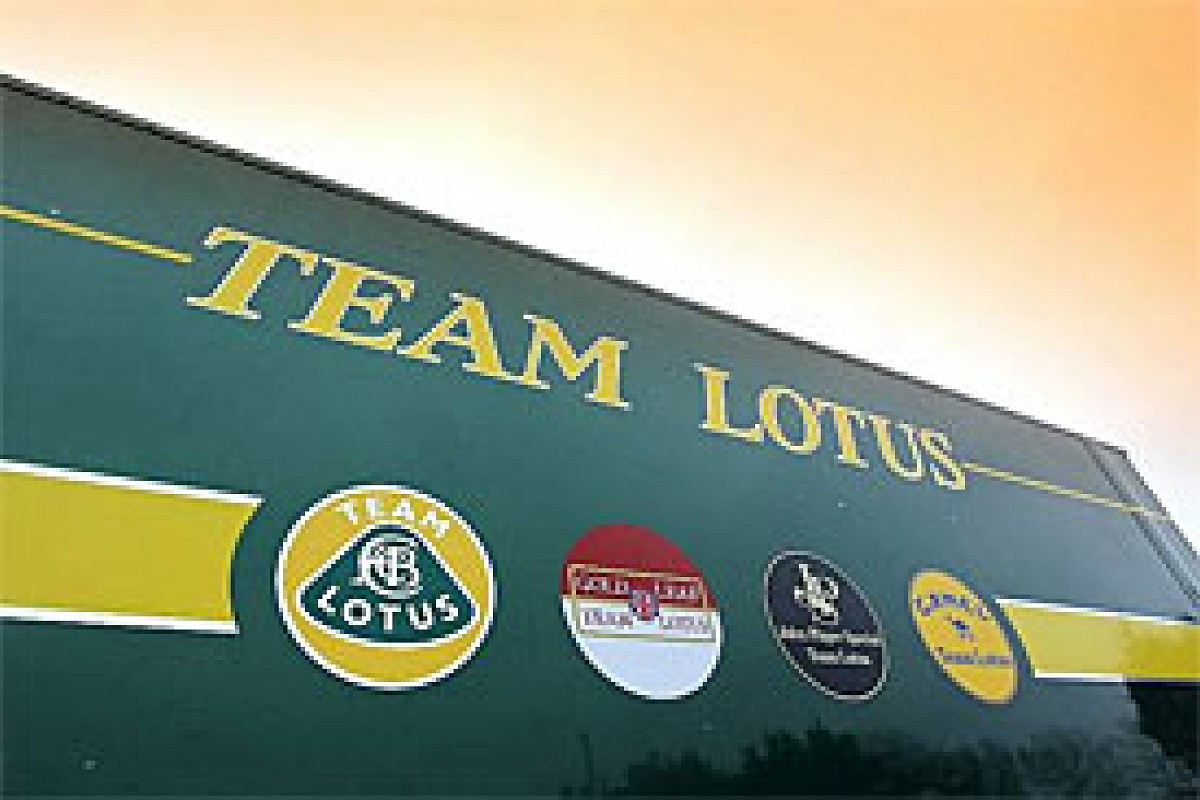 Will Fernandes be able to use Team Lotus? © Sutton
"I genuinely want to see Team Lotus a success," Hunt says. "I plan to put time into helping them raise sponsorship and having nurtured and protected the brand for as long as I have, of course I want to see it move up the grid, hopefully take its 80th win and eventually more championships. You are never going to replace Colin Chapman but in Mike Gascoyne you've got an experienced Norfolk-born maverick engineer and Tony Fernandes is a maverick business tycoon, which Chapman was too."
Hazel and Clive Chapman were supportive of the original attempts to save the team back in 1994 but then became understandably agin anything which might sully the impressive legacy of their husband/father. They have, however, been guests of the Fernandes team in the paddock this year.
Hunt is not saying what Fernandes has paid him, or will pay him, for the latest deal, only that he believes the brand is worth considerably more. You have a feeling that the final chapter of this tale has not yet been written but I don't think in the circumstances I can count myself among those who begrudge David Hunt a return on his 'investment.' I've met quite a few shysters in motor racing paddocks over the years but I wouldn't classify David Hunt among them. The law courts look set to become busy...