Post-Monza, the 'Schumi to re-retire' rumours have gathered strength. The word from the theatre of motor racing was that Mercedes isn't an altogether happy camp right now and that Michael could even be groomed, sooner rather than later, to take over the helm of the entire ship rather than just one of its cars.
I suppose it's possible. Michael Schumacher, team principal at Mercedes? Why not? Not a TP like Ross Brawn, whose technical experience and man-management skills make him wholly suitable. More a figurehead, a public face. You can see the PR value to the three-pointed star.
Schumacher is not enjoying the comeback he expected © Sutton
But I can't help think that Michael would much rather solve his current conundrum. Influential and knowledgeable people - Bernie Ecclestone and Jackie Stewart among them - think Schumacher will stop, but 2010, you'd imagine, must be eating Michael up. It won't be how he imagined taking his final curtain. A competitor as strong as he will surely be desperate to know the answers to 2010. As much for his own sanity.
Schumacher knockers have loved this year and use it to claim that prior achievements were all based on unfair advantage. But that wasn't the way it was when he first arrived, which is arguably when his pace was at its most startling. Just ask Nelson Piquet.
By end 2006, when Michael stopped, Felipe Massa was nowhere near as close as many commentators made out. And with no disrespect to Nico Rosberg, Schumacher must lie awake at night wondering where that missing 2010 half second has gone.
Nico could be way better than anyone thinks. He looked good when he first arrived in F1 but then ultimately suffered in comparison with Mark Webber which, with hindsight, is understandable enough in year one. It's just that the following year Lewis Hamilton redefined the appreciation of what a talented rookie could do...
And Webber, for some reason, never received the acclaim he deserves. He often qualified Jaguars in unfeasible places and has always been a tough nut. When he went to Williams though, it was supposed to be 'the breakthrough,' the opportunity in a winning team.
Actually, it coincided with the start of a team slump and the fall-out with BMW. By the time Nico arrived the Munich partnership was over and the team was back with Cosworth. The engine itself was good but BMW had been providing cash as well. So the whole vibe was negative and both Mark and Nico got a little caught up in that.
Consider though, that not only does Webber lead the championship and stand 7:7 with Vettel in qualifying this year, but over his time with Sebastian at Red Bull, has actually scored more points than the man hailed 'the new Schuey.' That, over a 32-race sample, at least 25% of which he drove battling the effects of a broken leg and shoulder, is not shabby.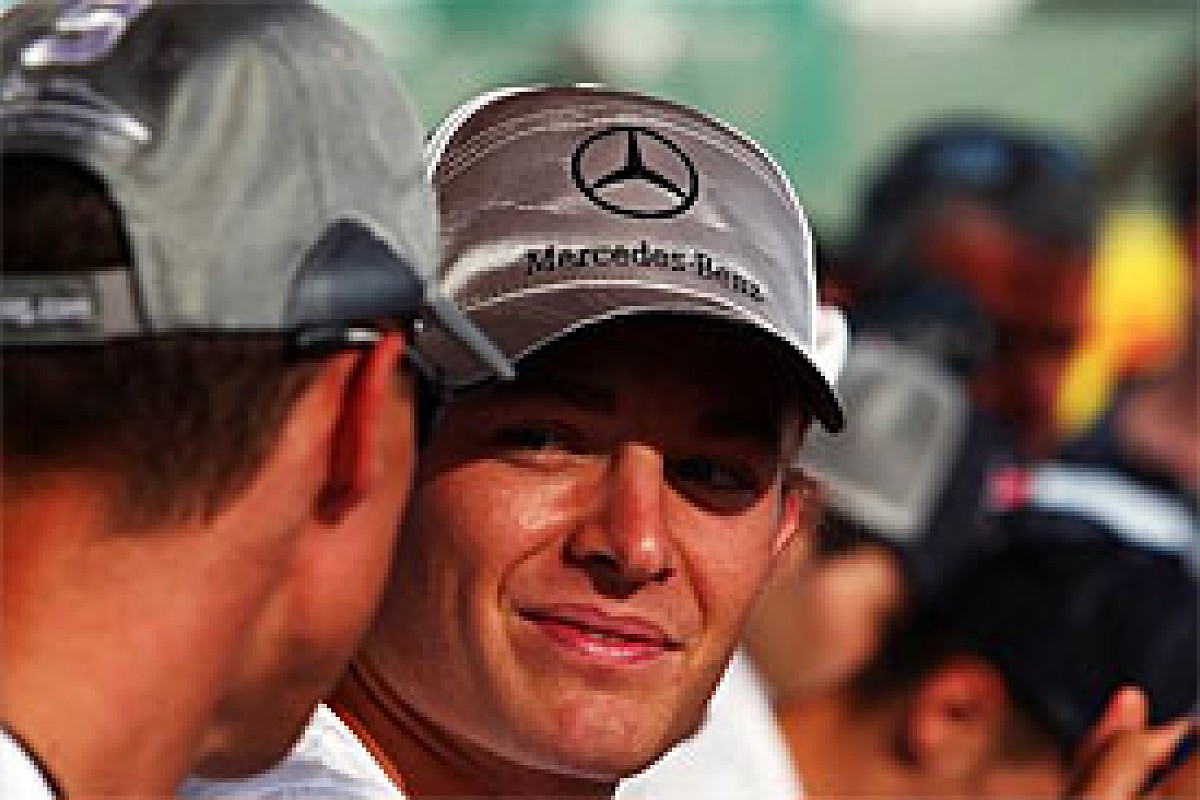 Rosberg has outperformed Schumacher for most of the year © Sutton
So, let's say that Nico is right up there too. Even so, in Michael's mind, he would have been beatable. Tyres, surely, have to be one of the most plausible explanations as to why it hasn't happened for him.
Bridgestone's Hirohide Hamashima has gone on record saying that this year's relatively weaker front control Bridgestones are not suitable to Michael and his pointy/oversteer style. But then we went to Monza and the gap was still there. Okay, there's Parabolica, but that apart, Monza lap time tends to be about good stability under braking and an aero efficient car.
Drivers will also tell you it's about confidence. One even told me once that he'd not like to go and race at skittish, low downforce Monza without the benefit of a prior test which, of course, is what they all did 10 days ago without a murmur. You do what you have to do, I suppose, but it made me wonder last whether the characteristics of the Mercedes and the current tyres have had a knock-on effect on Michael's confidence.
It brings you back to the question of comebacks and their feasibility. Some, like Mickey Rourke's, are what you would call ill-advised. The actor was an amateur fighter prior to enjoying a spot of sadomasochism with Kim Basinger in 9 ½ weeks. Then, at 41, the same age as Schumacher, he decided he was 'self-destructing' and needed just the masochism. He had a go at professional boxing. They stuck Freddie Roach in his corner and found six bums for him to knock over but the outcome still involved reconstructive facial surgery...
Over the weekend, I read a great piece by The Observer's Kevin Mitchell about Ricky Hatton's problems since his boxing career was ended by Manny Pacquiao. Compulsive, like so many top performers, particularly those in environments fuelled by adrenaline, the problem comes in coping when it all stops.
Hatton is 10 years younger than Schumacher but Michael, to my knowledge, never went on benders involving 20 pints of Guinness between races so can probably rightfully expect the longer shelf-life.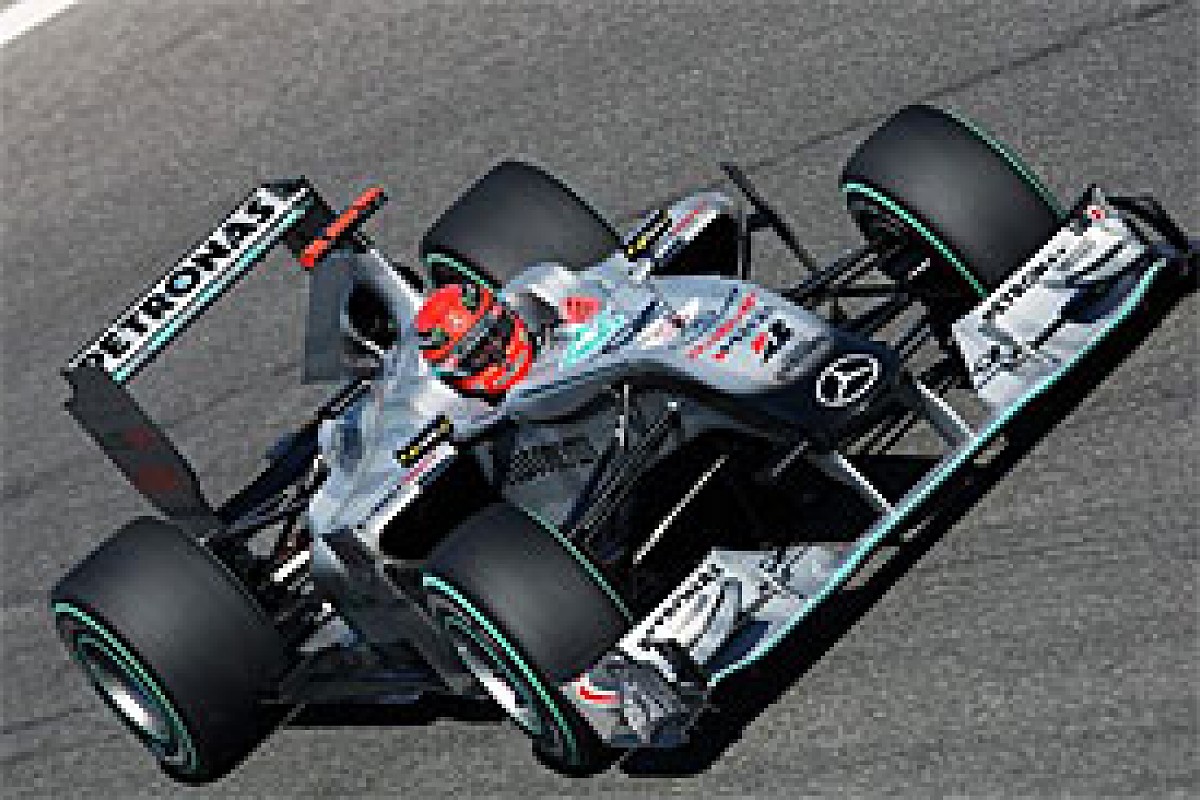 Will he stay or will he go? © Sutton
Another great champion, Barry McGuigan, also had his first night as a promoter in Belfast's Ulster Hall last Saturday, 25 years on from his high of highs winning the world title against Eusebio Pedroza at Loftus Rd, now ironically owned by a certain Mr Ecclestone!
"The unique demands and thrills associated with the fight game make coping unbelievably difficult when the final bell has sounded," McGuigan said in his newspaper column. "I was lucky. I have never touched a drop of alcohol in my life. If I had, I suspect that, with my compulsive personality, I would have been destroyed."
McGuigan also found last week the hardest of his life. "Barry McGuigan Presents, it says on the poster," he said. "Sounds simple doesn't it? I feel like I have just stepped out of a spin dryer. My brains are fried. As a fighter all you have to do is turn up in shape and fight. Those were the days..."
That, as well as the compulsion, I reckon, are why Michael Schumacher would prefer to sort out his current problems before he takes on new ones. I'd reckon he'll have a go on Pirellis in Abu Dhabi before he decides he wants to be Alfred Neubauer.