Turn back the clocks a year. As Renault personnel began packing their bags for the trip to the Singapore Grand Prix, you could have forgiven them for feeling a bit of dread about the journey ahead.
The team was engulfed in the controversy surrounding its fixing of the 2008 night race, and it was bracing itself for an FIA hearing where, even if it escaped punishment, its parent company could choose to pull the plug on the whole operation. These were the darkest of days the Enstone operation had witnessed.
Fast forward to today, with the FIA hearing now a distant memory and Renault totally committed, and the mood within the team could not be any different. There is a spring back in the step of its personnel, the doubts about its future have long gone and you could argue it's been the most improved outfit of 2010.
Yet for Renault F1's new chairman Gerard Lopez, whose Genii Capital firm took a majority shareholding off Renault in a deal agreed over the winter, the progress made over the past year is not the case of job done. Instead, it is merely the beginning of what he hopes to achieve.
"I would consider it a mission started," he tells AUTOSPORT, sitting in the Renault motorhome. "The way we looked at it when we took over, we were negotiating with another team, which was BMW, when we found out that there might be a deal to be done with Renault.
"There was something that excited us with Renault - and that still excites us very, very much - which is that we had to deal with a team in Enstone that had won back-to-back world championships, so we knew that we were basing ourselves in a team that knew how to win.
"The challenge was how to take the existing base, which was a very good one, and bring it back up. So what we started doing, and I think we've accomplished, is to re-entrust people that know how to race, how to win, and give them self-belief.
"Obviously we changed some people, some key people, but that was essentially to re-galvanise - and not change what was there completely. So there have been changes in the factory in terms of processes, there have been changes at races in terms of processes and so on, but they're all based on an existing team which has been very successful in the past.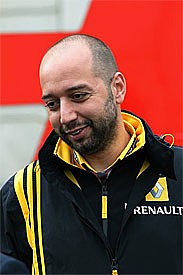 Gerard Lopez © Sutton
"So we have done the first bit, which is to re-energise or re-activate what was there and maybe change some things. But now we're getting into the exciting part which is to try to get back to the front."
Unlike Renault's previous chief Flavio Briatore, Lopez is a man who prefers to keep himself away from the public spotlight. He is certainly not a self publicist, nor a man who gets much of a thrill from seeing his name in headlines.
That stance has left him still a bit of an unknown quantity in the paddock - and prompted cynics to suggest he is no different to other businessmen who have come into the sport looking simply to make a quick buck.
He is adamant that is not the case with him and, although not denying he is in the sport for business reasons, he sees revenue streams coming from areas from outside the direct sphere of influence of the Renault team.
"From a business perspective I think our objective has always been misunderstood," he explains. "Our objective has always been to be a break-even operation. We know this is Formula 1, so we can't compare it to any other business.
"In any other business we have, you make an investment, you increase sales, you increase profitability, and then you take your dividends. In the case of Formula 1, if you increase the money that you allocate to your team there's always going to be a way to spend it. So there's never going to be a way to pay our dividends and so on.
"Our objective has always been to have a long-term view on Renault F1 as a break-even operation and then for us to use that operation to essentially do deals in the countries that we visit. That's really where we measure up.
"So I would say from a performance perspective, we have gained a lot on the car. From a financial perspective, I don't think anybody has signed more sponsors than we have in the paddock this year, and from a team perspective we've done a couple of deals, including with Trina Solar, that completely wasn't us having a long-term view on it. So I'd say it's all positive. "
All of this is not to say that things have been totally rosy in Lopez's back garden this year though. In July, speculation in the paddock cast doubt on Renault's future following a request for the outfit to get an advance on its television rights money - something that normally only happens when teams are in dire straights financially.
The request - which needed approval from other teams - was put in because Renault wanted to pump more money into developing its 2011 contender using future sponsorship money it could not lay its hands on at that time. Unsurprisingly, Renault's rivals vetoed it - and were quick to let the world know what had happened behind closed doors.
It was perhaps Lopez's first big lesson of life in the Piranha Club - although he insists things are much tougher in the outside world than they ever are in F1.
"Surprisingly, it's much more cut-throat outside of Formula 1," he smiles. "At the end of the day it's only F1. Something like that happens, and internally our employees maybe question things and we have to tell them that everything's okay, but I don't lose any sleep over it. In the real life, a letter like that is way more damaging.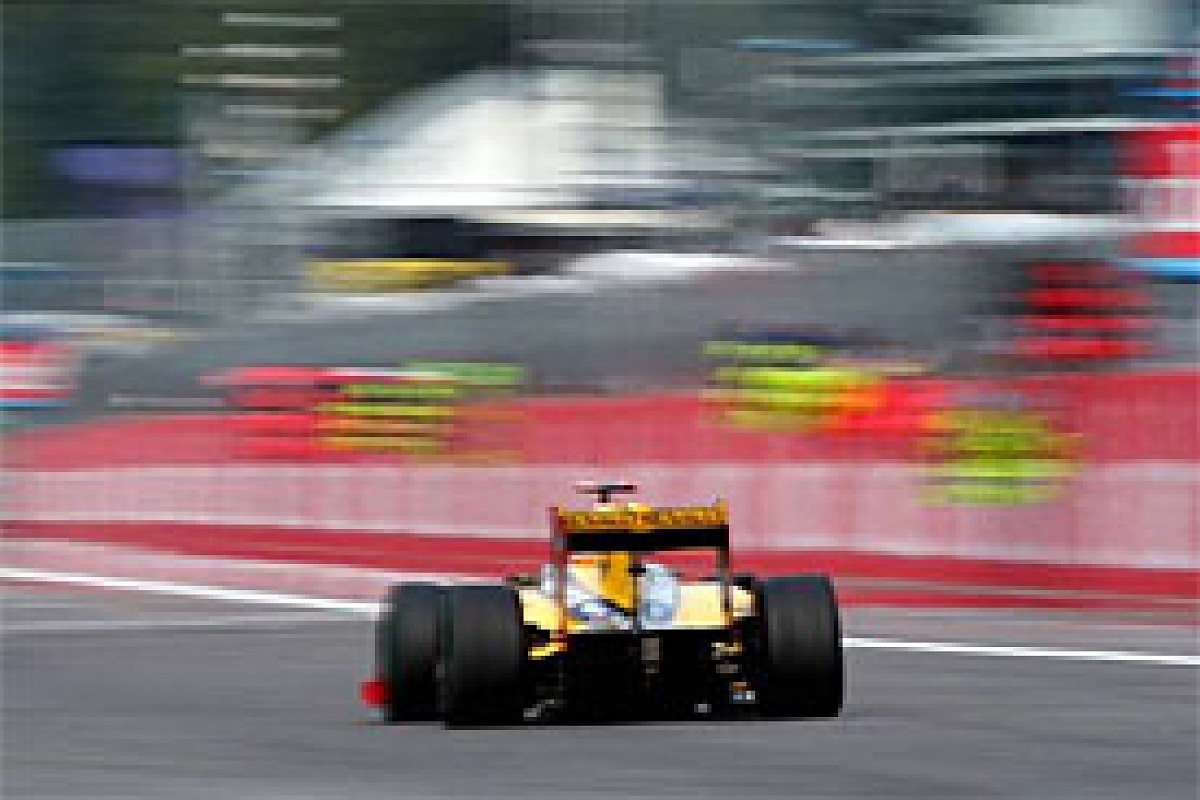 Renault is beginning to shine again this year © Sutton
"F1 is quite an ego-centric environment, so you have jealousy. You've obviously got people coming in, taking over a team, and people who've been around a little while expecting you to fail, to go straight into the wall.
"You've got the first announcement of sponsors, then you've got a world-class driver like Robert Kubica who everyone expects to leave, and he actually signs for two more years. Then you've got a second driver that everyone expects to fail because supposedly he's a pay driver, so there's all these reasons that people will then start looking for bad things to hook up on you.
"And honestly, in that case, it isn't any different to your neighbour finding out that you just bought a new car and he starts saying that you didn't buy it, you had to go and get the money from someone. It's the same thing.
"It's a little bit funny because people take themselves a little bit too seriously. And, at the same time, it's a little bit... it's not very intelligent. At the end of the day, it is a sport where the sport would benefit from the teams trying not to help each other because it's a competition, but trying to think of ways to help the sport together.
"So just jumping on something, jumping too quickly to conclusions, assuming certain things like a team is not interested long-term, or that a team is just two guys that came in, just had a little bit of fun and they're already bored with their new toy and they're moving on to something - these are shortcuts that people shouldn't take. Pride pushes us to prove even further the opposite."
Working with Eric Boullier
Despite his key involvement in helping guide a fresh future for Renault, Lopez never intended to have a day-to-day role in running the operation. Instead he drafted in Eric Boullier for the position of team principal - with the Frenchman having previously been head of the Gravity Sport Management company that Lopez helped found.
The dynamic of the pair - with Boullier concentrating on the racing aspects and Lopez focusing on the commercial elements - appears to a key factor in having allowed the team to make progress.
"I think that's what it is," agrees Lopez. "I think that Eric does a really good job at the core business of a racing team, which is racing. We help him out - and probably work much more on the economic side, the financial side and also on the political side so that kind of frees his back up to focus on the core business."
So how much involvement does Lopez have personally, and how much is simply left to Boullier to decide?
"We were very hands-on at the beginning, but not from the strategy, and not from a technical perspective. Even though we sat down with James [Allison, technical director] quite a bit, we were not going to tell James, 'that wing doesn't look right, you have to redesign it!'
"But we did sit down to try to understand where the deficit in performance came from after the first test and try to get an understanding from him what he needed, from an investment perspective, in addition to what had been allocated. He wanted to bring the car back up in performance, so we were very hands-on in understanding.
"We were very hands-on in helping shift the culture a little bit with some key nominations at the factory while always trusting the team that was there. We were lucky enough to be basing ourselves on a team that had been a world champion team. And, on the other hand, Eric got full support and full trust.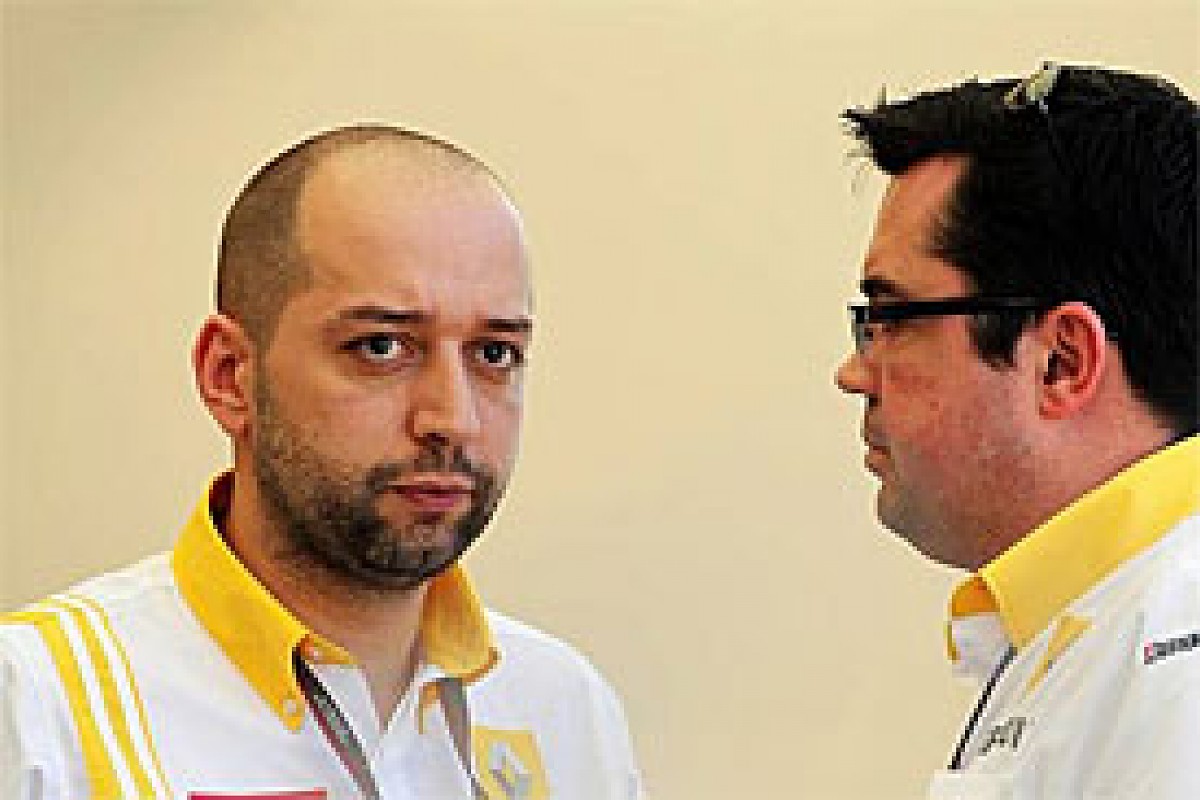 Lopez with Eric Boullier © Sutton
"Eric had worked for us and again, it was one of those positions where people said, they're putting someone there who doesn't have F1 experience, and so on and so forth. He's a quite intelligent guy, his maturity's better than a lot of people running around here, even without a lot of Formula 1 experience and, on the other hand, he does know racing.
"He's very passionate about it. He's got a technical background, he knows how to handle drivers, because that what he's been doing, so he had all the prerequisites to succeed. And knowing that we really didn't have any before, he has full authority, if you want, on the team from a racing perspective. He has full authority on the team from a drivers' perspective.
"Obviously we weigh in, in terms of discussing things with him and knowing each other for quite a while, but now it's more of a dialogue than us telling him what to do. He knows what he has to do and he does it and he gets judged on that, and obviously with discussions when things don't happen the way they should. But he is the boss and he makes those decisions."
Drivers
The biggest intrigue among fans at Renault this season has been surrounding its drivers. There was much talk earlier in the year that rival outfits were sniffing around Robert Kubica - with the Pole finally able to regularly show his talent in the R30 this year.
In the end though, just as he did over the winter before Lopez's takeover was confirmed, Kubica committed himself to Renault once more. He knows he has around him an outfit that is willing to give him everything he needs - so why risk going somewhere else where the politics or internal strategy could be different?
The main question at the moment, though, is who Kubica's team-mate will be. AUTOSPORT revealed last week that Kimi Raikkonen has been on the phone sounding out Renault about the situation for next year - while other drivers including Adrian Sutil, Timo Glock and Heikki Kovalainen have all been linked with the second seat.
Yet, for now, Renault's priority is to give Vitaly Petrov the opportunity to prove his worth. The Russian has shown flashes of speed this year, but has equally frustrated Renault by his failure to produce that form at every moment of a weekend. Too often there have been needless errors - like the qualifying spin in Spa or blocking Timo Glock in Monza qualifying - that have wrecked his weekend's hopes.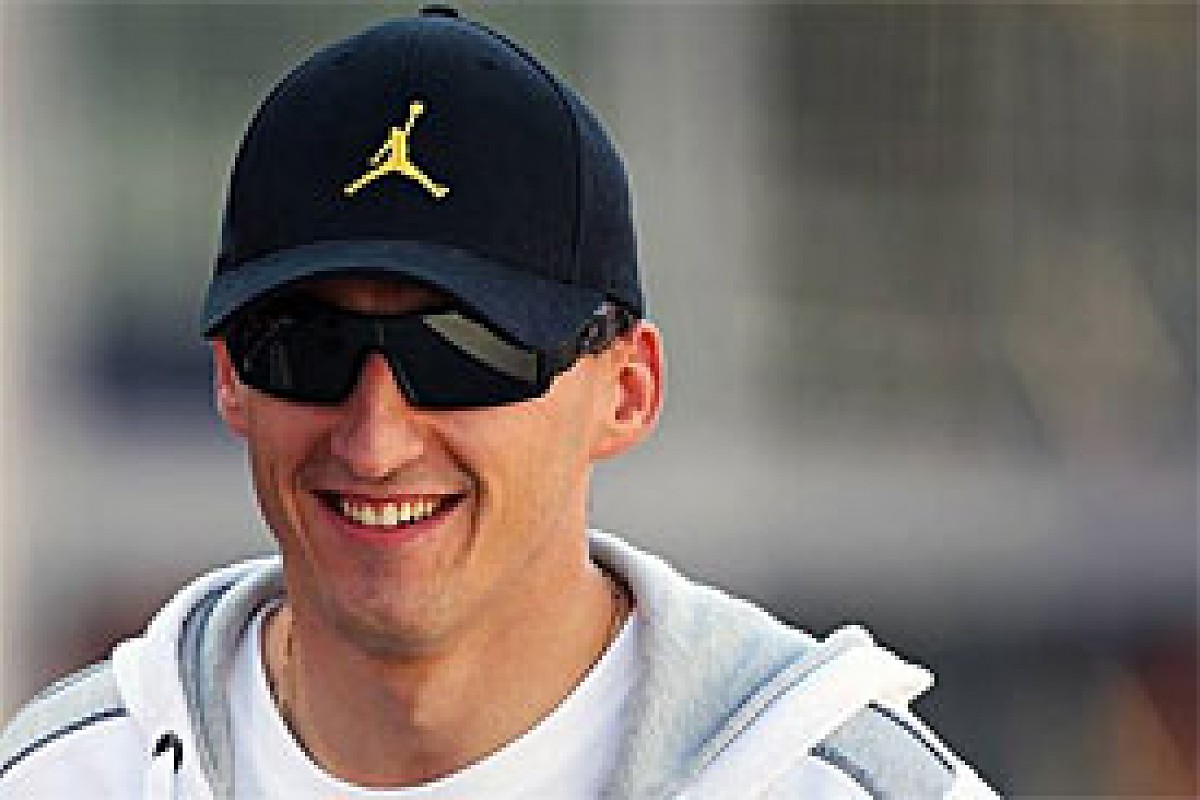 Kubica, happy at Renault © Sutton
Renault readily admits that a high part of the motivation for getting Petrov on board was because of the commercial opportunities he opened up - through Russian sponsors willing to throw their cash at the team because of his involvement.
Yet while getting money was vital at the start of 2010, the improved fortunes throughout the year would point to the fact that perhaps the decision will not be so financially driven this time out.
Plus, teams are always weighing up the balance between straight sponsorship money in the coffers and the extra finances they get for good Constructors' Championship finishes. If Renault had two men performing at Kubica's level this season, it points would have lifted it from its current fifth in the standings to fourth - which is worth many, many millions of pounds.
Lopez concedes that the decision on drivers will not, however, be taken purely on a skill basis - and that there has to be commercial considerations.
"It's very important," he explains. "As I said, we use Formula 1, and we have to push our team to succeed because we use the platform to do business. And you know, it's a question of image.
"People like to do business with winning teams, so it goes hand in hand. For us still, the main consideration in this outside of Eric's mission and the team's mission to start winning races again, is the business one. And it has become more important now that we've solidified the team, that we've found the sponsors, that we're bringing the sponsors, that we're doing whatever needs to be done.
"It's even more important now to build the team, to use that platform for the business side of it. And the fact that we're doing more and more deals with companies that come through Renault Formula 1 because we provide other things, I think it's even more important for 2011 than it was for 2010. In 2010 we had to rebuild. In 2011 we can focus on business."
What about the bid to get the team revolved around Robert Kubica - just as Ferrari was once based around Michael Schumacher and Renault used to be all about Fernando Alonso?
"We've extended Robert's contract by two years, so that obviously means that we're building on Robert, but honestly I do not like the term 'star driver'," says Lopez. "Anyone that would become too much of a star here would probably drop back to earth, and Robert doesn't have that sort of character anyway. So that's why there's a really good faith.
"I think he's really passionate about racing. I've known a lot of drivers even before taking the team on and he's probably one of the most... I mean that guy just thinks about driving, whether it's an F1 car, whether it's a kart, whether it's a rally car, whether it's a bike, you know.
"So I think he's the ideal driver to be helping out in rebuilding this team. His ego is well in check, he's very intelligent. But, you know, he's not a star driver - he is one of the faces of the team. He is a key building stone for this thing, which is why I said we've decided to sign him for another two years.
"It's funny because people now think things are going well and we're going to change drivers, and there's a certain rally driver that wasn't interested in Formula One but now has made contact and is interested in coming back to F1, funnily enough with us, but we're not there yet.
"So Robert we're building on, and Vitaly we're building. As a driver we know he can do it, so we're building him up as a driver and then again, typically for us, there is an economic consideration.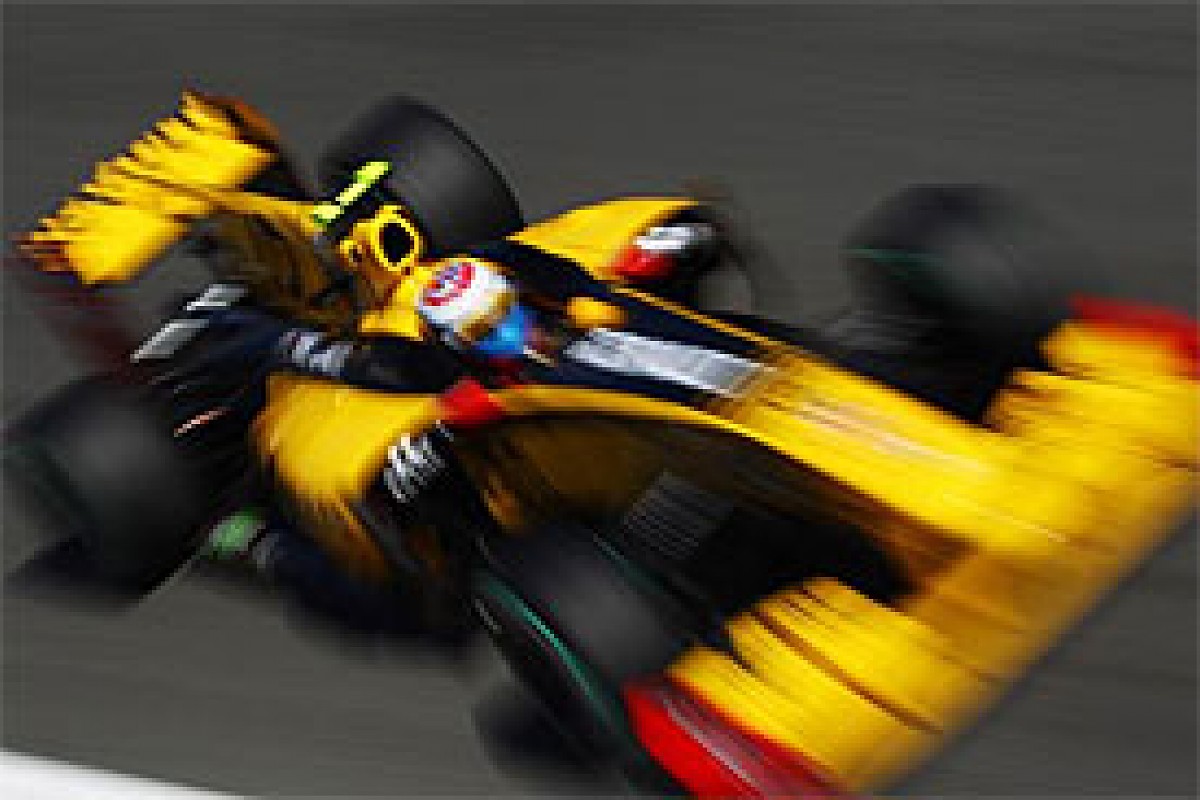 Petrov's future remains uncertain © Sutton
"It's not that Vitaly is a paying driver, because he's not, but certainly the sponsors that he brought or that came, which is Lada, have been very good sponsors. But Vitaly was not bringing the kind of money that people were saying.
"And he's a good driver. Vitaly was second in the GP2 championship last year and could easily have won that championship if he hadn't had six failures last year. On top of all that, he is a driver that has 250million Russian-speaking people that are convinced in him, so we'd be stupid not to assume that there is a business behind that. But we have to build the driver. He is to us a very important element, just as Robert is. "
Reading between the lines, Petrov's commercial possibilities make him the most attractive option for next year - but he needs to start delivering better results on track to prove it.
The future
Despite the resurrection of Renault, Lopez still finds himself at the centre of speculation about his future.
Recent comments suggesting that his F1 investment had been greater than he originally anticipated, allied to speculation suggesting he was considering finding a way out of his F1 involvement, prompted rumours that Renault was evaluating buying back its team.
For now, though, Lopez insists that he is wholly committed to the team and making a success of his F1 operations.
"There's not even a question," he said about the possibility of him stepping back from his F1 involvement. "There's a difference between the terms of costs and investments. If it starts to become costs, just because things are that way, we would be committed to the cutting down these costs.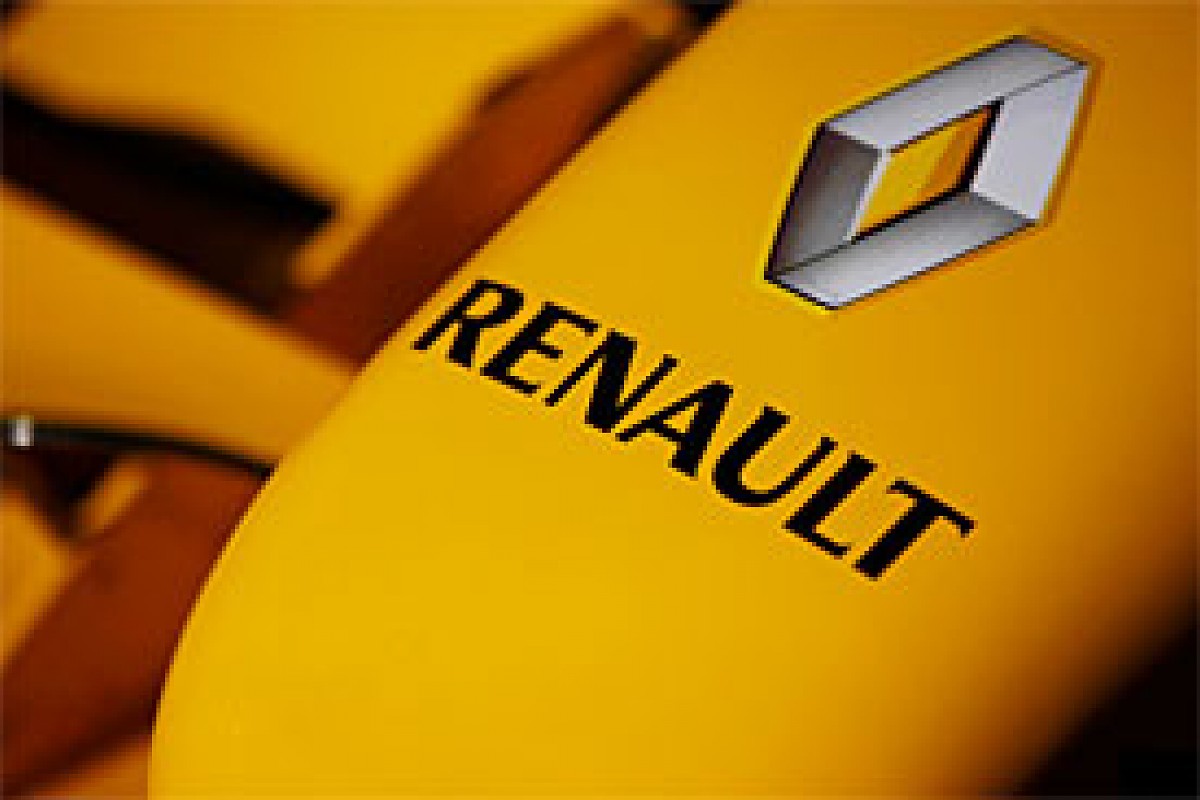 Renault's future is looking bright © LAT
"If it's pure investment for performance, and what it does is bring us closer to where we need to be, then honestly we'll always be close to the maximum. There are also things like the Resource Restriction Agreement, which is now coming into place. We'll always try to be, in an intelligent way, as high as possible. If that wasn't the case, we'd have pretty much stopped looking for sponsors now and just say "no, we just continue on what we have now."
"So no, we have an interest that this team does win races again, that this team does win championships again and hopefully if everything's goes fine we'll still be around in 10 years. And regardless of how often people ask us the question, it is not our intention to sell this. It is not a company like any other company. "
So any truth in the recent Renault takeover talks?
"No, no. The best person to ask would be Renault themselves, and they will tell you the exact opposite. I mean, Renault is in F1 because it wants to be in F1. If you think about the results that Renault's getting out of this, the visibility and the cost - which is for them honestly close to zero now - why would they want anything else?
"I always have to smile when I read articles about those kinds of things, and I don't laugh about the journalists that write it, I just laugh about the paddock. There's never a journalist that launches the worm, it's always the paddock.
"Just pure logic will tell you that if Renault were to do that [takeover the team again], they would be completely crazy. It's actually the opposite. They're pushing us as much as they can to do more, just because they like the partnership, you know. Better results for them, a much more visible image and no investment for them. It's quite interesting."
Indeed, very interesting times for Renault. And a world away from how it was a year ago.