There are few places on the Formula 1 calendar that quite ooze history like Monza. As you pass inside the walls of the famous park, through the crumbling brickwork gates and past rusty fences, you cannot help but get lost in thoughts of which famous names have driven the same path as you.
Drive through the back entrance, past the Golf Club on your right, you drop under the old concrete tunnels that now hold the new track surface above them, and you end up on another piece of circuit. Stop here for a few seconds, look to the left and right, and there, a couple of hundred metres up the road, you can see the old Monza banking spiralling out of view. The hairs on the back of your neck stick up.
It is a place where the past and the present collide at all times. So it was quite fitting that the major piece of gossip that emerged over the weekend did not involve the thrilling future title battle but whether a former champion will - or even can - find his way back into the sport.
Ever since Kimi Raikkonen turned his back on F1 and made the switch to the World Rally Championship, there have been countless rumours that his absence from the grand prix grid would only be a temporary one.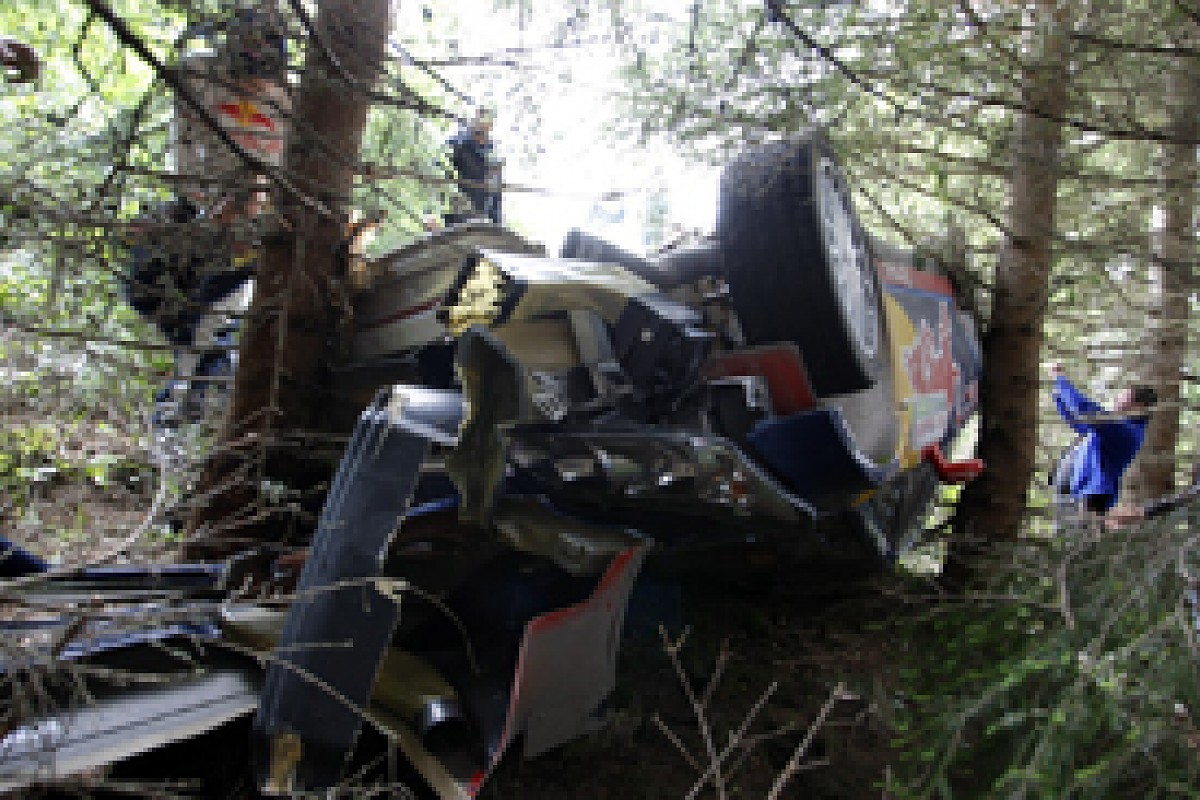 Kimi Raikkonen's WRC season has had some low points © LAT
Raikkonen himself has always maintained that his future is open - and he has been long undecided about whether he would remain in rallying or come back to F1. His silence on the matter served not to dampen the rumours, however, but fuel them more.
There were wild reports that he was a shoe-in at Red Bull Racing for 2011 - based purely on the fact that he had been seen in the Energy Station a few times. But the team never seriously considered him. Red Bull's love-in with Sebastian Vettel is well known and when Mark Webber delivered the speed and consistency that he showed from early on this season, there was no need for the outfit to look elsewhere.
Red Bull Racing's early decision to re-sign Webber put an end to the Raikkonen-RBR talk there - but that kick-started something that was much more than rumours at Renault.
Back at the European Grand Prix in Valencia, AUTOSPORT broke the news that Renault was so bullish about its improving competitive form, plus financial situation, that it was going to consider an approach to Raikkonen to see if he was interested in joining them. But the trail then went fairly quiet.
Raikkonen showed some improved form in rallying, and seemed set to stick it out in the WRC - while Renault focused on getting Vitaly Petrov up to speed, and appeared to have done so judging by the form the Russian showed at the Hungarian Grand Prix.
But since then situations have changed. Raikkonen still does not have a 2011 WRC deal in his pocket, and Petrov has had a few wobbles with his qualifying errors in Spa (silly rookie error on a wet kerb) and Monza (unnecessary blocking of Timo Glock in Q1) - meaning neither man's futures are yet guaranteed. Hence Raikkonen's phone call to Enstone in the last few weeks.
The burning question though, is whether Raikkonen is serious and whether Renault believes he is serious. In F1 it is important to always realise that not everything should be taken at face value - and you always have to work out with a story what is the end-game of the people involved in it.
When a team boss comes out and says a member of his technical staff is absolutely fantastic and a key part of its success - then you have to wonder if he is not bigging him up in a bid to get him poached by someone else and off his books.
Did Brawn GP shout the name of the man who came up with the double diffuser concept? Has McLaren let us know who thought up the F-duct plan for 2010? No. Because they knew that the second they did, those men would be offered stacks of cash from rivals and lured elsewhere.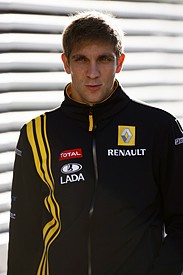 Vitaly Petrov responded well to Renault's pressure © Sutton
So is there a conspiracy behind Renault's confirmation that Raikkonen has approached them?
There could be reasons for doing so. By getting Raikkonen officially linked with Renault it could be a message to Petrov to get his (and perhaps some sponsors') act together as soon as possible. Equally, it could be sent out to gee up a few potential sponsors who are pondering committing themselves to the French car manufacturer for 2011 and would stump up some extra cash if Raikkonen was a possibility.
Equally there could be no conspiracy at all. The situation could be exactly as Renault says it is: Raikkonen is a possibility but everything depends on Petrov lifting his game a bit more.
The new Raikkonen-Renault development has clearly got his fans all excited, but there is a long way to go before it is going to become reality.
We do not even know if Raikkonen is serious about his F1 return. Does he really want it, or is he simply checking on his options for next year just in case he cannot find a competitive seat in the WRC? Is it a message to other F1 teams that he is interested? Is it a way to boost the money that WRC teams are willing to offer him?
There is almost certainly a money issue in F1 too - which Eric Boullier admitted was a factor. Renault will not be able to give Raikkonen anywhere near the kind of money he got used to when he raced for McLaren and Ferrari.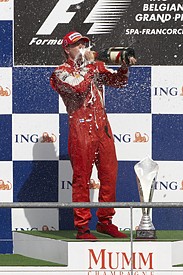 Kimi Raikkonen's last F1 win came at Spa in 2009 © LAT
And ultimately, like Monza itself, the past can sometimes seem more impressive than the present. If you think of Raikkonen you remember the sensational performances - that great victory over Michael Schumacher at Spa in 2004, that amazing triumph in Japan in 2005, the world title capturing performance in Brazil 2007.
But do not forget the times when Raikkonen appeared a shadow of his former self - those all too frequent afternoons when he appeared disinterested in being an F1 driver.
So if he does come back, let's hope it is the great Kimi we once knew. For if he can rediscover the drive, determination and brilliance that he showed so often early in his F1 career, then it would be amazing.
Can you imagine Alonso v Massa v Hamilton v Button v Webber v Vettel v Kubica v Raikkonen all guns blazing going for the title. It could happen.
Renault and Kimi. You decide.