When the plane touched down in Milan on Wednesday night and the phones all went back on, the FIA verdict was there. No further action against Ferrari over the Hockenheim team orders affair and the daft article 39.1 subject to review by the sporting working group.
Hallelujah. A victory for common sense and, thankfully, no reaction to over-emotional ignoramuses with no understanding of the sport or journalists who smelled a good headline and a sensationalist story.
There were some interesting things in the full details of the World Motor Sport Council hearing, one of which was that Frank Williams had written a letter of support for Ferrari's position.
Alonso and Massa celebrate at Monza © LAT
Frank held a little press gathering to explain why, pointing out that he was no great friend of Ferrari but believed that team orders should not be restricted in F1.
"It's all up for discussion," Frank said. "One provisional thought is that maybe they should just be applicable in the second half of the season. We've got to remember that drivers think of themselves - great - but then we want world championships.
"There are two in every year - there's the teams' as well - and you've got to have two very high performing cars wherever possible. It's most rare that you have two drivers of equal performance in the same team and we paid a heavy price for it with Nigel Mansell and Nelson Piquet (in 1986). That cost us."
Another interesting thing was the timing of all this, especially in the light of last Sunday's result, which threw the world championship wide open again. In what is fast becoming an epic season, you now have the top five men (Webber, 187; Hamilton, 182; Alonso, 166; Button, 165 and Vettel, 163) covered by less than a single victory with five rounds to go.
They're all still in it, so any team orders are likely to be postponed for a while but, when they become relevant again, as they surely will as the battle goes down to the wire, do we therefore assume that the cost of ignoring the current team orders regulation is $100,000, a relative pittance to a leading Formula 1 team?
"I think that would be a risky interpretation," McLaren's Martin Whitmarsh thinks. "If you are in clear breach then I would imagine you could have much more than $100,000 thrown at you." And there spoke a man who already knew what it felt like to be hit for a thousand times as much...
The team orders question gets posed to the principals of the championship-contending teams often enough to make them scream, but it was fascinating to talk to Williams technical director Sam Michael about it.
It's an emotive question from any number of angles and, as Sam pointed out, it's quite feasible for different people to have widely different views on it, even within the same camp.
You can, for instance, totally understand the reluctance of someone like Ferrari race engineer Rob Smedley to pass on a 'concede' instruction to Felipe Massa. Sam has been in the self-same situation, when he had to give Ralf Schumacher the instruction that he was not allowed to attack race leader Damon Hill as Jordan headed for a 1-2 in the 1998 Belgian GP.
Knowing what happened that day, it was amusing to hear Jordan getting on his high horse about the Ferrari situation in Germany but, again, EJ's in a different role now (controversy is good!) whereas, back then, he was thinking about pounds and pence, make no mistake.
"I was the one that had to tell Ralf," Michael explained. "That pissed me off but that's only because I was a race engineer on that car. Eddie told me what to say and I had to say it. It was annoying but I wasn't the right person to make that decision because I was a race engineer and my job was to be close to the driver, which is what a race engineer's job is. You do the best for your driver.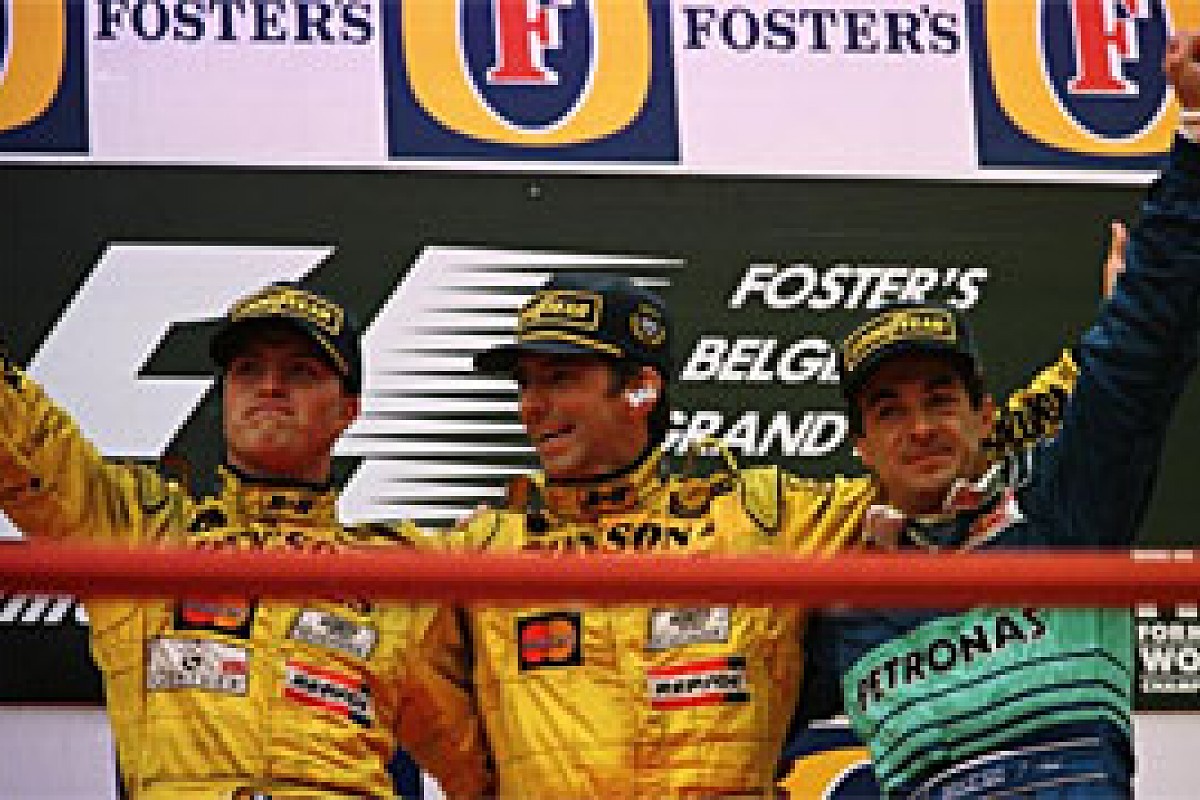 Ralf Schumacher and Damon Hill at Spa '98 © LAT
"Ralf pretended he couldn't hear me. I had to tell him three times and finally he said 'yes'. When it happened I was pissed off, as I say, but I managed to just tell myself it was what I had to do. After the race I understood it very quickly because Eddie came to me, apologised and talked me through it.
"I told him I completely understood, especially where Jordan was coming from. We weren't like Ferrari. We'd never won anything and that was a 1-2. If we'd had to put both cars in the bin... Also, I'd been through all the hard times and knew exactly what it meant for the team, so I was in quite a different position to Rob when it happened to him."
Michael says that today he would be the one to make the call if the situation arose and, as tech director, his feelings are different.
"It depends what situation you have because when you are not fighting for a championship the most important thing is to do what's right for the team to score constructors points. They determine how much money you get from Formula One Management, which in turn determines how much you can pay your drivers, everything.
"All the drivers are aware of it, that the most important thing is the Constructors' Championship until they are fighting for wins, and we haven't been in that situation for a while.
"I don't think therefore it would be that difficult for us. We could just deal with it at engineering level. If it was something like two guys fighting for the championship, that would be discussed beforehand. Frank, Patrick, Adam Parr and I would sit there and decide what we were going to do."
Asked if he agreed with Frank that it was a decision that should be open to the teams, Michael admitted: "I guess so. I don't feel that strongly about it. I guess it's because as an engineer you live in a constructor's world, so I don't really care whether Nico beats Rubens or Rubens beats Nico, as long as they both bring home constructors points. Maybe that's a bit ignorant of what people see as a drivers' championship but I'm just being honest - it's not something that I think that strongly about. You'd probably have a stronger view from Frank, and the drivers obviously.
"But one good thing you can say about Williams is that there are diverse views within the team and we don't put any restriction on that - Rubens has a very different opinion than Frank. We don't try and shove that down Rubens's throat and he doesn't shove it down ours. It's fine. Everyone's different and people have different opinions.
Ask Michael whether, given a choice, he'd prefer a Constructors' Championship to Rubens winning the drivers' title and you kind of already know the answer.
"Yes, I would. I don't know if that's a universal Williams opinion. I think it's probably slightly more the other way with Frank, which is probably why he's got an opinion on this team orders thing. Patrick's probably slightly more towards me but still probably inclined to the drivers. And Adam I'm not sure."
However, faced with a Mansell/Piquet or Prost/Senna situation today, Michael doesn't think that letting the drivers go at each other compromises the team mechanically, other than obviously in the event of contact.
"I don't think it makes any difference anymore. It used to, back in the nineties and the early 2000s when cars weren't as reliable, but now they can run flat out the whole race and I don't think that's an issue unless you've got something failing during a race. But generally you don't have any issue with the actually duty cycle on a car."
Ask him about managing Ralf Schumacher and Juan Pablo Montoya at Williams and Sam smiles. "Before or after the rule came in?" No flies on him...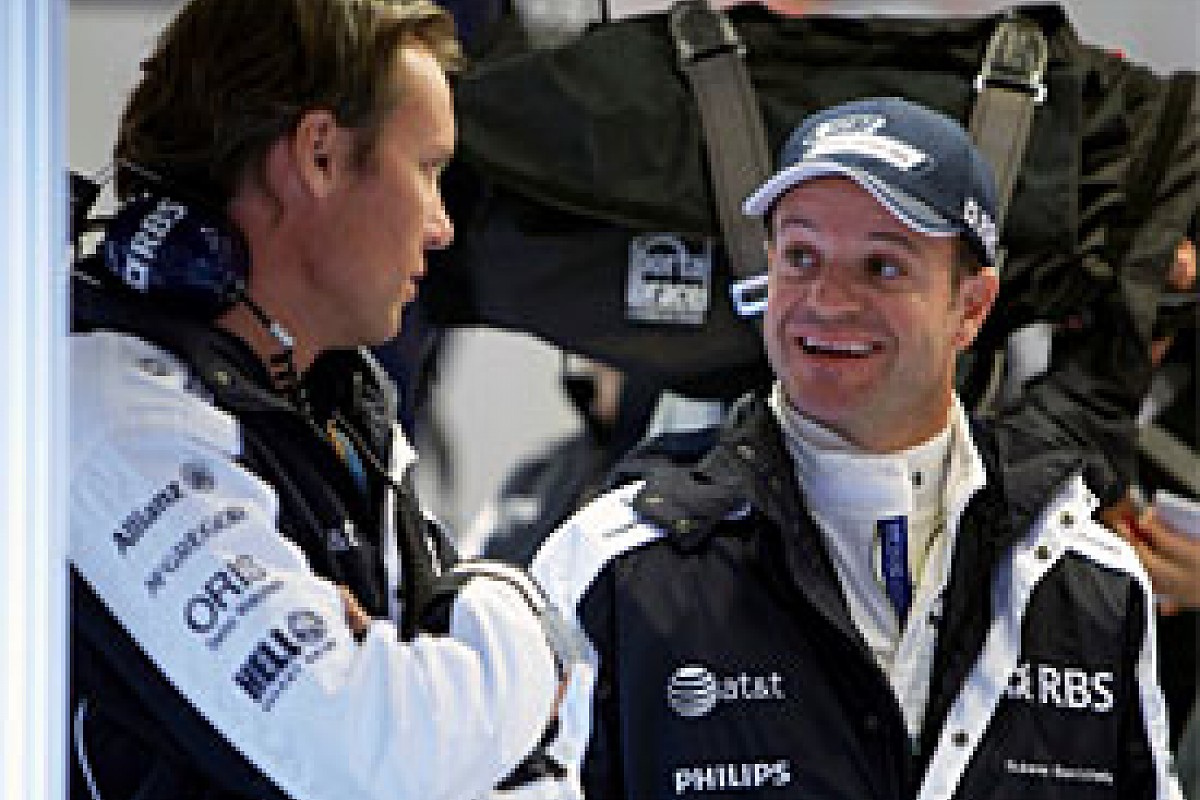 Sam Michael and Rubens Barrichello © LAT
"The only time we had to do stuff with them was if one of them was too slow. And they just ignored us anyway! In fact, it was Ralf again, at Magny Cours, with Monty behind him and much quicker. Not the year that Monty had his rant at us, I think it was '01 or '02.
"I was telling Ralf on the radio to get out of the way and he didn't, he just stayed there. After the race I went up to him and said, 'how come you didn't listen to me?' He said that his radio didn't work then just looked at me. He didn't smile at all, just said his radio didn't work. About six months later he told me, 'Of course I f****** heard you! And I wasn't getting out of the way for anyone...'
"The problem is, if you have two strong drivers, that's what they'll do. To be honest, I'm quite sure that if I told Rubens to get out of the way, he wouldn't. There's no way he'd move out of the way. I probably wouldn't bother telling him. The Hulk probably would, because he's young and wants to stay in with the team, but you'd still have a pretty hard conversation with him after the race."
At Ferrari though, they don't encourage different personal views from the team management. Imagine the casino!