The 2010 world championship, in Alex Ferguson parlance, is getting down to the squeaky bum stage. It's time for absolute focus and clarity of thought. To use a Jackie Stewart phrase - sound mind management.
Which is why you watched Sebastian Vettel's drive at Spa with some incredulity. As Mark Webber said at the start of the weekend, in terms of the Red Bull RB6's strengths, Spa, and particularly Monza, are two races you would not choose. But they're on the calendar and you have to make the best of them.
Spa, Webber said, would not be as bad as Monza, where the road turns even less. Spa at least has the high-speed twisty sector two, with corners like Pouhon, where the RB6 was awesome. Still, that was the mind set - we might not be setting the pace but let's make the most of it.
Lewis Hamilton and Mark Webber © LAT
That is exactly how Webber drove the Belgian Grand Prix and he came away with 18 valuable points. His team-mate, by contrast, had a chaotic afternoon and came away empty-handed. He is now 28 points behind Webber in the championship and 31 adrift of Hamilton, which is going to be a tall order to claw back.
Webber, admittedly, made an awful start and managed to convert his fifth pole of the year into sixth place at the end of the opening lap. The car bogged down on the formation lap and Webber made an adjustment to the clutch, but the affliction was worse at the start proper and he must have cursed as he went through Eau Rouge fifth, desperately trying to keep Adrian Sutil at bay.
This was undoubtedly an unexpected bonus for Vettel, who came to Spa on the back of four successive poles but still 10 points behind Webber. He was up a place to third at the end of the first lap, behind Hamilton and Kubica, and that must have been a huge relief. On Saturday night things had not been looking good. If Webber had managed to convert his pole and Sebastian had found himself behind Hamilton and Kubica - two of the toughest racers on the grid - it could have been a long afternoon in normal conditions.
Given the gift, you would have thought his head might now have gone into consolidation mode. The important thing as far as his championship challenge was concerned, was that Webber was behind him.
Lap two though, with rain falling and everyone on slicks, was Button territory and, sure enough, Jenson's second lap was way quicker than everyone bar Lewis, who lapped within half a second of him. Vettel, meanwhile, was rudely ushered towards the grass by Kubica on the run up to Les Combes. Hamilton had run wide exiting Eau Rouge, Kubica had tried to take advantage by keeping his foot planted and had a monster moment of his own, which he admitted he was lucky to save.
Vettel was unimpressed and radioed in his thoughts on the matter. He was past Kubica by lap six though and closed in on Button, who was struggling with left-front wing damage suffered when the leaders all ran straight on at the Chicane on lap 1. He'd had plenty of time since the Kubica incident to collect his cool.
Rain was imminent, the pitstops were not far away and yet Vettel elected to take the risk of trying to pass Button. Why?
The accident was a strange one and it had all the hallmarks of a driver caught out by the man in front braking early, which is the observation Christian Horner made. With some drivers, a sneaky nose-damaging brake test would not be a surprise, but that's not Jenson Button. And you wouldn't do it in the braking zone after Blanchimont... McLaren's data also proved that Jenson had braked normally.
Sebastian Vettel and Jenson Button © LAT
"I lost the car going over a bump as I was braking and hit Jenson," Vettel himself admitted. "I'm not proud of it but what happened, happened, and I can't change it."
It could well turn out to be the pivotal moment in the championship. Button's challenge was dealt what may be a fatal blow, the reigning champion now finding himself 35 points behind his championship-leading team mate.
Nigel Mansell was again an FIA steward in Belgium and it did not take long for the notification to come through that Vettel had been awarded a drive-through penalty.
"It's not what you'd expect to see in Formula 1," McLaren team principal Martin Whitmarsh said. "It was more reminiscent of the junior formulae and a drive-through seemed a pretty light punishment to me."
Vettel had dropped to 12th after the accident with Button and a stop for a new nose, and was stuck behind Vitantonio Liuzzi's Force India, with Vijay Mallya's cars demonstrating prodigious straight-line speed all weekend.
The rules say that you must serve a drive-through within three laps of notification but the skies and the weather radars were indicating imminent rain. If Vettel stayed out and the rain arrived on the lap he stopped to serve his penalty, he would not be able to able to change tyres at the same pit visit, and therefore could have faced a lap on slicks in teeming rain. The team therefore radioed him to come in immediately for strategic reasons.
That message had been received and yet Sebastian still continued to dive around trying to get up the inside of Liuzzi, knowing he was about to stop. Why? More unnecessary risk.
Vettel served his penalty, rejoined, re-caught Liuzzi and then made contact with the Force India trying to go inside at the Bus Stop. Liuzzi had to pit for a new nose and Vettel had his left rear tyre split and had to crawl around another lap before pitting for the fourth of five stops during a chaotic afternoon.
Sir Jackie would certainly have been tutting about the mind management and in the cold light of day you have to ask whether Vettel's recent performances are befitting of a potential world champion. There is no doubting his talent or pace, but Vettel has made judgement errors in four of the last seven races. He's no longer a rookie, after all.
First there was Turkey, then Silverstone, where he would have done better not to rely on charity from Webber on the exit of Stowe at an emotionally-charged time when his team-mate had beaten him to the punch at the first corner. If he'd slotted in behind he would have avoided the wing damage from Hamilton and stayed in the race. There was the lack of attention behind the safety car in Hungary, which proved costly, and now Spa.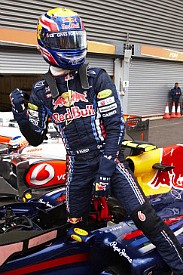 Mark Webber © LAT
Contrast that with Webber. Fair enough, there have been mistakes in Melbourne and Valencia, but last weekend he clearly had his head right. He must have been gutted by his start but he didn't let it push him into any rash moves. He bided his time, waited for the first stops to try to jump Kubica and when the tactic failed, knew that his team-mate was in trouble and that it was vital he brought the car home. He didn't panic that Hamilton was leading the race, which seems to have been the catalyst for Vettel's move on Button.
When Kubica made a rare mistake at his second pitstop for intermediates, Webber was right there and took full advantage. Then came the safety car for Fernando Alonso with the prospect of a four-lap sprint to the end when it disappeared.
What would Webber do? He well knew that finishing second to Hamilton would mean losing his championship lead. But, as good as Webber is in the wet, so is Lewis, and Mark knew that trying to attack him risked the 18 points in his hand. Far better to consolidate the key advantage over Vettel, think about the big picture and wait for tracks where the RB6 should again be the car to beat. Offer Webber 18 points before last weekend and doubtless he'd have snapped your arm off - provided the man taking the 25 was not Sebastian.
The post-race grins said it all. Lewis was delighted, of course, but Webber looked highly-satisfied with his afternoon's work too. On a day during which Hamilton, Kubica and Vettel all made errors, he'd been pretty much wheel perfect, the start notwithstanding.
The inevitable questions to Hamilton and Webber duly came. Did they expect that in the remaining five or six rounds (depending on Korea), their teams would concentrate more on them?
Lewis, of course, was politically correct. "I don't think so," he said. "I think Jenson was very unfortunate today. I get the same treatment as him and vice versa, which enables us both to score maximum points and so I don't feel there should be any preferential treatment."
And Jenson, though disappointed, still found a good-natured jibe for Lewis. "I might be 35 points behind but I'll still nail you!" he threatened.
So, what of Webber?
He paused for a moment, then said: "McLaren have won many championships so they have a pretty good trophy cabinet. Red Bull have a good trophy cabinet too, but not like McLaren's, so it depends on how hungry we are to try and do that..."
He let the message permeate then added: "Maybe there is a different strategy compared to McLaren. I'm not sure - it's still too early at the moment, but it's not far away, I'd say..."
Message received and understood?