The Hungarian Grand Prix is a great race to come to. The city of Budapest is fantastic, with really nice architecture and loads of restaurants and bars. There is a great vibe to the place.

Add to that the fact that normally it is pretty hot here - sometimes up to 40 degrees and really humid - and it is a weekend that really stands out. This weekend is a bit cooler, but you still notice it when the sun comes out.

Track-wise, it is pretty good for photographers. It is compact, so you can get everywhere by foot. It is really nice to walk out, there is lots of greenery everywhere and there are no fences - and you are still quite close to the track so it feels very old old school.

Where to take the classic shots from
There are some quite nice features dotted around the track - especially the famous water park that is near the circuit. You can do pan shots there from the outside of Turn 4, with all the slides and the nice colours in the background.

One of the most famous shots though, is right at the top of the track as the cars come out of Turn 5 and head towards the quick chicane at Turns 6 and 7. You stand in between 5 and 6, and you can get the town in the background and that famous water-cooling tower. It is a classic landmark and you can take that shot without including it, but we like to because you see old pictures with that in as well.

Good race shots can be taken at the quick left hander at Turn 8, and the final stadium section is pretty good for Sundays because there is often a great atmosphere there with the crowd. Sometimes you can shoot from the high banking on the outside of Turn 12, which gives you some unusual elevation.

My favourite shot from the past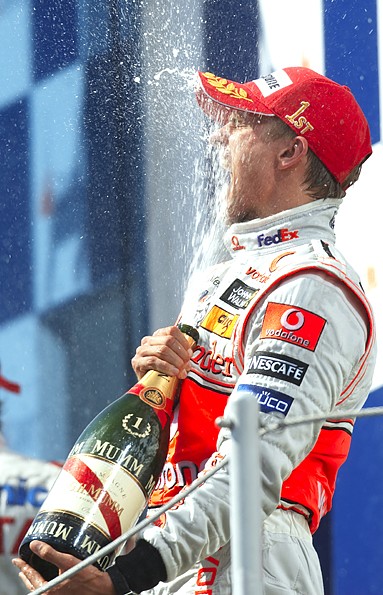 I really remember Heikki Kovalainen's maiden win, back in 2008. He was helped a lot by other front runners hitting trouble, but it was still one of those good feel good results.

I took this shot from the rear of parc ferme and decided to shoot the podium from the side. As a photographer, it is always great when the drivers spray themselves - as it is really a moment of maximum emotion. That is why I like this shot in particular.

It also works because the podium layout and background looks quite nice from the side, which really reflected the colours well.
My favourite shot from today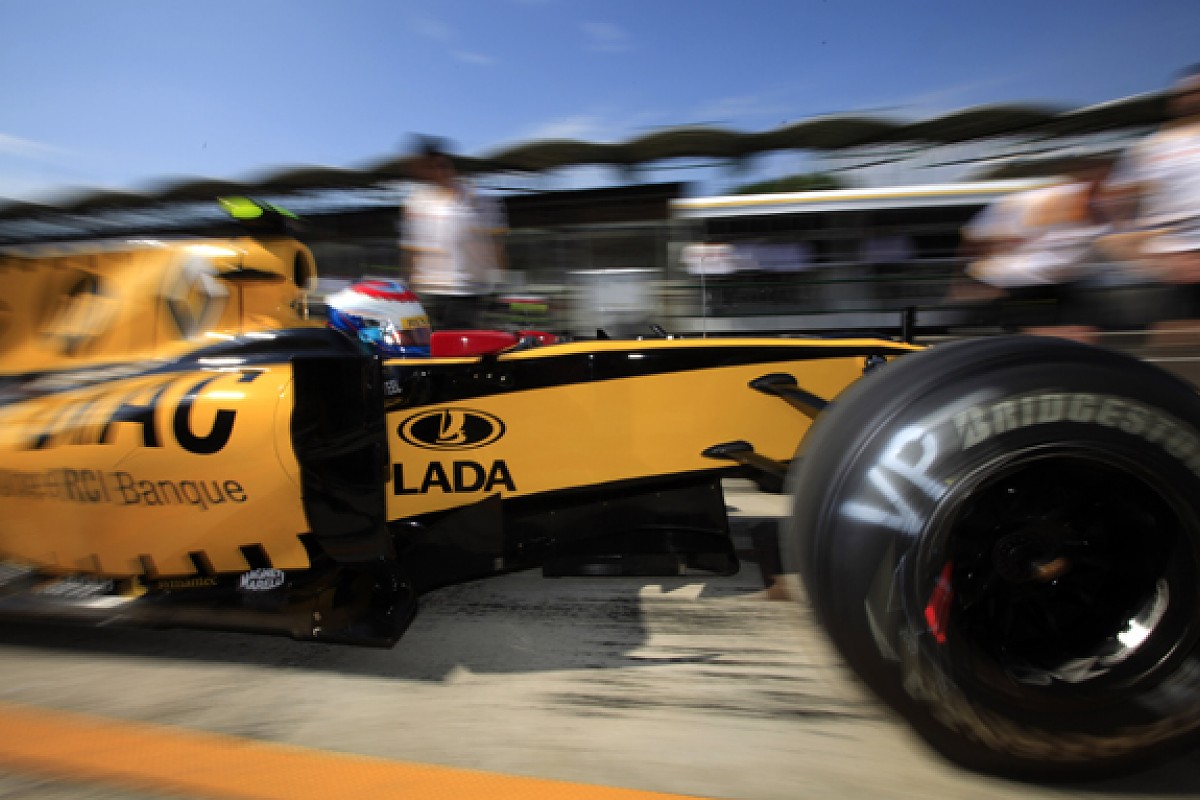 I spent some of free practice in the pits today and this shot stood out for me.

This was taken when Vitaly Petrov did one of his simulated getaways, to lay down rubber for the pitstops on race day. I had to kneel on the floor, low down, and get very close to the car - and keep my fingers crossed he didn't lose control and spear off in the wrong direction!

The picture was shot on a slow shutter speed but I used a little bit of flash to help freeze elements of the picture, like his helmet and the bits that you want to see which are not blurry. That is why the big VP on his tyre stands out so much.

Working in the pitlane can be quite fraught at times, as you always have to watch out for what the cars are up to, but I know the Renault team really well and get on with all the mechanics - so I can get a bit closer to the cars than some other people.